USB data transfers to.
**** PRICE: USD 355
Manufacturer : General Tools & Instruments
Tags: General Tools & Instruments
SKU: GNRL208
↑
Start of page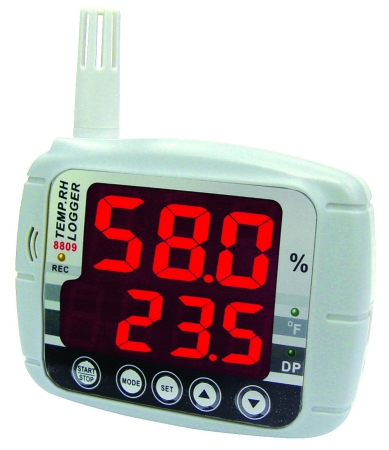 General Tools & Instruments LTH8809DL Data Logging Temperature-Humidity Monitor
Housewares>Tools>Measuring Tools and Templates>Assorted Temperature Tools
Product Catalog
Description : .Unique large red LED display makes it ideal for monitoring temperatures and humidity conditions in labs incubators and other controller areas.
Features & Benefits :


Bright red jumbo LED display

Wall or desk mountable

Settable high and low temperature andhumidity alarms

Also calculates and displays dew point

Selectable temperature unit

Data logging capacity of 16000 records

USB interface

Specifications :

Temperature Measurement Range:-4° to 158°F (-20° to 70°C)Temperature Measurement Accuracy:±1.2°F (±0.6°C)Relative Humidity Measurement Range:5 to 95%RH Measurement Accuracy: ±3% of readingbetween 10 and 90% RH; ±5% elsewhereTemperature Humidity Resolutions:0.1°F (0.1°C) 0.1% RHDisplay Size: 2 x 2.6 in. (50.9 x 65.5mm)Dimensions:4.8 x 5.2 x 1.6 in. (120 x 130 x 42mm)Weight: 7.4 oz. (210g)Power Source: 4 ?AAA? batteries (included)
Includes :

Batteries

Data logging/interface software

USB cable

User?s manual.