>: A Dialogue of Conversion

↑ Start of page
---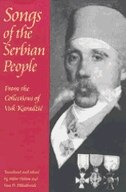 Product : Songs Of The Serbian People: From the Collections of Vuk Karadzic
Category : Books>Fiction and Literature>Fiction
Catalog : Indigo Product Feed - Books Catalog 1
Description : In the early nineteenth century, Vuk Karadzic, a Serb scholar and linguist, collected and eventually published transcriptions of the traditional oral poetry of the South Slavs.  It was a monumental and unprecedented undertaking.  Karadzic gathered and heard performances of the rich songs of Balkan peasants, outlaws, and professional singers and their rebel heroes.  His four volumes constitute the classic anthology of Balkan oral poetry, treasured for nearly two centuries by readers of all literatures, and influential to such literary giants as Goethe, Merimee, Pushkin, Mickiewicz, and Sir Walter Scott.This edition of the songs offers the most complete and authoritative translations ever assembled in English.  Holton and Mihailovich, leading scholars of Slavic literature, have preserved here the unique meter and rhythm at the heart of Serbian oral poetry, as well as the idiom of the original singers.  Extensive notes and comments aid the reader in understanding the poems, the history they record and the oral tradition that lies beneath them, the singers and their audience.The songs contain seven cycles, identified here in sections titled: Songs Before History, Before Kosovo, the Battle of Kosovo, Marko Karadzic, Under the Turks, Songs of the Outlaws, and Songs of the Serbian Insurrection.  The editors have selected the best known and most representative songs from each of the cycles.  A complete biography is also provided.
**** PRICE (Canadian dollar - CAD): $ 32.81
Manufacturer :
Tags: Books, Fiction and Literature, Fiction, Songs Of The Serbian People: From the Collections of Vuk Karadzic

↑ Start of page
---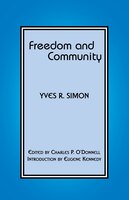 Product : Freedom And Community
Category : Books
Catalog : Indigo Product Feed - Books Catalog 1
Description : The theory of liberty here propounded by Simon, along with his analysis of authority, democracy, and practical wisdom, contains the elements of a political philosophy that can provide direction to other contemporary political theorists of our times. While the latter have gathered great masses of political facts, they have lacked a normative set of ideas that can make these facts meaningful and useful to political society. Simon''s position as a philosopher rather than as a political scientist, is that while there is a science of social and political facts, a normative moral philosophy that knows the ends of human action is necessary because people make good or bad use of their freedom. As always, Simon here writes with a lucidity and moderation that will be satisfying to reasonable people looking for a way out of skepticism and uncertainty. He was no dogmatist, but he knew what he knew and what he did not know. This is the beginning of wisdom and a model for philosophers.
**** PRICE (Canadian dollar - CAD): $ 116.99
Manufacturer :
Tags: Yves R. Simon, Eugene Kennedy, Books, Freedom And Community

↑ Start of page
---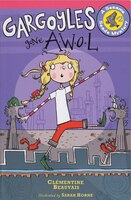 Product : Gargoyles Gone AWOL: A Sesame Seade Mystery #2
Category : Books
Catalog : Indigo Product Feed - Books Catalog 1
Description : Where have all the gargoyles gone? Supersleuth Sesame Seade is on her second case the minute she learns that several of the monstrous stony sentinels on the Cambridge University rooftops have gone missing. But as she courageously tracks down clues-some of which lead her to dizzying heights-and starts piecing them together, she realizes that gargoyles gone AWOL isn''t the only mystery afoot in town. From peculiar footprints on the lawns and torrents of laboratory mice running wild to the strange lethargy of Peter Mortimer, Sesame''s normally ferocious cat, Cambridge''s number-one supersleuth suddenly has her hands full. In this riotous sequel to Sleuth on Skates, the whole gang-including Mr. Halitosis-is back as Sesame pits her wits against a devious gargoyle thief and whoever is behind a spate of strange scientific experimentation!
**** PRICE (Canadian dollar - CAD): $ 24.95
Manufacturer :
Tags: Clémentine Beauvais, Books, Gargoyles Gone AWOL: A Sesame Seade Mystery #2

↑ Start of page
---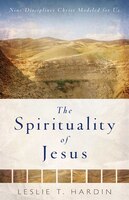 Product : The SPIRITUALITY OF JESUS: Nine Disciplines Christ Modeled for Us
Category : Books>Religion and Spirituality
Catalog : Indigo Product Feed - Books Catalog 1
Description : What do we know about Jesus and '' spirituality and #8204;? What disciplines did he follow and #8204;? These rarely asked but essential questions are answered in The Spirituality of Jesus. Author Leslie T. Hardin points readers to the Gospels and shows that Jesus and '' spirituality is seen not in the miracles he preformed but in his everyday activities. In the Gospels, we catch glimpses of his instructive daily routines.
**** PRICE (Canadian dollar - CAD): $ 22.95
Manufacturer :
Tags: Leslie T. Hardin, Books, Religion and Spirituality, The SPIRITUALITY OF JESUS: Nine Disciplines Christ Modeled for Us

↑ Start of page
---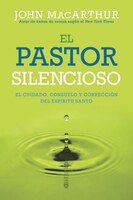 Product : SILENT SHEPHERD, THE - SPANISH: The Care, Comfort and Correction ofthe Holy Spirit
Category : Books
Catalog : Indigo Product Feed - Books Catalog 1
Description : SILENT SHEPHERD, THE - SPANISH: The Care, Comfort and Correction ofthe Holy Spirit
**** PRICE (Canadian dollar - CAD): $ 14.75
Manufacturer :
Tags: John MacArthur, Books, SILENT SHEPHERD, THE - SPANISH: The Care, Comfort and Correction ofthe Holy Spirit

↑ Start of page
---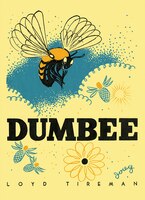 Product : Dumbee
Category : Books
Catalog : Indigo Product Feed - Books Catalog 1
Description : ?Buzz, buzz, I like what I duz,? sings Dumbee, the handsome bumblebee who buzzes happily around the mesa all day. Dumbee gets into more trouble than all the rest of his family put together, but he always buzz-z-z-z-es for help. Caught in sticky sap, he buzzes as loudly as only Dumbee can, and his brother flies to the rescue. But when Dumbee finds some mysterious blue honey, he proves that he is smarter than everyone else thinks.First published between 1943 and 1949 and now available again, the seven books in the Mesaland Series introduce a new generation of readers to the animals and plants of the great Southwest.
**** PRICE (Canadian dollar - CAD): $ 16.95
Manufacturer :
Tags: Loyd Tireman, Books, Dumbee

↑ Start of page
---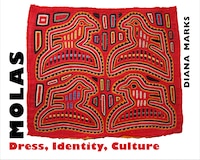 Product : Molas: Dress, Identity, Culture
Category : Books>Social and Cultural Studies
Catalog : Indigo Product Feed - Books Catalog 1
Description : Molas, the distinctive blouses made and worn by Kuna women in Panama, are collected by thousands of enthusiasts as well as by anthropological museums all over the world. They are recognized everywhere as an identifier of the Kuna people and also of Panama. This book, based on original research, explores the origin of the mola in the early twentieth century, how it became part of the everyday dress of Kuna women, and its role in creating Kuna identity.Images drawn from more than twenty museums as well as private collections show the development of designs and techniques and highlight changes in the garment as an item of indigenous fashion. Applying an interdisciplinary approach?fusing historical, ethnographic, and material culture studies?author Diana Marks contributes to ongoing debates on cultural authenticity, the invention of traditions, and issues of gender and politics.
**** PRICE (Canadian dollar - CAD): $ 75.00
Manufacturer :
Tags: Marks, Diana, Books, Social and Cultural Studies, Molas: Dress, Identity, Culture

↑ Start of page
---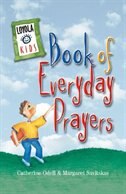 Product : Book of Everyday Prayers
Category : Books
Catalog : Indigo Product Feed - Books Catalog 1
Description : This book encourages children to pray and create their own prayers while learning about God, saints, and other important biblical figures. This collection includes prayers for all occasions as well as those of the saints, Mass prayers, and prayers written by children themselves.
**** PRICE (Canadian dollar - CAD): $ 23.25
Manufacturer :
Tags: Catherine Odell, Margaret Savitskas, Books, Book of Everyday Prayers

↑ Start of page
---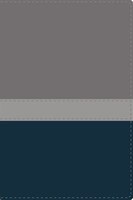 Product : Santa Biblia Lectura Fácil NVI
Category : Books
Catalog : Indigo Product Feed - Books Catalog 1
Description : Más pequeña que la biblia promedio y destacando el texto completo de la traducción NVI, la versión confiable, la biblia NVI compacta de letra grande combina la facilidad de la lectura con la comodidad y conveniencia de un tamaño lo suficientemente compacto para llevar a cualquier lugar. Así usted sea una persona a la cual le gusta leer en cama o que siempre esta apresurado, el formato de una sola columna y tipos de letra agradables a la vista, hacen esta biblia NVI perfecta para aquellos que la comodidad de una letra más grande para leer. Con una encuadernación duradera y de hermosos colores y texturas y empacada en una caja como para regalo, la biblia NVI compacta de letra grande seguramente encantara.
**** PRICE (Canadian dollar - CAD): $ 55.99
Manufacturer :
Tags: Zondervan, Books, Santa Biblia Lectura Fácil NVI

↑ Start of page
---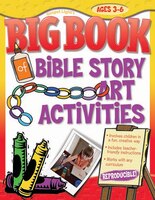 Product : Big Book of Bible Story Art Activities
Category : Books>Religion and Spirituality
Catalog : Indigo Product Feed - Books Catalog 1
Description : This resource includes art activities for 100 Bible Stories, ages 3-6. Each activity has a Bible Story which teachers can tell before or after activity and contains clear and precise instructions, enrichment ideas and a life focus for each activity, connecting the head and the heart. Creative activites that range from collages to puppets are also include along with 53 Old Testament and 42 New Testament stories. This product is REPRODUCIBLE and can be used with or as a supplement to any curriculum. Perforated pages for easy tearout.
**** PRICE (Canadian dollar - CAD): $ 23.99
Manufacturer :
Tags: Gospel Light, Books, Religion and Spirituality, Big Book of Bible Story Art Activities

↑ Start of page
---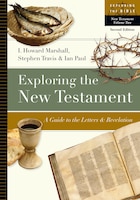 Product : EXPLORING THE NEW TESTAMENT - A GUIDE TO THE LETTERS and REVELATION
Category : Books>Religion and Spirituality
Catalog : Indigo Product Feed - Books Catalog 1
Description : Professors and students will warm to this clearly written and well-informed introduction to the New Testament Letters and the Apocalypse. Exploring the New Testament, Volume Two introduces students of biblical studies and theology to Greco-Roman background ancient letter writing content and major themes Paul''s life, mission and theology issues of authorship, date and setting methods in reading and interpreting the New Testament Letters and Revelation the intersection of New Testament criticism with contemporary issues of faith and culture This revised edition features updated text and bibliographies, and incorporates new material gleaned from the experience of classroom use.
**** PRICE (Canadian dollar - CAD): $ 33.69
Manufacturer :
Tags: I. Howard Marshall, Books, Religion and Spirituality, EXPLORING THE NEW TESTAMENT - A GUIDE TO THE LETTERS and REVELATION

↑ Start of page
---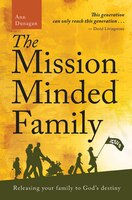 Product : The MISSION MINDED FAMILY: Releasing Your Family to Gods Destiny
Category : Books
Catalog : Indigo Product Feed - Books Catalog 1
Description : A practical guide to encourage families to participate together in ministry and prayer for the lost.
**** PRICE (Canadian dollar - CAD): $ 19.99
Manufacturer :
Tags: Ann Dunagan, Books, The MISSION MINDED FAMILY: Releasing Your Family to Gods Destiny

↑ Start of page
---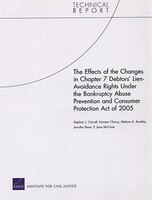 Product : The Effects of the Changes in Chapter 7 Debtors' Lien-Avoidance Rights Under the Bankruptcy Abuse Prevention and Consumer
Category : Books>Reference and Language
Catalog : Indigo Product Feed - Books Catalog 1
Description : The Bankruptcy Abuse Prevention and Consumer Protection Act of 2005 (BAPCPA) limited the types and quantities of exempt household goods on which debtors could avoid certain liens. Part of the motivation for these changes was a perception that debtors were using household goods as collateral to obtain loans that they never intended to repay. This study found no changes in debtor or creditor behavior due to the new definition of household goods.
**** PRICE (Canadian dollar - CAD): $ 26.00
Manufacturer :
Tags: Stephen J. Carroll, Noreen Clancy, Melissa A. Bradley, Books, Reference and Language, The Effects of the Changes in Chapter 7 Debtors' Lien-Avoidance Rights Under the Bankruptcy Abuse Prevention and Consumer

↑ Start of page
---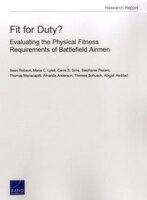 Product : Fit For Duty?: Evaluating The Physical Fitness Requirements Of Battlefield Airmen
Category : Books>History
Catalog : Indigo Product Feed - Books Catalog 1
Description : Military occupations can be physically demanding, yet few attempts have been made to determine the physical readiness of today''s airmen to perform their jobs. As part of a broader Air Force effort to measure the physical readiness of airmen to perform their jobs, this report describes a methodology for establishing physical fitness standards for four physically demanding Air Force occupational specialties.
**** PRICE (Canadian dollar - CAD): $ 37.50
Manufacturer :
Tags: Sean Robson, Maria C. Lytell, Carra S. Sims, Books, History, Fit For Duty?: Evaluating The Physical Fitness Requirements Of Battlefield Airmen

↑ Start of page
---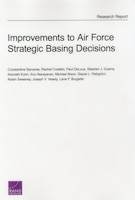 Product : Improvements To Air Force Strategic Basing Decisions
Category : Books>Business and Finance>Business Reference>Infrastructure
Catalog : Indigo Product Feed - Books Catalog 1
Description : The U.S. Air Force manages any proposed significant changes and additions regarding the location of weapon systems and personnel through its strategic basing process. This report is an independent analysis of the Air Force''s basing process and the quality of the underlying data. It seeks to inform decisionmakers on potential improvements to the data and assessment criteria used in making basing decisions.
**** PRICE (Canadian dollar - CAD): $ 42.00
Manufacturer :
Tags: Constantine Samaras, Rachel Costello, Paul Deluca, Books, Business and Finance, Business Reference, Infrastructure, Improvements To Air Force Strategic Basing Decisions

↑ Start of page
---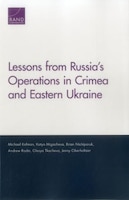 Product : Lessons From Russia's Operations In Crimea And Eastern Ukraine
Category : Books>History
Catalog : Indigo Product Feed - Books Catalog 1
Description : This report assesses the annexation of Crimea by Russia (February-March 2014) and the early phases of political mobilization and combat operations in Eastern Ukraine (late February-late May 2014). It examines Russia''s approach, draws inferences from Moscow''s intentions, and evaluates the likelihood of such methods being used again elsewhere.
**** PRICE (Canadian dollar - CAD): $ 28.50
Manufacturer :
Tags: Michael Kofman, Katya Migacheva, Brian Nichiporuk, Books, History, Lessons From Russia's Operations In Crimea And Eastern Ukraine

↑ Start of page
---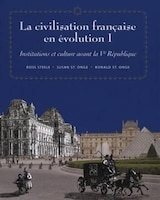 Product : La Civilisation Française En Évolution I: Institutions Et Culture Avant La Ve République
Category : Books>Reference and Language
Catalog : Indigo Product Feed - Books Catalog 1
Description : LA CIVILISATION FRANÇAIS EN ÉVOLUTION I: INSTITUTIONS ET CULTURE AVANT LA VE RÉPUBLIQUE is a modern and provocative look at French history and civilization from prehistory to the Ve République. Organized into six dossiers, each dossier examines a particular facet of France''s development.
**** PRICE (Canadian dollar - CAD): $ 297.95
Manufacturer :
Tags: Ronald St.onge, Ross Steele, Susan St.onge, Books, Reference and Language, La Civilisation Française En Évolution I: Institutions Et Culture Avant La Ve République

↑ Start of page
---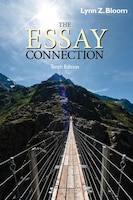 Product : The Essay Connection
Category : Books>Reference and Language
Catalog : Indigo Product Feed - Books Catalog 1
Description : THE ESSAY CONNECTION is a provocative, timely collection of rhetorically arranged essays by professional and student writers. It stimulates critical thinking on ethical, social, and political issues, enabling users to make connections and write with an informed viewpoint. Essays range from the personal to the scientific and cover a variety of modes--narration, process analysis, comparison and contrast, and persuasion--to prompt users'' interest in different disciplines and genres. Professionally written essays (by scientists, economists, and journalists, among others) as well as user essays inspire and motivate readers. Unlike excerpts found in other readers, most essays are printed in their entirety, thus serving as better models for user writing. Throughout the text, Bloom offers practical, clear advice on writing that complements the essays. Rich visuals, fiction, poetry, and creative nonfiction provide a full set of models to bolster critical thinking, reading, and writing skills.The tenth edition offers 22 new selections to stimulate the readers'' interest. An expanded argument casebook as well as new visuals, poems, and works of creative nonfiction and fiction build on the strengths of previous editions. New material on the Book Companion Website strengthens the readers'' writing and reading comprehension skills.
**** PRICE (Canadian dollar - CAD): $ 126.95
Manufacturer :
Tags: Lynn Z. Bloom, Books, Reference and Language, The Essay Connection

↑ Start of page
---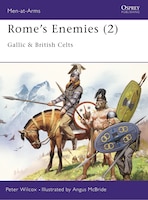 Product : Rome's Enemies (2): Gallic & British Celts
Category : Books>History
Catalog : Indigo Product Feed - Books Catalog 1
Description : In 390 BC, a Gallic army marched on Rome. A confident Roman army of about 15,000 men that was sent to bar the way, was destroyed. Three days after the Battle of Allia, the Gauls entered Rome, much of which they burned, and demanded a huge bounty of gold to leave the city. During the weighing procedure, Brennus, the Gallic leader, is said to have thrown his sword on to the scales with the words ''Vae victis'' - ''Woe to the defeated''. A sentiment the Gauls were soon to experience first hand. This fascinating work by Peter Wilcox explores the history, dress and equipment of Rome''s Celtic enemies.
**** PRICE (Canadian dollar - CAD): $ 19.95
Manufacturer :
Tags: Peter Wilcox, Books, History, Rome's Enemies (2): Gallic & British Celts

↑ Start of page
---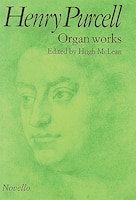 Product : Organ Works
Category : Books>Entertainment
Catalog : Indigo Product Feed - Books Catalog 1
Description : (Music Sales America). Henry Purcell had a marvelous natural ability for counterpoint, which was especially evident when combining pungent English counterpoint with expressive, flexible, and dramatic word settings. His organ music is no less a showcase for his melodic abilities and, in this edition, a feast of intelligent keyboard writing lies. This compilation contains six works plus an appendix by John Blow, including the Voluntary in D Minor for double organ.
**** PRICE (Canadian dollar - CAD): $ 18.50
Manufacturer :
Tags: Henry Purcell, Hugh 03, Books, Entertainment, Organ Works

↑ Start of page
---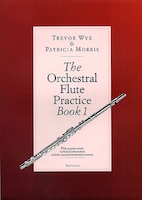 Product : The Orchestral Flute Practice: Book 1 (A-P)
Category : Books>Entertainment
Catalog : Indigo Product Feed - Books Catalog 1
Description : (Music Sales America). Invaluable to students and professionals alike, this book covers all aspects of orchestral flute playing, including technical areas such as articulation and low solos as well as standard orchestral repertoire. The repertoire is explored in an interesting and informative way, featuring groups of orchestral extracts which are examined by technical features and difficulty. A huge collection of well-known and less familiar melodies from across the centuries is included, and a complete guide on approaching each one effectively. Book 1 covers composers A-P. Book 2 covers composers R-Z.
**** PRICE (Canadian dollar - CAD): $ 51.95
Manufacturer :
Tags: Trevor Wye, Patricia Morris, Books, Entertainment, The Orchestral Flute Practice: Book 1 (A-P)

↑ Start of page
---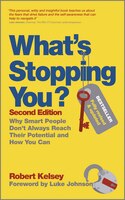 Product : What's Stopping You?: Why Smart People Don't Always Reach Their Potential and How You Can
Category : Books>Business and Finance>Career Planning and Job Hunting>Small Business
Catalog : Indigo Product Feed - Books Catalog 1
Description : A practical guide to attacking the most common of phobias: fear of failure A practical guide to attacking the most common of phobias: fear of failure Since its publication in 2011, What''s Stopping You? has offered readers a hard look at the quality of their careers and personal lives. For those who''d give themselves a solid C+, this brutally honest guide to taking stock also offers the keys to self-improvement. By dismantling the fear inhibiting all achievement—fear of failure—author Robert Kelsey offers a set of seven steps designed to help readers map out their actions, and attain what once seemed elusive milestones. Written for the frustrated underachiever or anyone who feels like one, this unique book addresses can the real obstacles hindering both professional and personal growth. Includes a new chapter with tactics for overcoming a fear of failure Explores methods for dealing with different types of people in a host of situations, such as getting a new job, pitching for new work, making presentations, or communicating clearly in an argument With a Foreword by one of Britain''s most successful businessman, Luke Johnson, this unique handbook to overcoming the most basic of fears is a must for anyone who would like to upgrade the quality of their life.
**** PRICE (Canadian dollar - CAD): $ 26.00
Manufacturer :
Tags: Robert Kelsey, Books, Business and Finance, Career Planning and Job Hunting, Small Business, What's Stopping You?: Why Smart People Don't Always Reach Their Potential and How You Can

↑ Start of page
---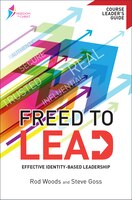 Product : FREED TO LEAD LEADERS GUIDE
Category : Books>Religion and Spirituality>Christianity>Church
Catalog : Indigo Product Feed - Books Catalog 1
Description : Freed to Lead and the accompanying 8-week small group curriculum are written to enable Christians to lead confidently based on the security of their identity in Christ. Leadership is tough. Many leaders come to ministry leadership from competence in a different field, but without training, and with a gnawing fear that they cannot really lead and will be and #8220;found out and #8221; one day. Many leaders are insecure, constantly assessing how they are coming across and where challenges may arise. Being grounded in Christ is the foundation for all true Christian leadership. This identity-based leadership makes us less driven and reduces the risk of burnout; it enables us to survive personal attacks, use conflict positively, and overcome other barriers to effective leadership. Once we operate from this secure base, centered on and grounded in Christ, we become less vulnerable to threats to our status, we cease to have anything to hide (because we can afford to be vulnerable), and we are less likely to be blown off course by strong-willed people wanting to push their own agenda.
**** PRICE (Canadian dollar - CAD): $ 26.99
Manufacturer :
Tags: Rod Woods, Books, Religion and Spirituality, Christianity, Church, FREED TO LEAD LEADERS GUIDE

↑ Start of page
---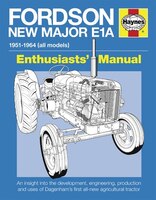 Product : Fordson New Major E1a: An Insight Into The Development, Engineering, Production And Uses Of Dagenham's First All-new
Category : Books>Science and Nature
Catalog : Indigo Product Feed - Books Catalog 1
Description : The Fordson Major tractor was produced in large numbers at Ford''s UK Dagenham factory from 1951 until 1964, and was exported across the world, including to the USA (where it was called the Ford 5000 diesel). Produced with petrol, diesel and kerosene-burning engines, the E1A was the subject of continuous development during its life and was a huge success. Many examples of the E1A can still be found at work on farms today, 50 years after the first models entered production. This extensively illustrated book provides a unique insight into this classic tractor.
**** PRICE (Canadian dollar - CAD): $ 38.99
Manufacturer :
Tags: Pat Ware, Books, Science and Nature, Fordson New Major E1a: An Insight Into The Development, Engineering, Production And Uses Of Dagenham's First All-new

↑ Start of page
---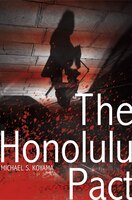 Product : The Honolulu Pact
Category : Books>Fiction and Literature>Fiction>Literary
Catalog : Indigo Product Feed - Books Catalog 1
Description : When this thriller opens only eleven months before the general election, an unusual number of candidates are already dropping out—and dropping dead. Republicans and Democrats have been dying, both from unexpected and undetected health problems and from more suspicious accidents. But when an idealistic young politician suddenly dies from an apparent heart attack in Hawaii, Lt. Lisa Higashiguchi of the Honolulu Police Department is on the case.With victims from both parties and from across the ideological spectrum, a motive seems elusive, but with such high-profile deaths, an alphabet soup of dark-suited agencies is jockeying for control of the investigation. Can Higashiguchi solve the case before the outcome of the election is printed in the obituaries and American democracy is buried for good?Michael S. Koyama's third book takes the reader behind the scenes of Washington's power brokers and the East Coast's wealthy kingmakers before reaching a gripping denouement that is both totally unexpected and frighteningly real.
**** PRICE (Canadian dollar - CAD): $ 32.50
Manufacturer :
Tags: Michael S. Koyama, Books, Fiction and Literature, Fiction, Literary, The Honolulu Pact

↑ Start of page
---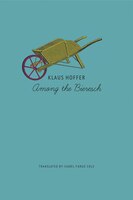 Product : Among The Bieresch
Category : Books>Fiction and Literature
Catalog : Indigo Product Feed - Books Catalog 1
Description : Young Hans arrives with one suitcase in a squalid village on the eastern edge of empire—a surreal postwar Austria. His uncle has died, and according to the tradition required by his people—the Bieresch—Hans must assume his uncle's place for one year. In a series of interactions with the village's tragicomic characters and their contradictory stories and scriptures, the reluctant Hans must face a world both familiar and alien.Among the Bieresch is Hans's story—one of bizarre customs, tangled relationships, and the struggle between two mystical sects. The novel, translated by Isabel Fargo Cole, is a German cult favorite and a masterwork of culture shock fiction that revels in exploring oppressive cultural baggage and assimilation. Readers will encounter here an amalgam drawing from Kafka, Borges, and Beckett, among others, combining to make Klaus Hoffer's novel a world utterly its own. "One of the few works that will loom from the dust of this century one day."—Urs Widmer
**** PRICE (Canadian dollar - CAD): $ 35.95
Manufacturer :
Tags: Klaus Hoffer, Books, Fiction and Literature, Among The Bieresch

↑ Start of page
---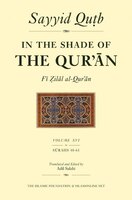 Product : In The Shade Of The Qur'an Vol. 16 (fi Zilal Al-qur'an): Surah 48 Al-fath - Surah 61 Al-saff
Category : Books>Religion and Spirituality
Catalog : Indigo Product Feed - Books Catalog 1
Description : This volume of Sayyid Qutb''s tafsir, commentary on the Qur''an, covers Surah 48 Al-Fath (Victory)?Surah 61 Al-Saff (The Ranks).
**** PRICE (Canadian dollar - CAD): $ 44.50
Manufacturer :
Tags: Sayyid Qutb, Books, Religion and Spirituality, In The Shade Of The Qur'an Vol. 16 (fi Zilal Al-qur'an): Surah 48 Al-fath - Surah 61 Al-saff

↑ Start of page
---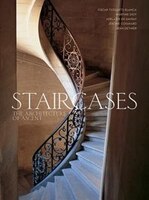 Product : Staircases: The Architecture Of Ascent
Category : Books>Art and Architecture
Catalog : Indigo Product Feed - Books Catalog 1
Description : The essential purpose of a staircase is utilitarian: to facilitate ascent and descent. Yet the design of even the simplest stair is complex, requiring great knowledge, skill, and ingenuity. This volume showcases the astonishing diversity of staircases over the centuries, from the stepped pyramids of the Maya to the exquisitely proportioned stairs of the Renaissance, to the elaborate balustraded confections of the Baroque period, to the virtuosic, computer-aided designs of today. Among the scores of featured staircases are Michelangelo's double stair at the Palazzo dei Senatori on the Capitoline Hill in Rome; the double-spiral stair at Château de Chambord in France's Loire Valley; the entrance stair in the Winter Palace (now the Hermitage) in St. Petersburg; the radical spiral ramp of Frank Lloyd Wright's Guggenheim Museum; and the exterior stair at the Pompidou Center in Paris. Architectural tours de force all, often charged with religious, mystical, and hierarchical meaning, these staircases are inherently dynamic, as is every page of this fascinating and beautifully illustrated book. Praise for Staircases: Forget utilitarian, boring staircases. This book illustrates an array of stunners, from Frank Lloyd Wright''s spire ramp at the Guggenheim to Michelangelo''s Roman masterpieces.—At HomeA useful piece of architecture that transcends cultures and location, staircases have been around almost as long as humans have. A new book, Staircases: The Architecture of Ascent, presents a dizzying array of staircases across the globe and throughout history. —PopSugarIf you, like me, fill your bookshelves with visual passion and lovely bound imagery, then you too will enjoy the downward or upward lift from Oscar Tusquet''s Staircases: The Architecture of Ascent. —La Maison FouWith beautiful images of a range of stairways. . . see a history of the trends, innovations, and modernizations of the seemingly simple invention that helps us get from one floor to the next.—The Daily BeastThe constructions documented in ''Staircases'' are like ballets, set to orchestrations of marble, limestone, granite, cast iron, steel and inlaid wood. —The Wall Street Journal
**** PRICE (Canadian dollar - CAD): $ 86.00
Manufacturer :
Tags: Books, Art and Architecture, Staircases: The Architecture Of Ascent

↑ Start of page
---


Product : Combat Wing Chun
Category : Books>Sports and Fitness
Catalog : Indigo Product Feed - Books Catalog 1
Description : Wing Chun is one of the world''s most popular kung-fu systems, due largely to its effectiveness. Originally founded by a woman, this style was designed to overcome a larger, stronger opponent. Containing many ingenious exercises and strategies while remaining the essence of simplicity, Wing Chun knowledge has been sought after by kung-fu students for nearly 500 years. Now Hong Kong trained Wing Chun Master Alan Lamb brings to the public his system of Combat Wing Chun. Packed with photos taken with painstaking care to assure correct positioning and execution, these two volumes cover all of the principles of Wing Chun with one goal in mind: survival in the street.
**** PRICE (Canadian dollar - CAD): $ 22.50
Manufacturer :
Tags: Alan Lamb, Books, Sports and Fitness, Combat Wing Chun

↑ Start of page
---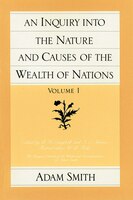 Product : The WEALTH OF NATIONS 2 VOL PB SET
Category : Books>Business and Finance>Economics>Economic History
Catalog : Indigo Product Feed - Books Catalog 1
Description : First published in 1776, the year in which the American Revolution officially began, Smith's Wealth of Nations sparked a revolution of its own. In it Smith analyzes the major elements of political economy, from market pricing and the division of labor to monetary, tax, trade, and other government policies that affect economic behavior. Throughout he offers seminal arguments for free trade, free markets, and limited government.Criticizing mercantilists who sought to use the state to increase their nations' supply of precious metals, Smith points out that a nation's wealth should be measured by the well-being of its people. Prosperity in turn requires voluntary exchange of goods in a peaceful, well-ordered market. How to establish and maintain such markets? For Smith the answer lay in man's social instincts, which government may encourage by upholding social standards of decency, honesty, and virtue, but which government undermines when it unduly interferes with the intrinsically private functions of production and exchange. Social and economic order arise from the natural desires to better one's (and one's family's) lot and to gain the praise and avoid the censure of one's neighbors and business associates. Individuals behave decently and honestly because it gives them a clear conscience as well as the good reputation necessary for public approbation and sustained, profitable business relations.
**** PRICE (Canadian dollar - CAD): $ 26.50
Manufacturer :
Tags: ADAM SMITH, Books, Business and Finance, Economics, Economic History, The WEALTH OF NATIONS 2 VOL PB SET

↑ Start of page
---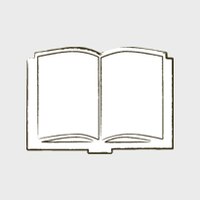 Product : A Guide to English Illustrated Books, 1536-1603
Category : Books>Reference and Language
Catalog : Indigo Product Feed - Books Catalog 1
Description : A Guide to English Illustrated Books, 1536-1603
**** PRICE (Canadian dollar - CAD): $ 115.95
Manufacturer :
Tags: Ruth Luborsky, Books, Reference and Language, A Guide to English Illustrated Books, 1536-1603

↑ Start of page
---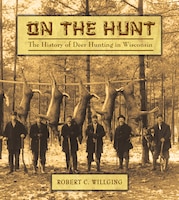 Product : On the Hunt: The History of Deer Hunting in Wisconsin
Category : Books
Catalog : Indigo Product Feed - Books Catalog 1
Description : On the Hunt is the story of deer-hunting in Wisconsin, from the spear-throwing Paleo-Indians to the sportsmen of today. Meticulously researched by one of the state''s most prolific outdoor writers, On the Hunt covers subsistence and sport hunting, deer camps, changing deer management policies, and recent developments and controversies, from human encroachment on deer habitat to CWD. Range maps and charts tracking annual herd populations and harvest goals complement Willging''s engaging storytelling. Drawing from Department of Conservation papers, hunting magazines, newspapers, historic photos of classic deer camps, and the personal stories of hunters and deer managers, On the Hunt offers a fascinating glimpse into a distant and not-so-distant past, when the hunt joined men in almost mythical unity and bucks were seemingly larger than life. An ardent sportsman with nearly 25 years of hunting experience, Willging understands that deer-hunting is as much about the smell of the woods in autumn and the meticulous cleaning of a fine rifle as it is about bringing home a whitetail. His story of how Wisconsin''s own World War II flying ace, Richard Bong, squeezed in a few days of hunting while home on leave vividly illustrates the sport''s powerful pull on hearts and minds. Willging also engagingly conveys the important tradition of the deer-hunting camp, from a humble two-man shack in Chequamegon National Forest (like the one he shared with his best friend, Steve) to the grand old Deer Foot Lodge founded in 1912 in Vilas County. On the Hunt is perfect preparation for the avid sportsman''s annual fall trek with friends and family into the woods.
**** PRICE (Canadian dollar - CAD): $ 35.50
Manufacturer :
Tags: Robert C Willging, Books, On the Hunt: The History of Deer Hunting in Wisconsin

↑ Start of page
---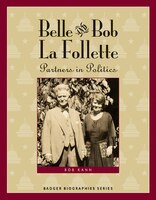 Product : Belle and Bob La Follette: Partners in Politics
Category : Books
Catalog : Indigo Product Feed - Books Catalog 1
Description : The most famous couple in Wisconsin politics, "Fighting Bob" La Follette and his wife, Belle Case La Follette, come to life in the pages of the newest addition to the Badger Biographies series for young readers. In an accessible format that includes historic images, a glossary of terms, and sidebars explaining political concepts, students learn about Progressive politics and reform in the early 20th century through the experiences of this pioneering couple.The father of "Progressive politics," Bob La Follette was famous for digging in his heels when it came to reforming government corruption. He also gained a reputation for fiery speeches on the campaign trail and on the Senate floor. Belle La Follette was political in her own right. The first woman to graduate from the University of Wisconsin''s Law School, she was an advocate for world peace and an agitator for the women''s vote. She was also Bob''s most trusted political advisor. Together, the couple raised a family and fought for the changes they believed would make the world a better place.
**** PRICE (Canadian dollar - CAD): $ 16.95
Manufacturer :
Tags: Bob Kann, Books, Belle and Bob La Follette: Partners in Politics

↑ Start of page
---


Product : Building Leadership Capacity in Schools
Category : Books>Reference and Language
Catalog : Indigo Product Feed - Books Catalog 1
Description : Building Leadership Capacity in Schools
**** PRICE (Canadian dollar - CAD): $ 18.79
Manufacturer :
Tags: Linda Lambert, Books, Reference and Language, Building Leadership Capacity in Schools

↑ Start of page
---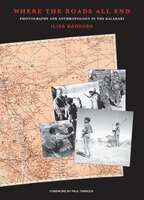 Product : Where The Roads All End: Photography And Anthropology In The Kalahari
Category : Books>Social and Cultural Studies
Catalog : Indigo Product Feed - Books Catalog 1
Description : Where The Roads All End: Photography And Anthropology In The Kalahari
**** PRICE (Canadian dollar - CAD): $ 51.95
Manufacturer :
Tags: Ilisa Barbash, Books, Social and Cultural Studies, Where The Roads All End: Photography And Anthropology In The Kalahari

↑ Start of page
---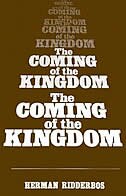 Product : Coming of the Kingdom
Category : Books>Religion and Spirituality
Catalog : Indigo Product Feed - Books Catalog 1
Description : Coming of the Kingdom
**** PRICE (Canadian dollar - CAD): $ 29.95
Manufacturer :
Tags: Herman N. Ridderbos, Books, Religion and Spirituality, Coming of the Kingdom

↑ Start of page
---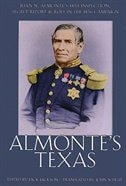 Product : Almonte's Texas: Juan N. Almonte's 1834 Inspection, Secret Report, & Role In The 1836 Campaign
Category : Books>History
Catalog : Indigo Product Feed - Books Catalog 1
Description : Almonte's Texas: Juan N. Almonte's 1834 Inspection, Secret Report, & Role In The 1836 Campaign
**** PRICE (Canadian dollar - CAD): $ 32.50
Manufacturer :
Tags: Jack Jackson, Books, History, Almonte's Texas: Juan N. Almonte's 1834 Inspection, Secret Report, & Role In The 1836 Campaign

↑ Start of page
---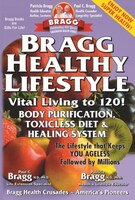 Product : Bragg Healthy Lifestyle: Vital Living to 120!
Category : Books>Health and Well Being
Catalog : Indigo Product Feed - Books Catalog 1
Description : Learn the Bragg Healthy Lifestyle that can keep you ageless. Their proven system of body purification, toxicless diet and healthy habits helps cleanse your body of toxins to strengthen nerves, increase energy, enhance mental clarity and promote longevity. This book inspires super health and youthfulness!
**** PRICE (Canadian dollar - CAD): $ 12.95
Manufacturer :
Tags: Patricia Bragg, Paul C. Bragg, Books, Health and Well Being, Bragg Healthy Lifestyle: Vital Living to 120!

↑ Start of page
---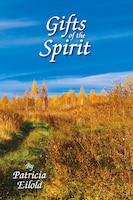 Product : Gifts of the Spirit
Category : Books>Fiction and Literature
Catalog : Indigo Product Feed - Books Catalog 1
Description : Set in northern Minnesota, Gifts of the Spirit recounts the story of a young woman who rises above her humble station without ever completely leaving it behind. Beginning with the influenza epidemic of 1918, the story continues into the 1920s on her family''s small farm, where they live in relative calm, interspersed with moments of terror and excitement.
**** PRICE (Canadian dollar - CAD): $ 19.50
Manufacturer :
Tags: Patricia Eilola, Books, Fiction and Literature, Gifts of the Spirit

↑ Start of page
---


Product : Bring Home the Murder
Category : Books>Mystery and Suspense>Thrillers
Catalog : Indigo Product Feed - Books Catalog 1
Description : Minnesota baby-boomer Meggie Moore sets off on another housesitting adventure to a hobby farm in the country. But her dream job turns into a nightmare when she discovers the farm is haunted.Ghostly rumors surface soon after Meggie accepts the housesitting position but she refuses to be deterred. An unbeliever and not easily frightened, she ignores warnings from well-meaning friends and travels to the hobby farm to fulfill her obligation.Her reluctance to believe in the supernatural is tested when strange happenings occur shortly after arriving at the farm. As time goes on she finds herself being reeled into the spirit world unable to let go of a line that eventually connects her to murder.
**** PRICE (Canadian dollar - CAD): $ 19.50
Manufacturer :
Tags: Theresa Jarvela, Books, Mystery and Suspense, Thrillers, Bring Home the Murder

↑ Start of page
---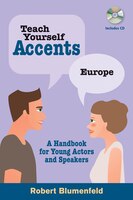 Product : Teach Yourself Accents - Europe: A Handbook For Young Actors And Speakers
Category : Books>Entertainment
Catalog : Indigo Product Feed - Books Catalog 1
Description : (Limelight). The third volume in dialect coach Robert Blumenfeld''s new series on accents, Teach Yourself Accents: Europe, A Handbook for Young Actors and Speakers covers the European accents most useful for the stage and screen: French, German, Italian, Russian, Spanish, Swedish, and Yiddish. The most important features of each accent are detailed, enabling the actor to begin immediately to sound authentic, and Mr. Blumenfeld''s unique approach makes the accents easily comprehensible. The incisive, succinct introduction to studying any accent is useful above and beyond the specific details of the accents covered here. The book provides a wealth of references to films where the reader can listen to authentic examples of the accents, and information as to what roles require the accents. There are extensive practice exercises, all recorded on the accompanying CD, as well as a selection of monologues and scenes. All of this makes the book not only a perfect guide for the young acting student but also an authoritative reference for more experienced actors and for speakers of all levels.
**** PRICE (Canadian dollar - CAD): $ 25.95
Manufacturer :
Tags: Robert Blumenfeld, Books, Entertainment, Teach Yourself Accents - Europe: A Handbook For Young Actors And Speakers

↑ Start of page
---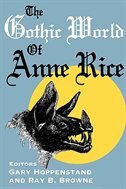 Product : The Gothic World of Anne Rice
Category : Books>Fiction and Literature
Catalog : Indigo Product Feed - Books Catalog 1
Description : This anthology argues for the serious study of the literary oeuvre of Anne Rice, a major figure in today's popular literature. The essays assert that Rice expands the conventions of the horror genre's formula to examine important social issues. Like a handful of authors working in this genre, Rice manipulates its otherwise predictable narrative structures so that a larger, more interesting cultural mythology can be developed. Rice searches for philosophical truth, examining themes of good and evil, the influence on people and society of both nature and nurture, and the conflict and dependence of humanism and science.
**** PRICE (Canadian dollar - CAD): $ 28.95
Manufacturer :
Tags: Books, Fiction and Literature, The Gothic World of Anne Rice

↑ Start of page
---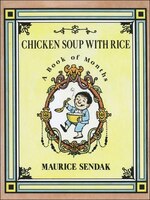 Product : Chicken Soup With Rice: A Book Of Months
Category : Books>Fiction and Literature>Fiction
Catalog : Indigo Product Feed - Books Catalog 1
Description : Chicken Soup With Rice: A Book Of Months
**** PRICE (Canadian dollar - CAD): $ 20.95
Manufacturer :
Tags: Maurice Sendak, Books, Fiction and Literature, Fiction, Chicken Soup With Rice: A Book Of Months

↑ Start of page
---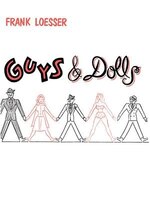 Product : Guys and Dolls
Category : Books>Entertainment
Catalog : Indigo Product Feed - Books Catalog 1
Description : Vocal Score
**** PRICE (Canadian dollar - CAD): $ 91.00
Manufacturer :
Tags: Frank Loesser, Books, Entertainment, Guys and Dolls

↑ Start of page
---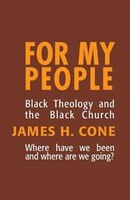 Product : For My People: Black Theology & the Black Church
Category : Books>Religion and Spirituality
Catalog : Indigo Product Feed - Books Catalog 1
Description : For My People: Black Theology & the Black Church
**** PRICE (Canadian dollar - CAD): $ 32.50
Manufacturer :
Tags: James H. Cone, Books, Religion and Spirituality, For My People: Black Theology & the Black Church

↑ Start of page
---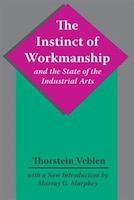 Product : The Instinct of Workmanship and the State of the Industrial Arts
Category : Books>Social and Cultural Studies>Current Events
Catalog : Indigo Product Feed - Books Catalog 1
Description : The Instinct of Workmanship and the State of the Industrial Arts, originally issued in 1914, is described by Murray Murphey as his most important work. In this volume that the theoretical foundations are put forth on full display. Veblen's juxtaposition of the instinctive values of community welfare in contrast to the pecuniary values of commercial exchange was the basis of his later, more famous works. The book makes plain Veblen's basic dichotomy between technological institutions for making goods and the pecuniary institutions for making money.Veblen's book is taken up with the casual processes in the history of culture centered on human instincts and habits. For him, a change in the natural or social conditions produces effects only by changing the behavior of people. The whole panoply of habits, instincts, and motives, points to a theory of social and cultural change which substantially differs from the pragmatic tradition that swept America in the early decades of this century. Veblen makes so many unique contributions and insights that his work outlives the limitations of its theoretical shell.As is the case for most Veblen's works, footnotes and references are sparse, no index is provided, and the reader is left to fill in the missing paraphernalia the way one does with a novel. Indeed, the reader is swept along Veblen's captivating rhetoric in seven brilliant chapters moving from the instincts in primitive technology, to the current state of industrial arts, to the examination of predatory culture invited to the civilizational table by the competitive system, and finally into a contrast of handicrafts and machine industry.Veblen offers a dramaturgy and a morality of the industrial order of his time: much has changed, but a great deal remains the same and is easily identifiable by the discerning reader. In this passage through text and time, Murphey is the perfect guide, displaying a keen knowledge of philosophy, psychology, and the American context in which Veblen worked. Here we have a companion essay worthy of The Instinct of Workmanship and its author.
**** PRICE (Canadian dollar - CAD): $ 62.90
Manufacturer :
Tags: Thorstein Veblen, Books, Social and Cultural Studies, Current Events, The Instinct of Workmanship and the State of the Industrial Arts

↑ Start of page
---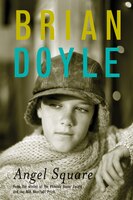 Product : Angel Square
Category : Books
Catalog : Indigo Product Feed - Books Catalog 1
Description : A Phoenix Honor Award BookYoung Tommy is seeing Angel Square through new eyes since his best friend''s father was beaten up just because he''s Jewish. Brian Doyle brings his award-winning blend of humor and wisdom to bear in this mystery that confronts the issue of racial hatred.
**** PRICE (Canadian dollar - CAD): $ 9.95
Manufacturer :
Tags: Brian Doyle, Books, Angel Square

↑ Start of page
---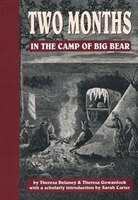 Product : Two Months in the Camp of Big Bear
Category : Books>Social and Cultural Studies>Social Science
Catalog : Indigo Product Feed - Books Catalog 1
Description : In the spring of 1885, the names Theresa Delaney and Theresa Gowanlock captured the attention and imagination not only of Canadian, but also of American and overseas readers. After their husbands were killed by Plains Cree, the two women were among eighty hostages held for two months. During their captivity, horrendous rumours circulated as to the indignities they were suffering; Delaney and Gowanlock emerged from their ordeal safely, however, to declare that none of the rumours were true, that they had been treated well under the circumstances, and that they had been zealously protected by several Metis families. This was not the central message advanced in the published account, however, which was released five months later. In Two Months in the Camp of Big Bear, the accounts of the women were made to conform to the literary conventions of the Indian captivity narrative, capitalizing upon existing sets of images, symbols, and representations. A complicated story was simplified, heroes and villains were created, and this imaginative narrative became part of the formidable written and visual legacy of the events of 1885 that is narrow and one-sided.
**** PRICE (Canadian dollar - CAD): $ 19.95
Manufacturer :
Tags: Theresa Delaney, Theresa Gowanlock, Books, Social and Cultural Studies, Social Science, Two Months in the Camp of Big Bear

↑ Start of page
---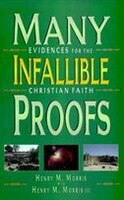 Product : Many Infallible Proofs
Category : Books
Catalog : Indigo Product Feed - Books Catalog 1
Description : Christians today - especially in America - are woefully ignorant about the Bible, and what impact it can have on a world of darkness. This despite the words of 1 Peter 3:15: But in your hearts set apart Christ as Lord. Always be prepared to give an answer to everyone who asks you to give the reason for the hope that you have. Thankfully, scholars like Henry Morris have seen fit to provide us with good answers for questions posed by Bible critics...and by multitudes of Christians, for Christ himself has provided us with many infallible proofs (Acts 1:2-3). Christians will be strengthened with these topics: Problems in verbal inspiration Fulfillment of prophecy The structure of Scripture Alleged Bible contradictions The Bible and science The Bible and ancient history The unique birth of Christ Henry Morris, Ph.D. , (deceased) earned the title, The Father of Modern Creationism, through with his numerous writings about the creation/evolution debate. He was a respected scientist and writer, textbook author and the founder of the Institute for Creation Research in California.
**** PRICE (Canadian dollar - CAD): $ 20.79
Manufacturer :
Tags: Henry Morris, Henry M. Morris III, Books, Many Infallible Proofs

↑ Start of page
---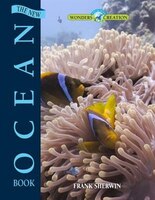 Product : The NEW OCEAN BOOK
Category : Books>Reference and Language
Catalog : Indigo Product Feed - Books Catalog 1
Description : The NEW OCEAN BOOK
**** PRICE (Canadian dollar - CAD): $ 21.99
Manufacturer :
Tags: Frank Sherwin, Books, Reference and Language, The NEW OCEAN BOOK

↑ Start of page
---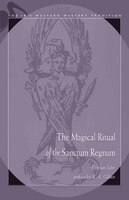 Product : The Magical Ritual Of The Sanctum Regnum
Category : Books>Religion and Spirituality
Catalog : Indigo Product Feed - Books Catalog 1
Description : The greatest innovator in the revival of Western occultism, Eliphas Levi's secret manuscript on how to apply his tarot theory was only printed after his death. Reissued here, the text is a rare insight.
**** PRICE (Canadian dollar - CAD): $ 24.95
Manufacturer :
Tags: ELIPHAS LEVI, Books, Religion and Spirituality, The Magical Ritual Of The Sanctum Regnum

↑ Start of page
---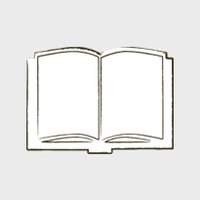 Product : Malaquias Montoya
Category : Books
Catalog : Indigo Product Feed - Books Catalog 1
Description : Working for more than four decades in a variety of media, from drawings and paintings to murals and the silkscreen prints for which he is best known, Malaquias Montoya has pursued a singular artistic vision that promotes the dignity of labor, exposes assaults on human rights, and provokes resistance in the face of injustice.Montoya cofounded the influential Chicano artist collective known as the Mexican-American Liberation Art Front in 1968, inspiring a generation of artists and activists and continuing to do so today through his teaching and by widely exhibiting his overtly political and visually arresting works.
**** PRICE (Canadian dollar - CAD): $ 78.00
Manufacturer :
Tags: Terezita Romo, Books, Malaquias Montoya

↑ Start of page
---


Product : María Brito
Category : Books
Catalog : Indigo Product Feed - Books Catalog 1
Description : One of the most revered members of "the Miami Generation," a group of Cuban-born artists who emigrated to the United States, María Brito is a painter, sculptor, and installation artist best known for her elaborately constructed room-like works that embody narratives of loss and displacement. Brito also draws on personal iconography to create challenging works that are at once deeply autobiographical and reflect a profound fluency with the history of Western art. In this new volume in the landmark A Ver series and the first major book on Brito's career, Juan A. Martinez examines the unique interplay of the personal and the universal in this Miami-based artist's diverse mixed-media works.
**** PRICE (Canadian dollar - CAD): $ 78.00
Manufacturer :
Tags: Juan A. Martinez, Books, María Brito

↑ Start of page
---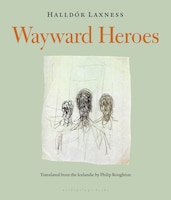 Product : Wayward Heroes
Category : Books>Fiction and Literature>Fiction>Literary
Catalog : Indigo Product Feed - Books Catalog 1
Description : Published in 1952, Wayward Heroes is part of the body of works for which Laxness was awarded the Nobel Prize in 1955. It is a masterfully written tragicomedy about the oath-brothers Thorgeir and Thormod, inspired by the old Icelandic sagas Saga of the Sworn Brothers and Saga of Saint Olaf. The brothers fight for glory, raid for treasure, and seduce women against the backdrop of a new cult of Christianity. But where the old sagas depict their heroes as glorious champions, Laxness does the opposite. As Thormod avenges Thorgeir''s death, he demonstrates the senselessness of violence and the endlessly cyclical nature of obsession.
**** PRICE (Canadian dollar - CAD): $ 27.00
Manufacturer :
Tags: Halldor Laxness, Books, Fiction and Literature, Fiction, Literary, Wayward Heroes

↑ Start of page
---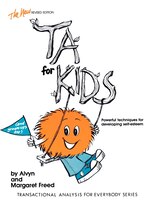 Product : Ta For Kids
Category : Books
Catalog : Indigo Product Feed - Books Catalog 1
Description : TA for KIDS is part of the Transactional Analysis for Everybody Series. This classic book has proven to be ideal for helping youngsters develop self-esteem, esteem of others, personal and social responsibility, critical thinking and independent judgement. Besides its popularity in hundreds of thousands of homes throughout the world, TA for KIDS is regularly used in thousands of classrooms. This revised edition takes concepts such as Warm Fuzzies and Cold Pricklies, which were so popular and useful in Dr. Freed''s TA for TOTS book, and makes them an integral part of the NEW TA for KIDS. This book is suited for children ages 8-12 years.
**** PRICE (Canadian dollar - CAD): $ 25.95
Manufacturer :
Tags: Alvyn M. Freed, Margaret Freed, Books, Ta For Kids

↑ Start of page
---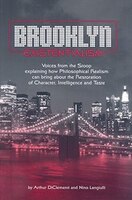 Product : Brooklyn Existentialism: Voices from the Stoop explaining how Philosophical Realism can bring about the Restoration of Chara
Category : Books
Catalog : Indigo Product Feed - Books Catalog 1
Description : Brooklyn Existentialism: Voices from the Stoop explaining how Philosophical Realism can bring about the Restoration of Chara
**** PRICE (Canadian dollar - CAD): $ 36.50
Manufacturer :
Tags: Arthur Diclementi, Nino Langiulli, Books, Brooklyn Existentialism: Voices from the Stoop explaining how Philosophical Realism can bring about the Restoration of Chara

↑ Start of page
---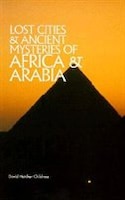 Product : Lost Cities Of Africa & Arabia
Category : Books>Social and Cultural Studies
Catalog : Indigo Product Feed - Books Catalog 1
Description : Rogue adventurer and maverick archaeologist Childress takes the reader on unforgettable journeys in search of lost cities and ancient mysteries. Join him as he crosses deserts, mountains, and jungles in search of legendary cities, vast gold treasure, jungle pyramids, ancient seafarers, living dinosaurs, and solutions to the fantastic mysteries of the past.
**** PRICE (Canadian dollar - CAD): $ 19.50
Manufacturer :
Tags: David H. Childress, Books, Social and Cultural Studies, Lost Cities Of Africa & Arabia

↑ Start of page
---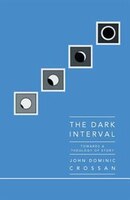 Product : The Dark Interval: Towards a Theology of Story
Category : Books>Fiction and Literature
Catalog : Indigo Product Feed - Books Catalog 1
Description : From myth to parable, Crossan identifies five types of stories. Among these types it is parable that subverts the world and undercuts the safe shelter we build. Using literary theory, philosophy, theology and biblical studies, he demonstrates the subversive power of the parable.
**** PRICE (Canadian dollar - CAD): $ 23.50
Manufacturer :
Tags: John Dominic Crossan, Books, Fiction and Literature, The Dark Interval: Towards a Theology of Story

↑ Start of page
---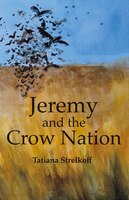 Product : Jeremy And The Crow Nation
Category : Books>Fiction and Literature>Fiction>Action Suspense>Adventure
Catalog : Indigo Product Feed - Books Catalog 1
Description : What would you do if you had an ability which allows you to shape shift into any animal? Imagine you knew what any animal thought, how they experienced life and you could speak with them. In The Changer, the first book of this trilogy, Woodman, an old Choctaw Indian, showed ten year old Jeremy how to change into any animal. Jeremy felt like the world was going to be absolutely magical. However, it hasn''t made life easy for Jeremy, who is now sixteen. In Jeremy and the Crow Nation, we find him grappling with ethical and moral dilemmas that are wearisome to Jeremy, now a young man who was taught compassion and to do no harm towards all animals. With his girlfriend, Kelly, he is motivated to take action because of the lack of ethical treatment of animals– from zoos and animal factory farming to live experimentation, which are horrific. Jeremy's quandary is how to remain ethical and still protect animals from suffering. Jeremy has to learn how to use his gift within the confines of a society which denies animals even the most basic protections under the law. Jeremy's choices are dangerous, but because he is the last Changer, they are choices he has to make.
**** PRICE (Canadian dollar - CAD): $ 19.92
Manufacturer :
Tags: Tatiana Strelkoff, Books, Fiction and Literature, Fiction, Action Suspense, Adventure, Jeremy And The Crow Nation

↑ Start of page
---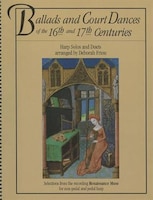 Product : Ballads And Court Dances Of The 16th & 17th Centuries
Category : Books
Catalog : Indigo Product Feed - Books Catalog 1
Description : (Harp). 24 tunes selected from the recording Renaissance Muse for non-pedal and pedal harp. Complete with introduction and historical notes.
**** PRICE (Canadian dollar - CAD): $ 23.50
Manufacturer :
Tags: Books, Ballads And Court Dances Of The 16th & 17th Centuries

↑ Start of page
---


Product : Yuletide Treasure: Celtic & English Music For Winter Celebration
Category : Books>Entertainment
Catalog : Indigo Product Feed - Books Catalog 1
Description : (Harp). 21 winter songs arranged either for harp solo, harp duet, or one harp with melody instrument. There is a separate pull-out section with the melody instrument parts. Pieces include: Green Grow''th the Holly * Greensleeves * The Humors of Winter * I Saw Three Ships * The Wexford Carol * When Christ Was Born * and more. Spiral-bound.
**** PRICE (Canadian dollar - CAD): $ 25.95
Manufacturer :
Tags: Books, Entertainment, Yuletide Treasure: Celtic & English Music For Winter Celebration

↑ Start of page
---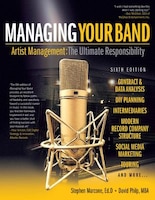 Product : Managing Your Band - Sixth Edition: Artist Management: The Ultimate Responsibility
Category : Books>Entertainment
Catalog : Indigo Product Feed - Books Catalog 1
Description : (Book). Making it in music has never been easy, but today it''s harder than ever before. The digital age has dawned and, with it, the music biz has wholly merged with the entertainment industry. Up-and-comers are immediately faced with a dire choice: alter your art to appease the powers that be or learn to navigate the notoriously grimy underside of the most glamorous profession in the world. Whether you''re a self-reliant DIY musician or an aspiring personal manager, Stephen Marcone and David Philp''s Managing Your Band Artist Management: The Ultimate Responsibility can help you keep your shirt and maybe just maybe make a buck, all for less than the price of a decent dinner. Now in its sixth edition, Managing Your Band has long since been the standard bearer for aspirants and hardened vets alike. From dive bars to festivals, from branding and merchandising to marketing and publicity, from publishing and licensing to rights and contracts, Marcone and Philp leave no stone unturned in this comprehensive guide to artist management. A lofty claim, eh? No need to take our word for it luminaries in every corner of the industry are willing to testify. To put it mildly, the book has a reputation with record labels. John Butler, Vice President of Promotion at Curb, believes that Marcone and Philp take on our ever-changing business with a fresh and complete approach. The breadth of information here is as important to veterans as it is to the new entrepreneurs that will power the current and next versions of the music industry. Paul Sinclair, the EVP of Digital Strategy & Innovation at Atlantic, attests that the 6th edition of Managing Your Band provides an excellent blueprint to follow paths of flexibility and specificity toward a successful career in music. In this book, you find the framework. Implement it well and you have a better shot of finding success with your musical art. Joe Riccitelli, the EVP/GM of RCA, considers the book a must for new and established managers who may need a brush-up on topics they have forgotten, as Stephen''s & David''s vast experience pays off in the 6th edition. Hell, this is the only book music mogul Harvey Leeds took to Israel to teach the Israelis about the international music and entertainment business! In the end, we think Doc McGhee, the man who whisked Bon Jovi and Motley Crue to superstardom, says it best: I wish I had something like this when I was starting out! What more can we say? Pick up the latest edition of Managing Your Band and chase that wild dream!
**** PRICE (Canadian dollar - CAD): $ 45.50
Manufacturer :
Tags: Stephen Marcone, David Philp, Books, Entertainment, Managing Your Band - Sixth Edition: Artist Management: The Ultimate Responsibility

↑ Start of page
---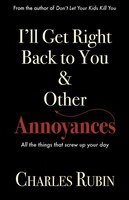 Product : I'll Get Right Back to You and Other Annoyances: All the Little Things that Screw Up Your Day
Category : Books>Entertainment
Catalog : Indigo Product Feed - Books Catalog 1
Description : 48 humorous instances of annoying situations ...such things as getting a birthday card announcing your real age. Or someone telling you your ideas are useless...and then stealing them. Or being pregnant and having a total stranger pat your stomach. Or not being able to tell what they might be doing to your food in a restaurant after you have complained about it. And much more.
**** PRICE (Canadian dollar - CAD): $ 20.95
Manufacturer :
Tags: Charles Rubin, Books, Entertainment, I'll Get Right Back to You and Other Annoyances: All the Little Things that Screw Up Your Day

↑ Start of page
---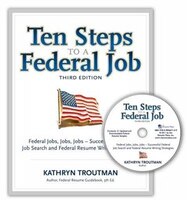 Product : Ten Steps to a Federal Job w/CD (3rd Ed.
Category : Books>Business and Finance>Career Planning and Job Hunting
Catalog : Indigo Product Feed - Books Catalog 1
Description : Learn how to translate a private industry resume into a federal resume and how to navigate the federal hiring system. This book appeals to all federal jobseekers from private industry, state government, non-profit, and non-government; perfect for the first time applicant. Step-by-Step approach for the first-time federal jobseekers to land a federal job. Includes a practical, hands-on guide with charts, illustrations, and resume samples. Integrates President Obama's 2010 Hiring Reform strategies. Master the USAJOBS federal resume, application and tracking system. Learn how to write a government cover letter and self-assessment questionnaire. Readers learn how to convert a private industry resume into a detailed federal resume that supports the requirements in a federal vacancy announcement.
**** PRICE (Canadian dollar - CAD): $ 25.95
Manufacturer :
Tags: Kathryn Troutman,kathryn/chen,paulina, Paulina Chen, Books, Business and Finance, Career Planning and Job Hunting, Ten Steps to a Federal Job w/CD (3rd Ed.

↑ Start of page
---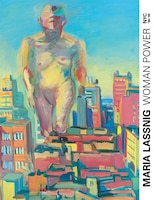 Product : Woman Power: Maria Lassnig in New York 1968-1980
Category : Books
Catalog : Indigo Product Feed - Books Catalog 1
Description : In 1968 at age 49, the painter Maria Lassnig (1919-2014) moved from her residence in Paris to New York City to be in, as she called it, the country of strong women. Although well known in her native Austria, Lassnig was virtually unheard of in the States and for the next 12 years she lived in relative anonymity, renting walk-ups in the Lower East Side and SoHo. New York offered Lassnig a liberation of sorts from the male-dominated art scene of Europe: it gave her the opportunity to be an artist, not simply a female artist.This book brings together works and archival material from her time in New York from 1968 to 1980, including films that Lassnig created in collaboration with the Women/Artists/Filmmakers, Inc. group.
**** PRICE (Canadian dollar - CAD): $ 45.00
Manufacturer :
Tags: Books, Woman Power: Maria Lassnig in New York 1968-1980

↑ Start of page
---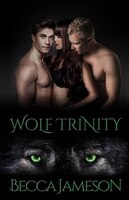 Product : Wolf Trinity
Category : Books>Romance
Catalog : Indigo Product Feed - Books Catalog 1
Description : Emma is a wolf-shifter on the run from humans who killed her parents fifteen years ago. When she steps on an old trap in the Tennessee woods, she is truly screwed. Hungry and tired from weeks of running, she assumes she''s going to die.Liam and Jaden are also wolf-shifters. They''re staying in a cabin in the wilderness for the summer to catalog the plant life in the area. Hoping to spend lazy months enhancing their own relationship and escaping women altogether, they are surprised to find a trapped female wolf on their first day at the cabin. Not only is she injured and mysteriously alone, but they realize she''s their mate.As Emma recovers from a broken leg, the three find themselves drawing closer and closer together. The pheromones filling the tiny cabin suffocate them with the need to mate.But Emma has an agenda: run for her life and keep these two male shifters from succumbing to the same fate she is destined for-death. And Liam and Jaden have their own problems. Both are concerned about what will happen to their relationship if they claim the gorgeous female occupying their bed. Will she accept their need to be with each other as well as her? More urgently, can they trust her not to flee at the first opportunity, leaving Liam and Jaden with holes in their hearts?
**** PRICE (Canadian dollar - CAD): $ 16.95
Manufacturer :
Tags: Becca Jameson, Books, Romance, Wolf Trinity

↑ Start of page
---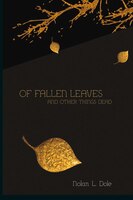 Product : Of Fallen Leaves And Other Things Dead
Category : Books>Fiction and Literature
Catalog : Indigo Product Feed - Books Catalog 1
Description : Of Fallen Leaves and Other Things Dead takes readers back and forth in time on a scene-by-scene journey that can be compared to both a Tarantino movie and a beautiful, lyrical poem. Death itself, or evidence of death, follows the lives of Elijah and Sarah, the two main characters, as they are shadowed by Death's ready servant, the child, aka Mr. Stockenbridge. Abigail, an able investigator, uncovers the truth, but she leaves their deeds hidden for reasons of her own. Readers will have to decide, as they progress through each chapter, whether or not they will continue on to the next chapter before or after they read again the one they just finished. Either way, they will read and reread many of the passages of this novella for the beauty of the words.
**** PRICE (Canadian dollar - CAD): $ 20.13
Manufacturer :
Tags: Nolan L. Dole, Books, Fiction and Literature, Of Fallen Leaves And Other Things Dead

↑ Start of page
---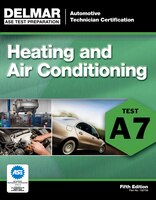 Product : Ase Test Preparation - A7 Heating And Air Conditioning
Category : Books>Science and Nature
Catalog : Indigo Product Feed - Books Catalog 1
Description : The fifth edition of Delmar''s Automotive Service Excellence (ASE) Test Preparation Manual for the A7 HEATING AND AIR CONDITIONING certification exam contains an abundance of content designed to help you successfully pass your ASE exam. This manual will ensure that you not only understand the task list and therefore the content your actual certification exam will be based upon, but also provides descriptions of the various types of questions on a typical ASE exam, as well as presents valuable test taking strategies enabling you to be fully prepared and confident on test day.
**** PRICE (Canadian dollar - CAD): $ 53.95
Manufacturer :
Tags: Delmar, Cengage Learning Delmar, Cengage Learning, Books, Science and Nature, Ase Test Preparation - A7 Heating And Air Conditioning

↑ Start of page
---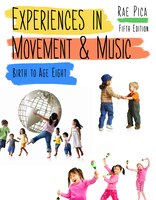 Product : Experiences In Movement And Music
Category : Books>Family and Relationships
Catalog : Indigo Product Feed - Books Catalog 1
Description : EXPERIENCES IN MUSIC AND MOVEMENT, Fifth Edition, helps you develop a movement-oriented setting for teaching children ages birth to eight years. In addition to providing a complete, ready-to-implement movement program, the author presents techniques for weaving movement and music into your day and across your curriculum. Ample resources and appendices include websites and other sources for ordering music, instruments, equipment, and props, and more.
**** PRICE (Canadian dollar - CAD): $ 163.95
Manufacturer :
Tags: Rae Pica, Books, Family and Relationships, Experiences In Movement And Music

↑ Start of page
---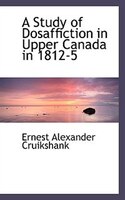 Product : A Study of Dosaffiction in Upper Canada in 1812-5
Category : Books>History
Catalog : Indigo Product Feed - Books Catalog 1
Description : This is a pre-1923 historical reproduction that was curated for quality. Quality assurance was conducted on each of these books in an attempt to remove books with imperfections introduced by the digitization process. Though we have made best efforts - the books may have occasional errors that do not impede the reading experience. We believe this work is culturally important and have elected to bring the book back into print as part of our continuing commitment to the preservation of printed works worldwide.
**** PRICE (Canadian dollar - CAD): $ 21.95
Manufacturer :
Tags: Ernest Alexander Cruikshank, Books, History, A Study of Dosaffiction in Upper Canada in 1812-5

↑ Start of page
---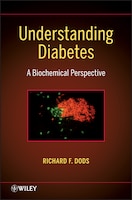 Product : Understanding Diabetes: A Biochemical Perspective
Category : Books>Science and Nature
Catalog : Indigo Product Feed - Books Catalog 1
Description : A clear explanation of the cause, diagnosis, and treatment of diabetes Written for a broad range of readers, including students, researchers, policymakers, health care providers, and diabetes patients and caregivers, this book explains the underlying biochemistry and physiology of diabetes mellitus. Each chapter contains a glossary that defines key terms, a summary that highlights essential concepts discussed in each section of the chapter, as well as a set of simple problems to help readers gain a richer and deeper understanding of diabetes, from its history to treatment options. Understanding Diabetes begins with an overview of the disease, its worldwide prevalence and cost, and its connection to the global obesity epidemic. The author then explores the history of diabetes, including the first documented description of the disease dating back to 3400 BCE in Ancient Egypt. The next chapter, A Glucose Metabolism Primer, sets forth the pathways for the metabolism of glucose. Next, the book covers: Regulation of glucose metabolism and glucose metabolism gone wrong Diabetes classification system Diagnosis, including current laboratory tests Complications, such as retinopathy, neuropathy, and cardiovascular disease Hereditary transmission Prevention and treatment, including emerging research Although a cure has still not been found, this book demonstrates that researchers are continuing to make major breakthroughs on all fronts in the fight against diabetes, including a better understanding of its causes and an improved ability to diagnose and treat the disease.
**** PRICE (Canadian dollar - CAD): $ 127.95
Manufacturer :
Tags: R. F. Dods, Books, Science and Nature, Understanding Diabetes: A Biochemical Perspective

↑ Start of page
---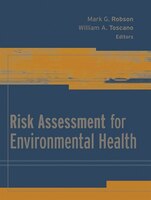 Product : Risk Assessment for Environmental Health
Category : Books>Science and Nature
Catalog : Indigo Product Feed - Books Catalog 1
Description : Written by experts in the field, this important book provides an introduction to current risk assessment practices and procedures and explores the intrinsic complexities, challenges, and controversies associated with analysis of environmental health risks. Environmental Health Risk Assessment for Public Health offers 27 substantial chapters on risk-related topics that include: What Is Risk and Why Study Risk Assessment The Risk Assessment–Risk Management Paradigm Risk Assessment and Regulatory Decision-Making in Environmental Health Toxicological Basis of Risk Assessment The Application of PBPK Modeling to Risk Assessment Probabilistic Models to Characterize Aggregate and Cumulative Risk Molecular Basis of Risk Assessment Comparative Risk Assessment Occupational Risk Radiological Risk Assessment Microbial Risk Assessment Children's Risk Assessment Life Cycle Risk Environmental Laws and Regulations Precautionary Principles Risk Communication
**** PRICE (Canadian dollar - CAD): $ 109.83
Manufacturer :
Tags: Books, Science and Nature, Risk Assessment for Environmental Health

↑ Start of page
---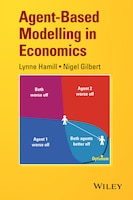 Product : Agent-Based Modelling in Economics
Category : Books>Social and Cultural Studies
Catalog : Indigo Product Feed - Books Catalog 1
Description : Agent-based modelling in economics Lynne Hamill and Nigel Gilbert, Centre for Research in Social Simulation (CRESS), University of Surrey, UK New methods of economic modelling have been sought as a result of the global economic downturn in 2008.This unique book highlights the benefits of an agent-based modelling (ABM) approach. It demonstrates how ABM can easily handle complexity: heterogeneous people, households and firms interacting dynamically. Unlike traditional methods, ABM does not require people or firms to optimise or economic systems to reach equilibrium. ABM offers a way to link micro foundations directly to the macro situation. Key features: Introduces the concept of agent-based modelling and shows how it differs from existing approaches. Provides a theoretical and methodological rationale for using ABM in economics, along with practical advice on how to design and create the models. Each chapter starts with a short summary of the relevant economic theory and then shows how to apply ABM. Explores both topics covered in basic economics textbooks and current important policy themes; unemployment, exchange rates, banking and environmental issues. Describes the models in pseudocode, enabling the reader to develop programs in their chosen language. Supported by a website featuring the NetLogo models described in the book. Agent-based Modelling in Economics provides students and researchers with the skills to design, implement, and analyze agent-based models. Third year undergraduate, master and doctoral students, faculty and professional economists will find this book an invaluable resource.
**** PRICE (Canadian dollar - CAD): $ 76.13
Manufacturer :
Tags: Lynne Hamill, Nigel Gilbert, Books, Social and Cultural Studies, Agent-Based Modelling in Economics

↑ Start of page
---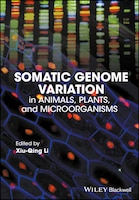 Product : Somatic Genome Variation
Category : Books>Science and Nature
Catalog : Indigo Product Feed - Books Catalog 1
Description : Written by an international team of experts, Somatic Genome Variation presents a timely summary of the latest understanding of somatic genome development and variation in plants, animals, and microorganisms. Wide-ranging in coverage, the authors provide an updated view of somatic genomes and genetic theories while also offering interpretations of somatic genome variation. The text provides geneticists, bioinformaticians, biologist, plant scientists, crop scientists, and microbiologists with a valuable overview of this fascinating field of research.
**** PRICE (Canadian dollar - CAD): $ 239.95
Manufacturer :
Tags: Books, Science and Nature, Somatic Genome Variation

↑ Start of page
---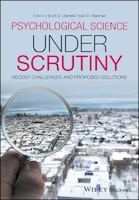 Product : Psychological Science Under Scrutiny: Recent Challenges and Proposed Solutions
Category : Books>Health and Well Being
Catalog : Indigo Product Feed - Books Catalog 1
Description : Psychological Science Under Scrutiny explores a range of contemporary challenges to the assumptions and methodologies of psychology, in order to encourage debate and ground the discipline in solid science. Discusses the pointed challenges posed by critics to the field of psychological research, which have given pause to psychological researchers across a broad spectrum of sub-fields Argues that those conducting psychological research need to fundamentally change the way they think about data and results, in order to ensure that psychology has a firm basis in empirical science Places the recent challenges discussed into a broad historical and conceptual perspective, and considers their implications for the future of psychological methodology and research Challenges discussed include confirmation bias, the effects of grant pressure, false-positive findings, overestimating the efficacy of medications, and high correlations in functional brain imaging Chapters are authored by internationally recognized experts in their fields, and are written with a minimum of specialized terminology to ensure accessibility to students and lay readers
**** PRICE (Canadian dollar - CAD): $ 83.95
Manufacturer :
Tags: Books, Health and Well Being, Psychological Science Under Scrutiny: Recent Challenges and Proposed Solutions

↑ Start of page
---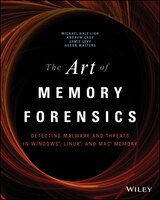 Product : The Art of Memory Forensics: Detecting Malware and Threats in Windows, Linux, and Mac Memory
Category : Books
Catalog : Indigo Product Feed - Books Catalog 1
Description : Memory forensics provides cutting edge technology to help investigate digital attacks Memory forensics is the art of analyzing computer memory (RAM) to solve digital crimes. As a follow-up to the best seller Malware Analyst''s Cookbook, experts in the fields of malware, security, and digital forensics bring you a step-by-step guide to memory forensics—now the most sought after skill in the digital forensics and incident response fields. Beginning with introductory concepts and moving toward the advanced, The Art of Memory Forensics: Detecting Malware and Threats in Windows, Linux, and Mac Memory is based on a five day training course that the authors have presented to hundreds of students. It is the only book on the market that focuses exclusively on memory forensics and how to deploy such techniques properly. Discover memory forensics techniques: How volatile memory analysis improves digital investigations Proper investigative steps for detecting stealth malware and advanced threats How to use free, open source tools for conducting thorough memory forensics Ways to acquire memory from suspect systems in a forensically sound manner The next era of malware and security breaches are more sophisticated and targeted, and the volatile memory of a computer is often overlooked or destroyed as part of the incident response process. The Art of Memory Forensics explains the latest technological innovations in digital forensics to help bridge this gap. It covers the most popular and recently released versions of Windows, Linux, and Mac, including both the 32 and 64-bit editions.
**** PRICE (Canadian dollar - CAD): $ 78.00
Manufacturer :
Tags: Michael Hale Ligh, Andrew Case, Jamie Levy, Books, The Art of Memory Forensics: Detecting Malware and Threats in Windows, Linux, and Mac Memory

↑ Start of page
---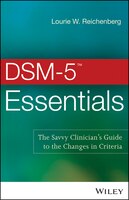 Product : DSM-5 Essentials: The Savvy Clinician's Guide to the Changes in Criteria
Category : Books>Health and Well Being
Catalog : Indigo Product Feed - Books Catalog 1
Description : Everything you need to know about the DSM-5™ in an organized and concise presentation Providing you with a quick and easy way to get up-to-speed on recent changes to the two main classification systems—DSM-5 Essentials highlights these changes in a logical and systematic manner so that you can easily make the transition from DSM-IV to DSM-5. Author Lourie Reichenberg offers health care providers, instructors, clinicians in practice settings, and office staff who do coding for insurance reimbursement the information they need to do their jobs smoothly and efficiently with coverage of: The twenty classifications of disorders Emerging measures and models The future of diagnosis and treatment planning Matching clients'' needs with the best evidence-based treatment Major changes to the DSM-5 such as the replacement of the multiaxial system, the developmental and lifespan approach, and cultural and gender considerations Arranged in the same sequence as the DSM-5, DSM-5 Essentials covers what has changed from the DSM-IV, what these changes mean for diagnosis, and the implication of these changes on the selection of effective, evidence-based treatment.
**** PRICE (Canadian dollar - CAD): $ 31.20
Manufacturer :
Tags: Lourie W. Reichenberg, Books, Health and Well Being, DSM-5 Essentials: The Savvy Clinician's Guide to the Changes in Criteria

↑ Start of page
---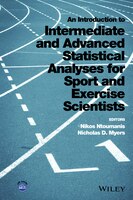 Product : An Introduction to Intermediate and Advanced Statistical Analyses for Sport and Exercise Scientists
Category : Books>Health and Well Being
Catalog : Indigo Product Feed - Books Catalog 1
Description : Ntoumanis and Myers have done sport and exercise science researchers and students a tremendous service in producing An Introduction to Intermediate and Advanced Statistical Analyses for Sport and Exercise Scientists. This book has an outstanding compilation of comprehensible chapters dealing with the important concepts and technical minutia of the statistical analyses that sport and exercise science scholars use (or should be using!) in their efforts to conduct meaningful research in the field. It is a resource that all sport and exercise scientists and their students should have on their book shelves. Robert Eklund, School of Sport, University of Stirling, UK Motivating, to have a statistics text devoted to enabling researchers studying sport and exercise science to apply the most sophisticated analytical techniques to their data. Authors hit the mark between using technical language as necessary and user-friendly terms or translations to keep users encouraged. Text covers traditional and well-used tools but also less common and more complex tools, but always with familiar examples to make their explanations come alive. As a dynamic systems theorist and developmentalist, I would love to see more researchers in my area create study designs that would enable the use of tools outlined here, such as multilevel structural equation modeling (MSEM) or mediation & moderation analyses, to uncover cascades of relations among subsystems contributing to motor performance, over time. This text can facilitate that outcome. Beverly D. Ulrich, School of Kinesiology, University of Michigan, USA The domain of quantitative methods is constantly evolving and expanding. This means that there is tremendous pressure on researchers to stay current, both in terms of best practices and improvements in more traditional methods as well as increasingly complex new methods. With this volume Ntoumanis and Myers present a nice cross-section of both, helping sport and exercise science researchers to address old questions in better ways, and, even more excitingly, to address new questions entirely. I have no doubt that this volume will quickly become a lovingly dog-eared companion for students and researchers, helping them to continue to move the field forward. Gregory R. Hancock, University of Maryland and Center for Integrated Latent Variable Research (CILVR), USA
**** PRICE (Canadian dollar - CAD): $ 105.00
Manufacturer :
Tags: Nikos Ntoumanis, Nicholas D. Myers, Books, Health and Well Being, An Introduction to Intermediate and Advanced Statistical Analyses for Sport and Exercise Scientists

↑ Start of page
---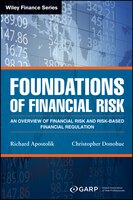 Product : Foundations of Financial Risk: An Overview of Financial Risk and Risk-based Financial Regulation
Category : Books>Business and Finance>Finance and Investing>Finance
Catalog : Indigo Product Feed - Books Catalog 1
Description : Gain a deeper understanding of the issues surrounding financial risk and regulation Foundations of Financial Risk details the various risks, regulations, and supervisory requirements institutions face in today''s economic and regulatory environment. Written by the experts at the Global Association of Risk Professionals (GARP), this book represents an update to GARP''s original publication, Foundations of Banking Risk. You''ll learn the terminology and basic concepts surrounding global financial risk and regulation, and develop an understanding of the methods used to measure and manage market, credit, and operational risk. Coverage includes traded market risk and regulation, treasury risk and regulation, and much more, including brand new coverage of risk management for insurance companies. Clear explanations, focused discussion, and comprehensive relevancy make this book an ideal resource for an introduction to risk management. The textbook provides an understanding of risk management methodologies, governance structures for risk management in financial institutions and the regulatory requirements dictated by the Basel Committee on Banking Supervision. It provides thorough coverage of the issues surrounding financial risk, giving you a solid knowledgebase and a practical, applicable understanding. Understand risk measurement and management Learn how minimum capital requirements are regulated Explore all aspects of financial institution regulation and disclosure Master the terminology of global risk and regulation Financial institutions and supervisors around the world are increasingly recognizing how vital sound risk management practices are to both individual firms and the capital markets system as a whole. Savvy professionals recognize the need for authoritative and comprehensive training, and Foundations of Financial Risk delivers with expert-led education for those new to risk management.
**** PRICE (Canadian dollar - CAD): $ 114.00
Manufacturer :
Tags: GARP (Global Association of Risk Professionals), Richard Apostolik, Christopher Donohue, Books, Business and Finance, Finance and Investing, Finance, Foundations of Financial Risk: An Overview of Financial Risk and Risk-based Financial Regulation

↑ Start of page
---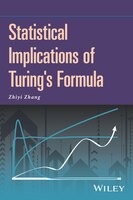 Product : Statistical Implications of Turing's Formula
Category : Books>Science and Nature
Catalog : Indigo Product Feed - Books Catalog 1
Description : Features a broad introduction to recent research on Turing's formula and presents modern applications in statistics, probability, information theory, and other areas of modern data science Turing''s formula is, perhaps, the only known method for estimating the underlying distributional characteristics beyond the range of observed data without making any parametric or semiparametric assumptions. This book presents a clear introduction to Turing's formula and its connections to statistics. Topics with relevance to a variety of different fields of study are included such as information theory; statistics; probability; computer science inclusive of artificial intelligence and machine learning; big data; biology; ecology; and genetics. The author provides examinations of many core statistical issues within modern data science from Turing''s perspective. A systematic approach to long-standing problems such as entropy and mutual information estimation, diversity index estimation, domains of attraction on general alphabets, and tail probability estimation is presented in light of the most up-to-date understanding of Turing''s formula. Featuring numerous exercises and examples throughout, the author provides a summary of the known properties of Turing''s formula and explains how and when it works well; discusses the approach derived from Turing''s formula in order to estimate a variety of quantities, all of which mainly come from information theory, but are also important for machine learning and for ecological applications; and uses Turing''s formula to estimate certain heavy-tailed distributions. In summary, this book: • Features a unified and broad presentation of Turing's formula, including its connections to statistics, probability, information theory, and other areas of modern data science • Provides a presentation on the statistical estimation of information theoretic quantities • Demonstrates the estimation problems of several statistical functions from Turing''s perspective such as Simpson''s indices, Shannon''s entropy, general diversity indices, mutual information, and Kullback–Leibler divergence • Includes numerous exercises and examples throughout with a fundamental perspective on the key results of Turing's formula Statistical Implications of Turing''s Formula is an ideal reference for researchers and practitioners who need a review of the many critical statistical issues of modern data science. This book is also an appropriate learning resource for biologists, ecologists, and geneticists who are involved with the concept of diversity and its estimation and can be used as a textbook for graduate courses in mathematics, probability, statistics, computer science, artificial intelligence, machine learning, big data, and information theory. Zhiyi Zhang, PhD, is Professor of Mathematics and Statistics at The University of North Carolina at Charlotte. He is an active consultant in both industry and government on a wide range of statistical issues, and his current research interests include Turing''s formula and its statistical implications; probability and statistics on countable alphabets; nonparametric estimation of entropy and mutual information; tail probability and biodiversity indices; and applications involving extracting statistical information from low-frequency data space. He earned his PhD in Statistics from Rutgers University.
**** PRICE (Canadian dollar - CAD): $ 150.00
Manufacturer :
Tags: Zhiyi Zhang, Books, Science and Nature, Statistical Implications of Turing's Formula

↑ Start of page
---


Product : Wiley CIAexcel Exam Review 2016: Part 2, Internal Audit Practice
Category : Books>Business and Finance>Accounting
Catalog : Indigo Product Feed - Books Catalog 1
Description : WILEY CIAexcel EXAM REVIEW 2016 THE SELF-STUDY SUPPORT YOU NEED TO PASS THE CIA EXAM Part 2: Internal Audit Practice Provides comprehensive coverage based on the exam syllabus, along with sample practice multiple-choice questions with answers and explanations Deals with managing the internal audit function Addresses managing individual engagements Covers fraud risks and controls Covers related standards from the IIA''s IPPF Features a glossary of CIA Exam terms, a good source for candidates preparing for and answering the exam questions Assists the CIA Exam candidate in successfully preparing for the exam Based on the CIA body of knowledge developed by The Institute of Internal Auditors (IIA), Wiley CIAexcel Exam Review 2016 learning system provides a student-focused and learning-oriented experience for CIA candidates. Passing the CIA Exam on your first attempt is possible. We''d like to help. Feature section examines the topics of Managing the Internal Audit Function, Managing Individual Engagements, and Fraud Risks and Controls
**** PRICE (Canadian dollar - CAD): $ 90.00
Manufacturer :
Tags: S. Rao Vallabhaneni, Books, Business and Finance, Accounting, Wiley CIAexcel Exam Review 2016: Part 2, Internal Audit Practice

↑ Start of page
---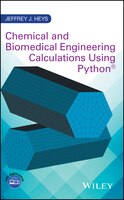 Product : Chemical and Biomedical Engineering Calculations Using Python
Category : Books>Science and Nature
Catalog : Indigo Product Feed - Books Catalog 1
Description : Presents standard numerical approaches for solving common mathematical problems in engineering using Python. Covers the most common numerical calculations used by engineering students Covers Numerical Differentiation and Integration, Initial Value Problems, Boundary Value Problems, and Partial Differential Equations Focuses on open ended, real world problems that require students to write a short report/memo as part of the solution process Includes an electronic download of the Python codes presented in the book
**** PRICE (Canadian dollar - CAD): $ 89.95
Manufacturer :
Tags: Jeffrey J. Heys, Books, Science and Nature, Chemical and Biomedical Engineering Calculations Using Python

↑ Start of page
---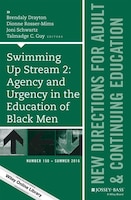 Product : Swimming Up Stream 2: Agency and Urgency in the Education of Black Men: New Directions for Adult and Continuing Education, Numbe
Category : Books>Reference and Language
Catalog : Indigo Product Feed - Books Catalog 1
Description : This volume is the continuation of a two-part series that focuses on salient topics and issues affecting Black males as they engage in adult education and learning. Considering the historical and current effects on the way these men participate in adult education, this volume broadens the conversations around adult Black males' educational experiences by utilizing academic research as well as program descriptions and personal narratives with a concern for the "lived experiences." More specifically, the authors explore: the agency of Black men in carving out pathways to success, the programs that support these endeavors, and the role of civil society in facilitating or inhibiting their progress. Topics covered include the digital divide, sports, professional career development, sexuality, role of religion, college as a choice, and the Black Lives Matter initiative. Practitioners will be encouraged toreflect on their own practices as they work toward engagement of Black males in learning communities.This is the 150th volume of the Jossey Bass series New Directions for Adult and Continuing Education. Noted for its depth of coverage, it explores issues of common interest to instructors, administrators, counselors, and policymakers in a broad range of education settings, such as colleges and universities, extension programs, businesses, libraries, and museums.
**** PRICE (Canadian dollar - CAD): $ 35.70
Manufacturer :
Tags: Books, Reference and Language, Swimming Up Stream 2: Agency and Urgency in the Education of Black Men: New Directions for Adult and Continuing Education, Numbe

↑ Start of page
---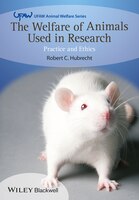 Product : The Welfare of Animals Used in Research: Practice and Ethics
Category : Books>Health and Well Being
Catalog : Indigo Product Feed - Books Catalog 1
Description : The Welfare of Animals used in Research: Practice and Ethics gives a complete and balanced overview of the issues surrounding the use of animals in scientific research.  The focus of the book is on the animal welfare implications and ethics of animals in research. It covers the topics with sufficient depth to show a real understanding of varied and complex subjects, but conveys the information in a beautifully reader-friendly manner. Key features: Provides those who are not working in the field with a reasonable understanding as to why and how animals are used in research. Gives an introduction to the ethical issues involved in using animals, and explains how these are addressed in practice. Details the advances in animal welfare and the use and development of the 3Rs principles, and how these have become fundamental to the everyday use and regulation of animals used in research. The focus is on principles making it suitable for an international audience. This book is a useful introduction to the issues involved in laboratory animal welfare for those who intend to work in research involving animals. It is also useful to prospective animal care staff and animal welfare scientists, and to those involved in ethical review. It will help inform debate amongst those who are not involved in experimentation but who are interested in the issues. Published as a part of the prestigious Wiley-Blackwell – UFAW Animal Welfare series.  UFAW, founded 1926, is an internationally recognised, independent, scientific and educational animal welfare charity. For full details of all titles available in the series, please visit the UFAW Animal Welfare series website.
**** PRICE (Canadian dollar - CAD): $ 70.99
Manufacturer :
Tags: Robert C. Hubrecht, Books, Health and Well Being, The Welfare of Animals Used in Research: Practice and Ethics

↑ Start of page
---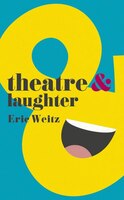 Product : Theatre And Laughter
Category : Books>Entertainment
Catalog : Indigo Product Feed - Books Catalog 1
Description : Eric Weitz is Associate Professor of Drama at Trinity College Dublin, Ireland. He is the author of The Cambridge Introduction to Comedy.
**** PRICE (Canadian dollar - CAD): $ 25.95
Manufacturer :
Tags: Eric Weitz, Books, Entertainment, Theatre And Laughter

↑ Start of page
---


Product : Environmental Governance In Latin America
Category : Books>Social and Cultural Studies
Catalog : Indigo Product Feed - Books Catalog 1
Description : Environmental Governance In Latin America
**** PRICE (Canadian dollar - CAD): $ 40.50
Manufacturer :
Tags: Books, Social and Cultural Studies, Environmental Governance In Latin America

↑ Start of page
---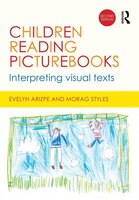 Product : Children Reading Picturebooks: Interpreting Visual Texts
Category : Books>Reference and Language
Catalog : Indigo Product Feed - Books Catalog 1
Description : Children Reading Pictureshas made a huge impact on teachers, scholars and students all over the world. The original edition of this book described the fascinating range of children''s responses to contemporary picturebooks, which proved that they are sophisticated readers of visual texts and are able to make sense of complex images on literal, visual and metaphorical levels. Through this research, the authors found that children are able to understand different viewpoints, analyse moods, messages and emotions, and articulate personal responses to picture books - even when they struggle with the written word.The study of picturebooks and children¿s responses to them has increased dramatically in the 12 years since the first edition was published. Fully revised with a review of the most recent theories and critical work related to picturebooks and meaning-making, this new edition demonstrates how vital visual literacy is to children''s understanding and development. The second edition:Includes three new case studies that address social issues, special needs and metafictionSummarises key finding from research with culturally diverse childrenDraws upon new research on response to digital picturebooksProvides guidelines for those contemplating research on response to picturebooksThis book is essential reading for undergraduate and postgraduate students of children¿s literature as well as providing important reading for Primary and Early Years teachers, literacy co-ordinators and all those interested in picturebooks.
**** PRICE (Canadian dollar - CAD): $ 74.10
Manufacturer :
Tags: Evelyn Arizpe, Morag Styles, Books, Reference and Language, Children Reading Picturebooks: Interpreting Visual Texts

↑ Start of page
---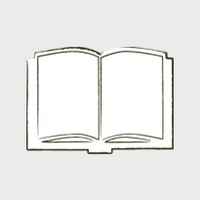 Product : Endocrinology In Clinical Practice, Second Edition
Category : Books>Health and Well Being
Catalog : Indigo Product Feed - Books Catalog 1
Description : Endocrinology is a complex specialty that spans a wide range of diseases, disorders, and conditions. The field is now moving toward an increasingly personalized approach to patient management, with a greater focus on mechanisms of disease and biomarkers. Written by internationally renowned specialists, the second edition ofEndocrinology in Clinical Practiceprovides a cutting-edge, problem-orientated approach to the management of clinical problems in endocrinology.Highlights of the new edition include:An overview of neuroendocrine diseaseStrides made by the identification of aryl hydrocarbon receptor¿interacting protein mutations in patients with familial isolated pituitary adenomasThe diverse roles of IGF-IChanges in diagnostic imaging and the increasing use of positron emission tomographyThe rapidly increasing incidence of neuroendocrine tumors and their managementHereditary primary hyperparathyroidism and multiple endocrine neoplasiaMechanistic and genomic advances related to disorders of calcium regulation and infertilityThe endocrinology of agingProtocols for pituitary function testingWith complete updates to existing chapters, the second edition also presents new research data, diagnostic techniques, treatment options, and safety concerns related to existing therapies. This edition offers current guidance and scientifically focused information relevant to a range of clinical problems, making it an essential reference for practicing endocrinologists and specialist clinicians.
**** PRICE (Canadian dollar - CAD): $ 111.90
Manufacturer :
Tags: Books, Health and Well Being, Endocrinology In Clinical Practice, Second Edition

↑ Start of page
---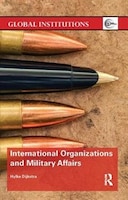 Product : International Organizations And Military Affairs
Category : Books>Social and Cultural Studies
Catalog : Indigo Product Feed - Books Catalog 1
Description : From the UN Department of Peacekeeping Operations to the NATO International Staff and the European External Action Service, international bureaucrats make decisions that affect life and death. In carrying out their functions, these officials not only facilitate the work of the member states, but also pursue their own distinct agendas. This book analyzes how states seek to control secretariats when it comes to military operations by international organizations. It introduces an innovative theoretical framework that identifies different types of control mechanisms. The book presents six empirical chapters on the UN, NATO, and EU secretariats. It provides new data from a unique dataset and in-depth interviews. It shows that member states employ a wide range of control mechanisms to reduce the potential loss of influence. They frequently forfeit the gains of delegation to avoid becoming dependent on the work of secretariats. Yet while states invest heavily in control, this book also argues that they cannot benefit from the services of secretariats and keep full control over outcomes in international organizations. In their delegation and control decisions, states face trade-offs and have to weigh different cost categories: the costs of policy, administrative capacity, and agency loss. This book will be of interest to scholars, postgraduates, and officials in international organizations and national governments, dealing with questions of international political economy, security studies, and military affairs.
**** PRICE (Canadian dollar - CAD): $ 69.90
Manufacturer :
Tags: Hylke Dijkstra, Books, Social and Cultural Studies, International Organizations And Military Affairs

↑ Start of page
---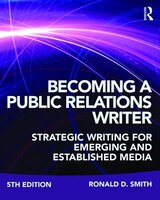 Product : Becoming A Public Relations Writer: Strategic Writing For Emerging And Established Media
Category : Books>Business and Finance>Marketing and Sales>Public Relations
Catalog : Indigo Product Feed - Books Catalog 1
Description : Becoming a Public Relations Writeris a comprehensive guide to the writing process for public relations practice. Using straightforward, no-nonsense language, realistic examples, easy-to-follow steps, and practical exercises, this text introduces the various formats and styles of writing you will encounter as a public relations practitioner.A focus on ethical and legal issues is woven throughout, with examples and exercises addressing public relations as practiced by corporations, non-profit agencies, and other types of organizations both large and small. In addition, the book offers the most comprehensive list of public relations writing formats to be found anywhere¿from the standard news release to electronic mail and other opportunities using a variety of technologies and media.The fifth edition has been updated to reflect significant developments in the public relations field, including:New and updated information on research into persuasion and social psychology aimed at helping readers be more influential in their writing.Significant updating on a new chapter on multimedia, introducing a new transmedia format for a comprehensive news package for print, broadcast, online and social media.Expansion of a chapter on websites, blogs and wikis.Expansion of the chapter on direct mail and online appeals.Updated examples of actual pieces of public relations writing.A companion website with resources for instructors and students, including a glossary, flashcards, exercises, and appendices on ethical standards, careers in public relations, and professional organizations.Through its comprehensive and accessible approach,Becoming a Public Relations Writeris an invaluable resource for future and current public relations practitioners.
**** PRICE (Canadian dollar - CAD): $ 111.90
Manufacturer :
Tags: Ronald D. Smith, Books, Business and Finance, Marketing and Sales, Public Relations, Becoming A Public Relations Writer: Strategic Writing For Emerging And Established Media

↑ Start of page
---


Product : Cities On A Finite Planet: Towards Transformative Responses To Climate Change
Category : Books>Business and Finance>Economics>Sustainable Development
Catalog : Indigo Product Feed - Books Catalog 1
Description : Cities on a Finite Planet: Transformative responses to climate changeshows how cities can combine high quality living conditions, resilience to climate change, disaster risk reduction and contributions to mitigation/low carbon development. It also covers the current and potential contribution of cities to avoiding dangerous climate change and is the first book with an in-depth coverage of how cities and their governments, citizens and civil society organizations can combine these different agendas, based on careful city-level analyses.The foundation for the book is detailed city case studies on Bangalore, Bangkok, Dar es Salaam, Durban, London, Manizales, Mexico City, New York and Rosario. Each of these was led by authors who contributed to the IPCC¿s Fifth Assessment and are thus acknowledged as among the world¿s top specialists in this field.This book highlights where there is innovation and progress in cities and how this was achieved. Also where there is little progress and no action and where there is no capacity to act. It also assesses the extent to which cities can address the Sustainable Development Goals within commitments to also dramatically reduce greenhouse gas emissions. In this, it highlights how much progress on these different agendas depends on local governments and their capacities to work with their low-income populations. 
**** PRICE (Canadian dollar - CAD): $ 238.00
Manufacturer :
Tags: Books, Business and Finance, Economics, Sustainable Development, Cities On A Finite Planet: Towards Transformative Responses To Climate Change

↑ Start of page
---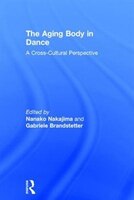 Product : The Aging Body In Dance: A Cross-cultural Perspective
Category : Books>Entertainment
Catalog : Indigo Product Feed - Books Catalog 1
Description : What does it mean to be able to move?The Aging Body in Dancebrings together leading scholars and artists from a range of backgrounds to investigate cultural ideas of movement and beauty, expressiveness and agility.Contributors focus on Euro-American and Japanese attitudes towards aging and performance, including studies of choreographers, dancers and directors from Yvonne Rainer, Martha Graham, Anna Halprin and Roemeo Castellucci to Kazuo Ohno and Kikuo Tomoeda. They draw a fascinating comparison between youth-oriented Western cultures and dance cultures like Japan¿s, where aging performers are celebrated as part of the country¿s living heritage.The first cross-cultural study of its kind,The Aging Body in Dance offers a vital resource for scholars and practitioners interested in global dance cultures and their differing responses to the world''s aging population.
**** PRICE (Canadian dollar - CAD): $ 210.00
Manufacturer :
Tags: Nanako Nakajima, Gabriele Brandstetter, Books, Entertainment, The Aging Body In Dance: A Cross-cultural Perspective

↑ Start of page
---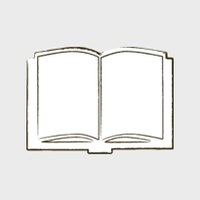 Product : Sociology And Human Ecology: Complexity And Post-humanist Perspectives
Category : Books>Social and Cultural Studies
Catalog : Indigo Product Feed - Books Catalog 1
Description : Traditionally, Sociology has identified its subject matter as a distinct set ¿ social phenomena ¿ that can be taken as quite different and largely disconnected from potentially relevant disciplines such as Psychology, Economics or Planetary Ecology.WithinSociology and Human Ecology, Smith and Jenks argue that this position is no longer sustainable. Indeed, exhorting the reader to confront human ecology and its relation to the physical and biological environments, Smith and Jenks suggest that the development of understanding with regards to the position occupied by the social requires, in turn, an extension of the component disciplines and methodologies of a ¿new¿ human socio-ecology.Aiming to evoke critical change to the possibility, status and range of the social sciences whilst also offering essential grounding for inter-disciplinary engagement, Sociology and Human Ecology will appeal to postgraduate students and postdoctoral researchers interested in fields such as Social Theory, Socio-Biology and Ecological Economics.
**** PRICE (Canadian dollar - CAD): $ 217.00
Manufacturer :
Tags: John A Smith, Chris Jenks, Books, Social and Cultural Studies, Sociology And Human Ecology: Complexity And Post-humanist Perspectives

↑ Start of page
---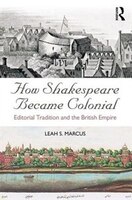 Product : How Shakespeare Became Colonial: Editorial Tradition And The British Empire
Category : Books>Fiction and Literature
Catalog : Indigo Product Feed - Books Catalog 1
Description : In this fascinating book, Leah S. Marcus argues that the colonial context in which Shakespeare was edited and disseminated during the heyday of the British Empire has left a mark on Shakespeare¿s texts to the present day.How Shakespeare Became Colonialoffers a unique and engaging argument, including:A brief history of the colonial importance of editing Shakespeare;The colonially inflected racism that hides behind the editing ofOthello;The editing of female characters ¿ colonization as sexual conquest;The significance of editions that were specifically created for schools in India during British colonial rule.Marcus traces important ways in which the colonial enterprise of setting forth the best possible Shakespeare for world consumption has continued to be visible in the recent treatment of his playtexts today, despite our belief that we are global or postcolonial in approach.
**** PRICE (Canadian dollar - CAD): $ 48.90
Manufacturer :
Tags: Leah S. Marcus, Books, Fiction and Literature, How Shakespeare Became Colonial: Editorial Tradition And The British Empire

↑ Start of page
---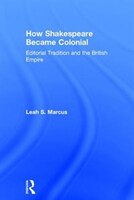 Product : How Shakespeare Became Colonial: Editorial Tradition And The British Empire
Category : Books>Fiction and Literature
Catalog : Indigo Product Feed - Books Catalog 1
Description : In this fascinating book, Leah S. Marcus argues that the colonial context in which Shakespeare was edited and disseminated during the heyday of the British Empire has left a mark on Shakespeare¿s texts to the present day.How Shakespeare Became Colonialoffers a unique and engaging argument, including:A brief history of the colonial importance of editing Shakespeare;The colonially inflected racism that hides behind the editing ofOthello;The editing of female characters ¿ colonization as sexual conquest;The significance of editions that were specifically created for schools in India during British colonial rule.Marcus traces important ways in which the colonial enterprise of setting forth the best possible Shakespeare for world consumption has continued to be visible in the recent treatment of his playtexts today, despite our belief that we are global or postcolonial in approach.
**** PRICE (Canadian dollar - CAD): $ 210.00
Manufacturer :
Tags: Leah S. Marcus, Books, Fiction and Literature, How Shakespeare Became Colonial: Editorial Tradition And The British Empire

↑ Start of page
---
In the News ...
Cindy Crawford And Her Daughter Are Basically Clones In School Photos
Posted on Wednesday November 22, 2017
The phrase "like mother, like daughter" has never been more true for Cindy Crawford and Kaia Gerber.
On Tuesday, the '90s supermodel shared an old yearbook photo alongside her 16-year-old's current school portrait. From the images, it's clear Gerber is the spitting image of her famous mom.
This isn't the first time we've noticed the family resemblance, but it is the first time we've seen how much Gerber looks like Crawford's younger self.
Just check out this throwback of the 51-year-old mom on the cover of Playboy magazine compared to a photo of the teen today. If it weren't for Crawford's trademark mole, we wouldn't be able to tell the difference!
Interestingly, the similarities between Crawford and her mini-me go far beyond their appearance. Gerber also inherited her mother's stellar modelling skills, booking her first major campaign with Versace at age 10. She then went on to sign a contract with IMG Models in 2015 and has been working with them ever since.
Just like her mama, Gerber is a natural on the runway as well, and proved this when she made her debut at New York Fashion Week earlier this year.
In an interview with People magazine, the 16-year-old commented on her and her mom's personalities, revealing that they have many of the same quirks.
"[Our look] is almost the least reason we're alike," Gerber told the site in May. "That's what people see because they don't know us, but we react to situations the same way. I think we're always really strict on time. And if other people are late, we get annoyed, so I think that's the same."
The teen added, "Mannerisms, kind of the way we talk — we both talk with our hands and stuff like that."
Kaia is the youngest child of Crawford and husband Rande Gerber. The couple also has an 18-year-old son named Presley, who is pursuing a modelling career as well.
Unsurprisingly, Presley also inherited his parents' good looks, but unlike his sister, he lucked out and got his mama's unique trademark mole.
Crawford clearly has one stunning family!
Also on HuffPost:
Ashley Graham Throws Shade At Victoria's Secret And We Love Her For It
Posted on Tuesday November 21, 2017
Ashley Graham has never been shy about calling out ridiculous beauty standards in the fashion industry, which is why she had no qualms about throwing shade at Victoria's Secret for their lack of curvy models on the runway.
After the taping of the 2017 Victoria's Secret Fashion Show in Shanghai this week, Graham took a jab at the lingerie brand, who failed to include diverse body types in their show, yet again.
On Instagram, the 30-year-old shared an image of herself in lingerie walking down the 2016 Addition Elle runway, with angel wings photoshopped behind her.
"Got my wings! .. my #AdditionElle wings!" the plus-size model cheekily wrote.
Graham's body-positive statement is clear, especially considering Victoria's Secret Angels are typically tall and thin, such as models Bella Hadid and Alessandra Ambrosio.
The brand is no stranger to controversy and has received plenty of backlash in the past for not being inclusive and for perpetuating unrealistic body images for women.
Teen Vogue writer Jessica Andrews perfectly summed up the brand's problem when she wrote in 2015, "Victoria's Secret's marketing plan hinges on fantasy — the idea of promoting images women aspire to but can't attain."
Besides the brand's runway show, its past campaigns have demonstrated their ongoing problem with body diversity. In their 2014 "The Perfect Body" campaign, for instance, their ad showed a lineup of 10 women with the exact same tall, slender figure and busty top. Although the ad's tagline was a play on the name of one their bras, it clearly suggested that the women pictured had the "perfect" body type, Adweek reports.
As a result, the brand was so heavily criticized that a U.K. petition called for Victoria's Secret to apologize for its "damaging message."
"This marketing campaign is harmful," the petition read. "It fails to celebrate the amazing diversity of women's bodies by choosing to call only one body type 'perfect.'"
While Victoria's Secret has not revealed any plans to be more body diverse in its campaigns or runways, it's clear that it needs to change.
In response to Graham's Instagram post, a number of fans applauded her body-positive message and asked Victoria's Secret to do better.
"You are so beautiful and amazing thank you for standing up for all us thick girls," one wrote.
Another commented, "I'm getting fed up with not seeing curvy girls on their runway. @victoriassecret listen to what women are asking for, or at least, think how much $ you could profit if you bring in 'plus sizes.' Or do you intentionally want to keep curvy women out of your stores?"
Graham is clearly working to change today's narrow and harmful beauty ideals and we can't help but love her for it.
In addition to Victoria's Secret, the model has also called out Fenty for not using curvy models in its New York Fashion Week show. It's safe to say that Graham is a body-positive vigilante.
More from HuffPost Canada:



10 Must-Have Holiday Party Dresses To Get You Through The Season
Posted on Thursday November 16, 2017
Amidst holiday parties, the preparation of feasts, and a glut of friends and family to purchase gifts for, it's hard to tell if the holidays are the most wonderful time of year or the most stressful.
You have enough on your plate as it is; the last thing you want to concern yourself with is finding a dress for all those holiday celebrations. Sometimes you just wish someone would do the work for you.
Well, you're in luck! We've curated a list of 10 must-have holiday party dresses that will dazzle your colleagues, friends, and family. And just like Kate Middleton, we encourage repeat outfits at multiple parties if you're seeing different friend groups.
1. Babaton Giovani Dress
This low-key LBD is versatile, but more importantly, it's comfortable. One of the worst things about getting dressed up is having to strap yourself into a body-constricting outfit. Babaton's Giovani dress is made of ponte fabric, so there's give, but also enough structure so you can show off your figure.
Where to get it:Aritzia, $125
2. Privacy Please Brisco Mini-Dress
The mustard-tone trend continues to thrive and we're happy to oblige with this metallic mini-dress, featuring flutter sleeves and a waist-cinching belt. Be warned: this dress demands attention, so don't be surprised when you're swarmed with compliments.
Where to get it:Nordstrom, $223.51
3. Twik Ruffle Tartan Dress
Holiday parties are not complete without some red tartan! The traditional Scottish pattern is always a festive choice. The ruffle hem on this affordable option from Quebec-based brand Simons adds a little extra sass to a timeless print.
Where to get it: Simons, $49
4. Paillette Party Midi Slip
Wearing sequins can be dicey, but we can only marvel at this berry slip dress from Free People that turns heads for all the right reasons.
Where to get it: Free People, $125.44
5. Limited Edition Velvet Dress
Sophistication comes in the form of this holiday-appropriate dress from Spanish retailer Massimo Dutti. A simple silhouette is made spectacular with the addition of cut-out bow sleeves and a stand-out colour. This limited-edition dress will be gone in a blink if you don't act fast.
Where to get it: Massimo Dutti, $275
6. Glittery Velour Dress
If you're looking for something on-trend and affordable, look no further than H&M's festive holiday dress options. This glittering velour mini dress can even be dressed down and worn with denim.
Where to get it: H&M, $59.99
7. Ultimate Tux Blazer Mini-Dress With Pearl Buttons
The menswear trend lives on and we wouldn't have it any other way. This tuxedo-inspired dress from ASOS is great for the no-nonsense party-goer.
Where to get it:ASOS, $57.06
8. Flowing Midi Dress With Long Sleeves
This festive emerald green midi dress from Zara offers everything we love about vintage cuts and details without having to sift through racks of clothing at our favourite vintage boutique.
Where to get it: Zara, $99.90
9. Velvet Winston Shift Dress

Has Reese Witherspoon ever let you down? The stylish actress launched her own clothing line, Draper James, and offers up this sweet velvet-and-lace combo we can envision the Oscar winner rocking.
Where to get it: Draper James, $250
10. Yumi Kim Save Leading Lady Dress

Not all holiday parties are created equal. If you're headed to a fancier affair, you'll need a dress to suit the occasion. This Yumi Kim lace dress featuring a regal mock neck collar, tonal lining and scalloped edging hits the perfect balance of sophisticated and sexy.
Where to get it: Shopbop, $275.29
Also on HuffPost:
2017 Holiday Beauty Collections We Can't Stop Obsessing Over
Posted on Tuesday November 14, 2017
As we head into the holiday season, several beauty and skin care brands have released an exciting range of must-have gift sets that have us swooning — not just because they make great holiday gifts for others, but for ourselves as well.
Here are just a few of our favourite holiday beauty sets.
1. The Body Shop's 25 Days Of Game Changing Advent-Ures
It's always exciting to see what The Body Shop releases for the holidays. This year, their advent calendar comes with a playful twist. Apart from a selection of much-loved beauty and skin care treats, each box comes with a feel-good action to complete every day. At the end of the 25 days (a.k.a. Christmas), you can turn the boxes over for a fun family Christmas trivia night. A gift that keeps on giving gets five stars in our books.
Where to get it: The Body Shop, $99
2. Sephora Collection's House of Lashes x Lash Story Pro Edition

This Christmas season, give a beauty junkie the power of seduction with this set from Sephora Collection. It includes 12 handcrafted lashes that are cruelty-free and lets your eyes do the talking. The holidays just got naughtier with this gift set.
Where to get it: Sephora, $180
3. Fenty Beauty's Galaxy Eyeshadow Palette
All we can say is SHOOK. Rihanna's Fenty Beauty has taken the beauty world by storm. The Fenty holiday collection is infused with smoky, shimmery and sheer colours to create flawless 3D looks. The eyeshadow palette has 14 stardust shades to give you the diva look inspired by Rihanna herself. Go slay!
Where to get it:Sephora, $69
4. Benefit Cosmetics' Beauty & the Bay
Benefit Cosmetics has never shied away from releasing fancy, eye-catching gift sets. Their packaging makes gifting a whole lot of fun. This Beauty and the Bay set includes a full-sized high brow pencil for celebrity-like perfection; mascara, to make your partner weak in their knees; and their hero product, the hoola bronzer, to contour like a Kardashian. It also includes a mini high beam liquid highlighter for that dewy glow. Who says you can't gift yourself this holiday season?
Where to get it: Benefit Cosmetics, $49
5. NARS' Veil Cheek Palette
The NARS holiday collection is inspired by the art of American visual artist Man Ray. There are several pieces which express individuality, and these are a great option for the ultimate beauty lover. One that we adore is the Veil Cheek Palette for contouring and highlighting. The three limited shades are Laguna Sun Wash Diffusing Bronzer, Lovesick Blush in watermelon and Surreal Highlighter in bronze rose. All hail the cheeky chic palette.
Where to get it: Hudson's Bay, $62
6. Omorovicza's Moor Mud Set
If you haven't tried Omorovicza, you're clearly missing out. The ingredients come straight from the mineral-rich thermal waters of Hungary, which is believed to have powerful healing properties that leave you with younger-looking skin. This popular celebrity-approved brand has a wide selection of holiday favourites to spoil the loved ones in your life. Specifically, the Moor Mud Set purifies and detoxifies skin. It includes a thermal cleansing balm, a deep cleansing mask and a refining facial polisher. (Psst... spoil yourself with this one.)
Where to get it:Sephora, $160
7. Ole Henriksen's 12 Days of OLE Glow Skincare Advent Calendar
Another advent calendar we're obsessed with comes from skin care brand Ole Henriksen, which has a range of mini favourites for 12 glow-worthy days. The set includes the bestselling Truth Serum, Sheer Transformation Perfecting Moisturizer, Transforming Walnut Scrub and more. These skin care gems are a great gift option for the special lady in your life. Our moms have already bribed us for this one.
Where to get it:Sephora, $82
8. Saje's 12 Days of Wellness
For those who enjoy using Saje diffusers, the holiday season just got more exciting thanks to the release of a diverse range of diffuser blends. The 100 per cent natural, vegan brand brings wellness and serenity for the holidays, and the limited-edition blends feature ingredients from around the world. Namaste, friends.
Where to get it:Saje, $109.95
9. Kat Von D's Everlasting Obsession Lip Liner (Collector's Edition)
Obsessed? Yes! The Kat Von D holiday collection is surreal, especially this 15-shade lip liner collector's edition. It also features original scrollwork handdrawn by Kat, and you get two new exclusive shades. The lip liners are water resistant and come in a bold assortment of colours from neutrals to pops. Don't you just love the holidays?
Where to get it:Sephora, $270
10. Jean Paul Gaultier's Classique & Le Mâle fragrance
The two new Christmas eau de toilette sprays from Jean Paul Gaultier are Classique for women and Le Mâle for men. The famous busts are back in an adorable snow globe for him and her. While the men's spray is warm and spicy, the women's fragrance has notes of ginger and orange blossom. A holiday item for the "it" couple, no?
Where to get it: Hudson's Bay — Classique, $120; Hudson's Bay — Le Mâle, $105
11. Fresh Beauty's Mask Wardrobe Collection
A tailor-made facial comes our way this year with four of Fresh Beauty's bestselling masks: Sugar Face Polish to buff and hydrate the skin; Rose Face Mask to soothe and tone; Black Tea Instant Perfecting Mask for smoother, healthier skin; and Vitamin Nectar Vibrancy-Boosting Face Mask for a healthy glow. Who needs a spa with this heavenly delight?
Where to get it: Nordstrom, $94.46
Also on HuffPost:
Winter Boots That Look As Good As They Feel
Posted on Tuesday November 14, 2017
While some parts of the country have already been hit with a coating of snow, it won't be long before all of us Canadians will be trudging through slush, sleet, and icy rains.
If, like us, you're shivering at the thought of Mother Nature's frosty weather, then it's time to seriously consider your winter boot options.
Below are a selection of our favourite winter boots to ensure a season of toasty warm tootsies without sacrificing style.
While the rustic outdoorsy styling of the Kamik Sienna boot (Meghan Markle is a fan of the Canadian heritage brand) initially caught our eye, the Thinsulate insulation and lightweight, slip-resistant soles solidified this pair's spot on our list.
Furthermore, Kamik is committed to sustainable manufacturing, with a zero waste target in their plants, 73 per cent domestic production, and a recycling program in place.
The eco answer to the traditional shearling-lined hiker, this vegan pair from conscientious footwear brand Bhava features Italian vegan shearling and a comfort flex rubber sole, artisanally crafted in Spain and road tested on the tough city streets of New York City.
For the sneaker-head who refuses to wear boots, these weatherized high tops could be the perfect compromise for facing the elements. Designed with warm linings including a heat retention layer between sockliner and outsole, and a lug sole tested for maximum traction, this sneaker/boot hybrid also features reinforced toecaps to ensure long-wearing durability.
Rated up to -32C, the Tamarak Mukluk features rubber soles displaying Indigenous artwork that details life energy and connection to nature, and uses traditional waterproofing methods.
Committed to supporting Indigenous communities, Manitoba Mukluks invites its customers to direct a portion of their sale to a Manitobah community program of their choice.
While slip-on boots may rate well with the five and under set, sometimes us adults also need an easy fix when we're running out the door in extreme temperatures. Enter the Bogs Kettering boot: rated from temperate to -30C, these boots feature a pull-on handle, Neo-Tech Lite insulation, a moisture-wicking lining, and an insole with odour-resistant technology in every urbanite's favourite colour, black.
We love the look of the Fair Isle print and the faux fur trim on the Andie Boot from Khombu, perfect for chalet getaways or stylish trips within the city. Not just about looks, this practical boot is waterproof, micro fleece-lined, with Thermolite insulation and a memory foam footbed.
The festive styling of these cute-as-a-button Creek Winter Boots from Cougar is getting us in the mood for trekking around town and the countryside. We can't wait to slip into the plush lining and padded insole, knowing the rubber sole and waterproof outer will keep our feet warm and dry.
The everything après ski boot, these killer cuties from Giuseppe Zanotti are styled with a faux fur cuff and metallic plate to cover the Velcro ankle strap. Can't you picture Mariah Carey wearing these babies in Aspen?
From the brand that brought us iconic rain boots comes this winter-resistant snow boot, complete with a zipped outer shell and drawstring detailing to keep out the cold. Neoprene-lined with a padded sole to minimize ankle slipping, we can't wait to face the elements in these beauties.
The latest snow boot from Joe Fresh, this classically cute style is 100 per cent synthetic, with a faux fur lining and pretty knit, ideal to keep you warm and winter-adventure ready.
These gorgeously rugged boots from iconic Canadian brand Roots are available for both men and women, and are designed to withstand severe cold and icy conditions while keeping your feet cozy and dry.
Take things up a style notch with this stunning boot from Aquatalia. Shearling-lined with waterproof outer, this is our pick for pairing with leggings or tights over the chilly winter months.
We love the contrast of the bright laces against this neutral grey winter boot, made of 100 per cent recycled materials. We think the fleece collar lining, Thermoball insulation, and OrthoLite footbed make this simple boot a comfy way to weather the winter.
Get ready to take on winter in style with this rugged pair of waterproof boots from Pajar.​​​​​​​We love the look of the textured, fold-down collar, while the grips on the soles give us peace of mind on icy city sidewalks!
More from HuffPost Canada:



Also on HuffPost:
Lupita Nyong'o Has No Time For Magazine's 'Eurocentric' Airbrushing
Posted on Friday November 10, 2017
Even though it's 2017 and women of all cultures and backgrounds are finally being celebrated for their diverse beauty, it seems that not even an Oscar winner can get away with having natural hair.
On Thursday night, actress Lupita Nyong'o took to social media to criticize Grazia magazine for cutting off, and smoothing out, her curly hair.
Posting photographs on Twitter and Instagram, the 34-year-old "Star Wars: The Force Awakens" star showed what she looked like before and after the editors used Photoshop on her image.
In the before pic, Nyong'o is seen rocking a curly ponytail, while in the after pic, the actress' ponytail is gone, replaced with a smooth, super short crop.
In the caption, Nyong'o explains that the magazine clearly photoshopped her image to "fit a more Eurocentric notion" of beauty.
"Disappointed that @GraziaUK edited out & smoothed my hair to fit a more Eurocentric notion of what beautiful hair looks like. #dtmh [don't touch my hair]," Nyong'o wrote on Twitter.
In a lengthier Instagram post, the "Black Panther" star wrote that it's important that women of colour be embraced for their beauty, "kinky, coily hair" and all.
"As I have made clear so often in the past with every fiber of my being, I embrace my natural heritage and despite having grown up thinking light skin and straight, silky hair were the standards of beauty, I now know that my dark skin and kinky, coily hair are beautiful too," Nyong'o wrote.
"Being featured on the cover of a magazine fulfills me as it is an opportunity to show other dark, kinky-haired people, and particularly our children, that they are beautiful just the way they are. I am disappointed that @graziauk invited me to be on their cover and then edited out and smoothed my hair to fit their notion of what beautiful hair looks like.
"Had I been consulted, I would have explained that I cannot support or condone the omission of what is my native heritage with the intention that they appreciate that there is still a very long way to go to combat the unconscious prejudice against black women's complexion, hair style and texture. #dtmh."
I embrace my natural heritage and despite having grown up thinking light skin and straight, silky hair were the standards of beauty, I now know that my dark skin and kinky, coily hair are beautiful too.
In a statement to The Telegraph, a representative of Grazia magazine apologized to the actress for changing her hair type and noted that they didn't "alter" the image. (Even though they clearly did.)
"Grazia is committed to representing diversity throughout its pages and apologises unreservedly to Lupita Nyong'o.
"Grazia magazine would like to make it clear that at no point did they make any editorial request to the photographer for Lupita Nyong'o's hair to be altered on this week's cover, nor did we alter it ourselves. But we apologise unreservedly for not upholding the highest of editorial standards in ensuring that that we were aware of all alterations that had been made."
After Nyong'o posted her criticism, social media turned out to support the actress.
This incident is far from the first and only time the beauty industry has airbrushed women of colour to fit a specific (namely white) ideal.
Just recently, Solange Knowles called out The London Evening Standard for altering her braids in an image that appeared on the publication's cover. Subsequently, the Standard apologized to the singer for digitally removing her hair.
In a statement, the Standard said: "The decision to amend the photograph was taken for layout purposes, but plainly we made the wrong call and we have offered our unreserved apologies to Solange."
In that cover story, Solange described how important braiding was to her, noting, "It is an act of beauty, an act of convenience and an act of tradition."
Also on HuffPost:
Tabria Majors Proves Plus-Size Models Look Good In Victoria's Secret Underwear Too
Posted on Thursday November 09, 2017
Victoria's Secret is facing stiff new competition from a plus-size, Brooklyn, N.Y.-based model.
The idea that the lingerie company largely showcases thinner models didn't sit right with Tabria Majors.
She scoured through her favourite outfits from Victoria's Secret to prove, as she says, "that curvy girls can rock (and sell) lingerie just as well as straight-size models."
The breathtaking photos she posted on Instagram and Twitter speak for themselves.
"Maybe I'll be a Victoria's Secret Angel this year for Halloween, since it ain't happening in real life," she wrote in an Instagram post on Oct. 31.
"I've been thinking about doing this for a while, and the pieces happened to come together," she said in an interview with HuffPost Canada. "I really want to open the discussion of inclusivity in mainstream media."
Majors said that the Victoria's Sercet has been a staple for decades but they have been repeating the same formula over and over.
"I just want to know why they, and so many other companies, don't cater to the average-sized woman."
It boggles the mind that higher-ups at the lingerie company won't include more plus-sized "angels" among the skinny ones the brand is famous for. Tip: Diversity sells. Literally.
"The main argument I've heard is that it's expensive, time-consuming, and companies don't have the proper resources to expand their sizes," Majors said.
Majors says plus-size industry is lucrative
"I personally don't believe that, primarily because the plus-size industry brings in billions of dollars each year, and the potential profit companies would make should counter any of their hesitations."
However, Sports Illustrated has definitely taken notice of Majors.
The model is currently a finalist for SI's Swim Search, where 15 women will debut their swimwear line and compete for a chance to be featured in the 2018 Sports Illustrated swimsuit issue.
She's even bragged about her weight online to make it clear she is damn proud of how she looks.
"I'm Tabria Majors, I weigh 218 pounds, and I don't care if you hate my body because I love it," she wrote on Instagram in August.
And in doing so, she's joined famous plus-sized model and body-positive advocate Ashley Graham in fighting the weight stigma.
She's not the first to post shots of herself beside ads to highlight the lack of diversity — black model Deddeh Howard recreated a series of famous ads last year.
Androgynous model Rain Dove also reimagined Victoria's Secret shoots by Photoshopping their models' faces onto her body with the original image of herself beside them.
Hopefully, they'll understand that everyone ... shouldn't be 'punished' for their size.

Tabria Majors
But she says major companies have to stop hesitating to showcase plus-size models.
"I'm sure there's an underlying reason that we're not aware of," Majors said. "Whether it's associated with costs or the company's image, but hopefully, they'll understand that everyone should be able to purchase any style of clothing, and shouldn't be 'punished' for their size."
Anyone at Victoria's Secret taking down notes?
These models are trying to bring you into the revolution. Stop missing it.
More from HuffPost Canada:



Oprah Gives Her Stamp Of Approval To This Canadian Sleepwear Company
Posted on Wednesday November 08, 2017
Everyone knows Oprah's stamp of approval is gold, which is why we can't help but freak out at the fact that the talk show queen has named a Canadian sleepwear company as one of her favourite things.
This year, The Sleep Shirt, a Vancouver- and Montreal-based sleepwear company, made the TV host's famous list. Specifically, Oprah noted the Blue Oxford Stripe Shirt as one she would wear as a stylish addition to a day outfit or for simply lounging at home.
"One of our editors wore this oxford cotton sleep shirt to the office with sandals and looked terrific," the 63-year-old revealed. "I'd relax in it at home or wear it as a cover-up. There might even be a few people who'd actually sleep in it."
Naturally, Sleep Shirt creator Alexandra Suhner-Isenberg was thrilled when she heard Oprah's positive review of her nightwear.
"She's such an influential figure, and there hasn't been a single person who hasn't been like 'oh my god' when we tell them the news," the designer told Flare. "To be recognized by such a major person and influencer is so great."
Suhner-Isenberg modelled her nightwear after a 19th-century chemise she found at a vintage menswear store in London. She then founded her company in 2012 and has been creating stylish, oversized unisex sleepshirts ever since.
And thanks to the sleepwear trend, the designer's clothes have only been gaining in popularity over the years. Besides Oprah's list of favourite things, The Sleep Shirt has also been featured on Gwyneth Paltrow's lifestyle site, Goop.
Back in 2012, Suhner-Isenberg told the Vancouver Sun, "In terms of why people love them, we haven't reinvented the wheel, and you can find other brands that do night shirts, but we're known for them, and it's a great product."
Plus, if it's Oprah-approved, you know it's gotta be good!
More from HuffPost Canada:



Faux Fur And Fur-Free Winter Coats And Accessories That'll Keep You Warm This Winter
Posted on Friday November 03, 2017
Luxury giant Gucci's announcement last month to go fur-free in 2018 marks another inspiring step towards cruelty-free and conscientious fashion practices.
While fur is traditionally considered a common option for warmth in cold weather, numerous brands are making the choice to offer synthetic weatherproof fabrics and faux fur details to satisfy the demand for the functionality and aesthetic appeal of a fur coat or trim.
Stella McCartney has long sat at the helm of this movement, and Net-a-Porter announced in June that they would no longer be selling fur on their website, proving that the fashion industry doesn't need to harm animals to look chic.
Whether you want to invest in ethical, cruelty-free products, or are simply looking to stay stylish and warm, we're certain you'll find something to suit your liking in our roundup of fur-free and faux fur winter coats, jackets, hats, and scarves.
The latest addition to the endlessly hip Queen Street West strip in Toronto, Frank And Oak offers more than up-to-the-minute style at reasonable prices — we recently discovered their parkas are proudly down-free (this parka in particular uses Thinsulate), and there's not a fur collar in sight.
The OG of ethical practices and sustainable designs, Stella McCartney's #FurFreeFur Elina Coat is the ultimate in animal-friendly luxury. Impeccably designed and beautifully made, we're adding this faux fox fur coat to our dream wish list!
Trust the Gap to do winter warmth right in denim. We're making a mad dash for this indigo parka with faux fur trim for a trendy transition towards the colder months.
We're happy to see a cruelty-free take on this trendy toque. This Aldo "Albenise" hat offers some stunning sparkle topped with the softest splash of faux fur.
What's not to love about this soft-as-a-bunny faux fur coat from Topshop? We'll be topping our party sparkles and LBDs with this little stunner throughout the season.
Whether you're a bonafide ski sensation or more of a chalet aficionado, this bright jacket from Lolë will have you looking and feeling your best on the slopes. We're fans of the waterproof fabric, bright watermelon hue, and mesh-lined vents under the arms to keep us warm and dry.
BRB, rushing out to buy this gorgeous silk-lined, faux coyote fur scarf. Whether you're rocking the everyday glam look, or saving this piece for a truly special occasion, this is one winter accessory that you're going to want to own!
We've gotta have this waist-length faux fur shearling vest from Old Navy. It would look stunning styled with jeans and a long sleeve tee, or popped on over a long floral dress to add a seasonal update to a summer favourite.
This grey herringbone coat makes our list for a classic topper that's long on style but won't break the bank. Leave it to Joe Fresh to cover all the necessary details (funnel collar, zip front with snap button closure for extra warmth!), perfect for a stylish transition from day to night.
Nothing says winter is here like the return of the puffer coat. Canada's signature staple for fighting the cold has seen several evolutions from the Michelin Man likeness to this stylish version from Joe Fresh. We love the slim fit and bum and thigh coverage, making our daily run to the dog park/school/grocery store that much more bearable.
Serious about stylish outwear and animal kindness, Wully's website keeps a running total of how many animals are saved by shopping #CrueltyFree. We're obsessing over their women's Doe Parka: weatherproof, multiple pockets, and the cutest Canadiana red plaid lining. What more could we want to stay warm this winter?
Leave it to Lululemon to make the perfect gloves with all the features: snap closure to keep the pair together, fold top for extra warmth, and sweat-wicking super soft fabric for winter runs or snowball fights.
Our pick for all-black-everything winter warmth, this 100 per cent vegan parka from Hoodlamb boasts a luscious faux fur removable trim, hemp and organic cotton outer shell, and a Thermore and EcoDown lining, designed to resist extreme cold in full weather resistant chic.
With a little bit of rock 'n roll and a whole lot of vintage styling, we're voting this patchwork faux fur jacket with vegan leather trim an absolute showstopper.
We can't wait to bundle up in this cozy full-length coat made of 100 per cent recycled, windproof, snow resistant ripstop, and insulated with Primaloft ECO, also made of 100 per cent recycled fibres. Customer reviews claim this coat is a game changer for those of us who don't exactly love winter and we'd have to agree: a drawstring hood, internal belt, and ribbing at the cuffs, as well as a pretty princess cut make this coat a winter wardrobe essential.
Also on HuffPost:
The 2017 Victoria's Secret Fantasy Bra Is Here, And It's Fantastic
Posted on Thursday November 02, 2017
It's that time of year again.
Halloween is over, there's a hint of festivity in the air, snow — dare we say — is on the way, and it's all leading up to the one magical moment merrymakers young and old look forward to all year: The Victoria's Secret Fashion show.
The highlight of the show, the Fantasy Bra, was revealed Wednesday, and, as expected, it's fantastic.
The bra, designed by world-renowned jeweler Mouawad, is valued at US$2 million and is set by hand with nearly 6,000 gemstones: diamonds, yellow sapphires, and blue topaz in 18 karat gold, Victoria's Secret revealed. It took 350 hours to create.
Model Lais Ribeiro will wear the 2017 Champagne Nights Fantasy bra for the first time on the runway, Victoria's Secret announced Wednesday.
Ribeiro, 27, is the fourth black model to don the bra, Teen Vogue reports. Tyra Banks wore the bra in 1997 and 2004, Selita Ebanks had the honour in 2007, and Jasmine Tookes rocked the runway in last year's version.
Being chosen to wear the Fantasy Bra is a career-making moment for a Victoria's Secret runway model, also known as an "Angel," according to Refinery29.
Ribeiro is "beyond honoured," she wrote on Instagram.
"I am very happy and thankful for my Victoria's Secret family for trusting me and all the support from my on family, friends and fans," Ribeiro said.
The Victoria's Secret Fashion Show airs Nov. 28.
The new collection will feature bras, underwear and lingerie in shimmering champagne shades.
Also on HuffPost:
What The Heck Is In Halloween Makeup Anyway?
Posted on Friday October 27, 2017
Unknown ingredients in Halloween makeup may spook you, but with some helpful tips and expert advice, painting your (or your little one's) face, this All Hallows' Eve will be a treat.
Narrowing down who or what you'll transform into is one problem, piecing the look together is another. But when it comes to things like face paint or makeup, it's worth spending a bit more on high-quality products to guarantee a safer experience for you and your kids.
Earlier on HuffPost:
In a study by the Breast Cancer Fund in 2016, 48 Halloween face paints were tested — all of which are marketed to kids. They found 21 of these products had trace amounts of at least one heavy metal, while some products contained as many as four metals. Some of these harmful ingredients included styrene, formaldehyde, lead, cadmium and volatile organic compounds (VOCs) such as toluene and benzene.
"You should buy the products at established costume stores, not pop-ups that open only for a few weeks before Halloween, or at your pharmacy where costume makeup kits are inexpensive, but are generally poorer quality," says Dr. Sandy Skotnicki, assistant professor at the University of Toronto and medical director at the Bay Dermatology Centre.
In this case, the more expensive the makeup the better quality, as it's not likely mass-produced."
When shopping for Halloween makeup, avoid any flimsy packaging with small amount of products (like those paint sets with numbers on them) — these tend to be products that are created for just the season.
"As dermatologists, we usually tell patients face creams that cost more are not that much better for your skin. But in this case, the more expensive the makeup, the better quality as it's not likely mass-produced," Skotnicki says.
Skotnicki also suggests avoiding any products that contain lead and ensuring the product has been vetted by government agencies. But you don't have to panic over things like dyes in face paint, since FD&C grade dyes are found in everything from lipstick to cake mixes. Simply, read the label.
The most common ingredients found in cheap makeup that could irritate the skin include alcohol, fragrances, artificial dyes, mica (which gives shimmer), glue, adhesives, waxes and oils.
Applying glue to bare skin doesn't require a dermatologist to tell you that this may cause a bad reaction.
Certain fluorescent or luminescent dyes can also contain colour additives that many not be government-approved, and that fake blood? It is made of a red dye that could cause irritation if it reacts with a petroleum base, notes healthcare site Vermont Urgent Care.
"Let your kids have fun and of course, use common sense. Applying glue to bare skin doesn't require a dermatologist to tell you that this may cause a bad reaction."
Skotnicki recommends testing a small amount of product on your child's ear a few days before if you want to ensure there are no allergies or irritations, and avoid adhesives and glues altogether on children under the age of two.
"Irritants are cumulative — it does not have to be one thing, it can be all together that cause the irritation and I would argue that is usually the case," Skotnicki said. "Another way of putting it — it is not the eye shadow, it's the eye shadow and eyeliner, and eyelashes all working together to cumulatively cause a reaction."
For makeup and special effects artist Samantha St John, Halloween is celebrated everyday in October. Her 28,000 followers on Instagram can expect scary (and sometimes gory) looks with her 31 days of Halloween posts. From split skulls to gouged-out eyes, St John's looks require safe products and an attentive skin care routine.
"My favourite things to use are water-activated paints for body art; silicone and alcohol paints for my special effects," explains the Vancouver-based artist.
I always use some type of barrier cream to create space between the prosthetic and my skin.
"Removal is the most important part... I always use some type of barrier cream to create space between the prosthetic and my skin, and I also make sure to safely remove adhered pieces."
St John recommends Telesis 5 remover and Isopropyl Myristate for heavier looks and prosthetics. For body paint, she uses the Franklin & Whitman's cleansing serum. St John also recommends avoiding latex, as it is a common irritant.
If using makeup from your personal collection on your trick or treaters, Courtney Kelly, beautyBOUTIQUE Manager for Shoppers Drug Mart says avoid sharing any eye products like mascara or eyeliner, and avoid using glitter around the eyes. Sanitize all lip products with rubbing alcohol before and after you use them.
As for your own costume, Kelly recommends playing with makeup already in your cosmetics bag.
The rise in popularity of colour correctors also means you may have some non-traditional colours at home.
"The great part of this is you already know whether or not the product works for you so you avoid any issues the night of," she said.
"The rise in popularity of colour correctors also means you may have some non-traditional colours at home that you can use as face paint instead of buying a new product."
To avoid any skin nightmare the following morning, use the golden rule when it comes to makeup and skincare — take it all off. Kelly recommends Dermablend Milk Makeup remover.
"Even if you get home late, don't forget to remove all of your eye makeup and apply a moisturizer before bed. Your skin will thank you in the morning."
More from HuffPost Canada:



You've Been Washing Your Face Wrong This Whole Time
Posted on Friday October 27, 2017
We get it — you want beautiful skin (who doesn't?), but your morning skincare routine usually consists of splashing some water on your face in between sips of coffee, or standing under the shower head and hoping for the best.
Thoroughly cleansing your skin is more important in the evening, anyway, when you want to remove all traces of that day's makeup and grime, right?
Wrong, according to a dermatologist.
Taking the time to properly cleanse your skin in the morning is just as important, dermatologist Natasha Cook told Daily Mail Australia this week. A simple "wash and go" isn't going to cut it.
"Cleansing in the morning is good to prepare for your application of your daily serums and skincare," Cook said.
It will act as an effective base and prepare your skin for that day's makeup application, she added. And taking care of your face, morning and night, is the key to a clear complexion, Cook said.
Choosing the right cleanser is key
"The single biggest mistake I see people making is choosing the wrong cleanser," Cook said.
The Canadian Dermatology Association (CDA) recommends choosing products that are unscented or fragrance-free, do not contain common allergens, are non-comedogenic, and have a low potential for irritation. Brands such as Marcelle, Avene, and Garnier have products that have earned the CDA seal of approval.
It's also important to keep in mind your skin type when you're removing your makeup, dermatologist Julia Carroll previously told HuffPost Canada. Products with alcohol should be avoided by anyone with sensitive skin, Carroll said, and oil-based makeup removers should be avoided by those who break out easily.
What about double-cleansing?
Double-cleansing, or washing your face twice in one sitting, isn't always a bad idea, especially if you're wearing a lot of makeup or sunscreen, Cook told The Independent.
Just be wary of over-cleansing, since that can irritate the skin and make acne worse, Cook said. She recommended using micellar water to pre-cleanse, and then use a gentle formula cleanser.
Micellar water is made up of tiny balls of cleansing oil molecules suspended in soft water.
"The idea is that micelles are attracted to dirt and oil, so they are able to draw out impurities without drying out the skin," dermatologist Hadley King previously told HuffPost. "Therefore, micellar water can be used as a facial wash, makeup remover and moisturizer all in one."
Also on HuffPost Canada:
Issa Rae Is Proud To Represent Black Women For CoverGirl
Posted on Wednesday October 25, 2017
Being a CoverGirl ambassador means a lot to Issa Rae.
When the 32-year-old actress revealed she would be the new face of the brand in September, she noted how, as "an awkward black girl in high school," she would see the beauty giant's ads in magazines and sing their slogan in her head.
But now that the shock of her new title has worn off (sort of), Rae revealed her pride in being able to represent women who look like her.
"[When it happened] I called my mom, I told my friends, and they were all super excited," she told Cosmopolitan in a recent interview. "To see the response that people had, I felt even more validated and more touched. It showed the support out there and that the news struck a chord and that people feel represented in a way that they hadn't before."
People feel represented in a way that they hadn't before.
A quick look at Twitter proves that people are loving the brand's decision to make the "Insecure" star one of their spokesmodels, not only because she's an inspiring role model, but because she represents women of colour too.
CoverGirl has made noticeable efforts to be more diverse and inclusive as of late by not only adding more women of colour to their list of ambassadors, such as Rae and Ayesha Curry, but by also including older spokesmodels, such 69-year-old Canadian beauty Maye Musk.
As a result, even Rae has applauded the brand for being more inclusive.
"Becoming a CoverGirl means a lot because the brand recognizes just how important it is for people to embrace their individuality and express themselves in unique and diverse ways," the 32-year-old said in September. "This has been a major part of my personal journey, and a message that I want to share with others."
Also on HuffPost:
The World's First Lesbian Bridal Magazine Is Finally Here
Posted on Tuesday October 24, 2017
It is 2017, after all.
As an Australian couple launches the world's first lesbian bridal magazine— a glossy, photo-filled celebration of love called Dancing with Her — the internet is saying "finally."
The magazine, which officially launched Tuesday with its first print edition, comes just as Australians are in the midst of voting on whether same-sex marriage should be legalized.
Nearly 12 million Australians, or three quarters of eligible voters, have mailed in their ballots so far, Reuters reports. The government has said it would put a proposal before parliament if a majority vote "yes." That would make Australia the 25th nation to legalize same-sex marriage, according to Reuters.
Dancing With Her is a creative, inclusive and real wedding publication for women who have been left underrepresented for too long.

Tara Baker and Arlia Hassell
Same-sex marriage has been legal in Canada since 2005. Since then, the number of same-sex couples in Canada has increased by 60 per cent, according to Statistics Canada. About one per cent of all couples in Canada are same-sex couples.
Founders Tara Baker and Arlia Hassell — who celebrated their engagement in 2016 — created the magazine to fill the gap they discovered while trying to plan their own nuptials in a hetero-normative wedding industry, they write on the Dancing With Her website.
The couple is "passionate about diversity within wedding media, and as two women in love, want to see that represented in wedding material," they said.
"Dancing With Her is a creative, inclusive and real wedding publication (print magazine and online blog) for women who have been left underrepresented for too long."
Dancing With Her is a celebration of women in love, according to the magazine's tagline.
It boasts over 100 pages of real wedding stories, editorials, a wedding-planning journal, and a directory of vendors across Australia and the United States.
And, of course, there are the beautiful photos splashed across the magazine's Instagram page ahead of the launch.
The first edition, which is available online for $19AUD, is "bursting at the seams with love and celebration," according to Dancing With Her.
Also on HuffPost Canada:
Kelly Clarkson Says Body Image Pressures Caused Her To Have Suicidal Thoughts [UPDATED]
Posted on Tuesday October 24, 2017
UPDATE: Kelly Clarkson responded to reports that she contemplated suicide while battling body image pressures to be "really skinny." On Tuesday, the singer clarified her remarks on Twitter:
Earlier on HuffPost:
No celebrity is exempt from body image pressures, including Kelly Clarkson.
In a new interview with Attitude, the 35-year-old singer got real about the self-image struggles she faced after being catapulted into stardom following her 2002 win on "American Idol."
"When I was really skinny, I wanted to kill myself," she told the British magazine. "I was miserable, like inside and out, for four years of my life. But no one cared, because aesthetically you make sense."
Clarkson revealed that she was pressured by executives to keep her body image on par with pop stars like Britney Spears and Christina Aguilera during her first years of fame.
"It was a very dark time for me. I thought the only way out was quitting," she said. "I like wrecked my knees and my feet because all I would do is put in headphones and run. I was at the gym all the time."
By the time Clarkson released her third studio album, My December, in 2007, she had had enough. Not only did she channel her struggles into her music, but she decided to get rid of the negative people in her life.
"There's a song on My December called 'Sober.' There's this line 'picked the weeds but kept the flowers' and I just live my life by that because you are who you surround yourself with," she explained to the mag.
I was around some really negative people, and I got out of it because I had a lot of great people there too.
"I was around some really negative people, and I got out of it because I had a lot of great people there too," she continued. "It was a case of turning around, facing them and walking toward the light."
Clarkson has been open about her body image issues in the past, and in 2007, she revealed to CosmoGIRL! that she battled bulimia for six months in Grade 7.
In the 15 years since she first won "American Idol," the mom-of-two has come a long way and found self-acceptance with her body.
Last week, while giving a private performance in New York to debut her new song, "Whole Lotta Woman," Clarkson told the audience, "Too skinny, too fat, too blonde — so much blah. This is who I am and I'm happy. Happy looks different on everyone."
She later elaborated her thoughts on body image to the Daily Mail, saying, "The media has always been obsessed with [my size]. And I have felt conflicted over the years. Do you address it? Do you talk about it? Because then you just add to the noise.
"But people like me to talk about it, so I don't really mind carrying that flag. I love that people come up to me and say: 'Because you are comfortable in your skin, you have made me more comfortable in mine.' That's the best compliment ever."
Also on HuffPost: