Decorating a house is a passion pursued by many. Our home decor products will add a better durability stability and high standard for all the products. Our products will be the best fi.
**** PRICE: USD 138
Manufacturer : First Floor Designs
Tags: First Floor Designs

↑ Start of page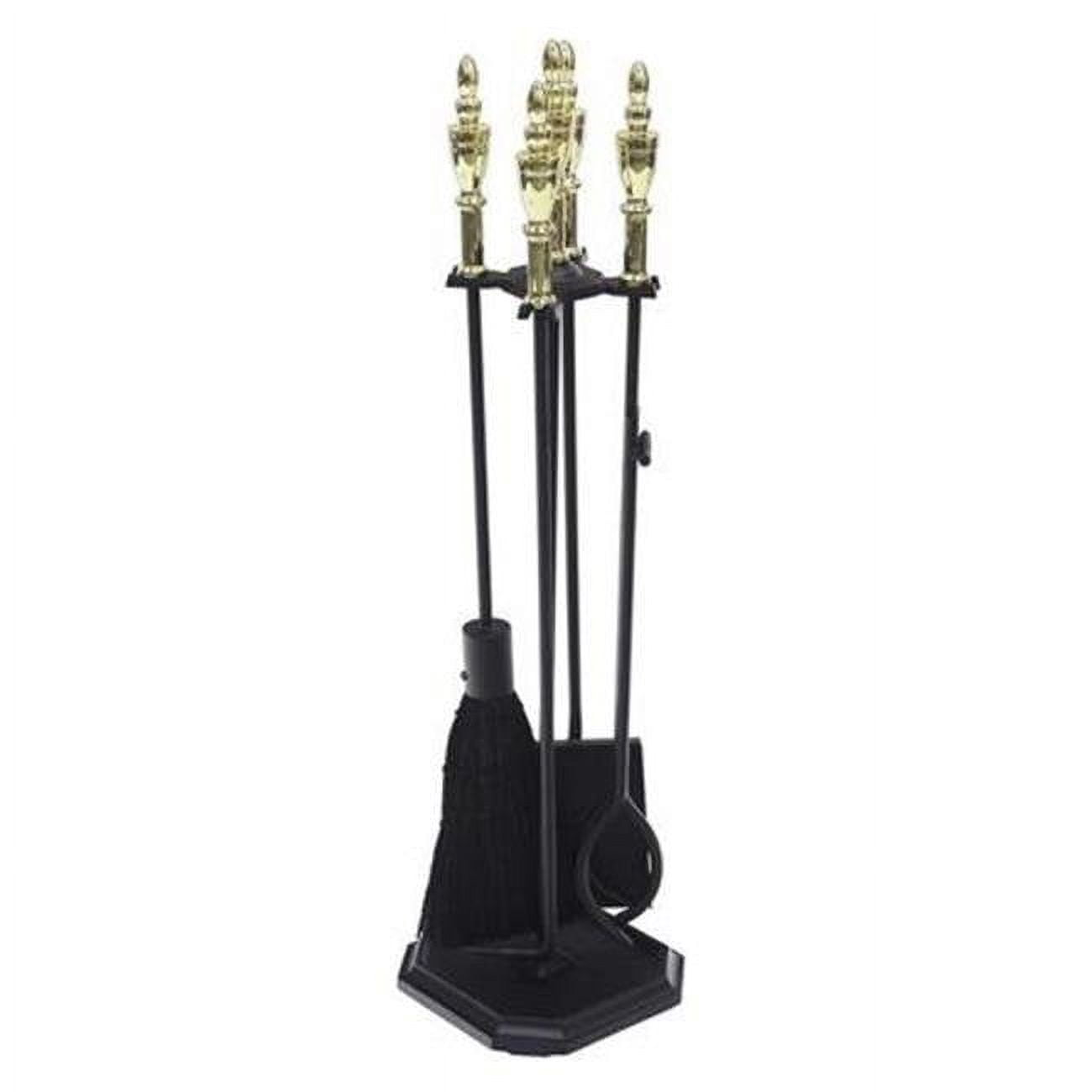 Achla WR-47PB Westford Tool Set Polished Brass & Black
Home Decor>Fireplaces>Fireplace Tool Sets
Product Catalog
Description : .
The Westford Tool Set has a decorativeurn style handles and an octagonal base. The handles are in two finishes polished brass and antique brass. The four tools- poker shovel tongs and brush are ideal for tending a woodstove.
FeaturesSpecifications
Finish: Black Powdercoat Polished Brass
Material: Cast Iron
Country of Origin: India
Size: 30.5 H x 8 Base in.
Tool Size: 28 H in.
Weight: 17 lbs
.
**** PRICE: USD 153
Manufacturer : Achla Designs
Tags: Achla Designs

↑ Start of page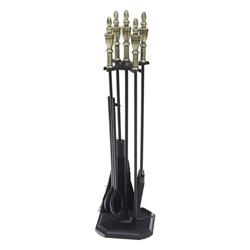 Achla WR-47AB Westford Tool Set Antique Brass & Black
Home Decor>Fireplaces>Fireplace Tool Sets
Product Catalog
Description : .

The Westford Tool Set has a decorativeurn style handles and an octagonal base. The handles are in two finishes polished brass and antique brass. The four tools- poker shovel tongs and brush are ideal for tending a woodstove.

FeaturesSpecifications
Finish: Black Powdercoat Antique Brass
Material: Cast Iron
Country of Origin: India
Size: 30.5 H x 8 Base in.
Tool Size: 28 H in.
Weight: 17 lbs
.
**** PRICE: USD 153
Manufacturer : Achla Designs
Tags: Achla Designs

↑ Start of page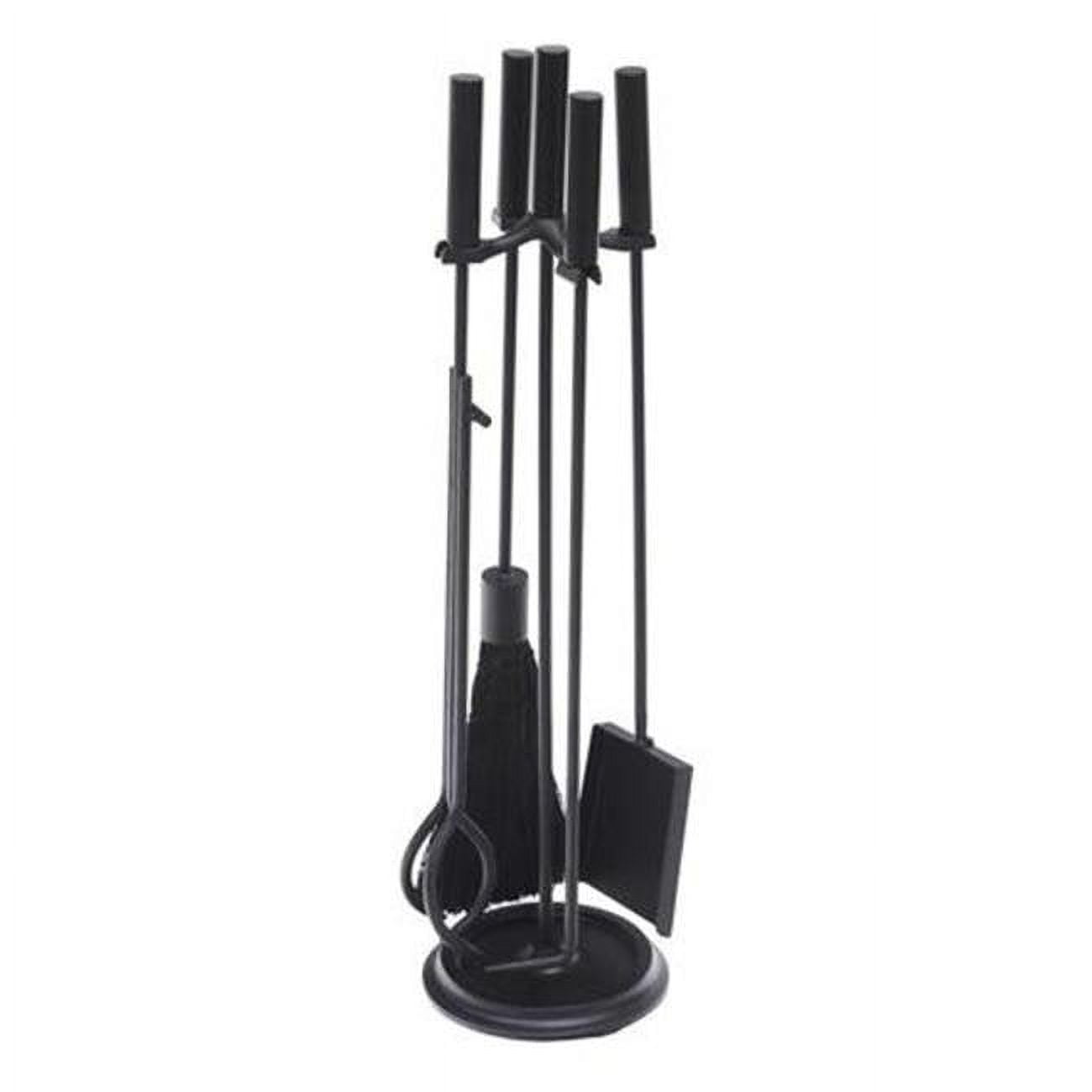 Achla WR-48BK Bedford Tool Set Black
Home Decor>Fireplaces>Fireplace Tool Sets
Product Catalog
Description : .

The Bedford Tool Set has a decorative cylinder handles and a plain circular base. The handles are in three finishes black polished brass and polished chrome. The four tools- poker shovel tongs and brush are ideal for tending a woodstove.

FeaturesSpecifications
Finish: Black Powdercoat Black
Material: Cast Iron
Country of Origin: India
Size: 30.25 H x 8 Base in.
Tool Size: 27 H in.
Weight: 17 lbs
.
**** PRICE: USD 137
Manufacturer : Achla Designs
Tags: Achla Designs

↑ Start of page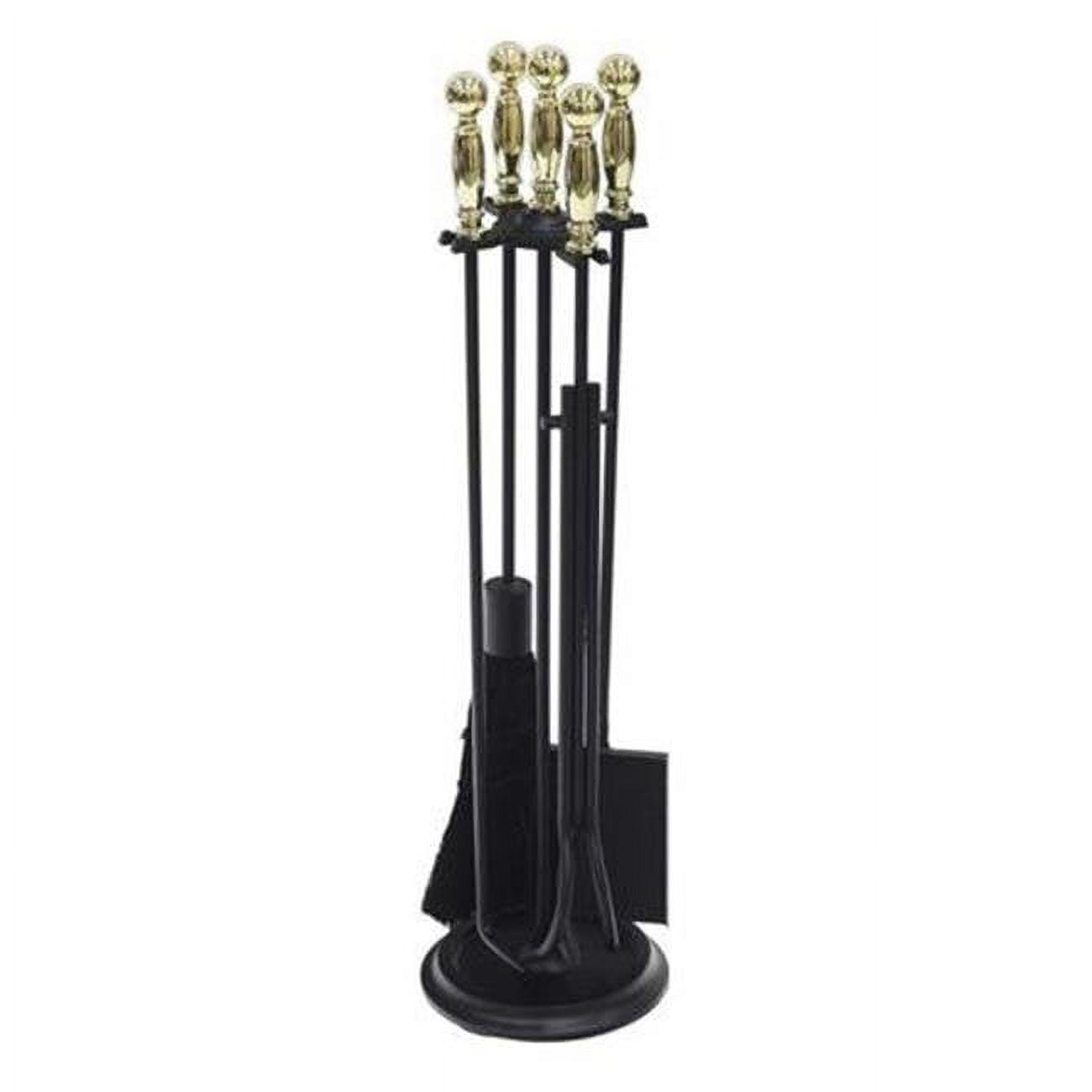 Achla WR-45PB Chelmsford Tool Set Polished Brass & Black
Home Decor>Fireplaces>Fireplace Tool Sets
Product Catalog
Description : .

The Chelmsford Tool Set has a decorative ball-end handles and a plain circular base. The handles are in three finishes black polished brass and antique brass. The four tools- poker shovel tongs and brush are ideal for tending a woodstove.

Specifications
Finish: Black Powdercoat Polished Brass
Material: Cast Iron
Country of Origin: India
Size: 30.25 H x 8 Base in.
Tool Size: 27 H in.
Weight: 17 lbs
.
**** PRICE: USD 145
Manufacturer : Achla Designs
Tags: Achla Designs

↑ Start of page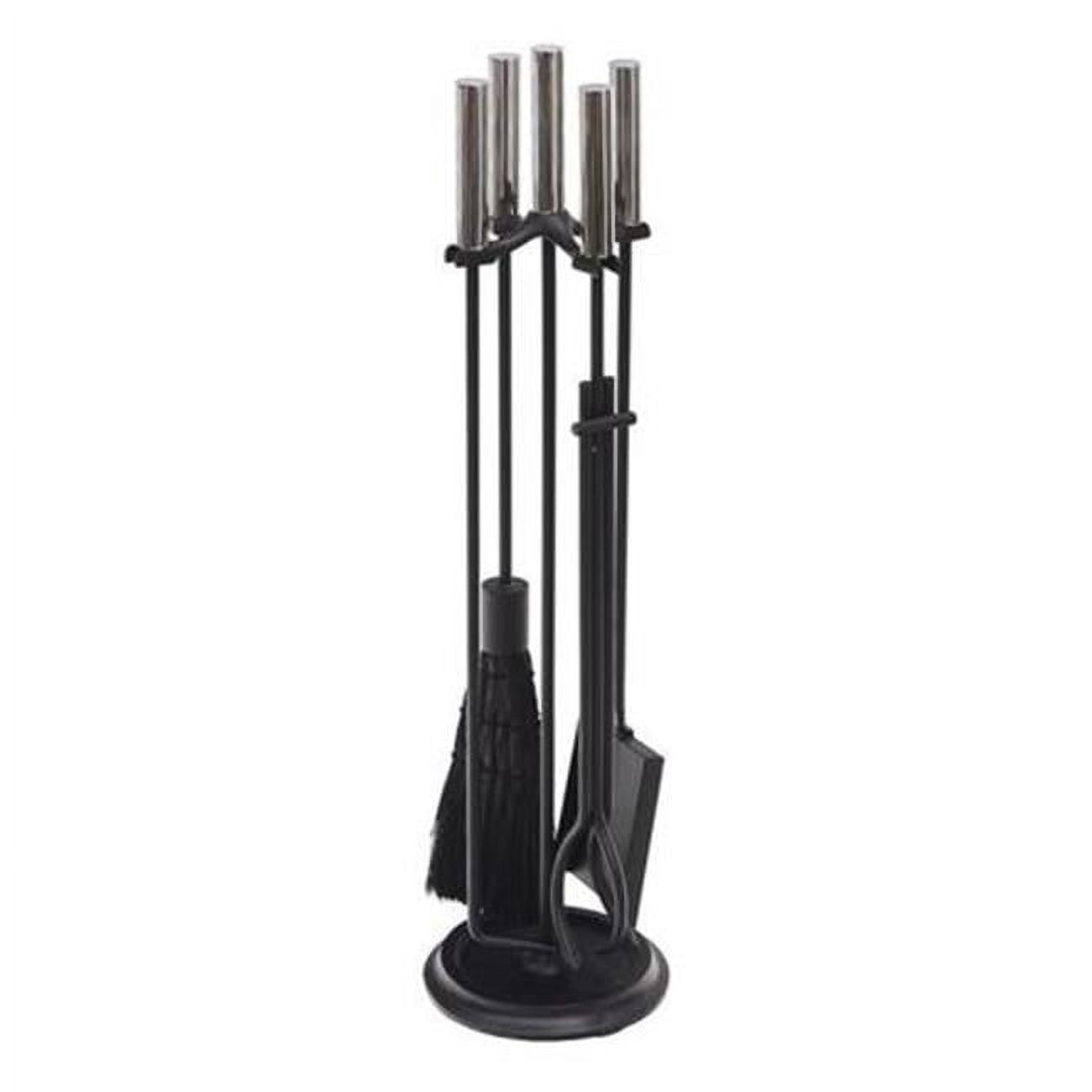 Achla WR-48CH Polished Chrome Tool Set
Home Decor>Fireplaces>Fireplace Tool Sets
Product Catalog
Description : .

The Bedford Tool Set has a decorative cylinder handles and a plain circular base. The handles are in three finishes black polished brass and polished chrome. The four tools- poker shovel tongs and brush are ideal for tending a woodstove.

FeaturesSpecifications
Finish: Black Powdercoat Chrome
Material: Cast Iron
Country of Origin: India
Size: 30.25 H x 8 Base in.
Tool Size: 27 H in.
Weight: 17 lbs
.
**** PRICE: USD 170
Manufacturer : Achla Designs
Tags: Achla Designs

↑ Start of page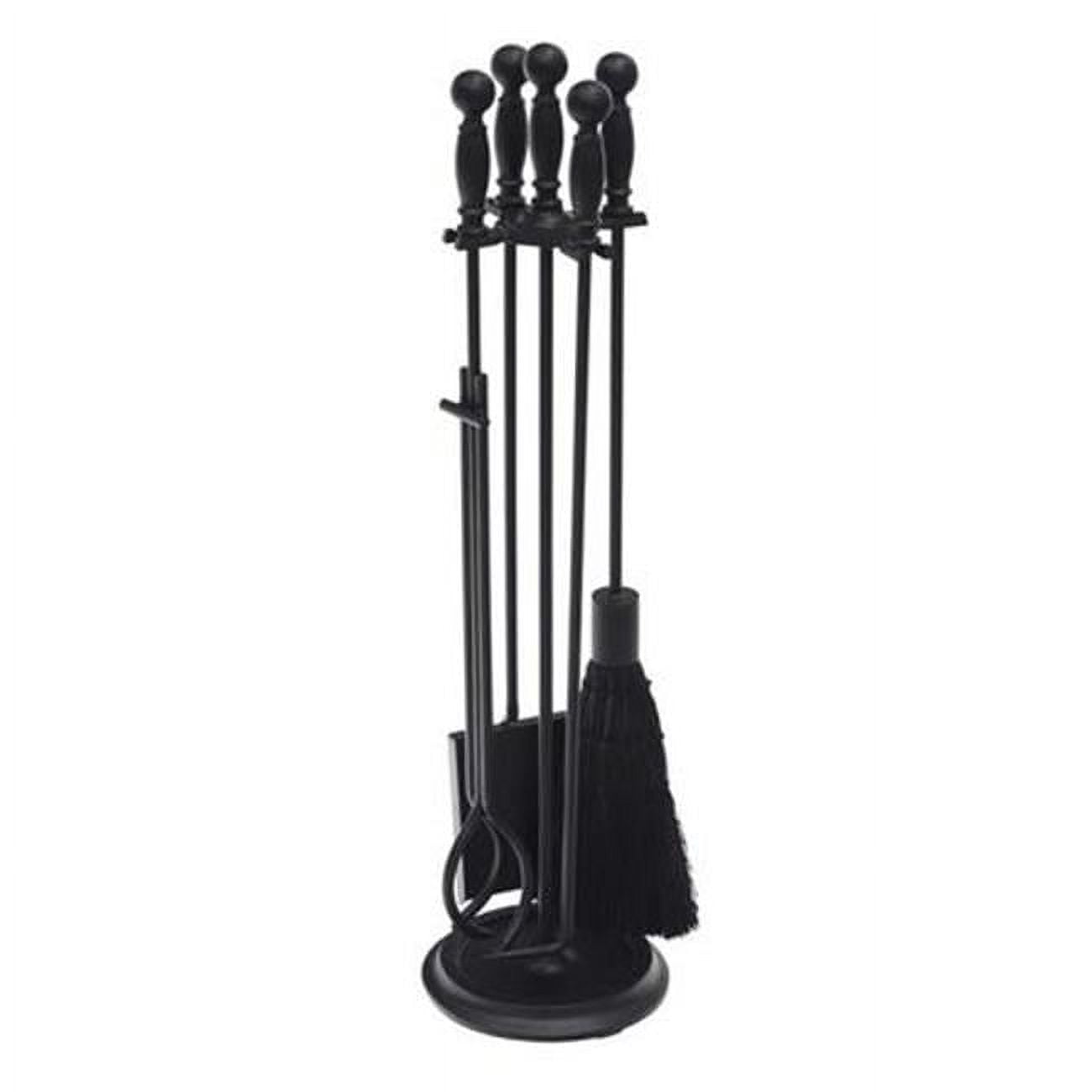 Achla WR-45BK Chelmsford Tool Set Black
Home Decor>Fireplaces>Fireplace Tool Sets
Product Catalog
Description : .

The Chelmsford Tool Set has a decorative ball-end handles and a plain circular base. The handles are in three finishes black polished brass and antique brass. The four tools- poker shovel tongs and brush are ideal for tending a woodstove.

Specifications
Finish: Black Powdercoat Black
Material: Cast Iron
Country of Origin: India
Size: 30.25 H x 8 Base in.
Tool Size: 27 H in.
Weight: 17 lbs
.
**** PRICE: USD 145
Manufacturer : Achla Designs
Tags: Achla Designs

↑ Start of page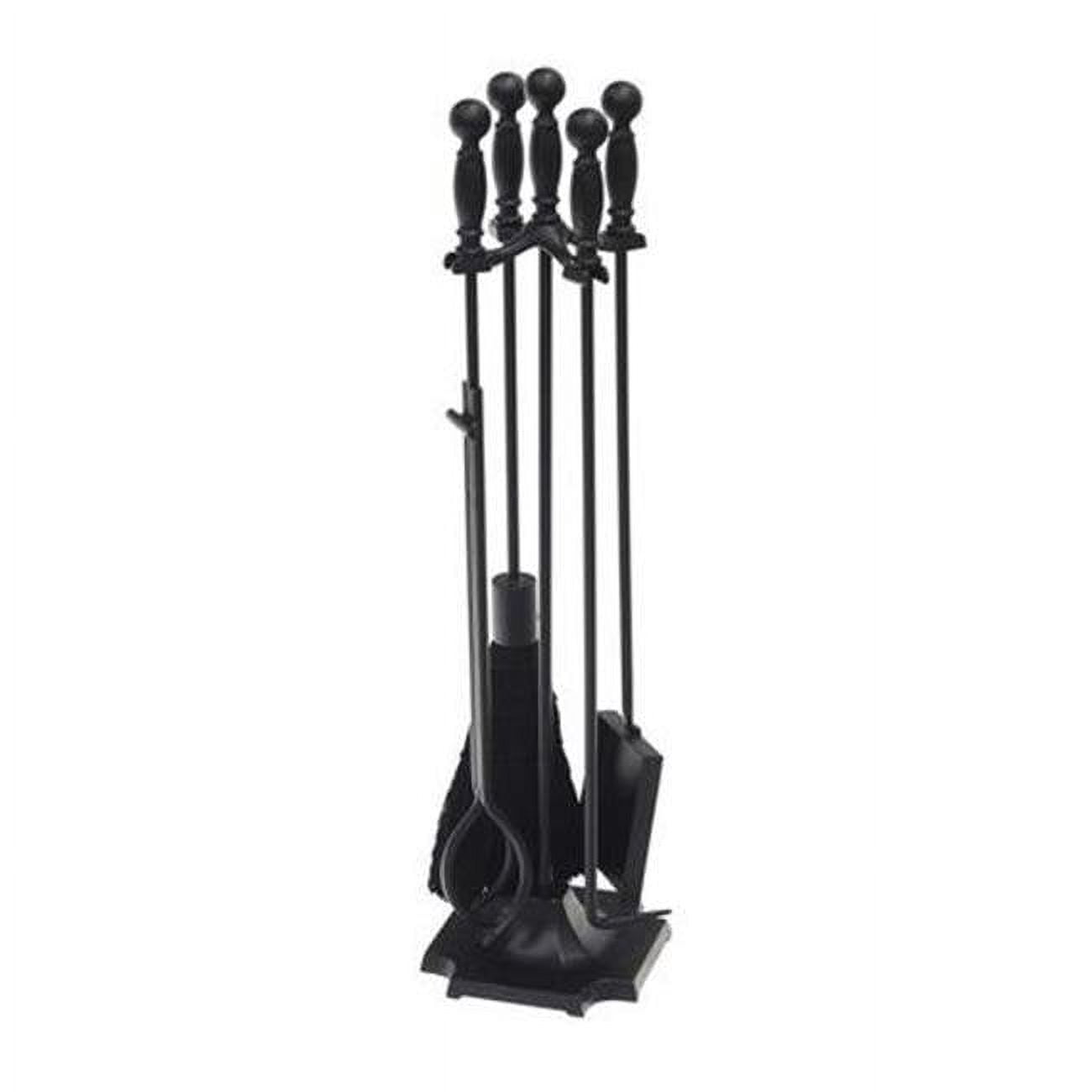 Achla WR-46BK Carlisle Tool Set Black
Home Decor>Fireplaces>Fireplace Tool Sets
Product Catalog
Description : .

The Carlisle Tool Set has a decorative ball-end handles and a square cross base. The handles are in three finishes black polished brass and antique brass. The four tools- poker shovel tongs and brush are ideal for tending a woodstove.

Specifications
Finish: Black Powdercoat Antique Brass
Material: Cast Iron
Country of Origin: India
Size: 30.5 H x 7.5 Base in.
Tool Size: 27 H in.
Weight: 17 lbs
.
**** PRICE: USD 145
Manufacturer : Achla Designs
Tags: Achla Designs

↑ Start of page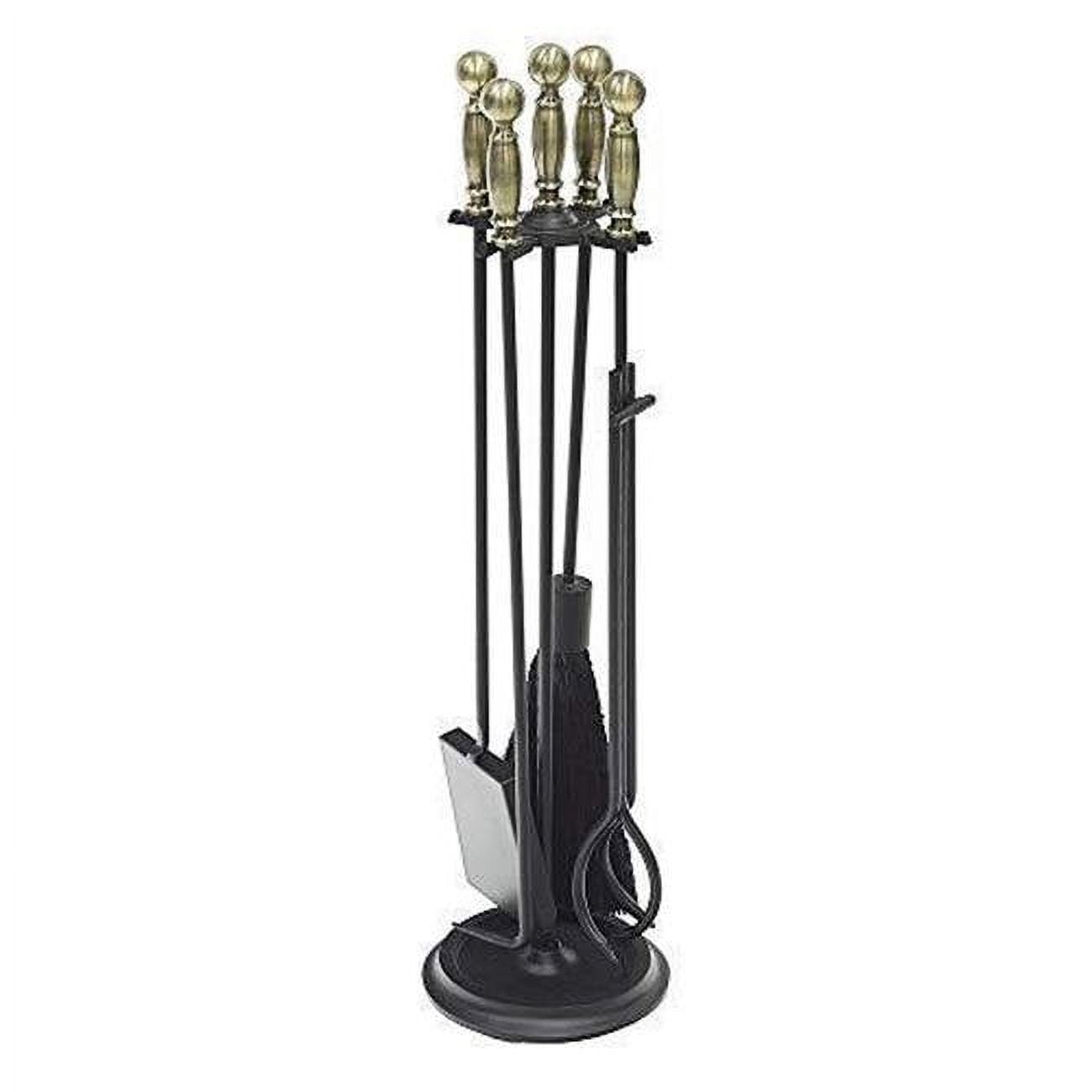 Achla WR-45AB Chelmsford Tool Set Antique Brass & Black
Home Decor>Fireplaces>Fireplace Tool Sets
Product Catalog
Description : .

The Chelmsford Tool Set has a decorative ball-end handles and a plain circular base. The handles are in three finishes black polished brass and antique brass. The four tools- poker shovel tongs and brush are ideal for tending a woodstove.

Specifications
Finish: Black Powdercoat Antique Brass
Material: Cast Iron
Country of Origin: India
Size: 30.25 H x 8 Base in.
Tool Size: 27 H in.
Weight: 17 lbs
.
**** PRICE: USD 145
Manufacturer : Achla Designs
Tags: Achla Designs

↑ Start of page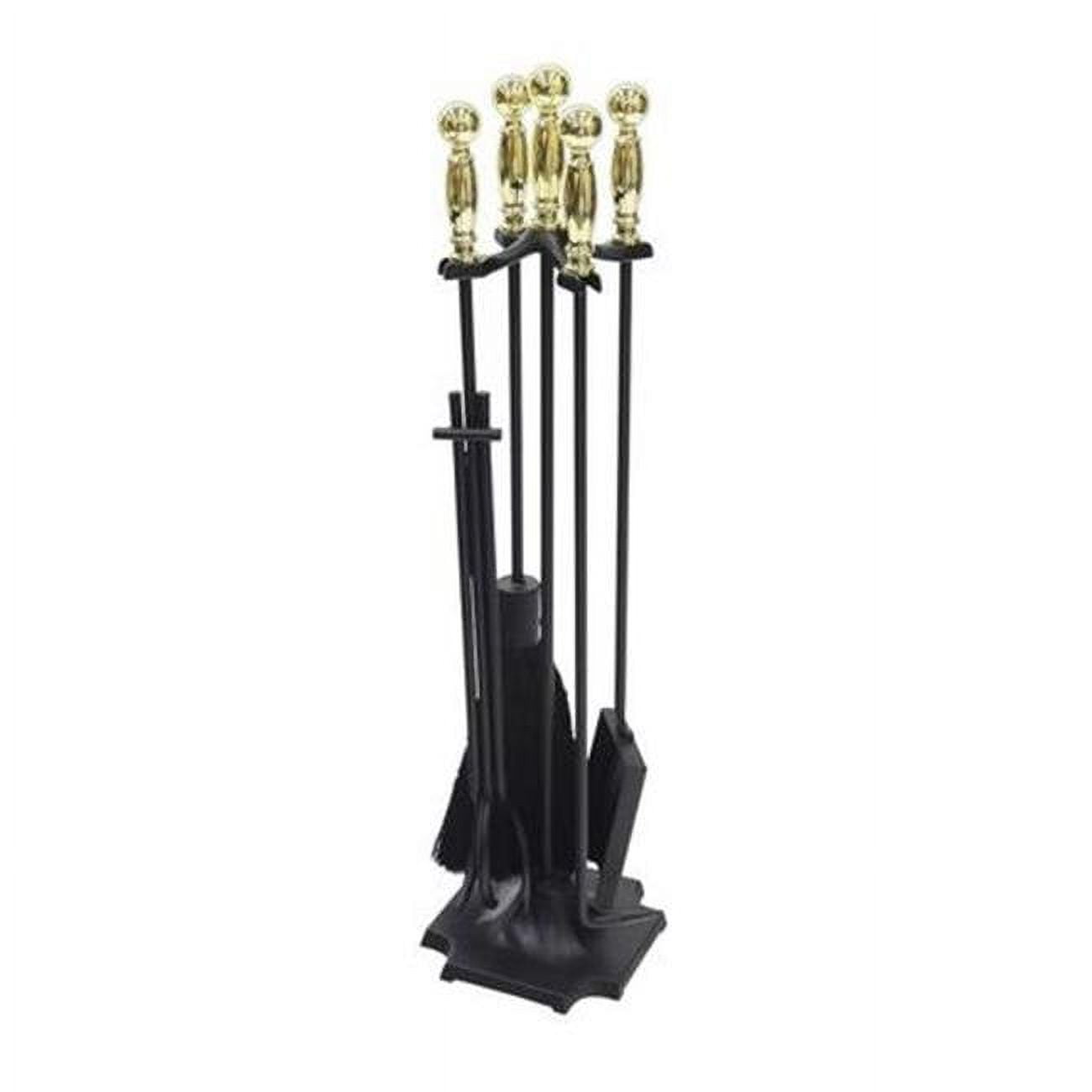 Achla WR-46PB Carlisle Tool Set Polished Brass & Black
Home Decor>Fireplaces>Fireplace Tool Sets
Product Catalog
Description : .

The Carlisle Tool Set has a decorative ball-end handles and a square cross base. The handles are in three finishes black polished brass and antique brass. The four tools- poker shovel tongs and brush are ideal for tending a woodstove.

Specifications
Finish: Black Powdercoat Antique Brass
Material: Cast Iron
Country of Origin: India
Size: 30.5 H x 7.5 Base in.
Tool Size: 27 H in.
Weight: 17 lbs
.
**** PRICE: USD 145
Manufacturer : Achla Designs
Tags: Achla Designs

↑ Start of page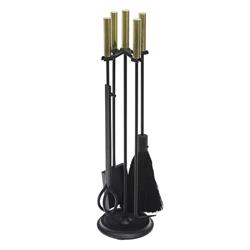 Achla WR-48PB Bedford Tool Set Polished Brass & Black
Home Decor>Fireplaces>Fireplace Tool Sets
Product Catalog
Description : .

The Bedford Tool Set has a decorative cylinder handles and a plain circular base. The handles are in three finishes black polished brass and polished chrome. The four tools- poker shovel tongs and brush are ideal for tending a woodstove.

FeaturesSpecifications
Finish: Black Powdercoat Polished Brass
Material: Cast Iron
Country of Origin: India
Size: 30.25 H x 8 Base in.
Tool Size: 27 H in.
Weight: 17 lbs
.
**** PRICE: USD 170
Manufacturer : Achla Designs
Tags: Achla Designs

↑ Start of page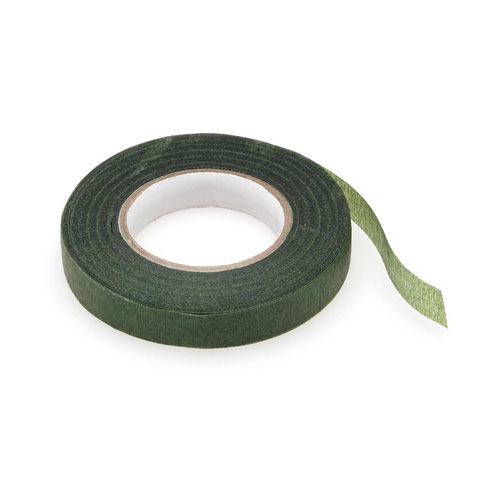 0.5 in. x 30 Yard Floral Tape - Green
Home Decor>Flower Arrangements>Flower Supplies>Flower Tools & Wires
Product Catalog
Description : .

Add an element of fun to your walls by decorating them with these wall decor and decals. Portraying fancy prints these stickers will be a big hit amongst everyone. Pick your favorite o.
**** PRICE: USD 7
Manufacturer : JaggedDesigns
Tags: JaggedDesigns

↑ Start of page




442650 Cloth Covered Stem Wire 24 Gauge 18 in. 20-Pkg-Green
Home Decor>Flower Arrangements>Flower Supplies>Flower Tools & Wires
Product Catalog
Description : .PRODUCTS-Cloth Wrapped Stem Wire-Use this wire to reinforce cut flowers; artificial arrangements; and foliage. This package contains twenty 24 gauge; 18in long wires. Imported.

Dimensions:
.
**** PRICE: USD 8
Manufacturer : Dare2Decor
Tags: Dare2Decor

↑ Start of page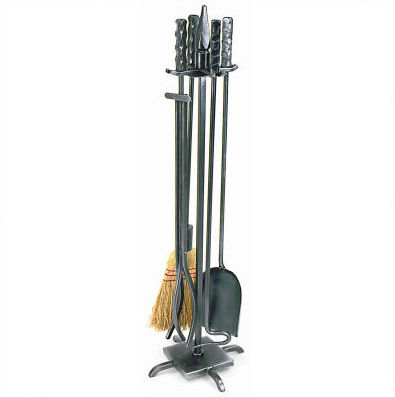 32 Wright Design Toolset Tall - PC Graphite
Home Decor>Fireplaces>Fireplace Tool Sets
Product Catalog
Description : .International is the parent company of ACHLA Designs which caters to the home and garden industry. ACHLA Designs a Garden Accessories company emphasizes unique handforged wrought iron European.
**** PRICE: USD 223
Manufacturer : Back2Basics
Tags: Back2Basics

↑ Start of page




5 PC SATIN PEWTER FIRESET WITH BALL HANDLES
Home Decor>Fireplaces>Fireplace Tool Sets
Product Catalog
Description : .Add a traditional touch to your room with this tool set is finished in satin pewter. This five-piece set includes brush poker tongs shovel and stand. Finish: Satin Pewter Dimensions: 31 1/2&.
**** PRICE: USD 106
Manufacturer : BluePrints
Tags: BluePrints

↑ Start of page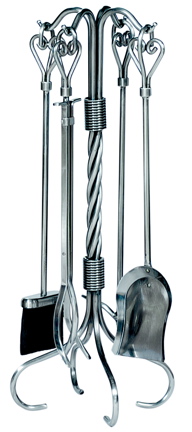 5 PC PEWTER WI FIRESET WITH HEART HANDLES & TAMPICO BRUSH
Home Decor>Fireplaces>Fireplace Tool Sets
Product Catalog
Description : .`s collection of pewter fireplace accessories is as functional as it is ornate. With a twisted rope design at the base of the frame and heart-shaped handles this tool set has a feel all its own. This.
**** PRICE: USD 162
Manufacturer : BluePrints
Tags: BluePrints

↑ Start of page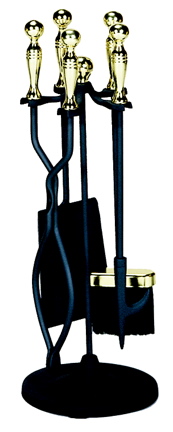 5 PC. POLISHED BRASS /BLACK STOVESET
Home Decor>Fireplaces>Fireplace Tool Sets
Product Catalog
Description : .This Fireset is constructed of black wrought iron with polished brass details. This five piece fireplace tool set includes a fireplace brush fireplace poker fireplace shovel fireplace tongs and s.
**** PRICE: USD 73
Manufacturer : BluePrints
Tags: BluePrints

↑ Start of page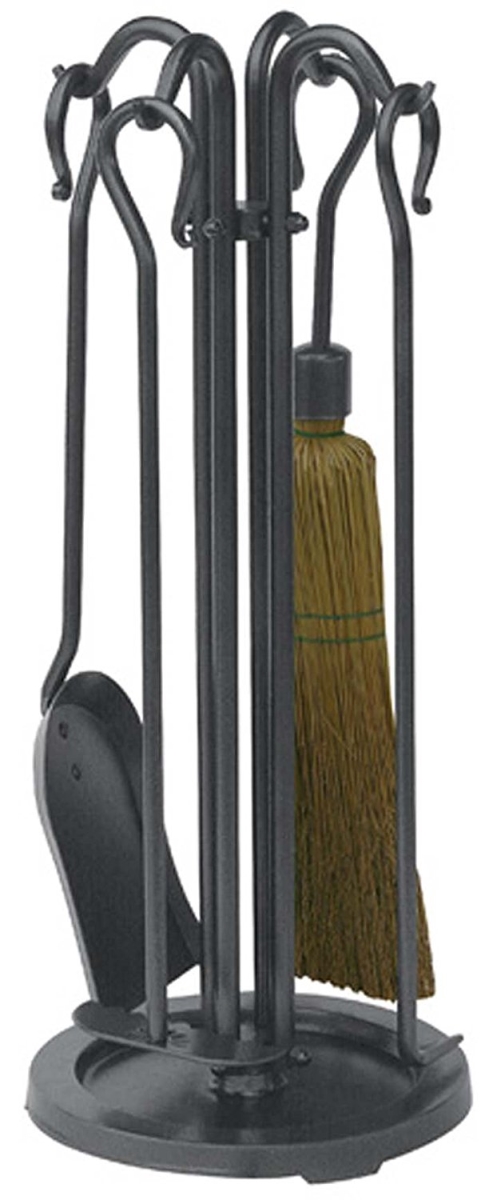 5 Piece Olde World Iron Mini Fireset
Home Decor>Fireplaces>Fireplace Tool Sets
Product Catalog
Description : .

The kitchen is one of the most important gathering rooms in the home which is why you need the right kitchen accessiores and tools to create an inviting atmosphere. Whether you create meal.
**** PRICE: USD 94
Manufacturer : BluePrints
Tags: BluePrints

↑ Start of page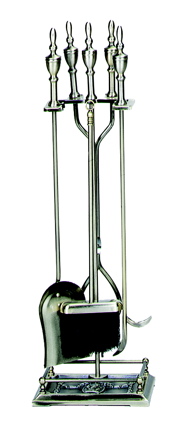 5 PC. ANTIQUE BRASS FIRESET (F-4206)
Home Decor>Fireplaces>Fireplace Tool Sets
Product Catalog
Description : .The beautiful 5 Piece Antique Brass Fireset gives your living room a refined touch. The variety of tools provides an easy way to clean and maintain your fireplace. So enjoy a warm and safe fire with.
**** PRICE: USD 85
Manufacturer : BluePrints
Tags: BluePrints

↑ Start of page



5 PC HEAVY WEIGHT BLACK W.I. FIRESET
Home Decor>Fireplaces>Fireplace Tool Sets
Product Catalog
Description : .Beautify your living room with the classy 5 Piece Heavy Weight Black Wrought Iron Fireset. The variety of tools provide a convenient way to clean and tend to your fireplace. So keep those fires warm.
**** PRICE: USD 162
Manufacturer : BluePrints
Tags: BluePrints

↑ Start of page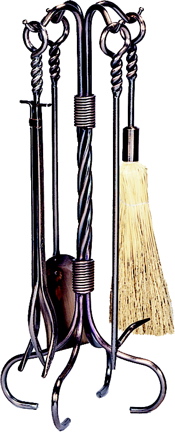 5 PC ANTIQUE COPPER W.I. FIRESET WITH RING/SWIRL HANDLES
Home Decor>Fireplaces>Fireplace Tool Sets
Product Catalog
Description : .Add character and charm to your fireplace with this Twist Ring Handle Fireplace Tool Set. This tool stand is composed of four bars twisted in the center and capped by two solid coils. The four feet b.
**** PRICE: USD 162
Manufacturer : BluePrints
Tags: BluePrints

↑ Start of page




5 PC HEAVY WEIGHT BLACK WI FIRESET
Home Decor>Fireplaces>Fireplace Tool Sets
Product Catalog
Description : .`s collection of black wrought iron fireplace accessories are of superior craftsmanship. With its unique horseshoe handles this fireplace tool set has a feel all its own. The straightforward design of.
**** PRICE: USD 166
Manufacturer : BluePrints
Tags: BluePrints

↑ Start of page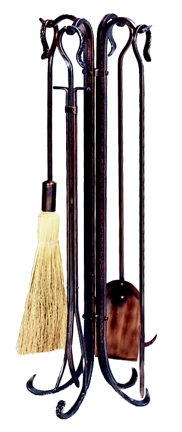 5 PC ANTIQUE COPPER HAMMERED CROOK FIRESET
Home Decor>Fireplaces>Fireplace Tool Sets
Product Catalog
Description : .The burnished copper on this fireplace tool set really adds an authentic rustic look to your decor. When standing alongside a folding burnished copper fireplace screen this set of tools help unify th.
**** PRICE: USD 146
Manufacturer : BluePrints
Tags: BluePrints

↑ Start of page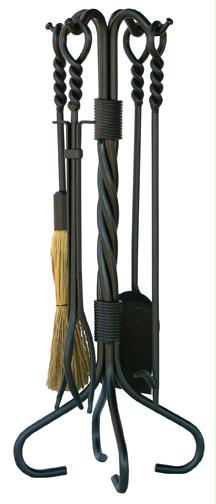 5 Piece Olde World Iron Ring / Swirl Fireset
Home Decor>Fireplaces>Fireplace Tool Sets
Product Catalog
Description : .The compact design of this 5 piece ring / swirl fireplace toolset will allow this set to be placed in small hard to fit areas. With the twisted handles on the tools and the swirl along the center pole.
**** PRICE: USD 169
Manufacturer : BluePrints
Tags: BluePrints

↑ Start of page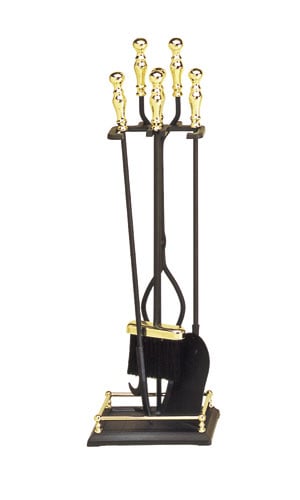 Achla Designs Ball Tool
Home Decor>Fireplaces>Fireplace Tool Sets
Product Catalog
Description : .International is the parent company of ACHLA Designs which caters to the home and garden industry.

ACHLA Designs a Garden Accessories company emphasizes unique handforged wr.
**** PRICE: USD 169
Manufacturer : Back2Basics
Tags: Back2Basics

↑ Start of page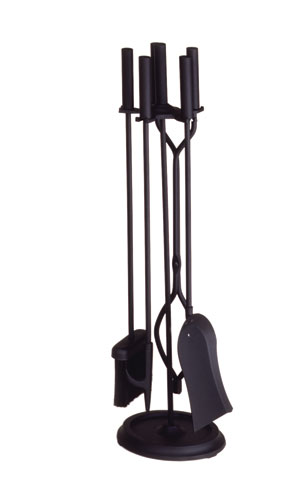 Achla Designs Fire Tool Fireplace - Black
Home Decor>Fireplaces>Fireplace Tool Sets
Product Catalog
Description : .International is the parent company of ACHLA Designs which caters to the home and garden industry.

ACHLA Designs a Garden Accessories company emphasizes unique handforged wr.
**** PRICE: USD 153
Manufacturer : Back2Basics
Tags: Back2Basics

↑ Start of page



Achla Designs Ball Tool
Home Decor>Fireplaces>Fireplace Tool Sets
Product Catalog
Description : .International is the parent company of ACHLA Designs which caters to the home and garden industry.

ACHLA Designs a Garden Accessories company emphasizes unique handforged wr.
**** PRICE: USD 191
Manufacturer : Back2Basics
Tags: Back2Basics

↑ Start of page




5 PC VENETIAN BRONZE FIRESET WITH BALL HANDLES
Home Decor>Fireplaces>Fireplace Tool Sets
Product Catalog
Description : .This gorgeous fireplace tool set is functional but it would also make a perfect accent piece for gas fireplaces. The Venetian Bronze finish toolset has all the tools you need to tend to a roaring fir.
**** PRICE: USD 139
Manufacturer : BluePrints
Tags: BluePrints

↑ Start of page




4 PC MINI TRIPLE PLATED PEWTER SOLDER FIRESET
Home Decor>Fireplaces>Fireplace Tool Sets
Product Catalog
Description : .The warrior in your family will love this medieval knight inspired fireplace accessory set. Four piece set offers a beautiful sculptural focal piece or accent for your room with the fully armored knig.
**** PRICE: USD 162
Manufacturer : BluePrints
Tags: BluePrints

↑ Start of page




5 Pc Bronze Fireset With Cylinder Handles
Home Decor>Fireplaces>Fireplace Tool Sets
Product Catalog
Description : .This 5-piece fireplace tool set by Blue Rhino has all the tools you need to tend to a roaring fire. The set includes poker brush log lifter and shovel. Its popular bronze finish a.
**** PRICE: USD 130
Manufacturer : BluePrints
Tags: BluePrints

↑ Start of page




5 PIECE OLDE WORLD IRON HEAVY FIRESET WITH CROOK HANDLES
Home Decor>Fireplaces>Fireplace Tool Sets
Product Catalog
Description : .5 PIECE OLDE WORLD IRON HEAVY FIRESET W/ CROOK HANDLES
Dimensions:
Width:8
Length:8
Height:33.
**** PRICE: USD 169
Manufacturer : BluePrints
Tags: BluePrints

↑ Start of page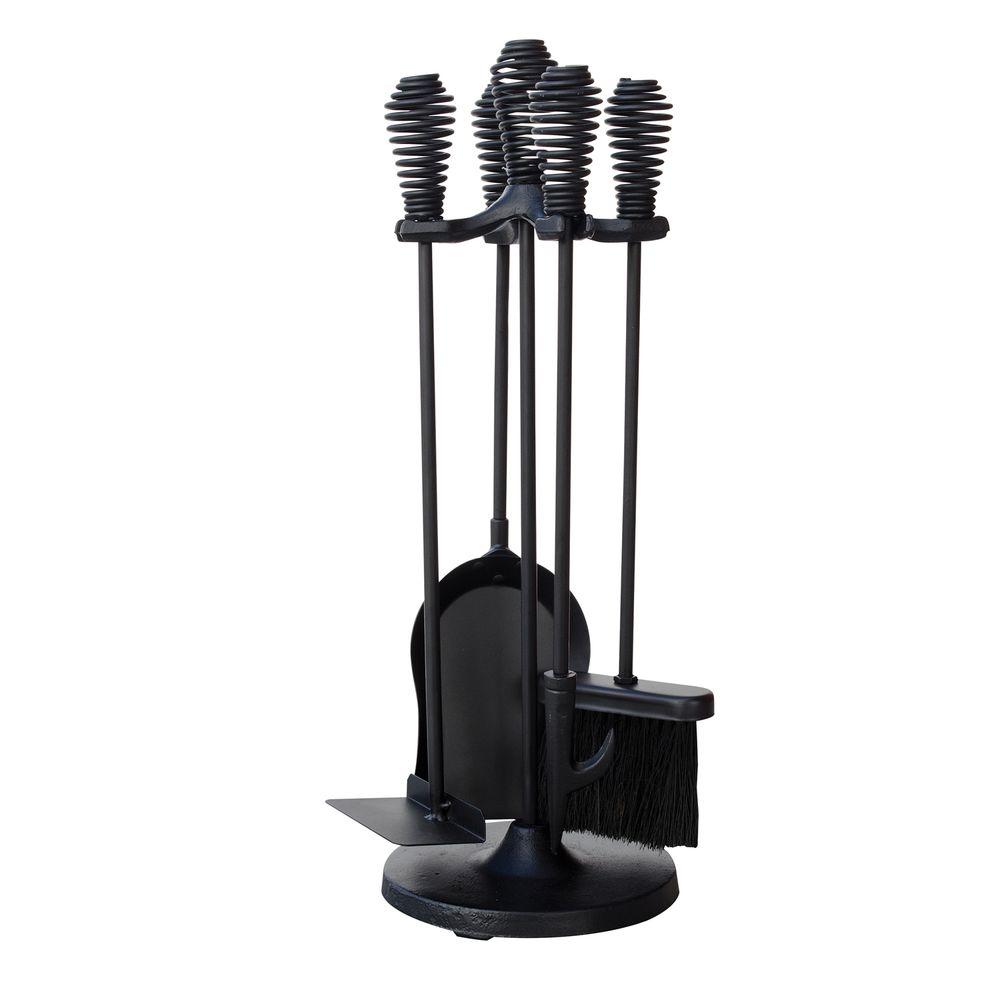 5 Piece Stoveset in Black with Spring Handles
Home Decor>Fireplaces>Fireplace Tool Sets
Product Catalog
Description : .

The kitchen is one of the most important gathering rooms in the home which is why you need the right kitchen accessiores and tools to create an inviting atmosphere. Whether you create meal.
**** PRICE: USD 71
Manufacturer : BluePrints
Tags: BluePrints

↑ Start of page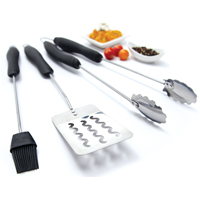 42120 Stainless Steel Tool Set 3 Piece
Home Decor>Fireplaces>Fireplace Tool Sets
Product Catalog
Description : .Features
Made from stainless steel.
Soft ergonomic grip handles.
Includes a turner tong and basting brush.
Piece - 3
Item Weight - 1.32 lbs. **** PRICE: USD 19
Manufacturer : StandAlone
Tags: StandAlone

↑ Start of page


Standard Rope Design Shovel - 28 Inch - Powder Coated Black
Home Decor>Fireplaces>Fireplace Tool Sets
Product Catalog
Description : .International is the parent company of ACHLA Designs which caters to the home and garden industry. ACHLA Designs a Garden Accessories company emphasizes unique handforged wrought iron European.
**** PRICE: USD 34
Manufacturer : Back2Basics
Tags: Back2Basics

↑ Start of page


Products Paddle Wire 26 Gauge 4 Ounces/Pkg
Home Decor>Flower Arrangements>Flower Supplies>Flower Tools & Wires
Product Catalog
Description : .
Products Paddle Wire: 26 Gauge Bright.
Florist paddle wire is used to strengthen and secure bunched flowers and greenery.
Use it for arrangements or individual pieces.
This package co.
**** PRICE: USD 9
Manufacturer : Dare2Decor
Tags: Dare2Decor

↑ Start of page


442638 Stem Wire 22 Gauge 18 in. 35-Pkg-Green
Home Decor>Flower Arrangements>Flower Supplies>Flower Tools & Wires
Product Catalog
Description : .PRODUCTS-Painted Stem Wire-Use this wire to reinforce cut flowers; artificial arrangements; and foliage. This package contains thirty-five 22 gauge; 18in long green wires. Imported.

Dimensions:.
**** PRICE: USD 8
Manufacturer : Dare2Decor
Tags: Dare2Decor

↑ Start of page


442663 Cloth Covered Stem Wire 22 Gauge 18 in. 20-Pkg-White
Home Decor>Flower Arrangements>Flower Supplies>Flower Tools & Wires
Product Catalog
Description : .PRODUCTS-Cloth Wrapped Stem Wire-Use this wire to reinforce cut flowers; artificial arrangements; and foliage. This package contains twenty 22 gauge; 18in long; white wires. Imported.

Dimension.
**** PRICE: USD 8
Manufacturer : Dare2Decor
Tags: Dare2Decor

↑ Start of page


442665 Cloth Covered Stem Wire 26 Gauge 18 in. 20-Pkg-White
Home Decor>Flower Arrangements>Flower Supplies>Flower Tools & Wires
Product Catalog
Description : .PRODUCTS-Cloth Wrapped Stem Wire-Use this wire to reinforce cut flowers; artificial arrangements; and foliage. This package contains twenty 26 gauge; 18in long; white wires. Imported.

Dimension.
**** PRICE: USD 8
Manufacturer : Dare2Decor
Tags: Dare2Decor

↑ Start of page


442666 Cloth Covered Stem Wire 32 Gauge 18 in. 12-Pkg-White
Home Decor>Flower Arrangements>Flower Supplies>Flower Tools & Wires
Product Catalog
Description : .PRODUCTS-Cloth Wrapped Stem Wire-Use this wire to reinforce cut flowers; artificial arrangements; and foliage. This package contains twelve 32 gauge; 18in long; white wires. Imported.

Dimension.
**** PRICE: USD 8
Manufacturer : Dare2Decor
Tags: Dare2Decor

↑ Start of page


5Pc. Black Wrought Iron Fireset
Home Decor>Fireplaces>Fireplace Tool Sets
Product Catalog
Description : .Series: Triple Plated

The Triple Plated series of fireplace accessories emphasizes superior craftsmanship. Its sturdy construction ensures that it will last through the years.
Product Dime.
**** PRICE: USD 129
Manufacturer : BluePrints
Tags: BluePrints

↑ Start of page


5 Piece Black Fireset With Hammered Copper Top Trim
Home Decor>Fireplaces>Fireplace Tool Sets
Product Catalog
Description : .The 5 Piece Black Fireset with Hammered Copper Top Trim will give your living space a refined touch. This elegant set provides an easy way to clean and maintain your fireplace while keeping your roo.
**** PRICE: USD 150
Manufacturer : BluePrints
Tags: BluePrints

↑ Start of page


Minuteman MINI-14PB Paxton Mini Fireplace Tool Set Polished Brass
Home Decor>Fireplaces>Fireplace Tool Sets
Product Catalog
Description : .Minuteman International is the parent company of ACHLA Designs which caters to the home and garden industry. ACHLA Designs- a Garden Accessories company- emphasizes unique- handforged- wrought iron- European furnishings for the home and garden. Items range from small hooks and brackets to large pavilions and arbors. We also offer birdbaths- birding & garden pole systems- trellises- statuary- composting products- and wood and metal furniture. In 2004- ACHLA Designs introduced the Williamsburg Collection- offering reproductions as well as 17th and 18th century inspired designs for the contemporary home. ACHLA Designs continues to add beautiful and unique items year after year- resulting in an unusually large product line.

The Paxton Mini Tool Set has a decorative ball-end handles and a plain circular base. The four tools- poker shovel hoe and brush are ideal for tending a woodstove.

FeaturesSpecifications

Country of Origin: India
Material: Cast Iron
Finish: Black Powdercoat & Brass Plated Finish
Assembly Required (Y/N): No
Warranty Length: 90 days
Size: 22 x 7 .5
Weight: 9 lbs

.
**** PRICE: USD 103
Manufacturer : Minuteman
Tags: Minuteman

↑ Start of page


Minuteman MINI-13PB Holden Mini Fireplace Tool Set Polished Brass
Home Decor>Fireplaces>Fireplace Tool Sets
Product Catalog
Description : .Minuteman International is the parent company of ACHLA Designs which caters to the home and garden industry. ACHLA Designs- a Garden Accessories company- emphasizes unique- handforged- wrought iron- European furnishings for the home and garden. Items range from small hooks and brackets to large pavilions and arbors. We also offer birdbaths- birding & garden pole systems- trellises- statuary- composting products- and wood and metal furniture. In 2004- ACHLA Designs introduced the Williamsburg Collection- offering reproductions as well as 17th and 18th century inspired designs for the contemporary home. ACHLA Designs continues to add beautiful and unique items year after year- resulting in an unusually large product line.

The Holden Mini Tool Set has a decorative ball-end handles and a plain circular base. The three tools- poker shovel and brush are ideal for tending a woodstove.

FeaturesSpecifications

Country of Origin: India
Material: Cast Iron
Finish: Black Powdercoat & Brass Plated Finish
Assembly Required (Y/N): No
Warranty Length: 90 days
Size: 22 x 7 .5
Weight: 8 lbs

.
**** PRICE: USD 86
Manufacturer : Minuteman
Tags: Minuteman

↑ Start of page


Minuteman MINI-13SN Holden Mini Fireplace Tool Set Satin Nickel
Home Decor>Fireplaces>Fireplace Tool Sets
Product Catalog
Description : .Minuteman International is the parent company of ACHLA Designs which caters to the home and garden industry. ACHLA Designs- a Garden Accessories company- emphasizes unique- handforged- wrought iron- European furnishings for the home and garden. Items range from small hooks and brackets to large pavilions and arbors. We also offer birdbaths- birding & garden pole systems- trellises- statuary- composting products- and wood and metal furniture. In 2004- ACHLA Designs introduced the Williamsburg Collection- offering reproductions as well as 17th and 18th century inspired designs for the contemporary home. ACHLA Designs continues to add beautiful and unique items year after year- resulting in an unusually large product line.

The Holden Mini Tool Set has a decorative ball-end handles and a plain circular base. The three tools- poker shovel and brush are ideal for tending a woodstove.

FeaturesSpecifications

Country of Origin: India
Material: Cast Iron
Finish: Black Powdercoat & Satin Nickel Finish
Assembly Required (Y/N): No
Warranty Length: 90 days
Size: 22 x 7 .5
Weight: 8 lbs

.
**** PRICE: USD 86
Manufacturer : Minuteman
Tags: Minuteman

↑ Start of page


Minuteman MINI-14BK Paxton Mini Fireplace Tool Set Black
Home Decor>Fireplaces>Fireplace Tool Sets
Product Catalog
Description : .Minuteman International is the parent company of ACHLA Designs which caters to the home and garden industry. ACHLA Designs- a Garden Accessories company- emphasizes unique- handforged- wrought iron- European furnishings for the home and garden. Items range from small hooks and brackets to large pavilions and arbors. We also offer birdbaths- birding & garden pole systems- trellises- statuary- composting products- and wood and metal furniture. In 2004- ACHLA Designs introduced the Williamsburg Collection- offering reproductions as well as 17th and 18th century inspired designs for the contemporary home. ACHLA Designs continues to add beautiful and unique items year after year- resulting in an unusually large product line.

The Paxton Mini Tool Set has a decorative ball-end handles and a plain circular base. The four tools- poker shovel hoe and brush are ideal for tending a woodstove.

FeaturesSpecifications

Country of Origin: India
Material: Cast Iron
Finish: Black Powdercoat & Black Finish
Assembly Required (Y/N): No
Warranty Length: 90 days
Size: 22 x 7 .5
Weight: 9 lbs

.
**** PRICE: USD 103
Manufacturer : Minuteman
Tags: Minuteman

↑ Start of page


Minuteman MINI-13BK Holden Mini Fireplace Tool Set Black
Home Decor>Fireplaces>Fireplace Tool Sets
Product Catalog
Description : .Minuteman International is the parent company of ACHLA Designs which caters to the home and garden industry. ACHLA Designs- a Garden Accessories company- emphasizes unique- handforged- wrought iron- European furnishings for the home and garden. Items range from small hooks and brackets to large pavilions and arbors. We also offer birdbaths- birding & garden pole systems- trellises- statuary- composting products- and wood and metal furniture. In 2004- ACHLA Designs introduced the Williamsburg Collection- offering reproductions as well as 17th and 18th century inspired designs for the contemporary home. ACHLA Designs continues to add beautiful and unique items year after year- resulting in an unusually large product line.

The Holden Mini Tool Set has a decorative ball-end handles and a plain circular base. The three tools- poker shovel and brush are ideal for tending a woodstove.

FeaturesSpecifications

Country of Origin: India
Material: Cast Iron
Finish: Black Powdercoat & Black Finish
Assembly Required (Y/N): No
Warranty Length: 90 days
Size: 22 x 7 .5
Weight: 8 lbs

.
**** PRICE: USD 86
Manufacturer : Minuteman
Tags: Minuteman

↑ Start of page


Minuteman MINI-14SN Paxton Mini Fireplace Tool Set Satin Nickel
Home Decor>Fireplaces>Fireplace Tool Sets
Product Catalog
Description : .Minuteman International is the parent company of ACHLA Designs which caters to the home and garden industry. ACHLA Designs- a Garden Accessories company- emphasizes unique- handforged- wrought iron- European furnishings for the home and garden. Items range from small hooks and brackets to large pavilions and arbors. We also offer birdbaths- birding & garden pole systems- trellises- statuary- composting products- and wood and metal furniture. In 2004- ACHLA Designs introduced the Williamsburg Collection- offering reproductions as well as 17th and 18th century inspired designs for the contemporary home. ACHLA Designs continues to add beautiful and unique items year after year- resulting in an unusually large product line.

The Paxton Mini Tool Set has a decorative ball-end handles and a plain circular base. The four tools- poker shovel hoe and brush are ideal for tending a woodstove.

FeaturesSpecifications

Country of Origin: India
Material: Cast Iron
Finish: Black Powdercoat & Satin Nickel Finish
Assembly Required (Y/N): No
Warranty Length: 90 days
Size: 22 x 7 .5
Weight: 9 lbs

.
**** PRICE: USD 103
Manufacturer : Minuteman
Tags: Minuteman

↑ Start of page


Black Fireplace Poker - 27 In.
Home Decor>Fireplaces>Fireplace Tool Sets
Product Catalog
Description : .Features

Black fireplace poker
Iron
Length - 27 in.
Finish - Black
Dimension - 4.38 x 5.63 x 27.13 in.
Item weight - 1.46 lb.

.
**** PRICE: USD 15
Manufacturer : DwellingDesigns
Tags: DwellingDesigns

↑ Start of page


Contemporary Hearth Center
Home Decor>Fireplaces>Fireplace Tool Sets
Product Catalog
Description : .With s Contemporary Hearth Center model you can easily organize your hearth. It is very handy to use and features four tools with kindling storage on the bottom a small armload of firewood.
**** PRICE: USD 428
Manufacturer : LovelyHome
Tags: LovelyHome

↑ Start of page


5 Piece Arts and Crafts Tool Set - Black
Home Decor>Fireplaces>Fireplace Tool Sets
Product Catalog
Description : .Presenting 5 Piece Arts & Crafts Toolset by . It is available in classy Black finish. The feature that makes it unique is its cylindrical stand with four tools. Model includes a shovel a poker.
**** PRICE: USD 246
Manufacturer : LovelyHome
Tags: LovelyHome

↑ Start of page


5 Piece Barrel Handle Tool Set
Home Decor>Fireplaces>Fireplace Tool Sets
Product Catalog
Description : .s Vintage Iron Tool Set model keeps your hearth in top shape with style! It features four tough fireplace tools suspended from a sturdy cast iron stand. Each steel barrel grip is permanently fi.
**** PRICE: USD 298
Manufacturer : Back2Basics
Tags: Back2Basics

↑ Start of page


5 Piece Black Fireset with Ball Handles
Home Decor>Fireplaces>Fireplace Tool Sets
Product Catalog
Description : .`s collection of specialty line fireplace accessories are of superior craftsmanship. This unique black fireplace tool set has a feel all its own. The straightforward elegant design of this fireplace t.
**** PRICE: USD 82
Manufacturer : BluePrints
Tags: BluePrints

↑ Start of page


5 Pc Bronze Fireset With Crook Handles
Home Decor>Fireplaces>Fireplace Tool Sets
Product Catalog
Description : .is a subsidiary of the Blue Rhino corporation. Blue Rhino is a leading designer and marketer of barbecue grills outdoor heaters mosquito elimination appliances and other outdoor appliances..
**** PRICE: USD 94
Manufacturer : BluePrints
Tags: BluePrints

↑ Start of page


Black Wrought Iron 5-Piece FireSet
Home Decor>Fireplaces>Fireplace Tool Sets
Product Catalog
Description : .

The kitchen is one of the most important gathering rooms in the home which is why you need the right kitchen accessiores and tools to create an inviting atmosphere. Whether you create meal.
**** PRICE: USD 57
Manufacturer : BluePrints
Tags: BluePrints

↑ Start of page


5 Piece Black Wrought Iron Fireset
Home Decor>Fireplaces>Fireplace Tool Sets
Product Catalog
Description : .Timeless design featuring craftsman detailing makes this black wrought iron 5-piece toolset by Blue Rhino a compliment to any decor. This set includes five tools for tending the.
**** PRICE: USD 122
Manufacturer : BluePrints
Tags: BluePrints

↑ Start of page


5 Piece Black Wrought Iron Fireset with Ball Handles
Home Decor>Fireplaces>Fireplace Tool Sets
Product Catalog
Description : .This 5-piece fireplace tool set by Blue Rhino has all the tools you need to tend to a roaring fire. The set includes poker brush log lifter and shovel. Its popular black wrought i.
**** PRICE: USD 130
Manufacturer : BluePrints
Tags: BluePrints

↑ Start of page


5 PC. BLACK HEAVY WEIGHT INLINE FIRESET
Home Decor>Fireplaces>Fireplace Tool Sets
Product Catalog
Description : .The 5 piece Black Wrought Iron fireset is a convenient and classy addition to your fireplace. Sturdy craftsmanship with an attention to detail ensures that you will be using your fire set accessories.
**** PRICE: USD 126
Manufacturer : BluePrints
Tags: BluePrints

↑ Start of page


5 PC. BLACK WROUGHT IRON RING/SWIRL FIRESET
Home Decor>Fireplaces>Fireplace Tool Sets
Product Catalog
Description : .The 5 Piece Black Wrought Iron Ring/Swirl Fireset brings grace and ease of use to your fireplace. The variety of tools provide a convenient way to clean and tend to your fireplace. So keep those fire.
**** PRICE: USD 132
Manufacturer : BluePrints
Tags: BluePrints

↑ Start of page


26 INCH BLACK SCISSOR TONGS
Home Decor>Fireplaces>Fireplace Tool Sets
Product Catalog
Description : .

Whether it is just a shovel or a whole fireset offers a good selection of durable yet stunning accessories for any hearth.
Keep these 26 black scissor tongs handy for your everyday fire.
**** PRICE: USD 21
Manufacturer : BluePrints
Tags: BluePrints

↑ Start of page


5 PC BLACK FIRESET (F-1188)
Home Decor>Fireplaces>Fireplace Tool Sets
Product Catalog
Description : .5 piece fireplace toolset is perfect for those who heat their homes with wood. Model is sure to impress all with its meticulously crafted beauty. Furthermore this toolset is a sure way to keep your.
**** PRICE: USD 57
Manufacturer : BluePrints
Tags: BluePrints

↑ Start of page


5 PC BRONZE FIRESET WITH RING/SWIRL HANDLES
Home Decor>Fireplaces>Fireplace Tool Sets
Product Catalog
Description : .Beautify your home with the sophisticated style of the 5 Piece Bronze Fireset. The variety of tools provide a convenient way to clean and tend to your fireplace. Keep the fires burning bright with th.
**** PRICE: USD 145
Manufacturer : BluePrints
Tags: BluePrints

↑ Start of page


5 PC BRONZE HEAVY WEIGHT RUSTIC FIRESET
Home Decor>Fireplaces>Fireplace Tool Sets
Product Catalog
Description : .This Fireset features a bronze finish. This five piece fireplace tool set includes a fireplace brush fireplace poker fireplace shovel fireplace tongs and stand. This heavy weight fireplace firese.
**** PRICE: USD 142
Manufacturer : BluePrints
Tags: BluePrints

↑ Start of page


30 Hearth Shovel - Black Iron
Home Decor>Fireplaces>Fireplace Tool Sets
Product Catalog
Description : .This hand-forged Individual Replacement Fireplace Shovel is constructed of strong square 1/2 iron to hold up to years of rugged fireplace maintenance. Its matte black finish makes it perfectly a.
**** PRICE: USD 45
Manufacturer : Back2Basics
Tags: Back2Basics

↑ Start of page


Mini Ash Tool Set - Matte Black
Home Decor>Fireplaces>Fireplace Tool Sets
Product Catalog
Description : .The perfect tool set for quick clean-up and simple storage.

s Fireplace Ash Tool Set model is perfect duo to keep your fireplace neat and tidy. It is durably constructed of welded steel.
**** PRICE: USD 116
Manufacturer : Back2Basics
Tags: Back2Basics

↑ Start of page


5 Piece City Bridge Tool Set - Black
Home Decor>Fireplaces>Fireplace Tool Sets
Product Catalog
Description : .We bring you 5 Piece City Bridge Toolset manufactured by . Model reflects Asian architectural detail on stand. Its features include a broom shovel poker stand and tongs. It is amo.
**** PRICE: USD 233
Manufacturer : LovelyHome
Tags: LovelyHome

↑ Start of page


5 Piece Antique Scroll Toolset - Black
Home Decor>Fireplaces>Fireplace Tool Sets
Product Catalog
Description : .Get s 5 Piece Antique Scroll Toolset. Its main features include a natural fiber broom a shovel a poker and log tongs. Model adds to the beauty of any hearth and any room leaving an ev.
**** PRICE: USD 246
Manufacturer : LovelyHome
Tags: LovelyHome

↑ Start of page


4 Tool Fireset in Black
Home Decor>Fireplaces>Fireplace Tool Sets
Product Catalog
Description : .
Set includes poker brush shovel and tongs.

Deluxe Ball Handle.

Keep your fires burning properly a variety of tools are needed.

Sturdy and properly balanced.
.
**** PRICE: USD 112
Manufacturer : Back2Basics
Tags: Back2Basics

↑ Start of page


5 PC BLACK WROUGHT IRON FIRESET WITH COPPER ROPE
Home Decor>Fireplaces>Fireplace Tool Sets
Product Catalog
Description : .Beautify your living room with the classy 5 Piece Black Wrought Iron Fireset. The variety of tools provide a convenient way to clean and tend to your fireplace. So keep those fires warm and safe with.
**** PRICE: USD 154
Manufacturer : BluePrints
Tags: BluePrints

↑ Start of page


5 PC SATIN PEWTER FIRESET WITH PEDESTAL BASE
Home Decor>Fireplaces>Fireplace Tool Sets
Product Catalog
Description : .Add a traditional touch to your room with this tool set finished in a satin pewter with a pedestal base. This five-piece set includes brush poker tongs shovel and stand.
**** PRICE: USD 90
Manufacturer : BluePrints
Tags: BluePrints

↑ Start of page


5 PC STAINLESS STEEL TWIST FIRESET - INDOOR/OUTDOOR
Home Decor>Fireplaces>Fireplace Tool Sets
Product Catalog
Description : .Stainless steel is an updated choice in fireplace sets. Its also ideal for outdoor living areas but will be a striking addition indoors too. Pieces are practically maintenance free for long li.
**** PRICE: USD 351
Manufacturer : BluePrints
Tags: BluePrints

↑ Start of page


5 Inch Nylon Brushhead
Home Decor>Fireplaces>Fireplace Tool Sets
Product Catalog
Description : .Sweep up ash wood chips and much more with this durable affordable fireplace brush head. It has a black and grey finish and has high quality nylon bristles for lasting value. You can also use on you.
**** PRICE: USD 15
Manufacturer : BluePrints
Tags: BluePrints

↑ Start of page


5 Piece Black Fireset With Flowing Leaf Design
Home Decor>Fireplaces>Fireplace Tool Sets
Product Catalog
Description : .The 5-Piece Black Fireset with Flowing Leaf Design gives your living space a refined touch. This elegant set provides an easy way to clean and maintain your fireplace while keeping your room looking.
**** PRICE: USD 114
Manufacturer : BluePrints
Tags: BluePrints

↑ Start of page


5 Piece Olde World Iron Fleur-De-Lis Fireset
Home Decor>Fireplaces>Fireplace Tool Sets
Product Catalog
Description : .The 5 Piece Olde World Iron Fleur-De-Lis Fireset will give your living space a refined touch. This elegant set provides an easy way to clean and maintain your fireplace while keeping your room look.
**** PRICE: USD 138
Manufacturer : BluePrints
Tags: BluePrints

↑ Start of page


41.25 Inch Square LP Gas Fireplace with Tile Mantel
Home Decor>Fireplaces>Fireplace Tool Sets
Product Catalog
Description : .The Square LP Gas Fireplace with Tile Mantel will give you 40 000 BTUs with a multi-spark ignition for easy starting. It has a hidden control panel and features a handcrafted tile mantel. A protecti.
**** PRICE: USD 618
Manufacturer : BluePrints
Tags: BluePrints

↑ Start of page


23-Piece Technicians Tool Kit with Level and Tape Measure
Home Decor>Flower Arrangements>Flower Supplies>Flower Tools & Wires
Product Catalog
Description : .Features

Demagnetized for safe computer and electronics use
Comes in rugged padded vinyl case
Includes 10 screw bits 3 allen keys 4 sockets 2 precision scr.
**** PRICE: USD 15
Manufacturer : LovelyHome
Tags: LovelyHome

↑ Start of page


5 Piece Olde World Iron Fireset With Loop Handles
Home Decor>Fireplaces>Fireplace Tool Sets
Product Catalog
Description : .5 piece olde world fireplace tool set with loop handles is a cut above the rest. This natural iron toolset is known for craftsmanship and style right down to the way the tools rest on the stand. Model.
**** PRICE: USD 154
Manufacturer : BluePrints
Tags: BluePrints

↑ Start of page


27 Black Poker with Ball Handle
Home Decor>Fireplaces>Fireplace Tool Sets
Product Catalog
Description : .Series: Fireplace Accessories

fireplace accessories emphasize superior craftsmanship. Their sturdy construction ensures they will last through the years.
Product Dimensions: 27
.
**** PRICE: USD 20
Manufacturer : BluePrints
Tags: BluePrints

↑ Start of page


5 Piece Olde World Iron Fireset with Crook Handles
Home Decor>Fireplaces>Fireplace Tool Sets
Product Catalog
Description : .Corporation manufactures a wide variety of high quality fireplace furnishings. features products such as fireplace screens fireplace tool sets log racks woodbaskets firepots match holders and bel.
**** PRICE: USD 154
Manufacturer : BluePrints
Tags: BluePrints

↑ Start of page


Uf 5 Pc Fireset Center Weave B
Home Decor>Fireplaces>Fireplace Tool Sets
Product Catalog
Description : .Features

Uniflame Black Wrought Iron Fire set with Crook Handles and Center
Weave design
Size - 30 in. High
Color - Black
5-Piece

.
**** PRICE: USD 81
Manufacturer : H2H
Tags: H2H

↑ Start of page


Uf 5 Pc Rustic Fireset Black
Home Decor>Fireplaces>Fireplace Tool Sets
Product Catalog
Description : .UniFlame 5-Piece Black Heavyweight Rustic Fireset. This Fireset is a larger sized black finished fireplace toolset that features crook handles. It has all the tools you need to tend a fire inc.
**** PRICE: USD 106
Manufacturer : H2H
Tags: H2H

↑ Start of page


Large Rope Design Fork in Black
Home Decor>Fireplaces>Fireplace Tool Sets
Product Catalog
Description : .International is the parent company of ACHLA Designs which caters to the home and garden industry.

ACHLA Designs a Garden Accessories company emphasizes unique handforged wr.
**** PRICE: USD 71
Manufacturer : Back2Basics
Tags: Back2Basics

↑ Start of page


442614 Stem Wire 16 Gauge 18 in. 12-Pkg-Green
Home Decor>Flower Arrangements>Flower Supplies>Flower Tools & Wires
Product Catalog
Description : .PRODUCTS-Painted Stem Wire-Use this wire to reinforce cut flowers; artificial arrangements; and foliage. This package contains twelve 16 gauge; 18in long green wires. Imported.

Dimensions:
.
**** PRICE: USD 8
Manufacturer : Dare2Decor
Tags: Dare2Decor

↑ Start of page


442645 Cloth Covered Stem Wire 16 Gauge 18 in. 8-Pkg-Green
Home Decor>Flower Arrangements>Flower Supplies>Flower Tools & Wires
Product Catalog
Description : .PRODUCTS-Cloth Wrapped Stem Wire-Use this wire to reinforce cut flowers; artificial arrangements; and foliage. This package contains eight 16 gauge; 18in long wires. Imported.

Dimensions:
H.
**** PRICE: USD 8
Manufacturer : Dare2Decor
Tags: Dare2Decor

↑ Start of page


442664 Cloth Covered Stem Wire 24 Gauge 18 in. 20-Pkg-White
Home Decor>Flower Arrangements>Flower Supplies>Flower Tools & Wires
Product Catalog
Description : .PRODUCTS-Cloth Wrapped Stem Wire-Use this wire to reinforce cut flowers; artificial arrangements; and foliage. This package contains twenty 24 gauge; 18in long; white wires. Imported.

Dimension.
**** PRICE: USD 8
Manufacturer : Dare2Decor
Tags: Dare2Decor

↑ Start of page


442639 Stem Wire 24 Gauge 18 in. 40-Pkg-Green
Home Decor>Flower Arrangements>Flower Supplies>Flower Tools & Wires
Product Catalog
Description : .PRODUCTS-Painted Stem Wire-Use this wire to reinforce cut flowers; artificial arrangements; and foliage. This package contains forty 24 gauge; 18in long green wires. Imported.

Dimensions:
H.
**** PRICE: USD 8
Manufacturer : Dare2Decor
Tags: Dare2Decor

↑ Start of page


15359 40 in. Black Deluxe 2 Handed Fireplace Tongs
Home Decor>Fireplaces>Fireplace Tool Sets
Product Catalog
Description : .Features

40 in. Black Deluxe 2 Handed Fireplace Tongs
100% Powder Coated Steel Construction.
Dimension - 3 x 3 x 36 in.
Item weight - 3 lbs.

.
**** PRICE: USD 29
Manufacturer : Dare2Decor
Tags: Dare2Decor

↑ Start of page


Floral 88570 0.5 in. x 60 Yard Floral Tape Green
Home Decor>Flower Arrangements>Flower Supplies>Flower Tools & Wires
Product Catalog
Description : .

In a single click you can find all the celebrating things over here. We have products like Balloons Decorative things Colorful items to make your occasion very special and memorable. We make our to feel so comfortable to browser the items with easier keywords.

Features

Floral Tape
Home decor items are the best way to ensure that you can inject your personality into your home
It Make everything look like a reflection of who you are
Choose from an exciting range of products for home decor and add lovely silhouettes or textures to any room

Specifications

Color: Green
Size: 0.5 in. x 60 Yard

.
**** PRICE: USD 31
Manufacturer : Floral
Tags: Floral

↑ Start of page


41-Piece Technicians Premium Tool Box
Home Decor>Flower Arrangements>Flower Supplies>Flower Tools & Wires
Product Catalog
Description : .Features

Demagnetized for safe computer and electronics use
Comes with molded plastic carrying case
Includes 10 screw bits 8 allen keys 11 sockets driver e.
**** PRICE: USD 18
Manufacturer : LovelyHome
Tags: LovelyHome

↑ Start of page


UF 4 PC Fireset 25in Black
Home Decor>Fireplaces>Fireplace Tool Sets
Product Catalog
Description : .Uniflame 25 High 4-Piece Black Fireset.. The Uniflame fireset is a convenient andy addition to your fireplace. Sturdy craftsmanship with an attention to detail ensures that you will be using yo.
**** PRICE: USD 31
Manufacturer : H2H
Tags: H2H

↑ Start of page


UF 5 PC Fireset 31in Black
Home Decor>Fireplaces>Fireplace Tool Sets
Product Catalog
Description : .Uniflame 31 High 5-Piece Black Fireset.. The Uniflame 5 piece Black fireset is a convenient andy addition to your fireplace. Sturdy craftsmanship with an attention to detail ensures that you wi.
**** PRICE: USD 56
Manufacturer : H2H
Tags: H2H

↑ Start of page


Black Fireplace Tongs - 26 In.
Home Decor>Fireplaces>Fireplace Tool Sets
Product Catalog
Description : .Features

Scissor type
Iron
Length - 26 in.
Finish - Black
Dimension - 7.09 x 12.01 x 18.11 in.
Item weight - 1.48 lb.

.
**** PRICE: USD 19
Manufacturer : DwellingDesigns
Tags: DwellingDesigns

↑ Start of page


Uniflame F-1976 5 Piece Aged Bronze Fireset with Ring Handles
Home Decor>Fireplaces>Fireplace Tool Sets
Product Catalog
Description : .

Beautify your home with the sophisticated style of the Uniflame 5 Piece Bronze Fireset. The variety of tools provide a convenient way to clean and tend to your fireplace. Keep the fires burning bright with the Bronze Fire Set.

Features

5 Piece Aged Bronze Fireset with Ring Handles
Set has matte bronze finish
Ring swirl handles
Set includes brush poker tongs shovel and stand
5 Piece

.
**** PRICE: USD 142
Manufacturer : Uniflame
Tags: Uniflame

↑ Start of page


Uniflame F-1739 5 Piece Black Mission Fireset with Crook Handles
Home Decor>Fireplaces>Fireplace Tool Sets
Product Catalog
Description : .

Timeless design featuring craftsman detailing makes this UniFlame black wrought iron 5-Piece toolset by Blue Rhino a compliment to any decor. This set includes 5 tools for tending the fireplace stand poker shovel brush and log tool. The tools hang by the crook handles from the beautiful stand. Use for a real wood burning fireplace or as an accent to gas logs.

Features

5 Piece Black Mission Fireset with Crook Handles
5-piece fireplace toolset
Shepherd's crook handles
Black wrought iron finish with center weave design
Includes stand poker shovel brush and log tool
5 Piece

Specifications.
**** PRICE: USD 114
Manufacturer : Uniflame
Tags: Uniflame

↑ Start of page


Uniflame F-1742 5 Piece Black Ornate Fireset with Horseshoe Handles
Home Decor>Fireplaces>Fireplace Tool Sets
Product Catalog
Description : .

With its black wrought iron finish this UniFlame 5-Piece Tool Set with crook handles by Blue Rhino brings a timeless and refined elegance to the hearth. The set includes five tools for tending the fireplace stand poker shovel brush and log tool that hang conveniently by the handles from the beautiful stand. Use for a real wood burning fireplace or as an accent to gas logs.

Features

5 Piece Black Ornate Fireset with Horseshoe Handles
Black finish
Easy to grip heavy crook handles
All the tools you need to tend a fire
Traditional styling will compliment any decor
5 Piece

Specifications.
**** PRICE: USD 142
Manufacturer : Uniflame
Tags: Uniflame

↑ Start of page


Darice 32034-5 18 in. Cloth Covered Stem Wire 32 Gauge White - Pack of 12
Home Decor>Flower Arrangements>Flower Supplies>Flower Tools & Wires
Product Catalog
Description : .

Home decor items are the best way to ensure that you can inject your personality into your home and make everything look like a reflection of who you are. Choose from an exciting range of products for home decor and add lovely silhouettes or textures to any room.

Features

Cloth Covered Stem Wire 32 Gauge
Pack of 12

Specifications

Color: White
Size: 18
Weight: 0.12 lbs

.
**** PRICE: USD 7
Manufacturer : Darice
Tags: Darice

↑ Start of page


Darice 32037-1 18 in. Cloth Covered Stem Wire 20 Gauge Green - Pack of 15
Home Decor>Flower Arrangements>Flower Supplies>Flower Tools & Wires
Product Catalog
Description : .

Home decor items are the best way to ensure that you can inject your personality into your home and make everything look like a reflection of who you are. Choose from an exciting range of products for home decor and add lovely silhouettes or textures to any room.

Features

18 Cloth Covered Stem Wire 20 Gauge
Pack of 15

Specifications

Color: Green
Size: 18
Weight: 0.14 lbs

.
**** PRICE: USD 7
Manufacturer : Darice
Tags: Darice

↑ Start of page


W & E Fasteners WEF-440 22 -16 Wire Nylon Butt Connector Red
Home Decor>Flower Arrangements>Flower Supplies>Flower Tools & Wires
Product Catalog
Description : .

Decorating a house is a passion pursued by many. Our home decor products will add a better durability stability and high standard for all the products. Our products will be the best fit for residential purpose. We strive to provide the user with the best selection and help to enjoy the fun and secure shopping with us.

Features

Wire Nylon Butt Connecto
Pack of 50

Specifications

Color: Red
Size: 22 -16
Weight: 0.138 lbs

.
**** PRICE: USD 11
Manufacturer : W & E Sales Co Inc
Tags: W & E Sales Co Inc

↑ Start of page


Home Basix 322222 28.5 in. Fireplace Set - Black 4 Piece
Home Decor>Fireplaces>Fireplace Tool Sets
Product Catalog
Description : .

Add an element of fun to your walls by decorating them with these wall decor and decals. Portraying fancy prints these stickers will be a big hit amongst everyone. Pick your favorite one and transform a regular wall into a work of art. Make your room an elegant look with these wonderful wall decor products and will the best fit for all type of space.

Features

Finished handles and round base
4 Piece set

Specifications

Color: Black
Size: 28.5 in.
Dimension: 24.38" H x 10" W x 9.5" L
Weight: 9.4 lbs

.
**** PRICE: USD 46
Manufacturer : Home Basix
Tags: Home Basix

↑ Start of page


---


#93 << Previous Page - Page #1 - Next Page >> #2


PAGES : >> 1 | 2 | 3 | 4 | 5 | 6 | 7 | 8 | 9 | 10 | 11 | 12 | 13 | 14 | 15 | 16 | 17 | 18 | 19 | 20 | 21 | 22 | 23 | 24 | 25 | 26 | 27 | 28 | 29 | 30 | 31 | 32 | 33 | 34 | 35 | 36 | 37 | 38 | 39 | 40 | 41 | 42 | 43 | 44 | 45 | 46 | 47 | 48 | 49 | 50 | 51 | 52 | 53 | 54 | 55 | 56 | 57 | 58 | 59 | 60 | 61 | 62 | 63 | 64 | 65 | 66 | 67 | 68 | 69 | 70 | 71 | 72 | 73 | 74 | 75 | 76 | 77 | 78 | 79 | 80 | 81 | 82 | 83 | 84 | 85 | 86 | 87 | 88 | 89 | 90 | 91 | 92 | 93 | -

---