Nestz offers designer furniture at non designer prices by cutting out the middle men. Free Shipping Australia Wide on most collections.
---
Curated by professional editors, The Conversation offers informed commentary and debate on the issues affecting our world. Plus a Plain English guide to the latest developments and discoveries from the university and research sector.

----------------------------------------------------------------------------------------------------------------
Henry Kissinger has died. The titan of US foreign policy changed the world, for better or worse
Posted on Thursday November 30, 2023
Author : Lester Munson, Non-resident fellow, United States Studies Centre, University of Sydney
Summary :Former US secretary of state, Henry Kissinger has died, aged 100. His legacy, including his involvement in the Vietnam war, is long, complicated and divisive.
**
Henry Kissinger was the ultimate champion of the United States' foreign policy battles.
The former US secretary of state died on November 29 2023 after living for a century.
The magnitude of his influence on the geopolitics of the free world cannot be overstated.
From world war two, when he was an enlisted soldier in the US Army, to the end of the cold war, and even into the 21st century, he had a significant, sustained impact on global affairs.
---
Read more: Kissinger at 100: his legacy might be mixed but his importance has been enormous
---
From Germany to the US and back again
Born in Germany in 1923, he came to the United States at age 15 as a refugee. He learned English as a teenager and his heavy German accent stayed with him until his death.
He attended George Washington High School in New York City before being drafted into the army and serving in his native Germany. Working in the intelligence corps, he identified Gestapo officers and worked to rid the country of Nazis. He won a Bronze Star.
Kissinger returned to the US and studied at Harvard before joining the university's faculty. He advised moderate Republican New York Governor Nelson Rockefeller – a presidential aspirant – and became a world authority on nuclear weapons strategy.
When Rockefeller's chief rival Richard Nixon prevailed in the 1968 primaries, Kissinger quickly switched to Nixon's team.
A powerful role in the White House
In the Nixon White House, he became national security advisor and later simultaneously held the office of secretary of state. No one has held both roles at the same time since.
For Nixon, Kissinger's diplomacy arranged the end of the Vietnam war and the pivot to China: two related and crucial events in the resolution of the cold war.
He won the 1973 Nobel Peace Prize for his Vietnam diplomacy, but was also condemned by the left as a war criminal for perceived US excesses during the conflict, including the bombing campaign in Cambodia, which likely killed hundreds of thousands of people.
That criticism survives him.
The pivot to China not only rearranged the global chessboard, but it also almost immediately changed the global conversation from the US defeat in Vietnam to a reinvigorated anti-Soviet alliance.
After Nixon was compelled to resign by the Watergate scandal, Kissinger served as secretary of state under Nixon's successor, Gerald Ford.
During that brief, two-year administration, Kissinger's stature and experience overshadowed the beleaguered Ford. Ford gladly handed over US foreign policy to Kissinger so he could focus on politics and running for election to the office for which the people had never selected him.
During the turbulent 1970s, Kissinger also achieved a kind of cult status.
Not classically attractive, his comfort with global power gave him a charisma that was noticed by Hollywood actresses and other celebrities. His romantic life was the topic of many gossip columns. He's even quoted as saying "power is the ultimate aphrodisiac".
His legacy in US foreign policy continued to grow after the Ford administration. He advised corporations, politicians and many other global leaders, often behind closed doors but also in public, testifying before congress well into his 90s.
---
Read more: The Nobel Peace Prize offers no guarantee its winners actually create peace, or make it last
---
Criticism and condemnation
Criticism of Kissinger was and is harsh. Rolling Stone magazine's obituary of Kissinger is headlined "War Criminal Beloved by America's Ruling Class, Finally Dies".
His association with US foreign policy during the divisive Vietnam years is a near-obsession for some critics, who cannot forgive his role in what they see as a corrupt Nixon administration carrying out terrible acts of war against the innocent people of Vietnam.
Kissinger's critics see him as the ultimate personification of US realpolitik – willing to do anything for personal power or to advance his country's goals on the world stage.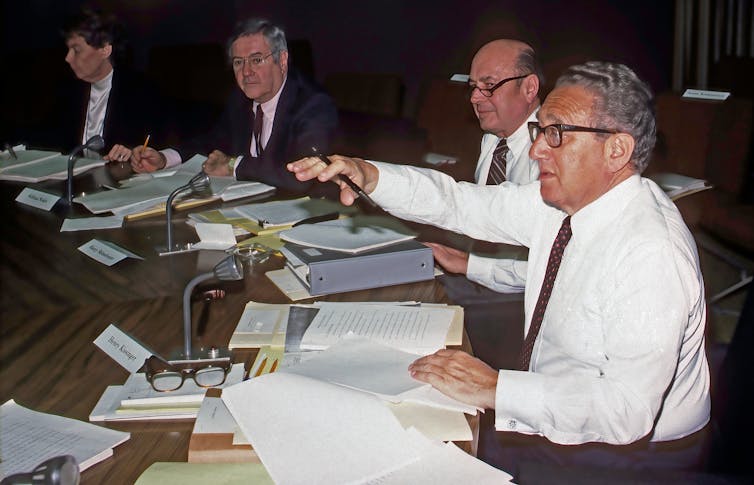 But in my opinion, this interpretation is wrong.
Niall Ferguson's 2011 biography, Kissinger, tells a very different story. In more than 1,000 pages, Ferguson details the impact that world war two had on the young Kissinger.
First fleeing from, then returning to fight against, an immoral regime showed the future US secretary of state that global power must be well-managed and ultimately used to advance the causes of democracy and individual freedom.
Whether he was advising Nixon on Vietnam war policy to set up plausible peace negotiations, or arranging the details of the opening to China to put the Soviet Union in checkmate, Kissinger's eye was always on preserving and advancing the liberal humanitarian values of the West – and against the forces of totalitarianism and hatred.
The way he saw it, the only way to do this was to work for the primacy of the United States and its allies.
No one did more to advance this goal than Henry Kissinger. For that he will be both lionised and condemned.
---
Read more: A tortured and deadly legacy: Kissinger and realpolitik in US foreign policy
---

Lester Munson works for BGR Group, a Washington DC consultancy, Johns Hopkins University and the U.S. Studies Centre. He is affiliated with George Mason University and the Center for Strategic and International Studies in Washington, DC.

----------------------------------------------------------------------------------------------------------------


Is Winston Peters right to call state-funded journalism 'bribery' – or is there a bigger threat to democracy?
Posted on Wednesday November 29, 2023

Author : Peter Thompson, Associate Professor of Media Studies, Te Herenga Waka — Victoria University of Wellington

Summary :The Public Interest Journalism Fund became a lightning rod for disinformation well before Winston Peters likened it to 'bribery'. Policy making has already been compromised as a result.

**

Winston Peters had only just been sworn in as deputy prime minister when his long-standing antipathy to the news media emerged in the form of a serious accusation.

Referring to the Public Interest Journalism Fund (PIJF) set up under the previous Labour government (and no longer operating), the NZ First leader claimed "you can't defend $55 million of bribery".

He demanded the press gallery "tell the public what you signed up to, to get the money". And he went on to question the independence of publicly owned media operators TVNZ and RNZ.

His claims have reignited arguments over the merits of publicly subsidised news media. This has already led to one NZ On Air board member resigning over his public reaction to Peters' comments.

But the controversy is symptomatic of a broader and growing mistrust of the "mainstream" and government-funded media among some sections of the public.
Perceptions of bribery
The PIJF was established as part of the Labour government's response to the COVID pandemic – which saw a sharp decline in advertising spend. It was a contestable fund administered by state funding agency NZ On Air.
The fund provided NZ$55 million between 2021 and 2023 to support local news initiatives, including journalist roles, specific projects, and industry development and training.
---
Read more: Three parties, two deals, one government: the stress points within New Zealand's 'coalition of many colours'
---
The fund was intended to extend news reporting into areas otherwise not commercially viable – including local democracy, courts, regional and farming issues, and Māori and Pasifika affairs.
Peters' remarks about "bribery" may reflect his personal unease with the media in general. During and after the election campaign he accused one interviewer of being a "dirt merchant", "corrupt" and a "left-wing shill".
But it is also possible Peters has long-standing misgivings about public-funded media mechanisms like the PIJF. While in coalition with Labour as part of the 2017–23 government, NZ First reportedly vetoed an earlier Labour proposal for such a fund, citing concerns it could be misconstrued as bribery.
Misinformation and funding
Being sceptical about what we read or watch is entirely sensible. But wholesale cynicism toward the news – particularly at a time when disinformation thrives on unregulated platforms – can be corrosive to democracy and social cohesion.
Former editor-in-chief of the New Zealand Herald Gavin Ellis reviewed the open justice and local democracy reporting components of the PIJF. He has suggested the disinformation and conspiracy theories that emerged around the fund proved difficult to counter with factual evidence.
---
Read more: Fake news didn't play a big role in NZ's 2023 election – but there was a rise in 'small lies'
---
The problem was exacerbated when perceptions of bias or government influence on journalism were used by opposition politicians at the time to attack aspects of the PIJF and its operation.
One of the common themes of misinformation about the PIJF was that it required all bids for funding to conform to an ideologically motivated commitment to the principles of the Treaty of Waitangi.
This arguably flowed from the fund's general guidelines setting out a number of overarching goals, including: "Actively promote the principles of Partnership, Participation and Active Protection under Te Tiriti o Waitangi acknowledging Māori as a Te Tiriti partner."
However, this was not a generic requirement for all funding applications.
NZ On Air did commission an external report about what a Treaty-informed reporting framework might look like. This was in response to requests from media interested in applying for funding to cover Māori issues. The report proposed establishing some journalistic principles to address structural racism and colonisation.
---
Read more: 'Let them watch Netflix' – what can be salvaged from the wreckage of the failed TVNZ-RNZ merger?
---
There's no doubt this could have been perceived as radical by those already hostile to the Treaty's place in public life. But crucially, the report was only published in 2022 – and these were not the criteria NZ On Air used to administer actual funding decisions.
The head of funding for NZ On Air has confirmed that not a single PIJF application was declined for failing to meet Māori reporting criteria.
Public policy already affected
NZ On Air has existed since 1989 and has a track record of transparently and independently disbursing contestable public funds. Factual content and current affairs have been funded since 2009.
If the mechanism was prone to government interference, one has to wonder why it has only become a concern so recently.
To conflate a contestable funding mechanism, operating at arm's length from the government, with the notion that state funding means direct government control, suggests either fundamental misunderstanding or ideological motivation.
---
Read more: Closures, cuts, revival and rebirth: how COVID-19 reshaped the NZ media landscape in 2020
---
The PIJF supported over 200 journalist roles, projects and training programmes across the sector. It seems implausible that none would have blown the whistle on government interference if it existed – which would surely have made headlines.
One practical alternative funding mechanism for public-interest journalism would involve imposing a levy on commercial media revenues, particularly the digital platforms which have captured so much of the advertising market.
Ironically, as the cabinet paper behind Labour's Fair Digital News Bargaining Bill reveals, this was apparently considered by the minister at the time – but rejected in part because of concerns about perceptions of state influence over the media:
Continued financial support for the creation of public interest content through taxpayer funding increases risks around the perceived independence of, and public trust in, the media.
If one is looking for political conspiracy theories, this surely indicates disinformation has begun to affect the scope of public policy. The weaponised dissemination of political disinformation – whether deliberately or through ignorance – is surely the real threat to democracy.

Peter Thompson has received funding for commissioned research from the Ministry for Culture and Heritage, NZ on Air, the Department of Internal Affairs, and the Canadian Department of Heritage. He is chair of the Better Public Media Trust.

----------------------------------------------------------------------------------------------------------------


Parliamentary report slams mutual obligation, calling for total overhaul of employment services
Posted on Wednesday November 29, 2023

Author : Michelle Grattan, Professorial Fellow, University of Canberra

Summary :The government has released a review of the employment services system. The scathing indictment has found the current system doesn't serve the interests of jobseekers or employers.

**

A parliamentary inquiry has delivered a scathing indictment of Australia's employment services, finding it does not serve the interests of job seekers or employers and urging the privatised system be partially wound back.

A rigid approach to mutual obligation is killing unemployed people's motivation, employers are flooded with inappropriate applications, and people are not adequately assessed upfront, the inquiry has found.

"We have an inefficient, outsourced, fragmented social security compliance management system that sometimes gets someone a job against all odds," the committee chair, Victorian Labor MP Julian Hill, writes in his foreword to the report into Workforce Australia Employment Services.

The inquiry, done by a House of Representatives committee, finds the system can't be fixed by "tweaks".

It recommends a comprehensive rebuilding of the system with a much stronger role for government, including the establishment of a new entity within the public service to drive the system and be a "hybrid provider".

Employment services were privatised 25 years ago and form the federal government's biggest single procurement outside defence.

The inquiry found jobseekers are subject to "excessive – often very punitive – compliance and enforcement arrangements, which have little or no positive impact on their capacity for social and economic participation".

The present approach "is tying the system up in red-tape and pointlessly harming productivity in providers, driving large and small businesses away from the system, and actually making many people less employable."

The inquiry urges a more tailored approach.

This would include counselling clients several times before moving to compliance, an adjusted sanctions regime, and having "human decisions-makers" deal with key compliance functions, removing "Robo-Cancel" automation in suspending and cancelling payments.

The report, titled Rebuilding Employment Services, says stakeholders painted a picture of a scheme based on fear, excessive competition and compliance.

Participants fear doing something wrong and losing income. Providers fear the department giving them a black mark and losing their contracts. Excessive competition is to the detriment of employers and vulnerable job seekers.

The report says the public service, sitting on top of the system, "is detached and seemingly disinterested in or unaware of what actually happens at the frontline or in brokering place-based solutions, sharing best practice or encouraging innovation".

Instead, it is focused on procurement, contract management and key performance indicators.

The employment services system is underpinned by two "flawed theories".

"The first is that unemployment is an individual failing […] and that clients will make efforts to secure employment if only they are beaten hard enough.

"The second is that choice and competition in human services will inevitably result in better services and improved employment outcomes, especially for vulnerable and long-term unemployed people," the report says.

"The system is also driven by the pernicious myth of the 'dole bluder', reflected in a patently ridiculous level of compliance and reporting activities.

"Employers have made it clear that the system adds little value to their business, and that it repeatedly tries to force unsuitable jobseekers into vacancies without providing adequate incentives or support."

The report says "a hunger games-style contracting model and regulatory culture drives very high turnover in providers during contracting and licensing rounds". This leads to disruption and devastates trust. In the last round, some 22% of regions saw all providers removed.

The inquiry urges government be an "active steward" proving enabling services as well as some direct service delivery in "thin markets" and to rebuild capability.

"Consistent with the world's best employment systems and other human services (think TAFE, education, health or aged care) a public sector core to the employment services system must be rebuilt," Hill writes in his foreword.

"Australia must change our culture and mindset from the current paradigm where politicians obsessively contract employment services out and deny responsibility, to a system where service partners are contracted to work with government and employers in local communities."

The new entity proposed, Employment Services Australia, would be within the department of employment and workplace relations. It would be a large "digital-hybrid provider for jobseekers".

It would establish regional hubs, where possible co-located with existing services, which would undertake jobseeker assessment and referrals to services, as well as engaging with industry and employers.

The inquiry's blueprint for reform recommends dialling back excessive competition in local areas, focusing on more employer engagement, and considering integrating digital employment marketplaces, such as SEEK, LinkedIn and competitors into the system.

The committee's 75 recommendations include the government creating a permanent administrative traineeship position for disadvantaged jobseekers in the electorate office of each MP. This is to lead by example and expose all parliamentarians to the lived experiences of disadvantaged people. Each placement would last between nine and 18 months.

The report says Australia spends materially less than the OECD average on employment services overall. Taking out administrative costs and the like, Australia spends slightly more than the OECD average on case management, job placements and benefit administration. But it invests significantly less in direct job creation, start up initiatives and training.

In a dissenting report, Liberal MP Aaron Violi criticised some of the central recommendations.

"The Coalition has concerns about some of the key recommendations […] that evidently seek to water down mutual obligation requirements, pass on key employment service functions from the private to the public sector, which end up increasing the size of the bureaucracy, inflating the cost to the taxpayer and simply risk creating more red tape."

Michelle Grattan does not work for, consult, own shares in or receive funding from any company or organisation that would benefit from this article, and has disclosed no relevant affiliations beyond their academic appointment.

----------------------------------------------------------------------------------------------------------------


Artificial intelligence is already in our hospitals. 5 questions people want answered
Posted on Wednesday November 29, 2023

Author : Stacy Carter, Professor and Director, Australian Centre for Health Engagement, Evidence and Values, University of Wollongong

Summary :Before AI becomes widespread in health care, we need to ask what matters to consumers.

**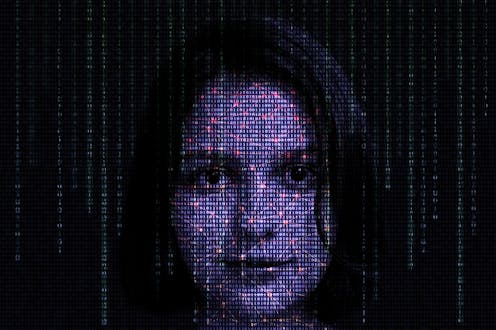 Artificial intelligence (AI) is already being used in health care. AI can look for patterns in medical images to help diagnose disease. It can help predict who in a hospital ward might deteriorate. It can rapidly summarise medical research papers to help doctors stay up-to-date with the latest evidence.
These are examples of AI making or shaping decisions health professionals previously made. More applications are being developed.
But what do consumers think of using AI in health care? And how should their answers shape how it's used in the future?
---
Read more: AI is already being used in healthcare. But not all of it is 'medical grade'
---
What do consumers think?
AI systems are trained to look for patterns in large amounts of data. Based on these patterns, AI systems can make recommendations, suggest diagnoses, or initiate actions. They can potentially continually learn, becoming better at tasks over time.
If we draw together international evidence, including our own and that of others, it seems most consumers accept the potential value of AI in health care.
This value could include, for example, increasing the accuracy of diagnoses or improving access to care. At present, these are largely potential, rather than proven, benefits.
But consumers say their acceptance is conditional. They still have serious concerns.
1. Does the AI work?
A baseline expectation is AI tools should work well. Often, consumers say AI should be at least as good as a human doctor at the tasks it performs. They say we should not use AI if it will lead to more incorrect diagnoses or medical errors.
---
Read more: AI chatbots are still far from replacing human therapists
---
2. Who's responsible if AI gets it wrong?
Consumers also worry that if AI systems generate decisions – such as diagnoses or treatment plans – without human input, it may be unclear who is responsible for errors. So people often want clinicians to remain responsible for the final decisions, and for protecting patients from harms.
---
Read more: Who will write the rules for AI? How nations are racing to regulate artificial intelligence
---
3. Will AI make health care less fair?
If health services are already discriminatory, AI systems can learn these patterns from data and repeat or worsen the discrimination. So AI used in health care can make health inequities worse. In our studies consumers said this is not OK.
4. Will AI dehumanise health care?
Consumers are concerned AI will take the "human" elements out of health care, consistently saying AI tools should support rather than replace doctors. Often, this is because AI is perceived to lack important human traits, such as empathy. Consumers say the communication skills, care and touch of a health professional are especially important when feeling vulnerable.
---
Read more: Chatbots for medical advice: three ways to avoid misleading information
---
5. Will AI de-skill our health workers?
Consumers value human clinicians and their expertise. In our research with women about AI in breast screening, women were concerned about the potential effect on radiologists' skills and expertise. Women saw this expertise as a precious shared resource: too much dependence on AI tools, and this resource might be lost.
Consumers and communities need a say
The Australian health-care system cannot focus only on the technical elements of AI tools. Social and ethical considerations, including high-quality engagement with consumers and communities, are essential to shape AI use in health care.
Communities need opportunities to develop digital health literacy: digital skills to access reliable, trustworthy health information, services and resources.
Respectful engagement with Aboriginal and Torres Strait Islander communities must be central. This includes upholding Indigenous data sovereignty, which the Australian Institute of Aboriginal and Torres Strait Islander Studies describes as:
the right of Indigenous peoples to govern the collection, ownership and application of data about Indigenous communities, peoples, lands, and resources.
This includes any use of data to create AI.
This critically important consumer and community engagement needs to take place before managers design (more) AI into health systems, before regulators create guidance for how AI should and shouldn't be used, and before clinicians consider buying a new AI tool for their practice.
We're making some progress. Earlier this year, we ran a citizens' jury on AI in health care. We supported 30 diverse Australians, from every state and territory, to spend three weeks learning about AI in health care, and developing recommendations for policymakers.
Their recommendations, which will be published in an upcoming issue of the Medical Journal of Australia, have informed a recently released national roadmap for using AI in health care.
---
Read more: Worried about AI? You might have AI-nxiety – here's how to cope
---
That's not all
Health professionals also need to be upskilled and supported to use AI in health care. They need to learn to be critical users of digital health tools, including understanding their pros and cons.
Our analysis of safety events reported to the Food and Drug Administration shows the most serious harms reported to the US regulator came not from a faulty device, but from the way consumers and clinicians used the device.
We also need to consider when health professionals should tell patients an AI tool is being used in their care, and when health workers should seek informed consent for that use.
Lastly, people involved in every stage of developing and using AI need to get accustomed to asking themselves: do consumers and communities agree this is a justified use of AI?
Only then will we have the AI-enabled health-care system consumers actually want.

Stacy Carter receives funding from National Health and Medical Research Council, National Breast Cancer Foundation, Medical Research Futures Fund.
Emma Frost receives funding from the Australian Government Research Training Program and the National Health and Medical Research Council.
Farah Magrabi receives funding from the National Health and Medical Research Council, the Digital Health CRC and Macquarie University. She is Co-Chair of the Australian Alliance for AI in Healthcare's Safety, Quality and Ethics Working Group.
Yves Saint James Aquino receives funding from the National Health and Medical Research Council (CRE 2006-545 - WiserHealthcare). He is affiliated with Bellberry Limited, a not-for-profit organisation providing scientific and ethical review of human research projects.

----------------------------------------------------------------------------------------------------------------


New unified theory shows how past landscapes drove the evolution of Earth's rich diversity of life
Posted on Wednesday November 29, 2023

Author : Tristan Salles, Senior Lecturer, University of Sydney

Summary :For decades, scientists have tried to uncover the cause of long-term changes in Earth's biodiversity. New simulations point at geography playing a critical role.

**

Earth's surface is the living skin of our planet – it connects the physical, chemical and biological systems.

Over geological time, this surface evolves. Rivers fragment the landscape into an environmentally diverse range of habitats. These rivers also transfer sediments from the mountains to the continental plains and ultimately the oceans.

The idea that landscapes have influenced the trajectory of life on our planet has a long history, dating back to the early 19th century scientific narratives of German polymath Alexander von Humboldt. While we've learnt more since then, many aspects of biodiversity evolution remain enigmatic. For example, it's still unclear why there is a 100-million-year gap between the explosion of marine life and the development of plants on continents.

In research published in Nature today, we propose a new theory that relates the evolution of biodiversity over the past 540 million years to sediment "pulses" controlled by past landscapes.
10 years of computational time
Our simulations are based on an open-source code released as part of a Science paper published earlier this year.
To drive the evolution of the landscape through space and time in our computer model, we used a series of reconstructions for what the climate and tectonics were like in the past.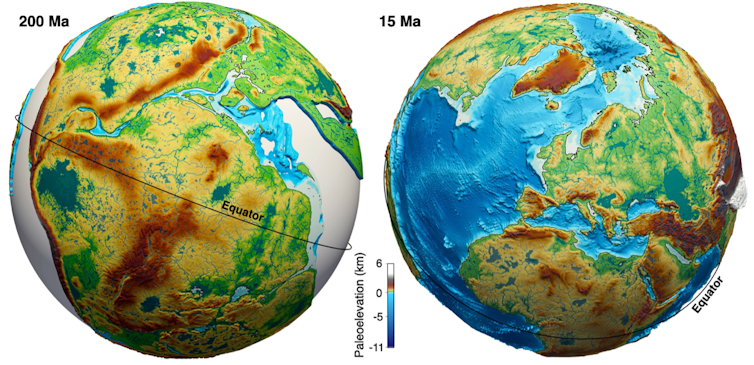 We then compared the results of our global simulations with reconstructions of marine and continental biodiversity over the past 540 million years.
To perform our computer simulations, we took advantage of Australia's National Computational Infrastructure running on several hundreds of processors. The combined simulations presented in our study are equivalent to ten years of computational time.
---
Read more: How the Earth's last supercontinent broke apart to form the world we have today
---
Marine life and river sediment were closely linked
In our model, we discovered that the more sediment rivers carried into the oceans, the more the sea life diversified (a positive correlation). You can see this tracked by the red line in the chart below.

As the continents weather, rivers don't just carry sediment into the oceans, they also bring a large quantity of nutrients. These nutrients, such as carbon, nitrogen and phosphorus, are essential to the biological cycles that move vital elements through all living things.
This is why we think rivers delivering more or less nutrients to the ocean – on a geological timescale of millions of years – is related to the diversification of marine life.
Perhaps even more surprisingly, we found that episodes of mass extinctions in the oceans happened shortly after significant decreases in sedimentary flow. This suggests that a lack or deficiency of nutrients can destabilise biodiversity and make it vulnerable to catastrophic events (like asteroid impacts or volcanic eruptions).
---
Read more: What is a 'mass extinction' and are we in one now?
---
Landscapes also drove the diversity of plants
On the continents, we designed a variable that integrates sediment cover and landscape ruggedness to describe the continents' capacity to host diverse species.
Here we also found a striking correlation (see below) between our variable and plant diversification for the past 400 million years. This highlights how changes in landscape also have a strong influence on species diversifying on land.

We hypothesise that as Earth's surface was gradually covered with thicker soil, richer in nutrients deposited by rivers, plants could develop and diversify with more elaborate root systems.
As plants slowly expanded across the land, the planet ended up hosting varied environments and habitats with favourable conditions for plant evolution, such as the emergence of flowering plants some 100 million years ago.
A living planet
Overall, our findings suggest the diversity of life on our planet is strongly influenced by landscape dynamics. At any given moment, Earth's landscapes determine the maximum number of different species continents and oceans can support.
This shows it's not just tectonics or climates, but their interactions that determine the long-term evolution of biodiversity. They do this through sediment flows and changes to the landscapes at large.
Our findings also show that biodiversity has always evolved at the pace of plate tectonics. That's a pace incomparably slower than the current rate of extinction caused by human activity.
---
Read more: Five ways you can help stop biodiversity loss in your area – and around the world
---

This research was undertaken with resources from the National Computational Infrastructure supported by the Australian Government and from Artemis HPC supported by the University of Sydney. This work was supported by an Australian Research Council grant.
Beatriz Hadler Boggiani, Laurent Husson, and Manon Lorcery do not work for, consult, own shares in or receive funding from any company or organisation that would benefit from this article, and have disclosed no relevant affiliations beyond their academic appointment.

----------------------------------------------------------------------------------------------------------------


Since the Gaza war began, violence against Palestinians has also surged in the West Bank – and gone virtually unnoticed
Posted on Wednesday November 29, 2023

Author : Tristan Dunning, Honorary Research Fellow, The University of Queensland

Summary :More than 450 Palestinians have been killed in the West Bank since the start of the year, the most since 2005.

**

While the world remains fixated on the devastating October 7 Hamas attacks and the subsequent Israeli attacks on the Gaza Strip, there has been a pronounced – and mostly unnoticed – escalation in violence against Palestinians in the occupied West Bank and East Jerusalem.

Before the recent events, this had already been the deadliest year for Palestinians in the West Bank since 2005, with about 200 fatalities, mostly attributed to Israeli security forces.

This figure has more than doubled since October 7, including the killings of 55 children. That brings the yearly fatality total in the West Bank to more than 450 Palestinians so far, according to the United Nations.

The UN has also recorded 281 settler attacks against Palestinians in the West Bank since October 7, resulting in eight deaths. Four Israelis have been killed in attacks by Palestinians.

In nearly half of the settler attacks, Israeli security forces either "accompanied or actively supported the attackers", according to the UN.
A sharp increase in displacements
It is no coincidence the upsurge in anti-Palestinian violence this year has corresponded with the coming to power of the most right-wing nationalist government in Israeli history.
The new hardline government promised to expand Israeli settlements in the West Bank, which Israel has occupied since capturing the territory in the 1967 Arab-Israeli war.
This has emboldened Israeli settlers in the West Bank and East Jerusalem, who now regularly engage in violence and provocative nationalist actions around the al-Aqsa mosque compound.
Since 1967, Israel has built over 270 settlements containing approximately 750,000 settlers. Despite these settlements being deemed illegal under international law, they remain protected by the Israeli military and their own security squads.
In February, the Israeli government transferred the West Bank from military to civilian control, which critics claimed could represent a step towards legalised annexation.
Since October 7 alone, the Israeli human rights group B'tselem reports that 16 Palestinian communities have been "forcibly transferred" in Area C, which covers about 65% of the West Bank and is under complete Israeli control. Overall, over 1,000 Palestinians have been displaced in the West Bank due to settler violence and access restrictions, according to the UN.
According to a group of UN experts:
Israel's continuous annexation of portions of the occupied Palestinian territory […] suggests that a concrete effort may be under way to annex the entire occupied Palestinian territory in violation of international law.
Settler violence against Palestinians also includes the uprooting of hundreds of olive trees, destruction of property, blocked roads, armed raids and sabotaged wells. Military checkpoints and barriers make movement between Palestinian areas increasingly difficult.
Settlers also enjoy civilian and political rights in the West Bank, while Palestinians are subjected to military rule. This has been described by human rights groups, such as Amnesty International, Human Rights Watch and B'tselem, as well as prominent Israelis, as apartheid.
In a study of 1,000 cases of settler violence submitted to the Israeli judiciary between 2005 and 2021, the human rights organisation Yesh Din found 92% were dismissed.
---
Read more: Understanding the history of the Israeli-Palestinian conflict in 5 charts
---
A recipe for more violence
The West Bank continues to be run, at least in parts, by the internationally recognised Palestinian Authority (PA), led by Palestinian President Mahmoud Abbas of Fatah.
However, the PA is considered corrupt, nepotistic and is deeply unpopular among Palestinians in the territories. Recent polling revealed 78% of Palestinians want Abbas to resign. Primarily, this is because the PA is seen by Palestinians in the West Bank as nothing more than Israel's security subcontractor and has suppressed demonstrations in solidarity with Gaza.
As a result, a younger generation of Palestinian fighters has emerged in West Bank towns and cities that transcend the longstanding divide between Hamas in Gaza and the PA in the West Bank.
These self-defence battalions are intended to defend Palestinians against Israeli incursions, especially in the Jenin refugee camp and the old city of Nablus, both of which have repeatedly been the subject of Israeli raids this year.
Meanwhile, Itamar Ben-Gvir, Israel's national security minister and the leader of the Jewish Power Party, continues to openly defend settlers' actions, setting the stage for more attacks.
Earlier this year, a joint statement by the Israeli military, Shin Bet (Israel's domestic security agency) and Israeli police condemned Jewish settler violence against Palestinians, saying the increased vigilantism contradicted Jewish values and were a form of "nationalist terror in the full sense of the term". Days later, though, Ben-Gvir blocked condemnation of the settlers and is reported to have called them "sweet kids" who had been turned into adults in detention.
After the October 7 attacks, Ben-Gvir's ministry announced it had purchased 10,000 assault rifles to be distributed to civilian security teams around the country, including in West Bank settlements.
Other senior Israeli politicians have also been seen to encourage violence. In March, for instance, Finance Minister Bezalel Smotrich, who is also in charge of the civil administration of the West Bank, said a Palestinian town called Huwara should be "wiped out".
The US State Department said the comment amounted to an incitement of violence and called it "repugnant". Smotrich later apologised, calling it a "slip of the tongue".
All of this has helped create an environment of fear, frustration and desperation among Palestinians in the West Bank. Following five weeks of war in Gaza, the Palestinian Centre for Policy and Survey Research reported 69% of Palestinians say they "fear future settler attacks".
The upshot of this continued violence in the West Bank is the prospects for a viable two-state solution are more remote than ever, leaving Palestinians with little alternative then to continue resisting.
---
Read more: West Bank's settler violence problem is a second sign that Israel's policy of ignoring Palestinians' drive for a homeland isn't a long-term solution
---

The authors do not work for, consult, own shares in or receive funding from any company or organisation that would benefit from this article, and have disclosed no relevant affiliations beyond their academic appointment.

----------------------------------------------------------------------------------------------------------------


COP28: How will Australia navigate domestic climate wins and fossil fuel exports at the negotiating table?
Posted on Wednesday November 29, 2023

Author : Jacqueline Peel, Director, Melbourne Climate Futures, The University of Melbourne

Summary :New emissions projections bode well for Australia's climate efforts – but our fossil fuel exports continue apace. 

**

As the COP28 climate summit gets underway in the oil production hub of the United Arab Emirates today, Australia's climate minister Chris Bowen will detail our progress in meeting emissions cut targets and updated projections.

The second Annual Climate Change Statement will be tabled in parliament at noon. But we already know some of the detail. Australia is now likely to cut its emissions 42% below 2005 levels by 2030 – very close to the legislated 43% target the government introduced last year.

This is likely to give Bowen a spring in his step, when combined with last week's funding announcement on renewables and storage. From this strengthened platform, he will argue Australia can be trusted to meet its climate goals.

Next week Bowen heads to Dubai to lead Australia's negotiating team. He can expect international pressure to be more ambitious in setting the nation's 2035 target. This is essential if we are to keep 1.5°C within reach. Scientists consistently say wealthy countries such as Australia should be cutting their emissions by 50 to 75% by 2030 to meet the Paris Agreement goals.

But Bowen can also expect a different pressure, as efforts to phase down or phase out fossil fuels such as Australia's gas and coal gather pace.
---
Read more: As disasters and heat intensify, can the world meet the urgency of the moment at the COP28 climate talks?
---
What role will Australia play in COP28 negotiations?
At COP28, Australian negotiators are likely to have two broad objectives. The first is to achieve ambitious emissions reductions in line with the Paris Agreement's 1.5°C goal. The agreement requires countries to make increasingly stringent five year plans – called "nationally determined contributions" – in line with keeping global warming within the range of 1.5–2°C.
The second is to ensure positive outcomes for our Pacific neighbours. These objectives are linked, given the existential threat climate change poses to many Pacific island countries if 1.5°C of warming is exceeded.
Australia will play a prominent role in negotiations around adapting to climate change, as assistant climate minister Jenny McAllister will co-chair this work. We will also be visible in efforts to lay out the ground rules for the new Loss and Damage fund, a key outcome from last year's COP27 in Egypt.
Negotiators are also hoping for an announcement on Australia's bid to host a joint Australia-Pacific COP meeting in 2026. This bid has already increased global scrutiny of Australia's international engagement on climate and its domestic actions.
The elephant in the room will be fossil fuels
For many nations – especially our Pacific neighbours – the elephant in the room is Australia's plans to keep expanding fossil fuel production. This overshadows Australia's credibility on domestic emissions reduction and its commitment to the Pacific.
As resources minister Madeleine King spruiked in June, Australia is "one of the world's largest exporters of liquefied natural gas, as well as the world's largest exporter of metallurgical coal and second largest exporter of thermal coal", based on 2021 figures.
The federal government continues to approve new and expanded coal mines under the nation's main environmental laws, the Environment Protection and Biodiversity Conservation Act. This is despite the contribution to climate change made by the emissions of the coal when burned.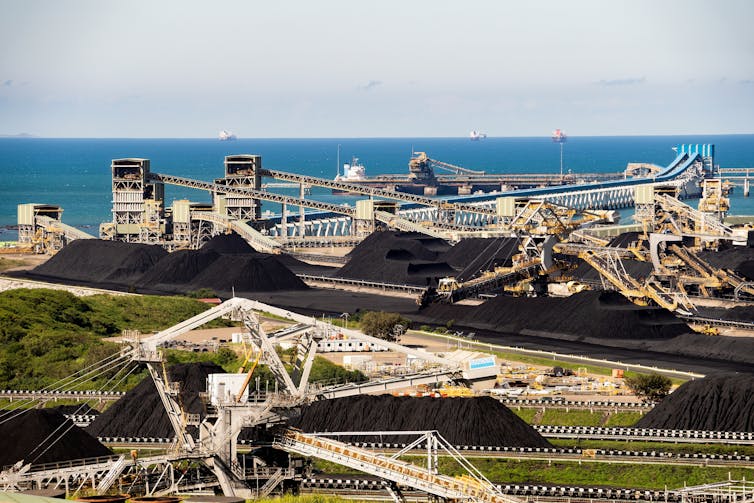 In October 2023, the Federal Court ruled environment minister Tanya Plibersek could legally decide on coal mine proposals under the act without considering their potential climate impacts.
At COP28, observers expect to see a strong push for the phase-down or total phase-out of unabated fossil fuels, given mounting evidence that planned fossil fuel production would blow the world's remaining carbon budget several times over.
Even the COP28 President – UAE oil company CEO Sultan al-Jaber – has declared the phase-down of fossil fuels is "inevitable" and "essential". This has been undercut by reports the UAE plans to make oil deals during the climate talks.
---
Read more: COP28: inside the United Arab Emirates, the oil giant hosting 2023 climate change summit
---
Australia's position on phasing down fossil fuels remains uncertain but there's an indication of the likely policy direction in Bowen's recent speech to the Lowy Institute.
In this speech, the minister described Australia's position as a "traditional fossil fuel-based economy in the middle of a major transition" to a low-carbon energy system. On energy exports, he sees Australia transforming from a major fossil fuel producer to a renewable energy superpower.
As Bowen noted, our domestic decarbonisation efforts are important, but in global terms they:
[…] pale in comparison to the emissions reductions achieved if we are able to harness and export our renewable energy to help countries without our abundant renewable resources to decarbonise.
How Australia navigates this dilemma will be of great interest to our Pacific neighbours and other international onlookers at COP28.
For many, it will be the real litmus test for Australia's ambition to be a global climate leader.
---
Read more: As disasters and heat intensify, can the world meet the urgency of the moment at the COP28 climate talks?
---

Jacqueline Peel does not work for, consult, own shares in or receive funding from any company or organisation that would benefit from this article, and has disclosed no relevant affiliations beyond their academic appointment.

----------------------------------------------------------------------------------------------------------------


A year of ChatGPT: 5 ways the AI marvel has changed the world
Posted on Wednesday November 29, 2023

Author : Toby Walsh, Professor of AI, Research Group Leader, UNSW Sydney

Summary :The public release of the chatbot has led to a global conversation about the risks and benefits of AI – a conversation few people were having just a few years ago.

**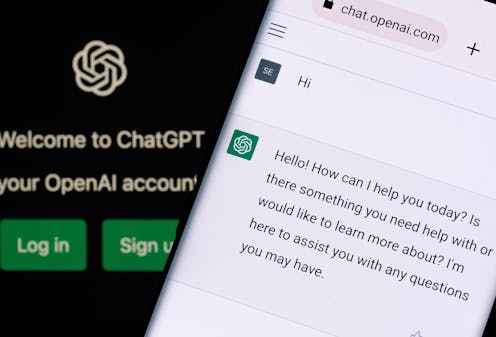 OpenAI's artificial intelligence (AI) chatbot ChatGPT was unleashed onto an unsuspecting public exactly one year ago.
It quickly became the fastest-growing app ever, in the hands of 100 million users by the end of the second month. Today, it's available to more than a billion people via Microsoft's Bing search, Skype and Snapchat – and OpenAI is predicted to collect more than US$1 billion in annual revenue.
We've never seen a technology roll out so quickly before. It took about a decade or so before most people started using the web. But this time the plumbing was already in place.
As a result, ChatGPT's impact has gone way beyond writing poems about Carol's retirement in the style of Shakespeare. It has given many people a taste of our AI-powered future. Here are five ways this technology has changed the world.
1. AI safety
ChatGPT forced governments around the world to wise up to the idea that AI poses significant challenges – not just economic challenges, but also societal and existential challenges.
United States President Joe Biden catapulted the US to the forefront of AI regulations with a presidential executive order that establishes new standards for AI safety and security. It looks to improve equity and civil rights, while also promoting innovation and competition, and American leadership in AI.
Soon after, the United Kingdom held the first ever intergovernmental AI Safety Summit in Bletchley Park – the place where the computer was born in World War II to crack the German Enigma code.
And more recently, the European Union has appeared to be sacrificing its early lead in regulating AI, as it struggled to adapt its AI Act with potential threats posed by frontier models such as ChatGPT.
Although Australia continues to languish towards the back of the pack in terms of regulation and investment, nations around the world are increasingly directing their money, time and attention towards addressing this issue which, five years ago, didn't cross most people's minds.
---
À lire aussi : The hidden cost of the AI boom: social and environmental exploitation
---
2. Job security
Before ChatGPT, it was perhaps car workers and other blue collar workers who most feared the arrival of robots. ChatGPT and other generative AI tools have changed this conversation.
White collar workers such as graphic designers and lawyers have now also started to worry for their jobs. One recent study of an online job marketplace found earnings for writing and editing jobs have fallen more than 10% since ChatGPT was launched. The gig economy might be the canary in this coalmine.
There's huge uncertainty whether more jobs get destroyed by AI than created. But one thing is now certain: AI will be hugely disruptive in how we work.
3. Death of the essay
The education sector reacted with some hostility to ChatGPT's arrival, with many schools and education authorities issuing immediate bans over its use. If ChatGPT can write essays, what will happen to homework?
Of course, we don't ask people to write essays because there's a shortage of them, or even because many jobs require this. We ask them to write essays because it demands research skills, improves communication skills, critical thinking and domain knowledge. No matter what ChatGPT offers, these skills will still be needed, even if we spend less time developing them.
---
À lire aussi : Dumbing down or wising up: how will generative AI change the way we think?
---
And it isn't only school children cheating with AI. Earlier this year, a US judge fined two lawyers and a law firm US$5,000 for a court filing written with ChatGPT that included made-up legal citations.
I imagine these are growing pains. Education is an area in which AI has much to offer. Large language models such as ChatGPT can, for example, be fine-tuned into excellent Socratic tutors. And intelligent tutoring systems can be infinitely patient when generating precisely targeted revision questions.
4. Copyright chaos
This one is personal. Authors around the world were outraged to discover that many large language models such as ChatGPT were trained on hundreds of thousands of books, downloaded from the web without their consent.
The reason AI models can converse fluently about everything from AI to zoology is because they're trained on books about everything from AI to zoology. And the books about AI include my own copyrighted books about AI.
The irony isn't lost on me that an AI professor's books about AI are controversially being used to train AI. Multiple class action suits are now in play in the US to determine if this is a violation of copyright laws.
Users of ChatGPT have even pointed out examples where chatbots have generated entire chunks of text, verbatim, taken from copyrighted books.
---
À lire aussi : No, the Lensa AI app technically isn't stealing artists' work – but it will majorly shake up the art world
---
5. Misinformation and disinformation
In the short term, one challenge which worries me most is the use of generative AI tools such as ChatGPT to create misinformation and disinformation.
This concern goes beyond synthetic text, to deepfake audio and videos that are indistinguishable from real ones. A bank has already been robbed using AI-generated cloned voices.
Elections also now appear threatened. Deepfakes played an unfortunate role in the 2023 Slovak parliamentary election campaign. Two days prior to the election, a fake audio clip about electoral fraud that allegedly featured a well-known journalist from an independent news platform and the chairman of the Progressive Slovakia party reached thousands of social media users. Commentators have suggested such fake content could have a material impact on election outcomes.
According to The Economist, more than four billion people will be asked to vote in various elections next year. What happens in such elections when we combine the reach of social media to with the power and persuasion of AI-generated fake content? Will it unleash a wave of misinformation and disinformation onto our already fragile democracies?
It's hard to predict what will unfold next year. But if 2023 is anything to go by, I suggest we buckle up.

Toby Walsh receives funding from the Australian Research Council and Google.org, the philanthropic arm of Google.

----------------------------------------------------------------------------------------------------------------


Australian uni students are warming to ChatGPT. But they want more clarity on how to use it
Posted on Wednesday November 29, 2023

Author : Jemma Skeat, Associate Professor, Director of Speech Pathology, Deakin University, Deakin University

Summary :Since ChatGPT was released a year ago, we have been asking Australian university students and academics about their use of generative AI.

**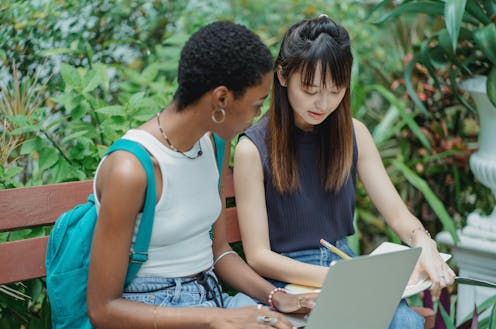 ChatGPT is one year old today. Depending on who you ask, this technology either spells great doom or great opportunity for education.
With ChatGPT capable of passing graduate-level exams, there have been calls for universities to drastically change assessments, amid concerns it will lead to cheating and students disengaging with their studies.
Some academics and students have also expressed enthusiasm at the potential for generative AI to cut down their workloads and help with learning.
But what has happened on the ground?
We have been tracking the use of AI in Australian universities this year. We did a survey on the first half of 2023. Now we release data from semester two.
More students are using AI
Across the year, we have asked 154 students and 89 academics about their use of AI via an online survey. Of this group, 81 students and 60 academics from Australian universities completed the survey during the second half of the year (June to November).
At the start of the year, just over half of students had tried or used generative AI. In the second half of the year, this had climbed to 82% of students and some of these were were using it in the context of university learning (25%) or assessment (28%).
In some cases, it was suggested or required for assessments, but for most students using it in this way, this was self-directed (85%).
Perhaps as a result of this increased use, students appear to be far more "sold" on this technology now than earlier in the year. Only 30% of first-semester students agreed generative AI would help them learn, 67% of second-semester students agreed with this.
Students reported applying generative AI in lots of ways, including summarising dense and long pieces of text, generating ideas/brainstorming, or to help "test" their own learning (for example, by generating a quiz about a learning topic). One student wrote they use it
to help solve problems (it suggests things that I would never think of).
Another said it is "another pair of eyes" to help them proofread and edit their work.
---
À lire aussi : AI is now accessible to everyone: 3 things parents should teach their kids
---
Students confident about limitations
Students also appear to be very aware of the limitations of generative AI. As one respondent wrote:
I love it […] when I am at the beginning of exploring a topic, I find it very helpful. As I dive in more deeply I have to rely on more credible sources of information.
Students consistently noted issues with accuracy. These include "AI hallucinations" (when a tool generates nonsense or something false or misleading), biases and specific limitations. Students also noted generative AI technology is still developing capabilities when it comes to solving and checking complex maths and coding problems.
Since the start of 2023, students have been more confident than academics in their knowledge of AI's limitations (63% students, 14% academics), this confidence has only grown for students (88%) while academics have barely changed (16%).
This is interesting, given universities have been encouraging academics to support students to understand AI's limitations.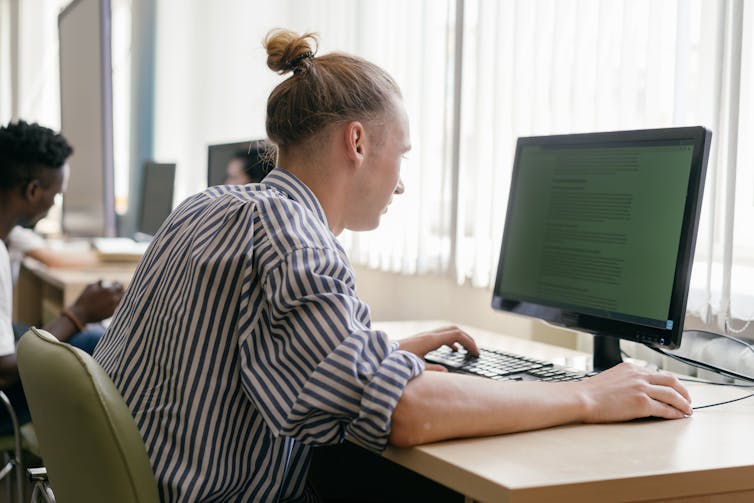 What are the ongoing issues?
While universities have scrambled to provide overarching policies, students who are using this technology want more specific, practical examples of what they are allowed to do with it.
In the second semester, few students considered the use of generative AI in assessment as "cheating" (22% compared to 72% in first semester). However, many students commented the rules for what is "ethical" versus what is "cheating" are still unclear. One student told us:
I want to comply with the rules […] but it's not clear what I'm actually allowed to do with it.
Academics in our survey agreed with this sentiment, calling on universities to develop clear guidelines around the use of generative AI.
Students and academics both indicated they felt some universities had put the brakes on generative AI use. For those institutions allowing it, they felt the technology was not being incorporated meaningfully or obviously into teaching and learning. As one academic told us:
You should stop fighting the reality that AI is here to stay. It's not the future, it's actually the present […] I just don't understand why academics are underestimating themselves and continue to be so hostile to the technology.
Students also advised their universities to "embrace it", "discuss it openly" and noted:
we'll need to work with it as it will not go away. We can work in a supportive, collaborative relationship with AI.
---
À lire aussi : 'Please do not assume the worst of us': students know AI is here to stay and want unis to teach them how to use it
---
Will access be equal?
A growing concern for students is the potential for an uneven AI playing field. Some platforms, including ChatGPT, offer both free and paid models, with the latter being more advanced.
As the Group of Eight (who represent Australia's top research universities) has noted, there is a potential for "disparities in educational outcomes" with this technology – depending on who is able to afford a subscription and who is not.
This is an issue that universities must grapple with as they look towards the future.
Meanwhile, advances in this technology keep coming and will keep redefining the educational landscape. Universities will need to plan and manage how generative AI is used across many different disciplines.
Important considerations include how generative AI could be used to optimise teaching and learning, opportunities for innovations in curriculum, assessment and research and potential uses for technology to support inclusion.

Les auteurs ne travaillent pas, ne conseillent pas, ne possèdent pas de parts, ne reçoivent pas de fonds d'une organisation qui pourrait tirer profit de cet article, et n'ont déclaré aucune autre affiliation que leur organisme de recherche.

----------------------------------------------------------------------------------------------------------------


COVID wave: what's the latest on antiviral drugs, and who is eligible in Australia?
Posted on Wednesday November 29, 2023

Author : Jessica Pace, Associate Lecturer, Sydney Pharmacy School, University of Sydney

Summary :Two antiviral drugs are available in Australia, but one is prescribed more routinely. Here's what you need to know as we navigate the eighth COVID wave.

**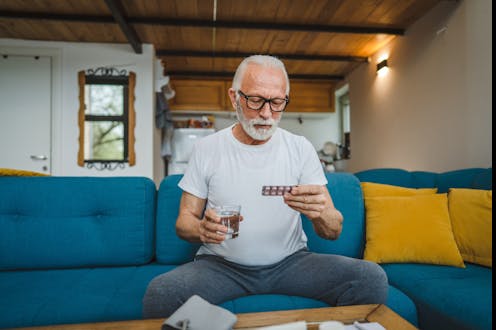 Australia is experiencing a fresh wave of COVID, seeing increasing cases, more hospitalisations and a greater number of prescriptions for COVID antivirals dispensed over recent months.
In the early days of the pandemic, the only medicines available were those that treated the symptoms of the virus. These included steroids and analgesics such as paracetamol and ibuprofen to treat pain and fever.
We now have two drugs called Paxlovid and Lagevrio that treat the virus itself.
But are these drugs effective against current variants? And who is eligible to receive them? Here's what to know about COVID antivirals as we navigate this eighth COVID wave.
What antivirals are available?
Paxlovid is a combination of two different drug molecules, nirmatrelvir and ritonavir. The nirmatrelvir works by blocking an enzyme called a protease that the virus needs to replicate. The ritonavir is included in the medicine to protect the nirmatrelvir, stopping the body from breaking it down.
Molnupiravir, marketed as Lagevrio, works by forcing errors into the RNA of SARS-CoV-2 (the virus that causes COVID) as it replicates. As these errors build up, the virus becomes less effective.
---
Read more: Paxlovid is Australia's first-line COVID antiviral but Lagevrio also prevents severe disease in over-70s
---
This year in Australia, the XBB COVID strains have dominated, and acquired a couple of key mutations. When COVID mutates into new variants, it doesn't affect the ability of either Paxlovid or Lagevrio to work because the parts of the virus that change from the mutations aren't those targeted by these two drugs.
This is different to the monoclonal antibody-based medicines that were developed against specific strains of the virus. These drugs are not thought to be effective for any variant of the virus from omicron XBB.1.5 onwards, which includes the current wave. This is because these drugs recognise certain proteins expressed on the surface of SARS-CoV-2, which have changed over time.
What does the evidence say?
As Lagevrio and Paxlovid are relatively new medicines, we're still learning how well they work and which patients should use them.
The latest evidence suggests Paxlovid decreases the risk of hospitalisation if taken early by those at highest risk of severe disease.
Results from a previous trial suggested Lagevrio might reduce COVID deaths. But a more recent, larger trial indicated Lagevrio doesn't significantly reduce hospitalisations or deaths from the virus.
However, few people at highest risk from COVID were included in this trial. So it could offer some benefit for patients in this group.
---
Read more: We're in a new COVID wave. What can we expect this time?
---
In Australia, Lagevrio is not routinely recommended and Paxlovid is preferred. However, not all patients can take Paxlovid. For example, people with medical conditions such as severe kidney or liver impairment shouldn't take it because these issues can affect how well the body metabolises the medication, which increases the risk of side effects.
Paxlovid also can't be taken alongside some other medications such as those for certain heart conditions, mental health conditions and cancers. For high-risk patients in these cases, Lagevrio can be considered.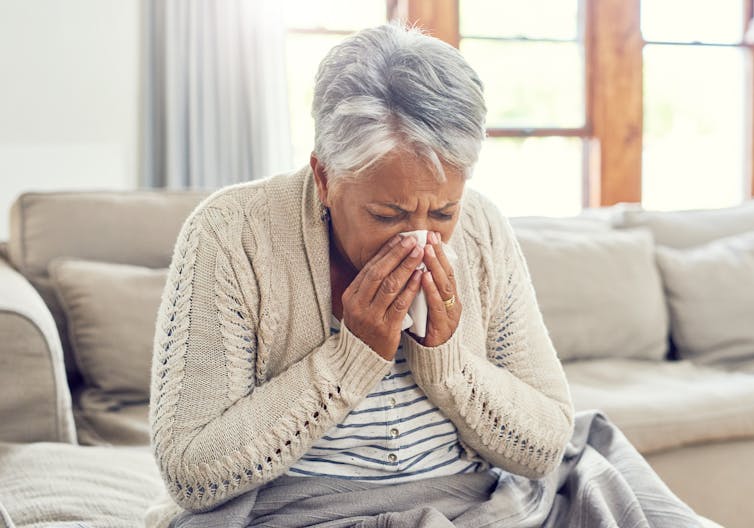 Some people who take COVID antivirals will experience side effects. Mostly these are not serious and will go away with time.
Both Paxlovid and Lagevrio can cause diarrhoea, nausea and dizziness. Paxlovid can also cause side effects including muscle aches and weakness, changes in taste, loss of appetite and abdominal pain. If you experience any of these, you should contact your doctor.
More serious side effects of both medicines are allergic reactions, such as shortness of breath, swelling of the face, lips or tongue and a severe rash, itching or hives. If you experience any of these, call 000 immediately or go straight to the nearest emergency department.
Be prepared
Most people will be able to manage COVID safely at home without needing antivirals. However, those at higher risk of severe COVID and therefore eligible for antivirals should seek them. This includes people aged 70 or older, people aged 50 or older or Aboriginal people aged 30 or older with one additional risk factor for severe illness, and people 18 or older who are immunocompromised.
If you are in any of these groups, it's important you plan ahead. Speak to your health-care team now so you know what to do if you get COVID symptoms.
If needed, this will ensure you can start treatment as soon as possible. It's important antivirals are started within five days of symptom onset.
---
Read more: Who's taking COVID antivirals like Paxlovid? Hint: it helps if you're rich
---
If you're a high-risk patient and you test positive, contact your doctor straight away. If you are eligible for antivirals, your doctor will organise a prescription (either an electronic or paper script).
These medicines are available under the Pharmaceutical Benefits Scheme (PBS) and subsidised for people with a Medicare card. The cost for each course is the standard PBS co-payment amount: A$30 for general patients and A$7.30 for people with a concession card.
So you can rest and reduce the risk of spreading the virus to others, ask your pharmacy to deliver the medication to your home, or ask someone to collect it for you.

Dr Jessica Pace is a pharmacy practice academic and practising hospital pharmacist. She is a fellow and the chair of the Society of Hospital Pharmacists Australia (SHPA) NSW branch and member of the Pharmaceutical Society of Australia (PSA).
Nial Wheate in the past has received funding from the ACT Cancer Council, Tenovus Scotland, Medical Research Scotland, Scottish Crucible, and the Scottish Universities Life Sciences Alliance. He is a Fellow of the Royal Australian Chemical Institute, a member of the Australasian Pharmaceutical Science Association, and a member of the Australian Institute of Company Directors. Nial is the chief scientific officer of Vaihea Skincare LLC, a director of SetDose Pty Ltd a medical device company, and a Standards Australia panel member for sunscreen agents. Nial regularly consults to industry on issues to do with medicine risk assessments, manufacturing, design, and testing.

----------------------------------------------------------------------------------------------------------------


What is a 'just' transition to net zero - and why is Australia struggling to get there?
Posted on Wednesday November 29, 2023

Author : Robyn Eckersley, Redmond Barry Professor of Political Science, School of Social and Political Sciences, The University of Melbourne

Summary :Australia's clean energy transition cannot succeed unless the government opens debate and decision-making to many more voices.

**

Australia's net-zero transition is struggling. Despite the government's efforts, announced last week, to revive flagging investment in renewable energy, greenhouse gas emissions from existing industry are still rising. Yet under the Paris Agreement, Australia must adopt even more ambitious targets for 2035.

At the same time, governments in Australia and overseas are facing rising community opposition to the rollout of clean energy infrastructure needed for a net zero transition. Such opposition is being exploited by right-wing parties for electoral gain.

But that pressure only underscores what the Australian government must do. To lift its climate game, it needs a mission-oriented, whole-of-government approach, built on what is known as a "just transition".
The two main elements of a just transition
A just transition requires both distributive justice and procedural justice. Distributive justice means policies that ensure a fair distribution of the economic burdens and benefits of the climate transition, along with protections for low-income people.
Procedural justice includes – but goes beyond – engaging with workers directly impacted by the decline of fossil fuel production. It means going beyond engagement with stakeholders that mainly represent incumbent industries.
A just transition would give all of Australia's communities a chance to not only take part in discussions about the costs and benefits of different approaches to net zero, but also to have a say in designing climate policies that directly affect them.
The success of the net zero transition may depend on the government's willingness to use the expertise of local communities in finding solutions for the lands and waters they know best.
The Labor government signed the Just Transition Declaration at last year's COP27 global climate summit at Sharm el-Sheikh. The declaration spells out this idea in its second principle:
the development of effective, nationally coherent, locally driven and delivered just transition plans within countries is dependent on effective and inclusive social dialogue.
Yet the Albanese government's net-zero strategy has no explicit commitment to a just transition. Instead, its piecemeal strategy lacks integration and avoids tackling the essential phase-out of fossil fuels.
---
Read more: How could Australia actually get to net zero? Here's how
---
Many government bodies – but is there a plan?
In May the government announced it would establish a statutory Net Zero Authority "to ensure the workers, industries and communities that have powered Australia for generations can seize the opportunities of Australia's net zero transformation."
The authority is expected to "help investors and companies to engage with net zero transformation opportunities," to help regions and communities attract new investment in clean energy, and to assist workers in the transition away from emissions-intensive industries.
To design the legislation to create the Net Zero Authority and to "immediately kick-start" its work, in July the government set up an interim body known as the Net Zero Economic Agency, located in the Department of Prime Minister and Cabinet.
The agency is chaired by former Labor climate change minister Greg Combet and supported by a ten-member advisory board. The mining industry and mining unions are well represented, holding three seats. However, many key stakeholders, including environmental and climate NGOs and the social welfare sector, are not represented.
At the same time, climate minister Chris Bowen has established a Net Zero Taskforce in the Department of Climate Change, Energy, Environment and Water to advise on the 2035 emissions reduction target and the plan to reach net zero emissions by 2050.
Guided by the advice of the Climate Change Authority, the taskforce will develop six sectoral decarbonisation plans in:
electricity and energy
industry
resources
the built environment
agriculture and land
transport.
How the work of all these bodies fits together is unclear. An overarching Net Zero National Cabinet Committee, as suggested by the Grattan Institute's Tony Wood, could provide the necessary coordination, as long as it is guided by an integrated strategy for a net zero just transition.
Yet a just transition is not mentioned on government websites relating to the interim agency and the taskforce, other than to say that they will engage with communities, industry, First Nations, and unions, with an emphasis on affected workers in regions. There is no earmarked funding, institutional innovation, or capacity building to enable inclusive dialogues across communities and society.
---
Read more: Why Australia urgently needs a climate plan and a Net Zero National Cabinet Committee to implement it
---
Lessons in dialogue at home and overseas
The Net Zero Authority is well positioned to coordinate and fund such dialogues, which are best approached from a perspective geared towards systemic change.
As the Sydney Policy Lab has found in its community "listening campaign" on the climate transition in Geelong, the authority's transition planning will lack support if it ignores the issues (such as secure housing and affordable living) communities most worry about.
---
Read more: Australia's new dawn: becoming a green superpower with a big role in cutting global emissions
---
Such approaches have already met with considerable success elsewhere. In Denmark, an OECD study found social dialogues have been a significant factor in the country's successful transition to wind power. It now accounts for a major share of Denmark's energy output.
And in Sweden, the government's Innovation Agency, Vinnova, has recently developed highly collaborative processes for redesigning energy, food and other systems to achieve net zero and other goals.
Far from slowing the transition, a commitment to inclusive dialogue will secure it by building the social license for change, while ensuring some measure of accountability for the injustices of the fossil fuel era.
The more inclusive the dialogue, the better the government will be able to minimise political backlash as decarbonisation accelerates.
A national net zero summit
To reach these outcomes will need significant coordination between federal, state and local governments, and across government departments.
To jumpstart this process, and building on the success of regional summits, a national summit should be convened to explore the perspectives and initiatives of a wide range of stakeholders. That means not just unions and workers (as important as they may be) but also climate and energy NGOs, local governments and historically marginalised communities.
A net zero summit would place the perspectives of policy elites and incumbent interests in dialogue with the diverse demands of citizens. It must include Indigenous communities, on whose lands much of the renewable energy infrastructure is likely to be built and critical minerals likely to be extracted.
Debate at the summit cannot be perfunctory. It must provide ample space for many voices. The goal is to discover, propose and fund a net zero transition in ways that don't unduly privilege the needs of investors and companies, but instead champion the wisdom and solutions of local communities.
---
Read more: Beyond Juukan Gorge: how First Nations people are taking charge of clean energy projects on their land
---

Robyn Eckersley has received research funding in the past from the Australian Research Council and she currently hold a research grant with the Research Council of Norway.
Erin Fitz-Henry does not work for, consult, own shares in or receive funding from any company or organisation that would benefit from this article, and has disclosed no relevant affiliations beyond their academic appointment.

----------------------------------------------------------------------------------------------------------------


Christmess is undoubtedly one of the best Christmas films to emerge – from anywhere – in recent years
Posted on Wednesday November 29, 2023

Author : Ari Mattes, Lecturer in Communications and Media, University of Notre Dame Australia

Summary :New independent Aussie film Christmess is emotionally engrossing and satisfying in its combination of melancholy tinged with the vague outlines of hope.

**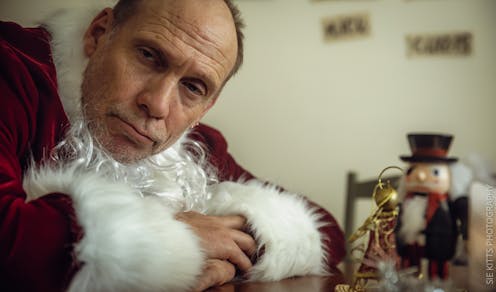 Bona fide Christmas films usually fit into one of the following categories.
There are the sardonic comedies poking fun at the consumerist undertones of the holiday (National Lampoon's Christmas Vacation, Gremlins). There are the cheesy, schmaltzy Christmas fantasy films (The Christmas Star, Prancer) that strain to impart some of that good ol' Christmas miracle to the viewer. There are the camp, deliberately kitsch bodgy romps like the Hulk Hogan vehicle Santa with Muscles. And there are the social realist dramas about people just trying to make it through the stress of the period (Almost Christmas).
This is not to mention the numerous Christmas horror films – anti-Christmas films? – that skewer the joy of the holidays with things like axe-wielding Santas (Silent Night, Deadly Night), deranged, obscene phone-calling maniacs (Black Christmas) and evil Krampuses looking to punish the naughty of every stripe (Rare Exports).
Christmess, the latest film from writer-director Heath Davis, fits firmly in the social realist mode.
Alcoholic ex-film star Chris (Steve Le Marquand) leaves rehab and moves into a halfway house with just over a week until Christmas. Living with his sponsor, Nick (Darren Gilshenan), a self-professed Yulephile, and musician and recovering addict Joy (Hannah Joy), he works hard to get his life on track and secures a job as a Santa at a suburban mall. But various obstacles – like bumping into his daughter Noelle, estranged for 20 years – impede his efforts.
As he attempts to develop a relationship with his daughter, he discovers, alas, that despite the optimism of people like his sponsor Nick, simply apologising isn't always (or even often) enough, even if, as Nick is fond of saying, "Christmas is the time for forgivin'."
There's no glorious overcoming or transcendence at the end of the film, and anything that could be interpreted as a "Christmas miracle" is minor to say the least. But there is a definite sense of the development of genuine friendship between the characters, and a sense that the grey world Chris inhabits is at least a few shades warmer by the end of the film (even if, as is so often the case with addicts, macro-level patterns repeat).
Rather than dampening the film, the minor stakes make it a more touching experience – and it is an emotionally engrossing film, satisfying in its combination of melancholy tinged with the vague outlines of hope.
---
Read more: Christmas films: there might be some truth to stories about hometown romances, according to research
---
Carefully observed details
For a low-budget independent film to be successful – and this is a true independent film, which in Australia means no investment from any of the major screen bodies – it needs to be as close to flawless as possible across three fronts.
It needs to look good by embracing a suitable (and usually low-key) aesthetic, it needs to feature excellent actors, and the writing needs to be razor sharp. Christmess succeeds in each area.
The performances, particularly by seasoned veterans Le Marquand and Gilshenan, are exceptional.
Le Marquand has long been one of Australia's most underrated stars of stage and screen – watch him in Two Hands or Last Train to Freo and it's hard to understand why he hasn't developed a longer Hollywood resume – and he effortlessly commands the attention of the viewer here.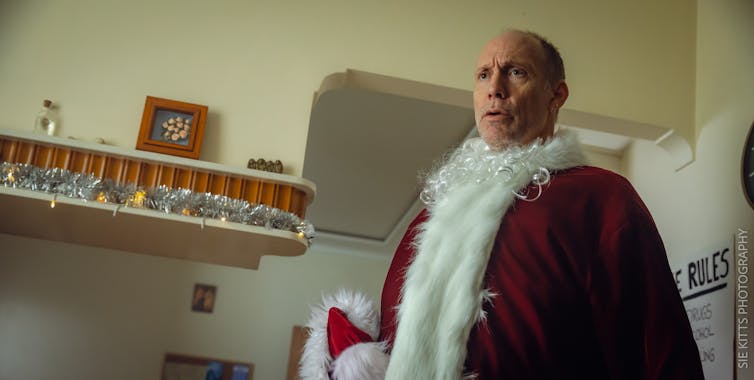 Gilshenan, best known for television comedies like The Moodys and Full Frontal, is superb as the kind (if a touch sanctimonious) AA sponsor. Hannah Joy, lead singer and guitarist of Middle Kids, breaks up the drama with some beautifully performed songs.
The dialogue is naturalistic, fitting the minor tenor of the film, with some subtle bursts of wry humour punctuating the drama.
"Most Santas aren't NIDA graduates," Chris says to his employer. "You'd be surprised," she barks in reply.
"I lied," Chris says to Nick at one point, "I'm an actor and an addict, what'd you expect?"
The cinematography by Chris Bland is excellent – it looks like it's been shot for cinemas and not streaming, making the most of the wide aspect ratio and long lenses, with the handheld style recalling the imagery of more savage suburban movies like Snowtown.
The film is full of carefully observed details that situate it within a Sydney milieu, capturing the sad banality of so much of suburban life. Unkempt, rubbish-strewn canals, ugly and depressingly empty shopping malls, carefully manicured weatherboard houses – all the stuff they tried to make us forget about during the Sydney Olympics.
At the same time, there are details anyone who's spent a Christmas in Sydney would immediately recognise: the glorious but slightly unhinged light displays that seem out of place without snow peppering them; a dying Christmas tree, rescued from a fruit shop; much complaining about the heat, as an ancient air conditioner fruitlessly struggles to do its work. There are the ubiquitous Christmas warehouse stores, a barbecue, yellow brick houses, small, carefully mowed lawns, and lots of sweat.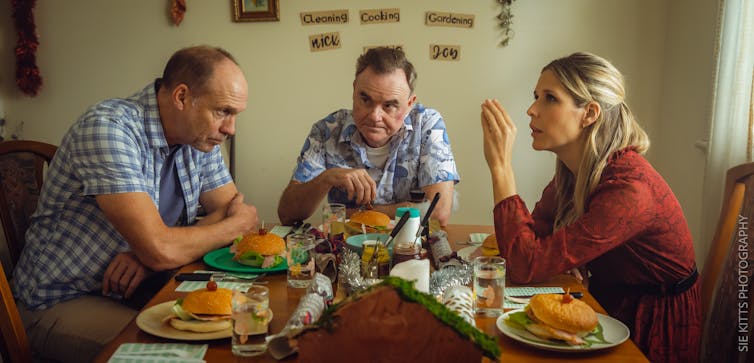 The film's only weakness – and it's minor – is the score, which seems a little uninspired but, thankfully, is used minimally.
Christmess is an exceptionally well-crafted independent film punching well above its weight in terms of budget. It lingers in the imagination far longer than most Hollywood-scale productions.
There's a subtlety to it unusual for contemporary cinema, which tends to browbeat viewers in an insufferably didactic register. It wouldn't surprise me if this were at the top of lists of Australian Christmas movies. It's undoubtedly one of the best Christmas films to emerge – from anywhere – in recent years.
Christmess is in cinemas from today.
---
Read more: Christmas Ransom: I quite enjoyed watching this (terrible) new Aussie Christmas film
---

Ari Mattes does not work for, consult, own shares in or receive funding from any company or organisation that would benefit from this article, and has disclosed no relevant affiliations beyond their academic appointment.

----------------------------------------------------------------------------------------------------------------


'How is the Great Australian Novel going?' Not too bad, thanks
Posted on Wednesday November 29, 2023

Author : Nicholas Jose, Professor of English and Creative Writing, University of Adelaide

Summary :A major new history of the Australian novel is shaped by the recent renaissance in Indigenous writing, but there are some notable omissions.

**

"How is The Great Australian Novel going?" asks a character in Thea Astley's The Well Dressed Explorer, a Miles Franklin Literary Award winner in 1962.

When the weighty Cambridge History of THE AUSTRALIAN NOVEL (as the title reads on its gold cover) landed on my doorstep I wondered if I would find out. Its editor, David Carter, first among equals as scholar-critic of Australian literature, has assembled 39 essays by leaders in the field, himself included, to chart the journey of the Australian version of this shape-shifting form.
---
Review: The Cambridge History of the Australian Novel – edited by David Carter (Cambridge University Press)
---
I have read a lot of Australian novels in my time, and written a few. I decided that if I sat down and read the history from cover to cover with open-minded curiosity, I might see what patterns emerged.
Probably no other reader would do this. The chapters on particular topics within a flexible chronology are designed for standalone use by teachers and students. This is a modular and recursive history, in which the past is revisited through a contemporary lens, with an eye on the future. A master narrative is not desired.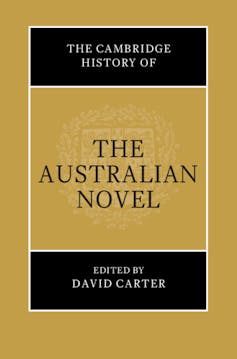 The book has the hallmarks of Carter's status as respected collaborator, mentor and assessor, and a literary critic grounded in the cultural and material contexts of book production. Most of the contributors are academics in literary studies. Their approaches reflect the trends of the academy in recent years.
Often they draw on research funded by the Australian Research Council, and the work shows those preferences too. For Australian literary studies, that means a turn to digital humanities, notably the collection and analysis of data to develop infrastructure of national significance, such as the AustLit and Trove databases.
It means a concern with "print culture" and the wider environment in which literary works are produced and received. It includes "the transnational turn" – how international perspectives complicate national frameworks – as well as a countermanding focus on locatedness, particularly in relation to climate change. And it means paying heed to First Nations voices in work that passes the "national interest" test.
This is a history shaped, or reshaped, by the glorious advent of literary fiction by Australian Indigenous authors, heralded by Kim Scott's True Country (1993) and flourishing now. As Iva Polak writes from Zagreb in her essay on "Indigenous Futurism":
Alexis Wright's Carpentaria (2006) […] as we know, has changed Australia's literary landscape.
I was reading my way through this book on either side of the Voice referendum and I could sense the hope as the chapters moved towards the present, culminating in Eugenia Flynn's remarkable essay "A (Sovereign) Body of Work: Australian Indigenous Literary Culture and the Literary Fiction Novel". Flynn writes:
an established canon of Australian Indigenous literary fiction can now be affirmed […] that speaks out to the rest of the majority non-Indigenous literary sector, disrupting Australian literary hegemony.
As a current development, this poses a challenge to writing its history. The optimistic wave crashed in the world outside the book as I was reading – more like a tsunami – and settler-colonialism reasserted itself with a No.
Time can be a curveball.
---
Read more: Enraged, tragic and hopeful: Alexis Wright's new novel Praiseworthy explores Aboriginal sovereignty in the shadow of the anthropocene
---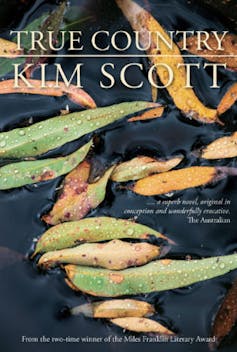 An elusive literary beast
The first third of the book takes us from the colonial period to mid-20th-century fiction. At the halfway mark, there is a good-humoured chapter by Paul Sharrad called "From Bunyip to Boom", which summarises Australian Fiction from 1955 to 1975. Sharrad concludes that the Great Australian Novel (GAN) had by then "become an unstable narrative […] an elusive literary beast".
Two-thirds of the way through we reach fiction beyond the Mabo decision of 1992, "when the assumptions non-Aboriginal people […] held about their rights to ownership seemed no longer to be watertight". With Andrew McGahan's The White Earth (2004), the discussion moves to work published in the 21st century.
The present is folded into a bending chronology that looks back in order to project to what is only just coming. In "Uncertain Futures: Climate Fiction in Australian Literature", Jessica White adopts the term "future anterior", a verb tense, as a mode for imagining near-future scenarios of catastrophe and post-catastrophe.
In other chapters, unexpected juxtapositions reveal persistence across time. Brigid Rooney's "Unsettling Archive: Suburbs in Australian Fiction", for example, places Fiona McGregor's Indelible Ink (2010) alongside Jessica Anderson's The Impersonators (1980) in an overlapping map of Sydney. Paul Giles cites Alexander Harris's Settlers and Convicts (1847) as an early case of settler unsettlement, while Lynda Ng takes up the same theme in her concluding chapter on J.M. Coetzee, Behrouz Boochani and "the disquiet generated historically" by both Aboriginal people and non-Anglo migrants "in settler Australian culture".
A tense sense of "future anterior" runs through this collective history, as writers identify trends in the present that may or may not prefigure an alternative potential ahead. In his introduction, Carter refers to "the imagining into being an antipodean world we will also have to name 'Australia'."
---
Read more: A classical espionage novel with shades of Le Carré, The Idealist explores the tumultuous path to East Timorese independence
---
Canon formation and critique
Carter discusses canon formation and canon critique in his chapter on Australian literary historiography, noting "the ascendancy of academic critics above the men and women of letters dominant" before the 1950s. That situation pertains today. Few of the contributors are creative practitioners or teachers in the cognate discipline of creative writing.
All of the essays are interesting. Some are anxious. Some have flashes of warmth and appreciation, although "great", as in Great Australian Novel, is pretty much an impossibility. Aesthetic judgements are largely resisted.
A formula emerges, familiar to anyone who has peer-assessed journal articles or research grant applications: fly a theoretical or methodological kite at the start, preferably with an international tail; explore a few carefully chosen case studies as the basis for an argument; conclude briskly with a future-directed uptick. The aim – in key words of approbation – is to "expand" or "recentre" the field.
Carter has argued that Australian literature is as much the creation of Australian readers as it is of Australian writers. Our literature is the totality of the literature we experience, including imports and outside influences, high and low.
It is a powerful idea that I first encountered in the essay "Publishing, Patronage and Cultural Politics", which Carter contributed to The Cambridge History of Australian Literature edited by the late Peter Pierce in 2009. It manifests here in an interest in all aspects of book production and literary circulation, including sales and accounts.
This history is many-faceted and holistic. In a chapter on publishing, Roger Osborne quotes Carter describing the Australian novel as a "commodity, industry, professional or aesthetic practice, ethical or pedagogical technology, leisure, entertainment, policy object and national space".
This catch-all conception boils down to a grand definition: the novel in Australia is "a central cultural technology" that "insists on its storytelling power for a wide range of ethical, political and cultural issues, even where written within the bounds of a popular genre form".
The description recognises the prestige of the novel, whether as bestseller or rarefied prizewinner, while implicitly accepting that everyone has a novel in them and anyone can write one.
---
Read more: 'The Red Witch': how communist writer, intellectual and activist Katharine Susannah Prichard helped shape Australia
---
Katherine Bode contributes to a chapter on how the meaning of the Australian novel is changed by the information now available in the AustLit database and To be continued: The Australian Newspaper Fiction Database. Her research shows we need "to look beyond the book" to media such as the periodical press that generated novels in episodic, ephemeral form to understand the grassroots development of fiction in 19th-century Australia.
We need to look beyond the cities for literary communities too, as Emily Potter and Brigid Magner argue in their chapter on the "regional novel": they recognise that "the region as it creatively emerges is a co-production of writer and reader".
Missing pieces of the puzzle
Yet something like a canon lingers, to judge by the clusters of respectful mentions. After a handful of 19th-century novels, there are Henry Handel Richardson, Christina Stead, Patrick White, Randolph Stow, David Malouf and, soaring above them with nearly double the number of references in the index, the long-time-comer Alexis Wright.
There are omissions, including some of the best novels and novelists in my opinion. But that's what happens. A puzzling virtual omission is Helen Garner, who has produced a string of successful novels in a career that has been a constant argument with fiction. Is she anathema to the academy? Or can no one find anything interesting to say about Australia's great precursor of the autofiction that has swept the world?
At the other end of the time frame, Henry Lawson looks like another diminished figure, as Paul Eggert recalibrates the "nationalist myth of the 1890s". There is not much place for short fiction in this history. Short story writers, from Mena Abdullah to Nam Le, don't appear.
Among my highlights are Philip Mead on mining trilogies, including The Fortunes of Richard Mahony (1917-29); Nicole Moore's radical recovery of postwar realism, including Ralph de Boissière's Crown Jewel (1956), set in Trinidad; the attention Meg Brayshaw pays to M. Barnard Eldershaw's Tomorrow and Tomorrow and Tomorrow (1947); Elizabeth McMahon on Randolph Stow's To the Islands (1958); Brigid Rooney's spotting of the "purple theme" of "the little sarsaparilla vine" that emerges "from the darker undertones" in Patrick White's The Tree of Man (1955); and Jessica White on Dyschronia (2018) by Jennifer Mills.
---
Read more: The case for The Fortunes of Richard Mahony by Henry Handel Richardson
---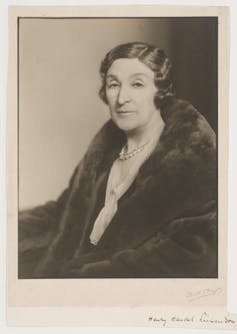 Emmett Stinson does a compare-and-contrast of David Malouf and Gerald Murnane, finding that "Malouf's success is in no small part linked to the way in which educational institutions have assigned his works over the years". And in "The Novel Road to the Global South", Sascha Morrell takes a scalpel to celebrated works by Peter Carey and Richard Flanagan to diagnose an Australian condition: "a peculiar, backward-looking nostalgia for Australia's accustomed 'underdog' status".
Elsewhere the issue of "inherent racism" is noted in passing in Australia's bestselling invasion narrative for Young Adults, John Marsden's Tomorrow series (1993-99).
Multilingual writing?
Emily Yu Zong writes in "The Making of the Asian Australian Novel" that the recent translation into English of Wong Shee Ping's The Poison of Polygamy – a novel serialised in Melbourne's Chinese Times from 1909 – "has unveiled the earliest Chinese Australian novel and a neglected multilingual lineage of Australian literature".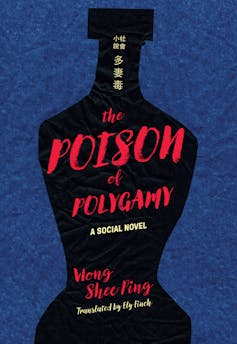 The question of translation comes up in discussion of Legendary Tales of the Australian Aborigines (1930) by Ngarrindjeri man David Unaipon, in Jumana Bayeh's consideration of diasporic writing in "The Arab Australian Novel", and in relation to Behrouz Boochani's hybrid work No Friend but the Mountains, originally written in Farsi.
Otherwise fiction in languages other than English barely breaks the surface. That limitation occludes Iwaki Kei's remarkable novel Farewell, My Orange (2013) about African migrants to country Australia, which has been translated from Japanese by Meredith McKinney. Multilingual writing seems to be one part of the "future anterior" that we are not quite ready for.
Literary history can take many forms. I missed the most basic of those: biography. While writers are identity-checked where possible ("Christos Tsiolkas, a second-generation gay Greek Australian man"), few contributors are interested in explaining a writer's career path.
Top marks then to Beth Driscoll and Kim Wilkins, whose chapter on fantasy, crime and romance fiction provides empirical information on how such stars as Kerry Greenwood and Peter Temple did what they did, and names those, including agents, editors and publishers, who were part of the process. They shout out to the short story as crucial to the networks that underpin the success of Australian fantasy. Fiction is also a form of sociability.
What are novels for? One answer would be that they are for academics to find interest in and make researchable and teachable. They are a means to an important end: part of how "contemporary Australian culture is valued and assessed", in the words of Imelda Whelehan and Claire McCarthy in a chapter on screen adaptations. David Carter and his team have done a great job of showing how it's done.

Nicholas Jose has previously received funding from the Australian Research Council.

----------------------------------------------------------------------------------------------------------------


Extreme weather leaves energy networks vulnerable to 'hostile actors', Climate Statement warns
Posted on Wednesday November 29, 2023

Author : Michelle Grattan, Professorial Fellow, University of Canberra

Summary :The Climate statement, prepared by departmental officials, will be released by the Minister for Climate and Energy Chris Bowen on Thursday with updated security warnings.

**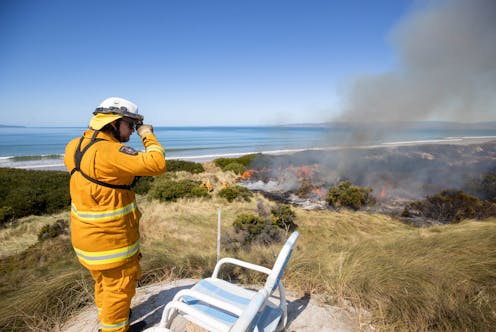 Extreme weather seasons are putting Australia's energy systems more at risk of sabotage, the government's annual Climate Change Statement warns.
These events place increased strain on the energy networks, and the resulting fragility could be exploited by "hostile actors".
"The threshold for damage to Australia's energy networks from sabotage may be significantly lower during high demand/low supply periods, such as extreme weather seasons," the national security section of the statement says.
The statement, prepared by departmental officials, will be released by the Minister for Climate and Energy Chris Bowen on Thursday. The updated security warnings are informed by a declassified snapshot of work undertaken into climate change security risks by the Office of National Intelligence.
Labor asked the ONI to prepare a report on the security implications of climate change, following an election promise, but the government declined to release the report.
The Climate Statement forecasts Australia is heading towards meeting its 2030 target for reducing greenhouse gas emissions.
On present indications, emissions are expected to reduce by 42% below 2005 levels by 2030. The Labor target is a 43% reduction. The latest projection is better than last year's, which was for a 40% reduction.
The Climate Statement highlights the biosecurity problems climate change brings. It will create "unprecedented potential for pests and diseases to spread to Australia, posing risks to the management of our border and supply chains.
"Invasive plants, animals and diseases could reduce forestry and agricultural productivity. Meanwhile, it is anticipated fisheries will become more contested as high ocean temperatures and acidification reduce ocean productivity and alter the range of fish stocks, which could have flow on impacts for Australia's maritime security."
Climate extremes are likely to put more stress on national coordination arrangements and domestic crisis management bodies, the statement says. This will stretch Australia's emergency capabilities.
Rising sea levels are likely to see countries look to Australia and other countries for closer economic integration, through migration and expanded labour schemes, the report says, pointing to the recent agreement with Tuvalu, under which Australia will accept an annual intake of people.
The global transition to clean energy, while having many positives, could also bring problems, affecting Australia's emergency response and warfighting capabilities.
"Maintaining a secure and affordable supply of legacy fuels during the transition is a priority for the government, as is the resilience of critical infrastructure in the face of extreme weather events or cyber attacks."
Bowen will tell parliament on Thursday climate change already presents serious national security threats but they will become more severe, compounding as the planet becomes hotter.
"Australia will not sit on its hands, pause the transformation and expect to deploy speculative solutions in 2049 to address a climate emergency that is with us now."

Michelle Grattan does not work for, consult, own shares in or receive funding from any company or organisation that would benefit from this article, and has disclosed no relevant affiliations beyond their academic appointment.

----------------------------------------------------------------------------------------------------------------


Australia's inflation rate now starts with a 4, allowing the RBA to hold fire on rates
Posted on Wednesday November 29, 2023

Author : Isaac Gross, Lecturer in Economics, Monash University

Summary :Average prices fell in October, driven down by dives in the price of petrol and overseas travel, and an increase in Commonwealth Rent assistance.

**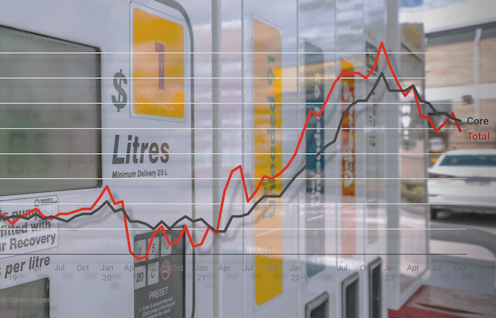 Australia's inflation rate has dived from 5.6% to 4.9% in October, pushing it below 5% for the first time in 20 months.
The Australian Bureau of Statistics figures relate to the newer monthly measure of annual inflation, rather than the traditional quarterly measure, which came in at 5.4% in the September quarter, down from 6% in the June quarter.
---
---
Pushing down the annual inflation rate was a fall in average prices in October.
In October average prices fell 0.3%, driven down by a 2.9% fall in the price of petrol, a 7% fall in the price of price of holiday travel and accommodation, and a 2.5% fall in the price of household gas.
---
Read more: Why further RBA rate hikes are less likely now than even 1 week ago
---
Even the average cost of rent fell 0.4% in the month, driven down by an increase in Commonwealth Rent Assistance.
The bureau says without the increase in rent assistance, measured rents would have climbed 0.7% making annual growth 8.6% instead of 7.6%.
The easing of inflation wasn't limited to just a few sectors. So-called core inflation, which excludes volatile items like fruit, fuel and holiday travel, also experienced a decline, falling from 5.5% to 5.1%.
---
---
It means the RBA can relax just a bit
Economists who had anticipated a higher rate are now reconsidering their expectations for next week's Reserve Bank board meeting, believing a further increase in interest rates at that meeting is now much less likely.
However, it is important not to get carried away with one month's news.
We have previously seen inflation dip in a single month only to bounce back later.
Still, it is welcome news in the lead-up to the festive season.
It comes on top of news of very soft retail sales in October, up just 1.2% over a year in which we now know prices grew 4.9% and the population grow by about 2.4%, implying a fall in purchases per person of around 6%
Falling inflation in the US is about to help
While a lot of the fall in Australian inflation in October was due to lower oil prices, a lot from here on will be driven by a much higher Australian dollar, which climbed from 63.4 US cents to 66.5 US cents throughout November – an increase approaching 5%.
The higher dollar means that even if the price of oil and other overseas prices don't fall further in November, they should fall further in Australian dollars.
The Australian dollar has climbed because the US dollar has fallen amid expectations that no further US interest rate hikes will be needed in the light of much lower inflation throughout the Western world.
---
---
Having said that, inflation in the cost of Australian services, from haircuts to dentistry, continues to concern Reserve Bank Governor Michele Bullock.
We will know more when the Australian Bureau of Statistics releases the major quarterly inflation report at the end of January ahead of the first Reserve Bank board meeting for the year on Monday and Tuesday February 5 and 6.
The Reserve Bank's goal of bringing inflation back to its target band of 2-3% by late 2025 remains challenging, especially with ongoing price pressures in the labor-intensive services sector.
Still, if Australia can mimic the success of the US and other Western countries in continuing to bring inflation down, interest rates should peak soon, and perhaps even fall sometime in 2024.

Isaac Gross does not work for, consult, own shares in or receive funding from any company or organisation that would benefit from this article, and has disclosed no relevant affiliations beyond their academic appointment.

----------------------------------------------------------------------------------------------------------------


Extra senators for ACT and NT will benefit left but increase malapportionment
Posted on Tuesday November 28, 2023

Author : Adrian Beaumont, Election Analyst (Psephologist) at The Conversation; and Honorary Associate, School of Mathematics and Statistics, The University of Melbourne

Summary :A proposed Senate election reform would be little to fix the unequal representation of the states and territories in the upper house - in fact, it would make it worse.

**

The Poll Bludger has summarised the final report of the Joint Standing Committee on Electoral Matters (JSCEM) that was released Monday. The most contentious recommendation is that the number of senators for both the ACT and the Northern Territory be increased from two to four.

In the current 76-member Senate, every state has 12 senators, with half elected at a normal election for the House of Representatives and half the Senate. In a special double dissolution election, all senators are up for election. The ACT and NT have two senators each, with all their senators up at every House election.

Elections use proportional representation with preferences. At a half-Senate election, the quota for election is one-seventh of the vote or 14.3% in a state. In the ACT and NT, the quota is one-third or 33.3%.

The Australian Constitution requires all states to have the same number of senators, so Tasmania is greatly overrepresented. Analyst Kevin Bonham wrote in July 2022 that Tasmania has 21 senators per million people while New South Wales has only 1.5 senators per million people.

Australia overall has three senators per million people, the NT eight and the ACT 4.4. So both territories are already overrepresented in the Senate. Doubling the number of ACT and NT senators would increase the NT's senators per million people to 16 and the ACT's to 8.8.

Proponents of more territory senators compare territory representation to Tasmania. But doubling the number of territory senators will increase Senate "malapportionment" – this term is used to describe situations where unequal numbers of people elect parliamentarians.

JSCEM did not recommend staggered terms, so all four NT and ACT senators would be up for election at every House election. The quota for election would drop from one-third to one-fifth or 20%.

For the left to get a 2–0 split in the ACT, they currently need about a 67–33 winning margin over the right. When David Pocock and Labor's Katy Gallagher won the two ACT senators in 2022, it was the first time the ACT had not split 1–1 between the major parties.
---
Read more: ACT Senate result: Pocock defeats Liberals in first time Liberals have not won one ACT Senate seat
---
With four senators, a 60–40 left win would be enough for the left to take three of these four. Bonham said that every federal election since 2007 would have given the left a 3–1 split of ACT senators. So the left would benefit from this increased malapportionment.
The four senators from the NT would be expected to split 2–2 between the left and right.
Essential poll: just a one-point lead for Labor
A federal Essential poll, conducted November 22–26 from a sample of 1,151, gave Labor a 48–47 lead including undecided (49–47 last fortnight). Primary votes were 34% Coalition (steady), 31% Labor (down one), 13% Greens (up one), 7% One Nation (steady), 1% UAP (down one), 8% for all Others (steady) and 6% undecided (up one).
If 2022 election preference flows were used, Labor would be further ahead. But respondent preferences from Essential have been weaker for Labor in the last few months than at the 2022 election.
By 47–42, voters disapproved of Anthony Albanese's performance, a reversal of a 46–43 approval in October. Peter Dutton's net approval improved four points to -3. This is the first time in Essential Albanese's net approval has been negative since he became PM and also the first time he has trailed Dutton on net approval.
The Coalition led Labor by 33–25 on managing the economy and 28–25 on reducing cost of living pressures. Labor led the Coalition by 37–19 on supporting higher wages. Over 65% thought the government's performance on cost of living and housing affordability was either below average or poor.
Respondents were read a detailed question on the stage three tax cuts that said those earning $200,000 would receive over a $9,000 tax reduction a year, while those earning $60,000 would only receive a $375 reduction.
On these tax changes, 41% said they should be revised so they mostly benefit those on low and middle incomes, 22% said they should go ahead for those earning under $200,000 but be deferred for those earning over $200,000 until conditions improve, 20% said they should go ahead as planned in July 2024 and 16% said they should not go ahead at all.
The problem with this detailed question is that the vast majority of voters would be unfamiliar with the detail of the stage three tax cuts, and could be persuaded by a broken promises campaign from the Coalition if Labor dumped or revised these cuts.
Morgan poll and additional Newspoll question
In the best poll news for Labor since the early November Resolve poll, a federal Morgan poll, conducted November 20–26 from a sample of 1,379, gave Labor a 52.5–47.5 lead, a three-point gain for Labor since last week.
Primary votes were 35% Coalition (down 2.5), 32% Labor (up 2.5), 13.5% Greens (steady), 5% One Nation (down 1.5), 9% independents (up two) and 5.5% others (down 0.5).
In an additional question from this week's Newspoll that had a 50–50 tie, 50% said they and their family were worse off than two years ago, 16% better off and 34% about the same.
Victorian Mulgrave byelection final results
A Victorian state byelection occurred in Mulgrave on November 18. This seat was previously held by former Labor premier Daniel Andrews. Primary votes were 40.2% Labor (down 10.8% since the 2022 election), 21.7% Liberals (up 4.5%), 18.8% for right-wing independent Ian Cook (up 0.8%), 6.0% Greens (up 0.9%), 3.6% Victorian Socialists (new), 3.1% Family First (up 1.1%) and 2.9% Libertarian (new).
ABC election analyst Antony Green has details of the preference flow. Although Cook was 2.9% behind the Liberals on primary votes, preference flows from the Libertarians and Family First put Cook 0.4% behind the Liberals, and he surpassed the Liberals on preference leakage from the Socialists and Greens to finish 0.4% ahead of them at the point where one was excluded.
Labor then defeated Cook after preferences by 56.5–43.5, a 4.3% swing to Cook since the 2022 election. The electoral commission also provided a two party Labor vs Liberal measure, which showed that if the Liberals had made the final two, Labor would have won by 54.7–45.3, a 5.5% swing to the Liberals.

Adrian Beaumont does not work for, consult, own shares in or receive funding from any company or organisation that would benefit from this article, and has disclosed no relevant affiliations beyond their academic appointment.

----------------------------------------------------------------------------------------------------------------


Do you really need antibiotics? Curbing our use helps fight drug-resistant bacteria
Posted on Tuesday November 28, 2023

Author : Minyon Avent, Antimicrobial Stewardship Pharmacist, The University of Queensland

Summary :Australia is one of the highest users of antibiotics in the developed world. So when do we actually need antibiotics to treat an infection? And when should we avoid them?

**

Antimicrobial resistance is one of the biggest global threats to health, food security and development. This month, The Conversation's experts explore how we got here and the potential solutions.
---
Antibiotic resistance occurs when a microorganism changes and no longer responds to an antibiotic that was previously effective. It's associated with poorer outcomes, a greater chance of death and higher health-care costs.
In Australia, antibiotic resistance means some patients are admitted to hospital because oral antibiotics are no longer effective and they need to receive intravenous therapy via a drip.
Antibiotic resistance is rising to high levels in certain parts of the world. Some hospitals have to consider whether it's even viable to treat cancers or perform surgery due to the risk of antibiotic-resistant infections.
Australia is one of the highest users of antibiotics in the developed world. We need to use this precious resource wisely, or we risk a future where a simple infection could kill you because there isn't an effective antibiotic.
---
Read more: The rise and fall of antibiotics. What would a post-antibiotic world look like?
---
When should antibiotics not be used?
Antibiotics only work for some infections. They work against bacteria but don't treat infections caused by viruses.
Most community acquired infections, even those caused by bacteria, are likely to get better without antibiotics.
Taking an antibiotic when you don't need it won't make you feel better or recover sooner. But it can increase your chance of side effects like nausea and diarrhoea.
Some people think green mucus (or snot) is a sign of bacterial infection, requiring antibiotics. But it's actually a sign your immune system is working to fight your infection.
If you wait, you'll often get better
Clinical practice guidelines for antibiotic use aim to ensure patients receive antibiotics when appropriate. Yet 40% of GPs say they prescribe antibiotics to meet patient expectations. And one in five patients expect antibiotics for respiratory infections.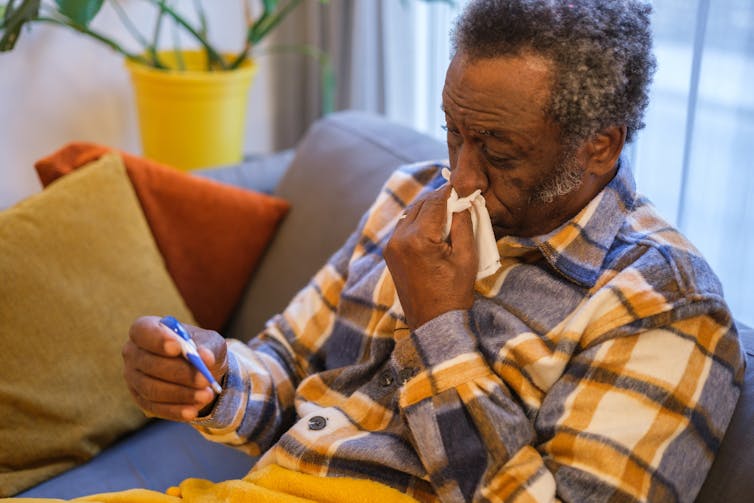 It can be difficult for doctors to decide if a patient has a viral respiratory infection or are at an early stage of serious bacterial infection, particularly in children. One option is to "watch and wait" and ask patients to return if there is clinical deterioration.
---
Read more: No, antibiotics aren't always needed. Here's how GPs can avoid overprescribing
---
An alternative is to prescribe an antibiotic but advise the patient to not have it dispensed unless specific symptoms occur. This can reduce antibiotic use by 50% with no decrease in patient satisfaction, and no increase in complication rates.
Sometimes antibiotics are life-savers
For some people – particularly those with a weakened immune system – a simple infection can become more serious.
Patients with life-threatening suspected infections should receive an appropriate antibiotic immediately. This includes serious infections such as bacterial meningitis (infection of the membranes surrounding the brain) and sepsis (which can lead to organ failure and even death).
When else might antibiotics be used?
Antibiotics are sometimes used to prevent infections in patients who are undergoing surgery and are at significant risk of infection, such as those undergoing bowel resection. These patients will generally receive a single dose before the procedure.
Antibiotics may also be given to patients undergoing chemotherapy for solid organ cancers (of the breast or prostate, for example), if they are at high risk of infection.
While most sore throats are caused by a virus and usually resolve on their own, some high risk patients with a bacterial strep A infection which can cause "scarlet fever" are given antibiotics to prevent a more serious infection like acute rheumatic fever.
How long is a course of antibiotics?
The recommended duration of a course of antibiotics depends on the type of infection, the likely cause, where it is in your body and how effective the antibiotics are at killing the bacteria.
In the past, courses were largely arbitrary and based on assumptions that antibiotics should be taken for long enough to eliminate the infecting bacteria.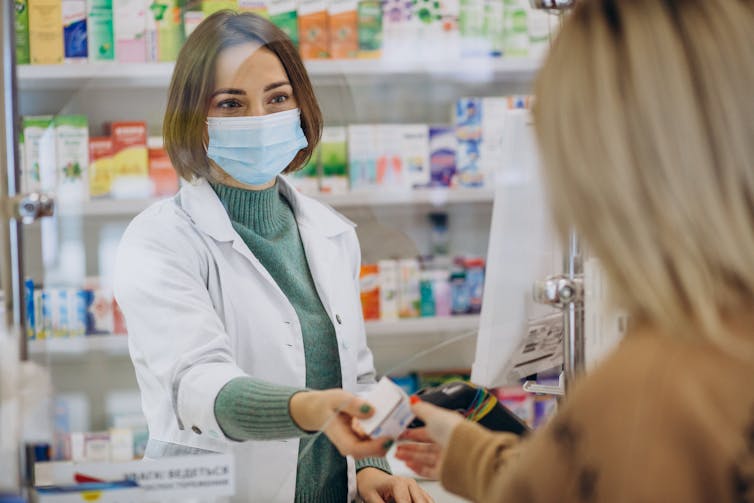 More recent research does not support this and shorter courses are nearly always as effective as longer ones, particularly for community acquired respiratory infections.
For community acquired pneumonia, for example, research shows a three- to five-day course of antibiotics is at least as effective as a seven- to 14-day course.
The "take until all finished" approach is no longer recommended, as the longer the antibiotic exposure, the greater the chance the bacteria will develop resistance.
However, for infections where it is more difficult to eradicate the bacteria, such as tuberculosis and bone infections, a combination of antibiotics for many months is usually required.
What if your infection is drug-resistant?
You may have an antibiotic-resistant infection if you don't get better after treatment with standard antibiotics.
Your clinician will collect samples for lab testing if they suspect you have antibiotic-resistant infection, based on your travel history (especially if you've been hospitalised in a country with high rates of antibiotic resistance) and if you've had a recent course of antibiotics that hasn't cleared your infection.
---
Read more: How do bacteria actually become resistant to antibiotics?
---
Antibiotic-resistant infections are managed by prescribing broad-spectrum antibiotics. These are like a sledgehammer, wiping out many different species of bacteria. (Narrow-spectrum antibiotics conversely can be thought of as a scalpel, more targeted and only affecting one or two kinds of bacteria.)
Broad-spectrum antibiotics are usually more expensive and come with more severe side effects.
What can patients do?
Decisions about antibiotic prescriptions should be made using shared decision aids, where patients and prescribers discuss the risks and benefits of antibiotics for conditions like a sore throat, middle ear infection or acute bronchitis.
Consider asking your doctor questions such as:
do we need to test the cause of my infection?
how long should my recovery take?
what are the risks and benefits of me taking antibiotics?
will the antibiotic affect my regular medicines?
how should I take the antibiotic (how often, for how long)?
Other ways to fight antibiotic resistance include:
returning leftover antibiotics to a pharmacy for safe disposal
never consuming leftover antibiotics or giving them to anyone else
not keeping prescription repeats for antibiotics "in case" you become sick again
asking your doctor or pharmacist what you can do to feel better and ease your symptoms rather than asking for antibiotics.
---
Read the other articles in The Conversation's series on the dangers of antibiotic resistance here. Listen to the podcast here.

Minyon Avent has received funding from the Metro North Hospital and Health Service, the Children's Hospital Foundation Queensland, the Department of Health, MSD and the Society of Hospital Pharmacists of Australia.
Fiona Doukas has received funding from the Society of Hospital Pharmacists Australia and Hospira. She works for the Australian Commission on Safety and Quality in Health Care. She is part of an NGO called Hepatitis B Free. She works at two Sydney Hospitals.
Kristin Xenos works for the Australian Commission on Safety and Quality in Health Care.

----------------------------------------------------------------------------------------------------------------


It can be hard to challenge workplace discrimination but the government's new bill should make it easier
Posted on Tuesday November 28, 2023

Author : Alysia Blackham, Associate Professor in Law, The University of Melbourne

Summary :Planned legal changes could make it easier for people to take workplace discrimination cases to court by eliminating often prohibitive costs.

**

Alex Gutierrez worked for MUR Shipping and its predecessors for nearly 30 years. But in 2018 he was told, in line with company policy, it was time to set a retirement date.

Gutierrez was moved to a fixed-term contract, asked to train his replacement and ultimately resigned from his job. He then complained to the Australian Human Rights Commission and brought his claim to court, alleging age discrimination.

He won the case but he also lost.

The court found the company had discriminated. But Gutierrez's damages – A$20,000 - dwarfed his legal costs, which amounted to about $150,000. The low damages also meant Gutierrez might have to pay MUR's costs, as the damages were lower than a previous settlement offer.
---
Read more: Workplace discrimination saps everyone's motivation − even if it works in your favor
---
Gutierrez was the first person to win an age discrimination case in court in the roughly 20 years the federal Age Discrimination Act 2004 has existed and his situation explains why. You can win in court but still be hugely out of pocket for your costs and your employer's costs. Few people take the risk.
That problem will be largely eliminated under a new government bill before the federal parliament. The bill would introduce a modified "equal access" cost protection provision for discrimination claims.
How changing the law would help
If the bill passes, claimants (workers) will generally recover their costs when their claim is successful. Respondents (employers) cannot generally recover their costs, except in limited circumstances. This could significantly increase the number of workers who are willing to sue over discrimination, of any kind.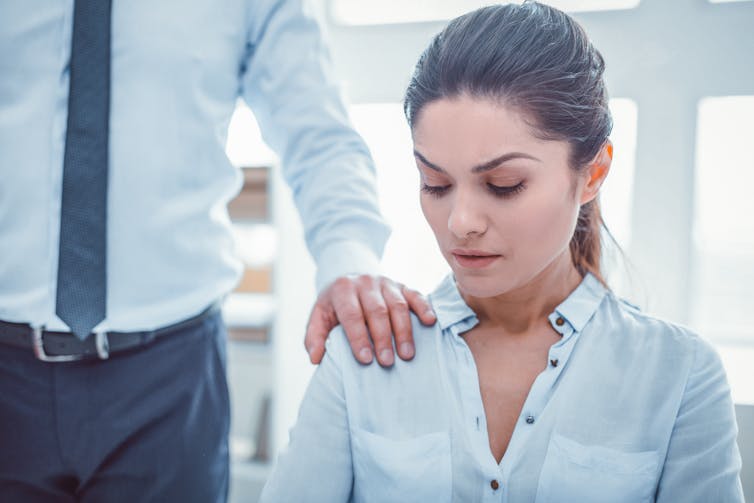 Discrimination at work is common: in one survey conducted for the Australian Human Rights Commission, 63% of respondents said they had experienced age discrimination – being considered too young, or too old - in the last five years.
But few people challenge discrimination in the workplace. In my research on age discrimination law, I found people were often concerned about the costs of making a complaint. This includes financial costs, but also personal and emotional costs. People were also worried about the time it might take to resolve.
---
Read more: 20 years of tracking sexual harassment at work shows little improvement. But that could be about to change
---
Costs have been a particular problem under federal discrimination law.
Australia has discrimination laws at state, territory and federal level. Discrimination is also banned under industrial law – the federal Fair Work Act 2009. In every jurisdiction except Victoria, a complaint is first made to a statutory equality agency, which tries conciliation.
In many cases, this succeeds and most claims are resolved, though many are withdrawn.
Conciliation can save time and money
Conciliation is comparatively quick and cheap and lawyers are often not involved because you can represent yourself.
It is when a complaint isn't resolved at conciliation that the costs increase. In the states and territories, and under the federal Fair Work Act 2009, parties mostly pay their own costs (that is, the cost of a lawyer).
It is different under federal discrimination law. In the federal courts, the losing party generally pays the winning party's costs. This makes the stakes of a discrimination claim incredibly high: if your claim fails, you may not just have to pay your own legal bill, but also the other side's legal bill.
The perils of costs were shown by Gutierrez's case. In Gutierrez v MUR Shipping Australia Pty Limited, despite winning his claim of age discrimination, Gutierrez had to appeal in order to escape punishing legal costs.
Fortunately, Gutierrez had his appeal upheld; his damages were increased to $232,215, so he was no longer liable for the other side's costs, and he had his appeal costs paid. But not every claim under the current law will be so lucky.
Prohibitive costs can stop people from taking action
Costs make challenging discrimination at work under federal law much more difficult. The human rights commission's Respect@Work report found the risk of a costs order was a significant "disincentive" to bringing a claim under federal law.
The new bill might remove this disincentive by re-balancing the costs of claiming, enabling many more people to challenge discrimination in the federal courts.
We all have an interest in challenging discrimination and inequality. Research suggests more equal societies are happier and healthier overall. There is a good chance, too, many of us will experience some form of discrimination in our working lives.
---
Read more: Every worker is entitled to be safe at work, but casual workers can fall through the cracks
---
Using discrimination law – making a complaint – can benefit us as individuals but can also force broader change. It can lead to policy change and it can force employers to take equality seriously.

Alysia Blackham has previously received grant funding from the Australian Research Council's Discovery Projects funding scheme (Project DE170100228) and the Victorian Commission for Gender Equality in the Public Sector. She is a member of the National Tertiary Education Union.

----------------------------------------------------------------------------------------------------------------


We analysed citizen science to find Australia's top 10 most elusive birds
Posted on Tuesday November 28, 2023

Author : Louis Backstrom, PhD Student, University of St Andrews

Summary :Researchers used 'citizen science' birdwatching data to rank Australian species. Among the most elusive birds were 'hide and seek' champions and a few possibly headed for extinction.

Australia is one of the greatest places to see birds. We are fortunate to have more than 800 different bird species across the nation. At least 370 species are found nowhere else on Earth. They range from the iconic Australian magpie to the migratory short-tailed shearwater, the golden-shouldered parrot and the delightful superb fairy-wren.

Every day, thousands of birdwatchers are out spotting birds. Yet despite this enthusiasm, there's a lot still to learn. More than 200 species are already listed as threatened with extinction but others may also be struggling and we just don't know it yet.

In our new research, we used citizen science data to rank Australia's birds in terms of how well they are known. We looked at how often birdwatchers spot each species and where they find birds, compared with how often they look, to determine rates of survey success. This quantifies how "well known" each species is.

We found a quarter of all Australian bird species can be considered well surveyed and adequately represented in our sightings databases. Many of these species have ranges that overlap with the densely populated regions of Australia. And some, like the southern cassowary and eastern rosella, are well known to most Australians. At the other end of the spectrum, some birds are very hard to find. Here's Australia's top 10 most elusive birds.
---
Read more: Australia has more native bird species than almost anywhere else. What led to this explosion of diversity?
---
Taking advantage of citizen science
Before smartphones took off, birders would take notes in their private notebooks. They might share details of interesting sightings on internet forums or birdwatching clubs, but otherwise most knowledge was locked away from scientists and conservationists.
Now birders are increasingly taking advantage of easy-to-use birding apps such as eBird run by Cornell Lab of Ornithology in the United States, and Birdata from Birdlife Australia.
Collectively, these two platforms contain more than 40 million bird occurrence records spanning the entire country. That represents 3.8 million volunteer hours, or more than 430 years of effort.
Using these apps, birdwatchers and scientists alike can quickly collate bird records at a specific location.
As conservation scientists and ornithologists, we wanted to work out how to identify species we know very little about because poorly known species may be disappearing without us realising. While some researchers have already highlighted serious declines in poorly known species like the red goshawk, swift parrot and buff-breasted buttonquail, we recognised citizen science databases as a vast untapped source of knowledge for all of our native birds.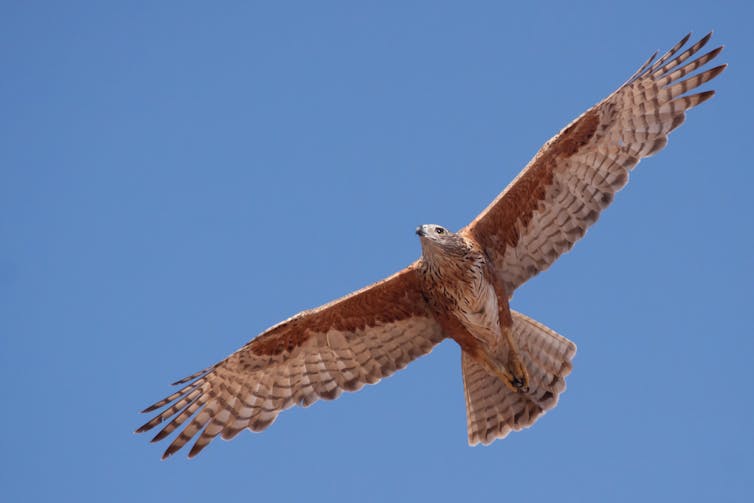 Australia's most elusive birds
In our new study, published in the journal Emu (Austral Ornithology), we looked at millions of citizen science bird records. We focused on 581 terrestrial, native species.
We found a group of 56 "hide and seek" champions of Australia. These are the species which are seen least often by birdwatchers. Many of these species exhibit cryptic behaviour or are primarily nocturnal, which explains why they are not regularly seen by citizen scientists. However, we have serious concerns for a handful of these species.
The Coxen's fig parrot emerges as a species of major concern. Birders recorded more than 300,000 surveys within this species' range in the rainforests of south-east Queensland and northern New South Wales. Yet only four sightings of this tiny green parrot are documented in our combined citizen science database. None of these sightings were accompanied by photo or video evidence. In fact there has never been a photo of a live bird of this species. Our research suggests this species is well and truly "lost to science" and may already be extinct.
Another species of increasing concern is the buff-breasted buttonquail of far north Queensland. Only seven sightings of this bird are recorded in our combined dataset. Recent research suggests many reported sightings of this species may be mistaken. As with the Coxen's fig parrot, no photo of a living buff-breasted buttonquail has ever been taken. Nevertheless, there is some hope for this elusive species, as its range has been less comprehensively surveyed by birdwatchers. There is now a concerted effort to find them.
---
Read more: More than 200 Australian birds are now threatened with extinction – and climate change is the biggest danger
---
We can all play a role
Our analysis shows much of Australia is not frequented by birdwatchers, so birds in our least populated areas are still poorly known to contemporary science. Some of the most sparsely surveyed regions include Australia's many deserts, and remote areas such as the Nullarbor Plain, Arnhem Land and western Cape York Peninsula.
Australians can help these elusive birds by heading outdoors with a smartphone and a pair of binoculars. Records of scarce birds will become increasingly important as species continue to decline. Even records of more common birds in backyards have value too. The more information we have, the more chance we can slow the rate of extinction and conserve our amazing birdlife.
---
Read more: Our mysterious night parrot has terrible vision – but we discovered it might be able to hear like an owl
---

James Watson has received funding from the Australian Research Council, National Environmental Science Program, South Australia's Department of Environment and Water as well as from Bush Heritage Australia, Queensland Conservation Council and Birdlife Australia. He serves on scientific committees for Bush Heritage Australia, climate start up Subak Australia, BirdLife Australia and has a long-term scientific relationship with the Wildlife Conservation Society. He serves on the Queensland Government's Land Restoration Fund's Investment Panel as the Deputy Chair.
Louis Backstrom does not work for, consult, own shares in or receive funding from any company or organisation that would benefit from this article, and has disclosed no relevant affiliations beyond their academic appointment.

----------------------------------------------------------------------------------------------------------------


New research shows how Indigenous-owned businesses are creating better outcomes for their employees
Posted on Tuesday November 28, 2023

Author : Christian Eva, PhD Candidate and Research Officer, Australian National University

Summary :We interviewed Indigenous business owners, managers and employees to explore how these businesses support strong levels of Indigenous employment.

**

We are seeing more Indigenous businesses in Australia. This is important, given these businesses produce social impact, support Indigenous economic self-determination and maintain strong levels of Indigenous employment.

When we hear about Indigenous knowledge businesses, we often think about how this knowledge is presented within a business' product or service, such as through art, tourism or clothing. What is less understood is the role Indigenous knowledge can play in the organisation and culture of a business, and the profound impact this can have.

There is still a stark gap between Indigenous and non-Indigenous employment on a national level. It doesn't help when non-Indigenous-owned businesses continue to struggle with hiring and retaining Indigenous employees.

But for Indigenous-owned businesses across locations and industries, employment remains strong. Research shows 36% of employees within these businesses are Indigenous.

In our new research, we interviewed Indigenous business owners, managers and employees to explore how these businesses support strong levels of Indigenous employment. Our findings show a need for all Australian businesses to learn best practices from Indigenous businesses.
---
Read more: Indigenous-owned businesses are key to closing the employment gap
---
What are Indigenous businesses doing differently?
Indigenous ways of knowing, being and doing can bring a holistic approach to business management and organisational culture. In our research, participants discussed how Indigenous businesses maintained a non-hierarchical approach to their business structure. This structure incorporated a diversity of perspectives, which better informed tailored and effective policy and practices.
This meant the specific perspectives, values, strengths and circumstances of a workforce could be reflected by the business. This goes against the one-size-fits-all approach to Indigenous employment and recruitment policies that non-Indigenous businesses often implement.
To be formally recognised as an Indigenous-owned business, a business must be at least 50% owned by Indigenous people.
Most Indigenous businesses listed in Supply Nation, a national database of Indigenous businesses, are 100% Indigenous-owned. As such, these Indigenous businesses have Indigenous people in leadership roles. This is in contrast to non-Indigenous businesses that struggle with this.
Our research participants described Indigenous governance within businesses as collaborative, responsive and relational. Through this, managers can be better attuned to their employees' needs, values and circumstances.
This knowledge builds a foundation to inform specific workplace practices. For example, workplace flexibility is often provided within Indigenous businesses, but how it is provided varies on the specific contexts of the workforce.
Cultural competence is essential
Cultural competence refers to the ability to work effectively and respectfully with people of other cultures.
Cultural competence in the workplace is often considered as education. Our research participants described cultural competence as an action embedded into the practices of their organisations. They did not view cultural competence as a nicety, but an occupational health and safety necessity.
For example, Indigenous businesses are not only aware of cultural obligations or individual circumstances that impact their employees. These businesses often accommodate, support and draw on these things to inform their business practices. Indigenous employees said this meant their businesses understood, valued and supported them.
Employees also detailed stark differences in experiences of racism between Indigenous businesses and their former workplaces. Indigenous business owners and managers were more attuned to their experiences and more committed to addressing and eliminating racism in the workplace.
These are just some of the ways Indigenous businesses can provide a model for rethinking the organisational cultures of non-Indigenous businesses.
---
Read more: Closing the First Nations employment gap will take 100 years
---
Learning from Indigenous businesses
Many organisations across Australia implement their own policies to increase Indigenous employment. Our research participants said many of these policies are heavily focused on "traditional" recruitment practices and policies.
This falsely presumes the supply of jobs is the sole problem. There are many factors affecting Indigenous people's employment, which differ across the country. Approaches to Indigenous employment often don't reflect this.
Indigenous businesses demonstrate there is no singular recruitment strategy, Reconciliation Action Plan, apprenticeship program or cultural competence training to improve levels of Indigenous employment.
For example, some Indigenous-owned businesses progress Indigenous employees from entry-level positions to management because they recognise the commitment, logistics and benefits of doing so. Simply creating an entry-level position where an employee does not progress cannot achieve the same outcome.
Strong Indigenous employment is not limited to Indigenous businesses in certain industries. This is why tailored practices are needed that reflect a diverse Indigenous workforce across the country.
Restructuring organisational culture in Australian businesses isn't only beneficial for Indigenous peoples. Values-driven workplaces invest in employees, support their cultures, maintain a safe work environment and create opportunities for those often excluded from employment. This benefits everyone.
Non-Indigenous institutions can learn from Indigenous businesses, not just to become better employers of Indigenous people, but to be better employers for all.
---
This article is based on research undertaken at the Australian National University by Christian Eva, Jessica Harris, Kerry Bodle, Dennis Foley, Nina Nichols and Boyd Hunter.

The research project that this article reports on is subject to funding from the National Indigenous Australians Agency (NIAA)
Kerry Bodle works for Griffith University. The research project that this article reports on is subject to funding from the National Indigenous Australians Agency (NIAA)

----------------------------------------------------------------------------------------------------------------


Hallelujah, it's school concert season. A music researcher explains why these performances are so important
Posted on Tuesday November 28, 2023

Author : Kathleen McGuire, Lecturer, Australian Catholic University

Summary :While we want to support our loved ones' extracurricular activities, perhaps you secretly curse sitting through yet another concert or carols sing-along.

**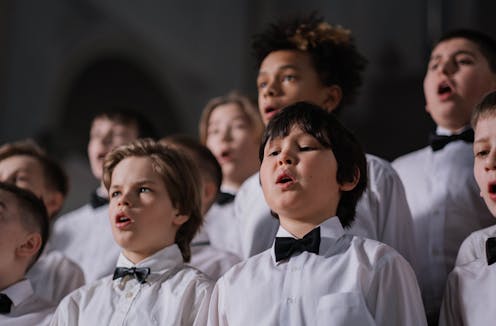 Who could have imagined how quickly we would return to pre-COVID routines?
Here we are again, juggling year-end stressors, wondering how we can squeeze everything in. If you have young children, you will likely also have several school concerts to mark the end of the year.
While we want to support our loved ones' extracurricular activities, perhaps you secretly curse sitting through yet another performance or carols sing-along.
I am a researcher in music education and a conductor of community ensembles. Are these events important? Do they matter at all?
Why music matters
The first thing to remember is music really matters. Apart from the joy of making music and gaining a skill, there are many advantages for kids learning music.
Australian music educator and researcher Anita Collins has studied how learning music helps children's cognitive development.
As she explains, neuroscientists have found the brains of people who studied music look different from those who did not have music lessons:
music education works three areas of the brain at once: the motor, visual and auditory cortices. If we think about it, it's like a full-brain workout; it's like our legs, our arms and our torso doing an exercise at the same time. Music education is exercise for the brain.
The long-term impact on the brain is also startling. Research suggests children who undergo music training have better verbal memory, second language pronunciation accuracy, reading ability, reasoning skills, auditory, motor and sensorimotor integration, and executive function.
Other research, surveying more than 112,000 students, revealed those who learn music were more successful than non-musicians across maths, English and science.
Showcasing and building skills
But these concerts also have a broader purpose.
At school concerts, students showcase their learning as individuals and in ensembles. This can motivate a child to practise and learn their instrument. The performance itself can build a student's confidence and skills in other areas such as public speaking, presentation and managing nerves.
When they play in groups, students can often perform better than expected. As a music director of many school (and community) productions, I can attest that something magical happens in the couple of weeks leading to a performance.
---
Read more: Learning music early can make your child a better reader
---
A sense of belonging
We know people who play in music ensembles identify a feeling of belonging as a benefit of playing with others.
This feeling can be amplified in year-end concerts where a school community and families gather together. Research shows feeling connected to others or a sense of belonging can reduce feelings of loneliness, alienation or hopelessness.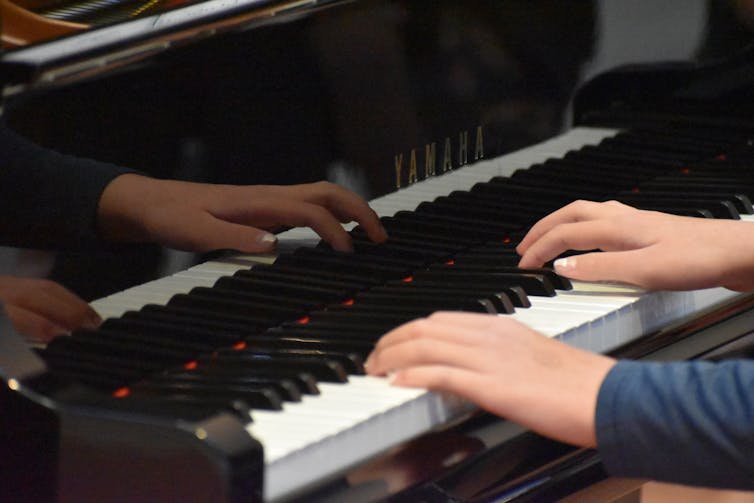 Connection beyond schools
In my broader work, I have also seen how end-of-year concerts can provide important connection and build community at a time of year many find really difficult.
For those who have lost or are separated from loved ones, the festive season can be very stressful and lonely.
But community music can provide a broader social purpose and support network. While conducting the San Francisco Gay Men's Chorus, I noticed some singers, who were estranged from their families, struggled each December. To help, we filled our schedule with appearances. Being together and connected lifted everyone's spirits.
In the post-pandemic era, en masse community music-making has exploded with the Pub Choir and Spooky Men's Chorale attracting thousands of participants. People of all ages buy tickets or volunteer to meet up and learn songs in low-pressure settings such as pubs, sports arenas or outdoors. Here, social and wellbeing factors are emphasised, rather than the quality or expertise of the performance.
---
Read more: Before you let your child quit music lessons, try these 5 things
---
More than just a concert
So yes, year-end concerts are another thing to do at an already busy time of year. But they are so important. They can enhance students' learning and wellbeing and unite communities.
They are also hopefully fun and rewarding.
So let's vote with our bums-on-seats. Knowing the essential benefits of music to children and society, let's show up and clap and cheer. Better yet, participate! Your life will be the richer for it.

Kathleen McGuire conducts various community choirs, including the Tudor Choristers. She is a teacher educator at Australian Catholic University, specialising in Secondary Music Education.

----------------------------------------------------------------------------------------------------------------


The government has announced plans to regulate smart TV home screens: what the new rules mean for you
Posted on Tuesday November 28, 2023

Author : Ramon Lobato, Associate Professor, School of Media and Communication, RMIT University

Summary :New legislation will require smart TV manufacturers to ensure we can easily find local broadcasters when we turn on our TVs.

**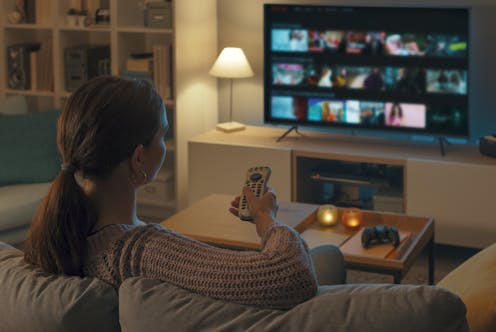 Communications Minister Michelle Rowland has today introduced legislation that will require smart TV manufacturers to ensure we can easily find local broadcasters – including ABC, SBS and the commercial networks – when we turn on our TVs.
This "prominence" law will require TV manufacturers to preinstall iview, SBS On Demand, 9Now, 7Plus and 10Play on all smart TVs sold in Australia. It will also ensure these apps are not unfairly hidden in the user interface compared to major players like Netflix and Disney+.
This prominence law was recently the subject of heated discussion between the free-to-air networks, TV platforms, manufacturers and Foxtel – a pseudo-debate driven by industry scare campaigns.
But there is little reason for users to be alarmed.
The government's proposed smart TV law is a light-touch change that will support our local content and public-service broadcasting ecosystem without compromising the user experience.
Smart TVs need smart regulation
Since 2019, our team at RMIT has been studying smart TVs as part of an Australian Research Council project. During this time we observed significant changes in the smart TV marketplace that point to the need for careful regulation.
Major TV manufacturers have reinvented themselves as advertising platforms. To generate ad revenue, they charge apps fees for prominence: advertising dollars determine the order in which streaming apps appear when you turn on your smart TV.
Samsung, LG, Hisense and TCL have also launched their own FAST (Free Advertiser Supported TV) channels, which are actively promoted on the TV home screen.
---
Read more: Netflix and other streaming giants pay to get branded buttons on your remote control. Local TV services can't afford to keep up
---
One consequence of these commercial arrangements is reduced visibility of local apps and services. The smart TV testing we conducted at RMIT found local services are much less prominent and less frequently preinstalled than Netflix, Disney+ and other US-based services that do global prominence deals with manufacturers.
Why is this a problem? Our research found a third of Australian users do not know how to download smart TV apps. For these users, the smart TV is a preconfigured device: if local apps aren't on the TV when it comes home from the store they will likely never be installed.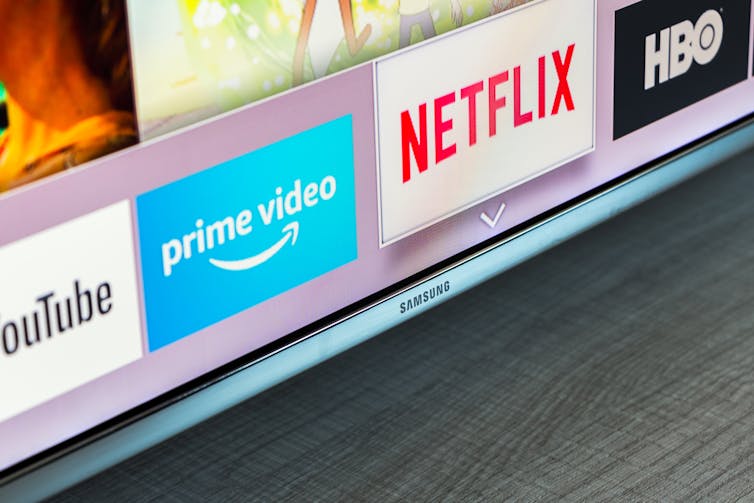 In other words, manufacturers rely on the inertia bias of users to opt for prominently positioned advertiser apps.
Within this environment, local streamers and other smaller players are structurally disadvantaged. In particular, our public-service broadcasters – who do not have the resources to pay for prominence in the attention economy of the smart TV interface – would face a dim future.
How will the prominence law work?
The key feature of the new law, which will take effect mid-2025, is a "must carry" requirement. While ACMA (Australian Communications and Media Authority) will clarify the detail of the rules in coming months, the government's intention is to require manufacturers of smart TVs and connected TV devices sold in Australia to preinstall the streaming apps of Australian free-to-air channels.
These apps need to have their own home screen shortcuts, which must be of equivalent size and format to those of other streaming services. This will prevent manufacturers trying to bury these shortcuts in favour of paying advertisers' apps.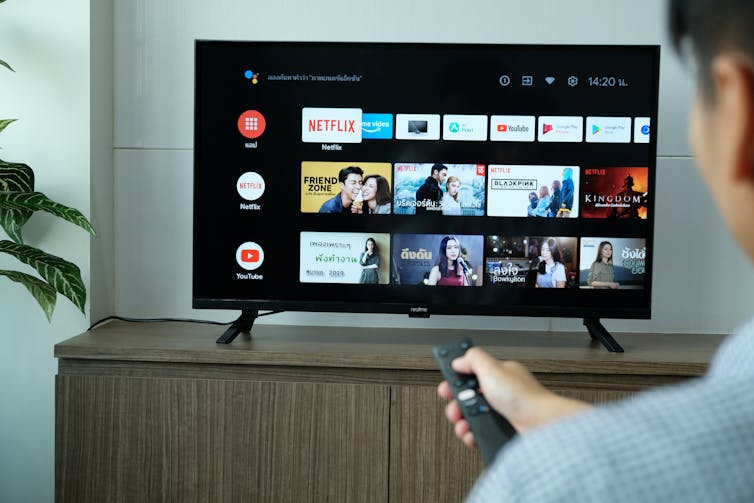 However, the order of tiles is left up to the manufacturer – and, importantly, users are free to delete or move the tiles as they wish. So ultimate control of the device still rests with the user.
Our research found a clear majority (around 59%) of Australian adults support compulsory preinstallation of broadcaster apps on new smart TVs. Only around 15% of users said they disagreed with compulsory preinstallation. The rest were neutral or unsure.
This suggests any user backlash against the proposed changes will be modest.
What about TV search and recommendations?
While the free-to-air broadcasters will be pleased with this outcome, they have not received everything they asked for.
The broadcast lobby pushed hard for a must-promote rule, which would have placed their content first in the recommendations and search results.
The government has rejected this idea in favour of the more modest must-carry rule. The order of results in search and recommendations will be left up to the manufacturer, as is presently the case.
The long view
Some may argue any intervention in smart TVs is an overreach by government. But the reality is that almost every country regulates television for cultural, industry and security reasons. Many national regulators are considering prominence rules similar to what has been introduced in Australia today.
Smart TVs – as the new distribution platform for television content – clearly need to be moved into the scope of regulation over the long term.
In doing this, government must balance the competing priorities of user autonomy, local industry needs, and existing market arrangements.
The proposed prominence is a step in the right direction – but only the first step in what will surely be a complex process of media reform.
---
Read more: Apple, Disney and Netflix's streaming battle isn't winner-take-all
---

Ramon Lobato receives funding from the Australian Research Council (FT190100144).
Alexa Scarlata does not work for, consult, own shares in or receive funding from any company or organisation that would benefit from this article, and has disclosed no relevant affiliations beyond their academic appointment.

----------------------------------------------------------------------------------------------------------------


Meal kits are booming – but how do they stack up nutritionally?
Posted on Tuesday November 28, 2023

Author : Kylie Fraser, PhD Candidate, Deakin University

Summary :The vegetable content of meal kit meals mean it's more about the meals you choose and less about what company to use.

**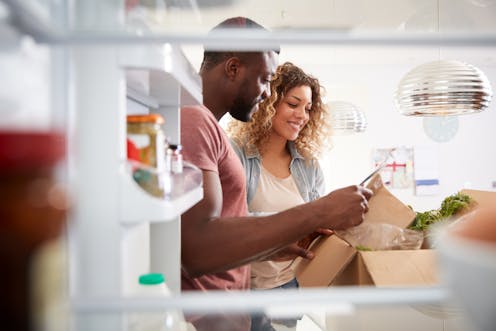 Meal kits are a billion dollar industry selling the promise of convenience while cooking healthy meals at home. Delivering ingredients and step-by-step recipes to the doorstep, meal kits reduce the time and energy to plan, shop and prepare meals. But do they deliver on their promise of health?
While people may think meal kits are healthy, our new research suggests this varies.
The range and quantity of vegetables in a meal is a great indicator of how healthy it is. So we assessed the vegetable content of recipes from six Australian meal kit providers. We found when it comes to nutrition, whether it be budget friendly or high-end, it's more about the meals you choose and less about what company to use.
---
Read more: Are we overthinking family meals? 5 realistic tips to ease the pressure
---
What we found
For our new research we purchased a one-week subscription to nine Australian-based meal kit companies to access weekly recipes. Six companies provided their full week of recipes. The vegetable content of these recipes were analysed.
Of the 179 meals analysed, we found recipes use a median of three different types of vegetables and provide a median of 2.5 serves of vegetables per person. At first glance, this looks promising. But on closer inspection, the number and types of vegetables vary a lot.
Some recipes provide less than one serve and others more than seven serves of vegetables per person. Not surprisingly, vegetarian recipes provide more vegetables, but almost one-third of these still include less than two vegetables serves per person.
The variety of vegetables included also varies, with recipes providing between one and six different types of vegetables per meal.
What's for dinner?
Dinner is the time when we're most likely to eat vegetables, so low levels of vegetables in meal kit meals matter.
Eating vegetables is known to reduce the risk of type 2 diabetes, heart disease, obesity and some cancers. What's more, food preferences and eating habits are learned in childhood. So being exposed to a wide range of vegetables from a young age is important for future health.
But few Australians eat enough vegetables. According to the Australian Dietary Guidelines, children should be eating 2.5 to five serves and adults at least five serves of vegetables each day. Currently children eat an average of less than two serves and adults less than three serves of vegetables per day.
So there's room for improvement and meal kits may help.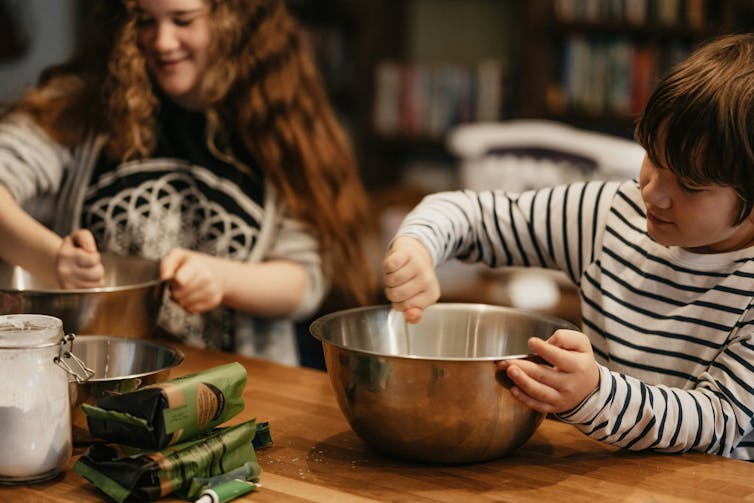 ---
Read more: Trying to spend less on food? Following the dietary guidelines might save you $160 a fortnight
---
Meal kits have advantages
The good news is that using meal kits can be a healthier alternative to ordering takeaway delivery or prepared ready-to-heat meals. When we cook at home, we have much more say in what's for dinner. We can use healthier cooking methods (think grilled rather than deep-fried), healthier fats (olive or canola oil) and add in plenty of extra veg. All make for better nutrition and better health.
Meal kits might also build your cooking confidence to cook more "from scratch" and to learn about new ingredients, flavour combinations and time-saving techniques. Cooking with meal kits may even cut household food waste by providing the exact amount of ingredients needed to prepare a meal.
---
Read more: How to save $50 off your food bill and still eat tasty, nutritious meals
---
5 tips for getting the most out of meal kits
1) Select some vegetarian options
This way you can have meat-free dinners during the week. Vegetarian recipes are more likely to help you meet daily vegetable intakes and to eat a wider variety of vegetables
2) Choose recipes with at least 3 different types of vegetables
Eating a range of vegetable types and colours will help maximise nutritional benefits. Research shows eating a variety of vegetables at dinner can increase our vegetable intakes. Exposing children to "eating the rainbow" can also increase their willingness to eat vegetables
3) Choose recipes with unfamiliar or new vegetables
Research tells us that learning to prepare and cook vegetables can increase cooking confidence and skills. This can influence our willingness to buy a wider range of vegetables. Worried about fussy eaters? Add your child's favourite cooked or raw veg to their plate (one familiar, one new)
4) Look for ways to add more vegetables
It's OK to tweak the recipe! Adding vegetables from your fridge – maybe some lettuce on the side or chopped up carrots to a cooked sauce – to meal kit meals will help reduce household food waste. You can also extend meals by adding a can of lentils or beans to mince-based meals, or frozen peas or chickpeas to a curry. This adds valuable fibre to the meal and also bulks up these recipes, giving you leftovers for the next day
5) Use less
While vegetables are important for health, it's also important to consider the salt, fat and energy content of meal kit recipes. When using meal kits, you can use less seasoning, spice mix or stock cubes and add more herbs instead.

Alison Spence is affiliated with Dietitians Australia.
Karen Campbell receives funding from NHMRC
Penny Love is currently a named investigator on a NHMRC CRE Grant (2022-2026) and Norwegian Research Council (2021-2025) funded project. She is affiliated with Dietitians Australia (DA), the World Public Health Nutrition Association (WPHNA), and the International Society for Behavioural Nutrition and Physical Activity (ISBNPA).
Kylie Fraser does not work for, consult, own shares in or receive funding from any company or organisation that would benefit from this article, and has disclosed no relevant affiliations beyond their academic appointment.

----------------------------------------------------------------------------------------------------------------


What are young Australians most worried about? Finding affordable housing, they told us
Posted on Tuesday November 28, 2023

Author : Lucas Walsh, Professor and Director of the Centre for Youth Policy and Education Practice, Monash University

Summary :We thought after the worst of a global pandemic, young people's outlook for the future might have improved. Our survey shows they've actually gotten worse.

**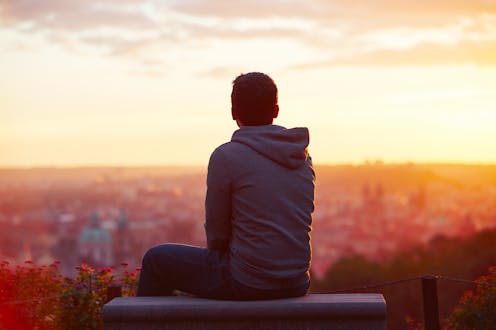 Many of us were anxious and fearful during the COVID pandemic, but we've probably started to feel a lot better since lockdowns have stopped and life looks more like it did previously.
But new data shows that hasn't been the case for Australia's young people.
Our wide-ranging survey of youth across the country reveals many young people fear they'll never be able to own a home and will end up worse-off than their parents.
---
Read more: Listening to youth voices was missing in the COVID-19 pandemic response
---
Affordable housing is their top concern
Data from the 2023 Australian Youth Barometer, which surveyed 571 young Australians aged 18-24 and interviewed 30 more, highlight young people's interconnected and confronting attitudes about their futures.
In this third iteration of the annual survey, we expected improvements in young people's attitudes following the worst of the pandemic.
But the pressures have intensified following increases to costs of living and multiple disruptions to young lives, leading to anxieties about their future.
The clear majority of young people (70%) said affordable housing was their top concern (15% increase since last year), while 51% nominated employment opportunities (up 9%) as the second.
Concern about affordable housing is unsurprising. The fear is real.
Aside from skyrocketing rents and house prices, many young people face the prospect of having nowhere to live. According to 2021 Census data, almost one in four of all people experiencing homelessness (23%) are 12 to 24 years of age.
A 23-year-old woman from the ACT, who's living in a caravan she doesn't own, told us housing was her biggest concern:
I'm very lucky to have it [the caravan]. And if it gets taken away from me, I'm back out on the streets again […] I need to be able to shower, have a place to get ready, eat, all that. That's really the only concern in life.
Seeing a pathway to affordable accommodation is all the more challenging given young people's current circumstances.
Some 90% of those surveyed experienced financial difficulties in the past year, a continuation of last year's trend. Around one in five (21%) experienced food insecurity.
Surviving now is a concern, let alone affording a roof tomorrow. Just 35% of young people feel confident that they'll be able to afford a place to live in the next year.
Feeling unprepared for the future
Only 52% of young people we surveyed feel their education has prepared them for the future
Three issues arise here. First, some young people are critical of education in their schools and post school institutions.
One 23-year-old woman from South Australia said:
The learning system in Australia is absolutely appalling is what I have to say about it. It is so behind, it is so backdated, it has not kept up with the times, their learning ways are just inaccurate, and a waste of everyone's time […] It wasn't catered to what would be best for learning in the classroom, it was just, 'This is what the system is, that's what we're doing'.
Second, there is a growing awareness that in a competitive labour market, greater qualifications might not lead to desirable, secure jobs.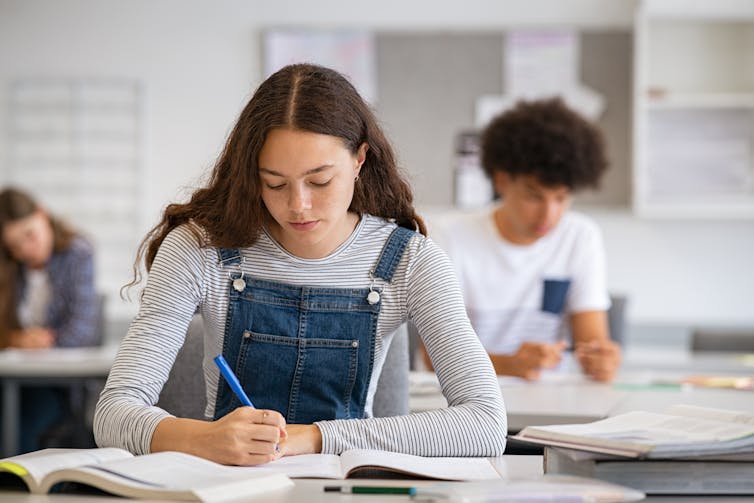 The third is understanding what is required to get that desirable work. Upheavals to the workforce, including technological developments such as automation, have led to questioning what skills, knowledge and experience are required for job futures that are decreasingly knowable.
Other factors such as climate change (the third top issue requiring immediate action) and geopolitical insecurity amplify uncertainty about the future.
---
Read more: Yes, young people are concerned about climate change. But it can drive them to take action
---
Challenges to youth mental health
The challenges outlined above intersect. One 20-year-old woman from Queensland told us:
I'm just worried that it'll be harder for me to get a job from my course or whatever, or that if stuff like cost of living and everything keeps going up, no matter if I get a job, I wouldn't be able to, like, stay on top of that, as well.
Only 52% of young Australians think that it is likely or extremely likely that they will achieve financial security in the future.
More young Australians think they will be financially worse off than their parents (from 53% in 2022 to 61% in 2023). Most (97%) felt worried, anxious or pessimistic in the past year (an increase of 14% on last year's data).
---
Read more: How to teach children about climate change, inspire hope and take action to change the future
---
Just over a quarter (26%) characterised their mental health as poor or very poor (up 8% on last year). Nearly one in four (24%) received mental health care in the past year.
Young people see their health and wellbeing as interconnected to other factors, such as affordable accommodation, jobs and food security. A 24-year-old man from New South Wales said that:
Financial independence is kind of a healthy thing. I think that knowing that you could afford your rent, knowing that you can afford food […] knowing that you have a roof over your head is something that I measure for healthiness.
Attitudes that are here to stay?
Conditions for young people typically deteriorate during economic downturns. The question is whether the trends above reflect a tremor or a quake.
We saw during previous recessions how young people were disproportionately and negatively affected compared to older age groups. That tremor is already visible, despite relatively good employment figures in recent years (which insufficiently capture the quality, security and desirability of current employment). Even so, youth unemployment rate has increased to 8.7%.
So are these attitudes likely to remain?
A youthquake is typically defined as a marked shift in cultural norms brought about by changing values, tastes and attitudes of young people. Such shifts are associated with wider social, economic and political seismic upheavals.
Our findings suggest that conditions for the next youthquake might have begun.

The authors do not work for, consult, own shares in or receive funding from any company or organisation that would benefit from this article, and have disclosed no relevant affiliations beyond their academic appointment.

----------------------------------------------------------------------------------------------------------------


Māori atheism on the rise: the legacy of colonisation is driving a decline in traditional Christian beliefs
Posted on Tuesday November 28, 2023

Author : Masoumeh Sara Rahmani, Lecturer Study of Religion, Te Herenga Waka — Victoria University of Wellington

Summary :More than half of Māori identified as having 'no religion' in the latest census. Our new research examines what could be behind the sharp rise in Māori atheism.

**

Religious beliefs among Māori have shifted significantly over the past two decades.

The number of Māori identifying as having "no religion" in the census between 2006 and 2018 increased from 36.5% to 53.5%. Māori affiliation with Christianity has fallen from 46.2% to 29.9%.

Are Māori simply rejecting Christianity? Or are they rejecting all supernatural phenomena, including traditional Māori beliefs?

Our research examined the apparent rise of Māori atheism. We found the colonial history of religion was a driving force for Māori who identified as atheist or having no religion.

We also found Māori atheists said they experienced discrimination for their lack of religion, and their "Māoriness" was questioned within their community or work.

The "no religion" category in the census captures a range of worldviews, including people who say they are spiritual but not religious; agnostics – people who are uncertain about the existence of a higher power; and atheists – people who do not believe in the existence of god(s).
Multiple reasons for leaving religion
As part of our research, we spoke with 16 Māori aged 30 to 65 who did not believe in god(s). All but four were raised in religious households.
Some emphasised lingering intellectual doubts as the reason for rejecting religion. As one participant explained:
If I'm being intellectually honest and consistent, I should put all my beliefs on the table and I should examine all of them. I shouldn't keep some safe from scrutiny just because they're mine, they're Māori.
---
Read more: When is being Māori not enough? Why Māori politics are always personal
---
Others said they left for moral reasons. These included a perceived hypocrisy among churchgoers, immorality of religious leaders, and the role of religion in spreading harmful views about women and LGBTQ people.
Most participants, however, framed their rejection of religion as an expression of resistance against the colonial systems of belief.
In fact, participants' ideas of "religion" were primarily shaped by their experience of various Christian denominations and their knowledge of the Christian missionary history in Aotearoa New Zealand.
Accordingly, most of the people we spoke with viewed religion as a colonial tool for the oppression of Māori people and culture. Another participant noted:
I've only become very angry against religion over the last five years after I found out what they've done to my culture […] We've lost a lot of our culture from the Anglican missionary societies […] Removing one's culture and then assimilating them into religion is […] like a double-edged sword of colonisation.
Some interviewees spoke about how Christianity had been used as a way to exert cultural superiority, labelling Indigenous beliefs and practices as "evil".
Others argued that the God of the Bible is not indigenous to Aotearoa, but rather a creation myth from the Middle East and therefore inherently irrelevant to Māori people.
Dissatisfaction entwined with colonial history
The interview responses show Māori rejection of Christianity seems to be largely aligned with anti-colonial movements, Māori protest movements, and the decolonial feminist movement.
For most participants, "atheism" equated to non-belief in the existence of God and the rejection of monotheistic traditions, specifically Christianity.
In other words, being a Māori atheist did not necessarily mean the rejection of all supernatural beliefs.
While some individuals were confident in their non-belief in all supernatural phenomena, others were either ambivalent towards certain wairua (spirit, soul) beliefs or emphasised the need to understand Māori beliefs as metaphors for a way to live.
What it means to be Māori is changing
The emergence of "non-religious" as a growing sector of the Māori community poses both challenges and opportunities to the ideas of what it is to be Māori and the development of New Zealand.
If we see ourselves progressing as a "bi-cultural" Treaty/Tiriti-enhanced nation, it stands to reason we need to be able to identify the two cultures clearly.
But there is the opportunity to develop more quickly without identity "membership" based on religious affiliation or non-affiliation.
Within the community, there is a spectrum of views about the significance of religious or spiritual beliefs to Māori identity.
On one end, there are those who ask whether it is even possible to be Māori if one is not "religious" or "spiritual" in some shape or form.
At the other, there are those who distinguish between culture and religion, and argue Māori development can be more easily enhanced if one is freed from the constraints of religious belief.
---
Read more: Kiwiana is past its use-by date. Is it time to re-imagine our symbols of national identity?
---
The former speaks to a "traditional" and conservative view of being Māori; the latter to notions of changes in cultures, the impact of the colonial experience, modernisation, and different ways of being Māori.
Our research highlights the diversity of non-religion among Māori, which is neither reflected in representations of Māori (for instance in education), nor considered in Māori-Crown relations.
While there is little difficulty in identifying the Crown in Treaty negotiations, the emerging "no religion" sector of the Māori community adds new layers of complexity to who the Treaty partner is. Importantly, is being spiritual or religious a prerequisite to being a Māori?

This research was supported by Te Herenga Waka – Victoria University of Wellington's Faculty Research Establishment Grant and the Explaining Atheism research grant awarded by Queen's University Belfast with funding from the John Templeton Foundation.
Peter Adds does not work for, consult, own shares in or receive funding from any company or organisation that would benefit from this article, and has disclosed no relevant affiliations beyond their academic appointment.

----------------------------------------------------------------------------------------------------------------


Spectacle, speed and savagery: Disney's The Artful Dodger comes down under for a pop period spin
Posted on Tuesday November 28, 2023

Author : Megan Nash, Casual Academic, School of Art, Communication and English, University of Sydney

Summary :The new Australian series The Artful Dodger is a surgical reworking of Oliver Twist, where the savagery is played for laughs.

**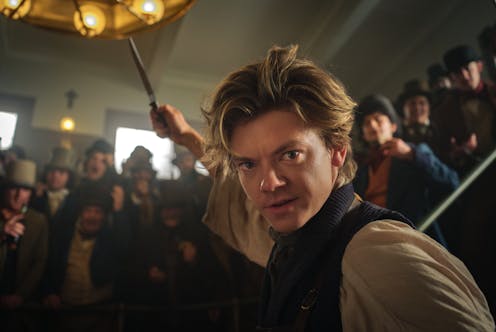 In a 1950 essay on Charles Dickens, literary critic Dorothy Van Ghent suggested the author had an unusual way of writing about the human form.
She identified his "habit of seeing the parts of the body as separable and manipulable" in a descriptive technique of "surgical division".
While these surgical divisions were often figurative, there were plenty of literal examples in Dickens as well. The most notable sees one of his characters searching after his own amputated leg in the seedy anatomical emporiums of London.
The new Australian series The Artful Dodger pursues this surgical fascination in a reworking of Oliver Twist. Its irreverent intentions are clearly marked by its substitution of the cheeky but lovable Dodger for the too-good Oliver, who's summarily dismissed in the first episode as so much "wet lettuce".
Casual brutality
It is 15 years after the end of the novel and the Dodger – Jack Dawkins (Thomas Brodie-Sangster) – is in a fictional Australian town where he's turned his pickpocket's dexterity to the purpose of surgery.
Jack has fallen into an enormous gambling debt to a local crook (Tim Minchin), who is threatening to collect by taking off one of his precious hands.
At the same time, Jack's old boss and bad father figure, Fagin (David Thewlis), arrives in town on a convict ship. Thrown into the mix in a meet-cute that takes place over a heinous compound fracture is the Lady Belle Fox (Maia Mitchell), who intends on becoming the colony's first female surgeon.
In the vein of a show like Dickensian, the series' writers stitch together miscellaneous bits and pieces from the author's canon.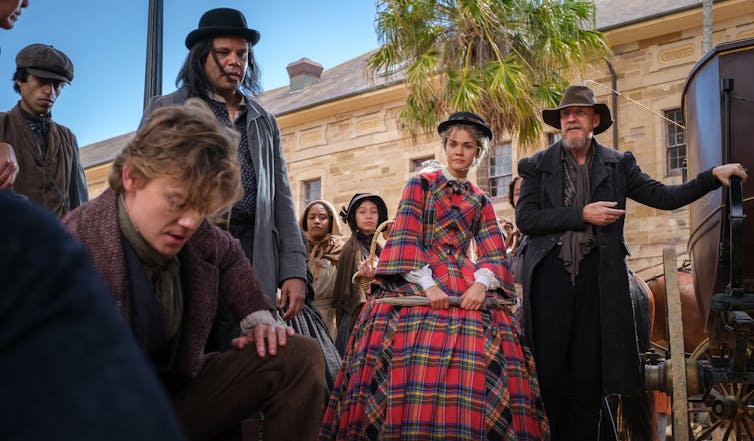 They borrow the Dodger's naval surgeon training from Bleak House and its kindly love interest, Mr Woodcourt. Rather than hanging, Fagin meets the fate of the transported convict Magwitch of Great Expectations. And in one of the show's more creative additions, the hospital's artificial limb maker (Luke Carroll) evokes Dombey and Son's charming duo Solomon Gills and Captain Cuttle. His complex mechanical arms and wooden legs recall both the scientific instruments manufactured by Gills and the prosthetic hook the captain uses in place of his hand.
Playing up the spectacle, speed and savagery of surgery before anaesthesia and antibiotics, the series presents its public operations as something between pantomime and blood sport. But despite all the viscera and violence, it refuses to double down on Dickensian misery, largely playing its most gruesome elements for laughs.
---
Read more: Great Expectations by Charles Dickens: class prejudices, the convict stain and a corpse-bride
---
Trading in bleakness
Bleakness has long been the stock-in-trade of Dickens adaptations. But in the midst of all their Dickensian fog, many forget the fun of the author's books.
This isn't true of The Artful Dodger. Taking notes from the recent success of pop period dramas like Bridgerton, the new adaptation is loud, energetic and refreshingly bright. It's full of Australian sun and sound, each episode starting off with an Aussie rock track from the likes of Spiderbait and The Cruel Sea.
While these stylistic revisions reinvigorate, the show's jokes and subplots are more hit and miss. Caricature has always been key to Dickens's fiction, but the sheer silliness of Lady Belle's unwanted suitor and her domesticated sister don't serve the series well. Despite being a show that itself centres a minor figure, it fails to give some of its best side characters room to breathe.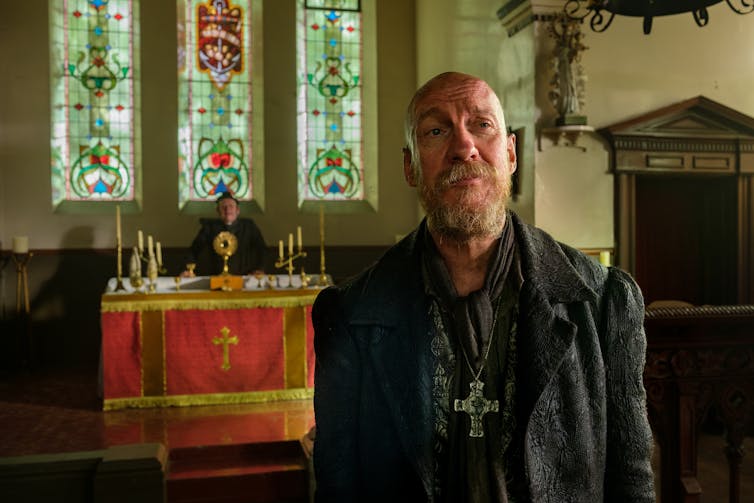 The most significant issue facing the series is its central romance. The key erotic scenes between the Dodger and Lady Belle just don't crackle as intended.
There's frankly much more on-screen chemistry between Brodie-Sangster and Thewlis, so the show is at its best when the Dodger and Fagin are keeping company. The pair skilfully tap into the troubling mix of affection and abuse in this relationship, with Fagin longing for a past that to Jack is the stuff of traumatic childhood memory.
Welcome revisionism
Given the enormous quantity of screen adaptations of Dickens, do we really need another reworking of the old Victorian?
In a recent essay, On Killing Charles Dickens, Zadie Smith discusses her complicated feelings towards the author. With self-conscious hyperbole, Smith recounts how she went so far as to flee London to avoid writing her new historical novel and, in particular, to avoid everything Dickens.
Long story short: she couldn't do it.
Returning home to work on The Fraud, she found him an irrepressible presence haunting both her city and her story. And so, she set about killing off the famous author by writing his death into the pages of her book.
As Smith aptly concludes, Dickens' (sometimes irritating) ubiquity doesn't mean he should be handed the last word.
If Smith's strategy was to kill Dickens, we might say The Artful Dodger's is to perform hacksaw surgery on him. The series slices and amputates and stitches back together with a welcome revisionism.
If the result is a little uneven, it works well enough. As Victorian surgeons knew, sometimes you have to be brutal to keep things alive.
The Artful Dodger is on Disney+ from today.
---
Read more: The Fraud by Zadie Smith review: a dazzling depiction of Victorian colonial England
---

Megan Nash does not work for, consult, own shares in or receive funding from any company or organization that would benefit from this article, and has disclosed no relevant affiliations beyond their academic appointment.

----------------------------------------------------------------------------------------------------------------


As disasters and heat intensify, can the world meet the urgency of the moment at the COP28 climate talks?
Posted on Tuesday November 28, 2023

Author : Brendan Mackey, Director, Griffith Climate Action Beacon, Griffith University

Summary :In what's likely to be the hottest year on record, nations are gathering to try and hash out faster action on climate change. Here are the three main issues facing negotiators.

**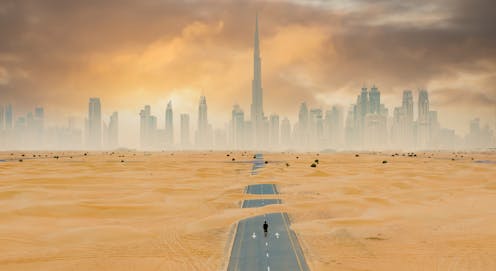 Eight years ago, the world agreed to an ambitious target in the Paris Agreement: hold warming to 1.5°C to limit further dangerous levels of climate change.
Since then, greenhouse gas emissions have kept increasing – and climate disasters have become front page news, from mega-bushfires to unprecedented floods.
In 2023, the world is at 1.2°C of warming over pre-industrial levels. Heatwaves of increasing intensity and duration are arriving around the world. We now have less than 10 years before we reach 1.5°C of warming.
This week, the COP28 climate talks will begin against a backdrop of evermore strident warnings from climate scientists and world leaders. United Nations chief António Guterres has warned climate action is "dwarfed by the scale of the challenge" and that we have "opened the gates of hell". In his latest climate letter, Pope Francis quotes bishops from Africa who dub the climate crisis a "tragic and striking example of structural sin".
In the United Arab Emirates, the 198 nations in the UN's climate framework will gather for COP28. Can we expect to see real progress – or half-measures?
Watch for these three key issues facing negotiators.
1. Taking stock of progress on climate action
This year, a critical issue will be the global stocktake, the key mechanism designed to ratchet up climate ambition under the 2015 Paris Agreement. This is the first time each nation's emission cut targets and benefits from climate adaptation or economic diversification plans have been assessed.
The stocktake reveals what track we are on. Do the combined emission cut promises from all countries mean we can limit warming to 1.5°C? If not, what is the "emissions gap" – and how much more ambitious do nation's emission reductions need to be?
---
Read more: UN's 'global stocktake' on climate offers a sobering emissions reckoning − but there are also signs of progress
---
There's been progress, but not nearly enough. If all national emissions pledges became a reality, global warming would peak between 2.1-2.8°C.
That leaves an emissions gap of around 22.9 gigatonnes of carbon dioxide equivalent over the period to 2030.
It is very good that the worst-case scenarios – unchecked warming and 4+ degrees of global heating by 2100 are now looking unlikely. But a 2°C world would bring unacceptable harm and irreversible damage.
We'll need much more ambitious targets and support to cut global greenhouse gas emissions 43% by 2030 and 60% by 2035 compared with 2019 levels if we are to reach net zero CO₂ emissions by 2050 globally. A major measure of COP28's success will be whether the major emitting nations agree on more ambitious emission reduction actions.
2. Who pays for climate loss and damage?
For decades, nations have wrestled over the fraught question of who should pay for loss and damage resulting from climate change.
Now we're close to finalising arrangements for the new Loss and Damage Fund. This will be the second major issue for negotiators at COP28.
So far, governments have drawn up a blueprint for the new fund. Expect to see debate over who will manage the fund – the World Bank? A UN agency? – and whether emerging economies such as China will provide funds. To date, there's no target for how much money the fund will hold and disburse. The blueprint must be formally adopted at COP28 before it can begin operating.
Why a new fund? Other climate finance commitments are aimed at cutting emissions or helping societies adapt to climate impacts. This fund deals specifically with the loss and damage from the unavoidable impacts of climate change, like rising sea levels, prolonged heatwaves, desertification, the acidification of the sea, extreme weather and crop failures.
Think of the damage from the unprecedented floods in Pakistan or Libya, for instance.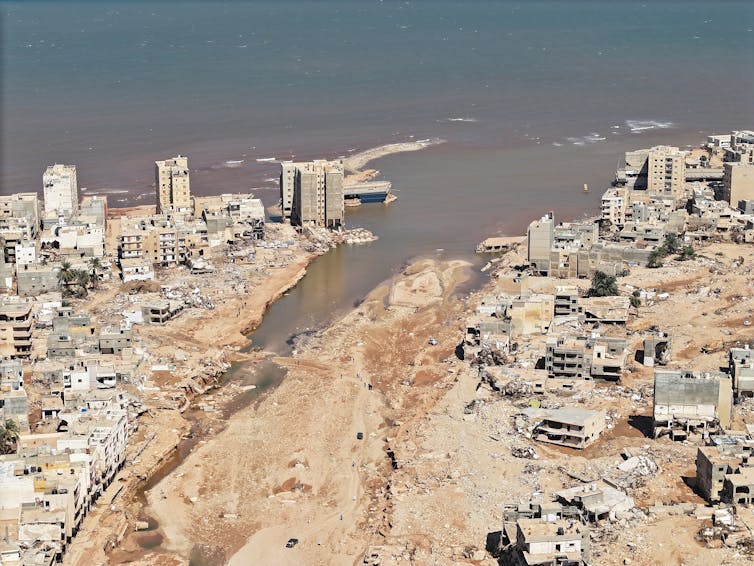 3. Where's the climate finance?
A major issue in climate negotiations is how countries can transform their economies so they are "climate ready", with lower emissions and boosted resilience. For developing countries, this requires massive levels of investment and new technologies to let them "leapfrog" fossil fuel dependency.
This is likely to be a critical sticking point. To date, climate finance has flowed too slowly. Under the Paris Agreement, rich countries promised to provide funds of A$150 billion a year every year. This has been slow in coming, though it is nudging closer, with $130 billion flowing in 2021.
Unless we see significant progress on climate finance – including making the Loss and Damage Fund a reality and meeting the existing commitments – we're unlikely to see progress on other key issues such as ratcheting up emission cuts under the stocktake mechanism, phasing out fossil fuels and work on preserving biodiversity.
---
Read more: In September we went past 1.5 degrees. In November, we tipped over 2 degrees for the first time. What's going on?
---
How do you build a 198-government consensus?
One reason climate negotiations advance slowly is the need for consensus.
All 198 governments must agree on each decision. This means any one nation or group of countries can block a proposal or force the wording to be changed in order for it to be approved.
The votes of less wealthy countries – including small island nations and least developed countries – therefore carry as much weight as the G20 nations, who account for about 85% of global GDP. This has in the past worked to increase the level of climate action, including the focus on 1.5°C as the global warming target.
The COP28 President is Sultan Ahmed al-Jaber, who has attracted controversy due to the fact he heads the Abu Dhabi National Oil Company. Expect to see considerable debate over wording. Will governments agree to the "phasing down of fossil fuels" or just the "phasing down of unabated fossil fuels"?
It might sound like quibbling but it's not – the second option, for instance, implies the heavy use of yet-to-be-proven carbon capture and storage technologies and offsets.
Sultan al-Jaber has, to his credit, promoted some progressive agenda items including a focus on the conservation, restoration, and sustainable management of nature to help achieve the goals of the Paris Agreement.
Here, there are welcome commonalities with the major global biodiversity pact struck late last year, the Global Biodiversity Framework, aimed at stemming the extinction of species and degradation of ecosystems. Healthy ecosystems store carbon and help people adapt to the climate change already here.
As nations prepare for a fortnight of intense negotiation, the stakes are higher than they have ever been. Now the question is – can the world community seize the moment?
---
Read more: COP28: inside the United Arab Emirates, the oil giant hosting 2023 climate change summit
---

Brendan Mackey has received funding from the Australian Government to support his work with the IPCC 6th Assessment Report. He is a volunteer member of the Great Eastern Ranges connectivity conservation initiative science advisory group and board.

----------------------------------------------------------------------------------------------------------------


Thalidomide survivors are receiving an apology for the pharmaceutical disaster that changed pregnancy medicine
Posted on Tuesday November 28, 2023

Author : Luke Grzeskowiak, Channel 7 Children's Research Foundation Fellow in Medicines Use and Safety - Flinders University & South Australian Health & Medical Research Institute, Flinders University

Summary :The first report linking thalidomide to birth malformations was made by Australian doctor William McBride. The drug led to thousands of instances of pregnancy loss, neonatal deaths and disability.

**

Prime Minister Anthony Albanese will deliver a national apology to thalidomide survivors and their families today. More than 60 years since the medication had devastating consequences when taken by pregnant women, the apology recognises the government's role in the tragedy and its enduring impact.

Had the government acted more swiftly to issue public warnings and restrict thalidomide use when concerns were first raised, as many as 20% of Australia's thalidomide survivors may not have been affected.

Today, protecting pregnant people and the fetus means ensuring there is high quality science to guide medicine use.
---
Read more: Remind me again, what is thalidomide and how did it cause so much harm?
---
What is the thalidomide story?
Thalidomide was developed in the 1950s in Germany. Originally intended for use as a sedative or tranquilliser, by the late 1950s it was soon being widely promoted as a safe and effective treatment for morning sickness in pregnancy.
At the time, it was commonly thought the placenta would act as a barrier to stopping medicines reaching the fetus in the womb. Animal studies showed low toxicity and no tests were done involving pregnant women.
Thalidomide rapidly become available for use around the world, including the United Kingdom and Australia. The United States famously rejected marketing approval, largely owing to the efforts of pharmacologist Frances Kelsey who was concerned about the paucity of safety data available.
As use increased worldwide, so too did reports of babies being born with distinct birth malformations. Thalidomide embryopathy is characterised by shortening of the arms or legs. But when taken in early pregnancy it can also result in sight or hearing loss, facial paralysis and impact to internal organs.
The first public report linking thalidomide to birth malformations was made by an Australian doctor William McBride in The Lancet journal in 1961. Soon after, the medicine began to be withdrawn from the market. By this time, it was estimated thalidomide led to thousands of miscarriages and deaths of newborns worldwide and left more than 10,000 children with lifelong disability.
A careful comeback
In the last decade thalidomide has made a comeback. Thalidomide is being used in the treatment of certain cancers and other relatively rare conditions such as leprosy. Most recently, it was investigated as a potential treatment for COVID.
While its return may cause anxiety, there are strict controls limiting its use. This includes requiring people who could get pregnant to take regular pregnancy tests and multiple forms of birth control.
Prescribing thalidomide involves careful counselling and discussion of risks involved. Some may prefer to see thalidomide gone forever. For others, it represents a potential life-changing treatment.
---
Read more: Thalidomide: the drug with a dark side but an enigmatic future
---
Thalidomide changed medicine – for better and worse
The continued availability of thalidomide raises important ethical questions about how we balance the need to make available effective treatments, while ensuring we protect the most vulnerable.
The thalidomide tragedy represents a significant historical turning point in medicines testing and regulatory oversight. There is now much tighter testing of medicines in both animals and humans before they are marketed and closer scrutiny of their potential side-effects.
But there is a dark side. Thalidomide also gave rise to an ongoing hesitancy towards the testing and use of medicines during pregnancy. This has stifled the critical development of new and existing medicines to treat common life-threatening conditions in pregnancy. Globally, many thousands of women and babies die each year from conditions such as preterm birth and pre-eclampsia. Yet, in the last 30 years, only one new medication has been developed specifically for use to treat such complications.
Such hesitancy was most recently demonstrated during the COVID pandemic where pregnant women were excluded from participating in the first vaccination and treatment clinical trials. This led to uncertainty about how to best protect vulnerable pregnant individuals and their children from the effects of COVID, leading to otherwise avoidable deaths.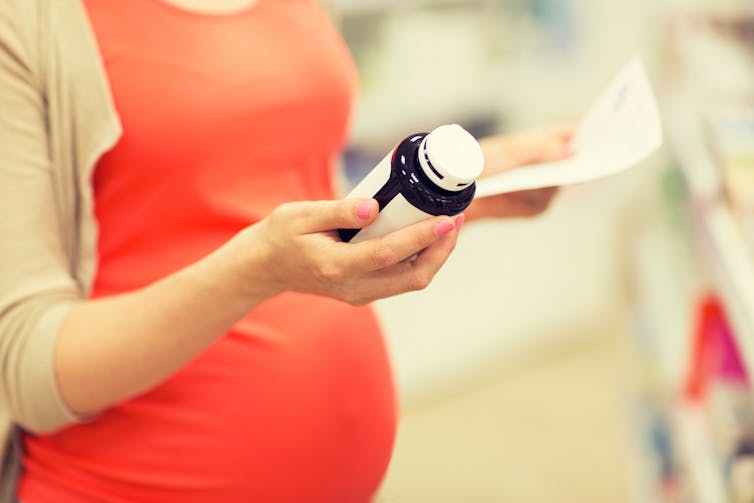 ---
Read more: Take care with paracetamol when pregnant — but don't let pain or fever go unchecked
---
What's next?
A national apology represents an important step in the healing process for those affected by thalidomide and an opportunity to reflect on its legacy.
The most important legacy should be one of ensuring we have adequate data to support the safe and effective use of medicines in pregnancy, rather than one of excluding pregnant people from research or using medicines.
This requires greater government investment and support into how we develop, evaluate, monitor and guide medicines use in pregnancy. A coordinated national approach across all sectors to identify, outline and implement strategies could ensure pregnant people have access to the modern medicines they deserve. Otherwise we risk repeating failures of the past and relegating pregnant people to the status of therapeutic orphans.

Luke Grzeskowiak receives funding from the Channel 7 Children's Research Foundation, The Hospital Research Foundation, National Health and Medical Research Council and Medical Research Future Fund.
Hannah Jackson receives an Australian Government Research Training Program Stipend from the University of Technology Sydney.

----------------------------------------------------------------------------------------------------------------


What should I give my child's teacher at the end of the year?
Posted on Tuesday November 28, 2023

Author : Saul Karnovsky, Senior Lecturer & Bachelor of Education (Secondary) Course Coordinator, Curtin University

Summary :Take a few minutes out of your day and write something meaningful to thank your child's teacher.

**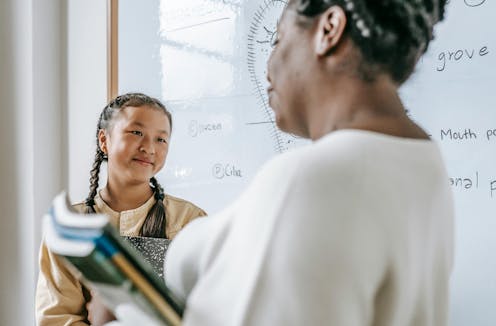 As we approach the end of the school year, many families are thinking about what might be an appropriate gift to thank teachers.
Meanwhile, teachers are preparing for an inundation of scented candles, boxes of chocolates and pot plants as they head into a well-deserved summer break.
As a former high school teacher, I remember receiving plenty of these gifts. Most would sit in a drawer, or be quickly eaten and forgotten about. The pot plants often wilted.
If you are a cash-strapped parent or carer and wish to genuinely express thanks, how best can you do this, particularly in a cost-of-living crisis?
---
Read more: 'Thank you for making me feel smart': will a new campaign to raise the status of teaching work?
---
Write something
It may seem simple, but take a few minutes out of your day and write something meaningful to thank your child's teachers.
Also encourage your child to write or draw something that tells their teacher what difference they have made in their year. Ask them what made their teacher special, funny, caring or kind?
It could be something like, because of their support your child no longer struggles with maths, or now loves to read every day. Perhaps they have more confidence speaking in front of others or just loved going to school each day.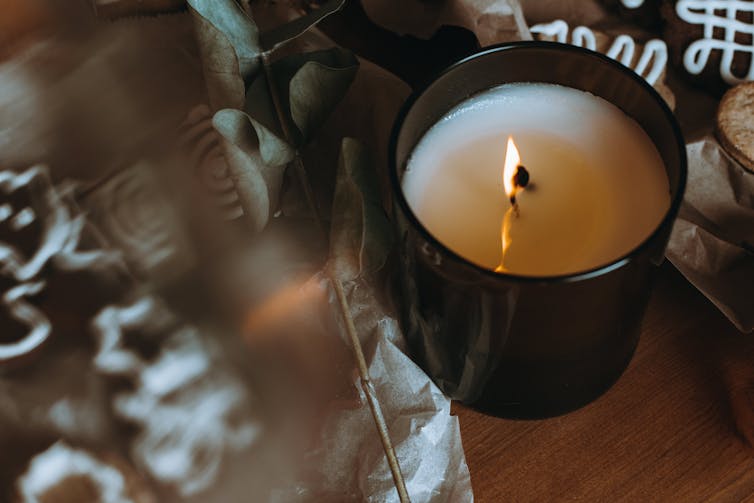 Teachers want to know if they helped
Teachers want to help young people and make a difference in their lives but this can be difficult to measure. Reports and test scores only reveal so much, they can show how someone has improved academically but this is only one part of positive changes teachers make.
As a new graduate I fondly remember getting a handwritten letter from a Year 9 student on the last day of term four. He was a difficult student. We were often locked in battle - he would call me out if I spelled a word wrong on the board or gave an incorrect fact about history.
Yet, at the end of the year he took the time to tell me what a great teacher I was and how he would miss me. Other teachers I spoke to have loved receiving personalised gifts, like hand-drawn pictures with quotes they would often say in class, delicious home-made cookies, letters of thanks, framed photos and messages that made them laugh.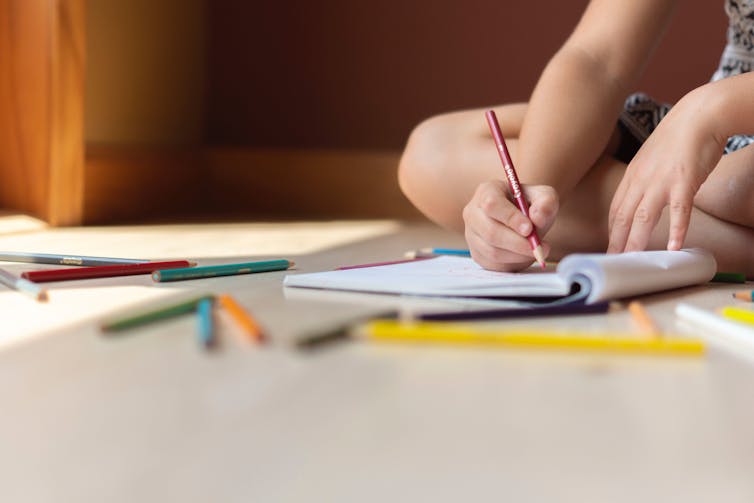 Refill a teacher's cup
We know teachers are under a huge amount of pressure and at the end of the year they need their cup to be refilled.
Research tells us teachers can feel undervalued and their work can be highly stressful. We also know increasing numbers are not sure if they want to remain in the profession .
As a community we can tell teachers we care for them and understand their work can be hard. Tell teachers they matter, they are doing important work, they have inspired your child to love learning and will be remembered.
---
Read more: A new database of teachers on screen shows they are often portrayed as rule breakers, losers or villains
---

Saul Karnovsky does not work for, consult, own shares in or receive funding from any company or organisation that would benefit from this article, and has disclosed no relevant affiliations beyond their academic appointment.

----------------------------------------------------------------------------------------------------------------


'I can see the characters': how reading aloud to patients can break through 'cancer fog'
Posted on Tuesday November 28, 2023

Author : Elizabeth Wells, PhD Candidate, University of South Australia

Summary :People receiving cancer treatment can struggle to read. An innovative form of bibliotherapy brought joy and solace, enabling patients to concentrate as listeners, rather than readers.

**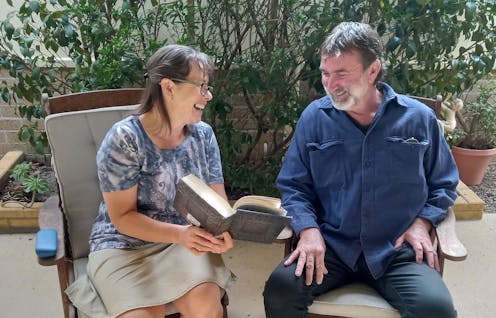 Escapist fiction is just that: fiction that opens a door, shows the sunlight outside

– Neil Gaiman
If you were going through cancer treatment, wouldn't you want to escape your reality for a while? Reading a story can offer an alternate world, a chance to catch your breath from the cycle of appointments and treatment, offering imagined companions. Solace is an intangible bedfellow, but a good story weaves a certain kind of magic.
However, a problem arises in the form of "cancer fog", a frequent but unwelcome side-effect of cancer and its forms of treatment. Cancer fog, also known as cancer-related cognitive impairment, can affect problem-solving, concentration, memory, motivation, navigation, keeping track of conversations, visual processing and hence, reading.
Reading to oneself can become frustrating for those receiving cancer treatment, so it's often abandoned. This means the therapeutic benefits of reading are denied at a time when they could be especially useful.
I previously worked in small public libraries in central Victoria and knew my community well – so well in fact, that I noticed a pattern of regular readers struggling with their reading, then abandoning it, in response to cancer treatment.
---
Read more: Bibliotherapy: how reading and writing have been healing trauma since World War I
---
This pattern and how to address it has not been studied before, so I began to develop and evaluate a read-aloud program for people with cancer as part of my PhD. During the trial of this program, people affected by cancer were read to, using material chosen especially for them, by an experienced reader. Mostly, short stories were read, although some narrative non-fiction and poetry was included, alongside humorous tales and vignettes.
No expectations were placed on the participant: they did not have to operate the technology required to listen to audio books, they did not have to travel anywhere (the reader came to their home or local library, or they met over Zoom), they did not have to chat about the stories (although almost all participants chose to), they did not even have to make small talk as the stories provided the structure and focus for the sessions.
These sessions were 45 minutes to an hour long, weekly, for six weeks. I measured wellbeing at the start and end of the program, and participants and family members were interviewed following the final session. All 38 participants reported enjoying the reading program. (One withdrew from the study due to difficulties managing deteriorating health.)
The works included short stories such as Far North by Alexander McCall Smith, many Maeve Binchy stories, including the funny Ten Snaps of Christmas, The Mouse by Saki, Yellow Jacket Jock by Colin Thiele and numerous short stories by Jojo Moyes, Monica McInerney, Jeffrey Archer, Lee Child and Agatha Christie, as well as chapters from James Herriot's books and Michael Caine's autobiography,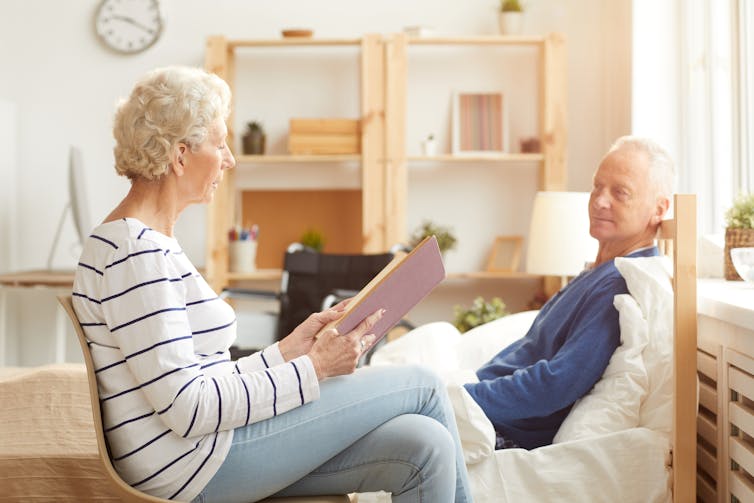 ---
Read more: All Creatures Great and Small at 50: why these stories about a country vet still charm today
---
Close to 450 stories were read. All participants appreciated the personalisation of the program and the individual reading sessions; reporting that it felt like they were being nurtured. Many spoke of the joy of being read to. Said one participant, "I felt like a king!" A participant who was having a particularly distressing experience, said: "It changed my whole attitude for the day".
Another told us:
It's a very nurturing feeling. It takes you to another world. It's lovely to listen to someone read […] Really, it feels like a gift.
Participants with cancer fog did report they were able to focus on the listening even though they had struggled to read (visually) to themselves. Visualising the story was not uncommon. One person told us
I find, um, it's like you're in a movie because you're reading it to me, I find it more visual and descriptive in my brain. So I […] can see the characters and it's like I'm watching it.
Both regular readers and non-readers were encouraged to enrol in the program. A consequence of the research was reconnecting people to the joy (and escapism) they can find in reading, even those who thought it was hard or boring or irrelevant to our modern lifestyle.
'My last memory is of him chuckling'
I had the privilege of reading at the bedside of two terminally ill participants in their last days, making a difference to them and their loved ones.
One of my participants was suddenly admitted to hospital mid-way through the program and died not long after.
He had never been a regular reader but his preference had been humorous fiction and I found plenty to amuse him. My last memory is of him chuckling. One of his relatives sent me a text message with thanks: "I wanted to let you know how much he enjoyed your reading. It was a joy for me too."
The joy that the reading sessions brought to so many participants, the distraction from pain, illness and worries, the laughter and lightening of their loads, was also a comfort for families and a delight for the person reading too. It is so simple, but so powerful. Hopefully they'll continue to at least borrow audio books as the next best thing for relaxation and escapism in the midst of cancer fog.
Read-aloud programs offer distraction and escapism and have the potential to relieve or reduce treatment side-effects like nausea, pain, anxiety, depression and loneliness.
---
Read more: We need more support systems for people who want to work during and after cancer treatment
---
The promising preliminary findings from my PhD research suggest these programs would be a valuable addition to the integrative oncology toolkit. Reading together is such a simple thing to do, but it has the potential to make a big difference to emotional wellbeing.
My goal is to see programs like this in cancer centres, hospices and as a part of palliative care programs and my next step is finding how best to make that happen.
If you have someone in your life who is going through cancer, try reading to them. You might just be surprised at what transpires as a result.

Elizabeth Wells does not work for, consult, own shares in or receive funding from any company or organization that would benefit from this article, and has disclosed no relevant affiliations beyond their academic appointment.